Comment to the article Russian tradition? Sticking with Your Spouse Trough Thick And Thin by Jim (USA)
Good article James - thank you for sharing it :) I am so happy they are COMMUNICATING - I believe this is the no. 2 problem before marriage (and no. 1 problem after marriage); I believe the no. 1 (before marriage) being the couples did not know each other very well (common interests, going in same direction, similar values/ideals, and it helps if adore each other) - US gov did not pull 2 yr marriage probation time frame out of shoe - it is good minimum time frame to really see each person as they are (PMS cycle, life styles, friends, values and ideals (see if loyal and honest), holidays...). On the other hand, New York can be a DIFFERENT life depending on where you live - I would need to see psych. to live their too... :) (I am on the Russian side) - I love the quiet beaches of VA, NC, FL ... :)

I am finding the Russian Fed. girls are more dedicated to marriage than most - but they still have dreams and it is good to talk about each others dreams before marriage. Olga said she did not want to stay home and raise the children by herself while I was away at work - and I said - neither did I. I said that I did not want to have children until I was through working so I could spend all my time with them. That I desperately needed a very intelligent, healthy, attractive wife/mother/best friend/lover - that had been raised and educated right (university degreed) so I would not have to teach her how to do it. That I needed her not only seeing that our children were as well raised as the Russian children (speaking 3 or 4 languages by 4th grade or sooner - English, Russian, French,...) - both intellectually/mentally and physically (do all the water and land sports together and enjoy life in the pool) and socialize with friends around the pool. Through communication I will try to explain that a marriage with me is different than a marriage with another male career bound college graduate who is expecting to do shifts or nannys - where I want to raise the children ourselves, to enjoy them, and each other - every day we are alive together.

Most girls I meet like getting out and doing things - even if it is being a cashier at Lowes - they get to see and talk to so many Americans - what better way to meet the average American. They are young and so so so thirsty for knowledge it amazes me. Some very intelligent girls marry guys without college degrees and are not as happy with the progress of the family/careers as ones that marry intelligent guys or professionals with successful careers (for lack of a better description). I do not see many dating/marrying doctors, lawyers, engineers, teachers, or lawmakers - but I do see a lot of contractors/subcontractors with them. Some marry military and it is also hard because the girls are so so so much smarter than the man. It seems that after one month they know if they would marry you or not, where as my head is still in my pants and I am trying to progress from puppy love to real love through communication.

Anyway, thanks - I know I love Russian women - this is a fact - thank you Russian mothers for raising such wonderful girls - we need a s many as we can get in the US to help make the US a better place to grow up and raise a family. The family is our strongest entity - we - our govt, - should be doing everything in it's powers to promote marriage and family and discourage divorce (how high does the divorce rate have to get before govt. will do its job to highly reward extended marriage and family?)

:)

Jim (USA)

P.S. Olga is from Samara and said she hates snow - now I know why - snow predicted for the next ten days :).
Brrrrrrrrrrrrrr.

Also, thanks to Elena's model - Lina - for her beautiful swan story - I never new - the swan will always have a place in my heart now - it brought tears to my eyes - thank you Lina.

Happy holidays.


This is a comment to the article:
Russian tradition? Sticking with Your Spouse Trough Thick And Thin
Have a comment to share?
Click here
---
Do you have a story we could publish? We want to hear from you!
Click here to Send Us Your Story
---
READ ALSO:

Ukraine Women: What Is Special About Them? - How many times you've read in media that all that Russian and Ukrainian women want is to leave their country? Philip from UK shares his experience of meeting Ukrainian women, and what is special about them.

Russian Women, Ukrainian Ladies, Meeting Woman From Odessa, Ukraine - By Ian Spencer: "I thought I would share my experience with Russian or in this case Ukrainian ladies. I have now been to Odessa ten or more times. I really like it there; it is a wonderful place. My friend is now married to a lady from Odessa and has a son on the way. I have now found myself in the situation that I feel comfortable in Ukraine. I like the people, men and women, young and old."

10 reasons why Russian women are NOT desperate to leave their country - an unbiased opinion of the American man who has spent in Russia 6 months, traveled to 9 cities and talked to hundreds of Russian people.

The Universal Crib On Finding A Russian Wife - the most compressed, step-by-step guidance on finding, courting and marrying a Russian woman.

"Are you the American male looking for the Russian wife?"
Article of Richard A. Blackwood about do's and don'ts in the search for a Russian wife - must read for any man considering the idea of finding a Russian bride. In less than 20 minutes you will know more than some men know after a few years of their search!
ElenasModels.com releases research on demographics of Russian women seeking men for marriage - According to the research, 90% of Russian ladies seeking foreign men are college graduates.
My Trip to St. Petersburg to a Girl I Met Online - By Matt (USA): "I agree wholeheartedly with people who have written here about Russia and how safe it is, the friendliness of the people, the warmth, etc. The time we spent together was magical... Russian women are SMART, WARM, CARING, and most of all, desirous of being wanted, loved by, and cared for by a man who isn't playing games with them."
---
JUST RELEASED! New E-book by Elena Petrova:
"How To Find And Marry A Girl Like Me"
Comment from the reader:
"This may well turn out to be the best purchase I have made... I hope not too many of my competitors find this book!"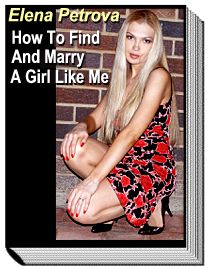 Discover how to find, court and finally marry a beautiful Russian woman... from a beautiful Russian woman!
Find out once and forever what Russian women are really looking for, why they are looking for it and how you can give them exactly what they want!
With "How To Find And Marry A Girl Like Me" you'll learn knock-out techniques that will instantly boost your success rate in dating Russian women - online and in real life. You will have more beautiful girls that want to be with you than you can handle!
And not just ordinary girls! They will be beautiful, intelligent, but most of all - honest and sincere! You will be the one to take your pick!
STOP wasting your time and money in search for a Russian wife... Get it done - painlessly, easily, and certainly! Moreover, have lots of fun along the way!
Yes, you too can marry a girl like the one on the picture... Click here!
---
MUST READ!
12 Simple Rules

This book will light a few light bulbs in your head.

If you wonder what is the cause of your problems with women/men, this book will open your eyes and give you precise instructions on how you can get the love life you always wanted.
If you were out of the game for a while and struggle to get back, this book will help you re-gain your lost confidence and learn a few new tricks along the road.
If you consider yourself an expert on dating, you will find several tips that will make you pinch yourself and say, "I can't believe I didn't think about it before!"

The secrets in this book will give you an unfair advantage in the battle of sexes, so much that you may even feel guilty of using them... because you know EXACTLY what results you are going to get when the other party doesn't have a clue! It's like taking a candy from a baby.

So, if you want to keep your life the way it is...
DON'T read this book.
Because you'll NEVER be the same person again.
I promise.

DON'T CLICK HERE unless you are ready to get MORE love, MORE money and MORE success in your life!
---