By Philip (UK)
I have visited the Ukraine twice and I found the country very interesting. In many ways quite the reverse to what I had expected but in many cases most countries are comparable with what the press makes out.
Yes, I did meet 4 or 5 girls whilst I was out there. All very nice, polite and very interesting people. However, there was a number of things that I did notice.
Firstly, all these woman were very family orientated, fare more so then in the UK. I told them a few experiences that I have come a cross in my life in the UK and they where quite shocked.
Secondly, I found quite the reverse to what many people told me in that many young girls out there do not go out with older men (foreign or otherwise ). These girls (women) were in their mid 40's to early 50's and I am in my late 50's, ok.
Thirdly, I found very few people spoke English or if they did it was rather poor. Most young people did have a basic knowledge of English. As for myself I am in the processe of earning the Russian language.
Finally, I found that many of these women were rather reluctant to leave their country and come to the UK. Maybe the younger ones, yes, but even so I found they were still a minority.
Yes, one of these girls lived in the UK and she said that she did not like the food. She thought that there were too many fat people, also the people in the UK were not well dressed (didn't dress smartly) but she did like the countryside, the history, culture and our sense of humour.
I did notice also that most of these women were very entrepreneurial and were rather surprised that I was not so.
Once again, many thanks for the interesting information that you gave to me through the "Dating Russian women" and "Russian woman secrets".
Yours with regards
PHILIP (UK)
---
Do you have a story we could publish? We want to hear from you!
Click here to Send Us Your Story
---
READ ALSO:

Russian Women, Ukrainian Ladies, Meeting Woman From Odessa, Ukraine - By Ian Spencer: "I thought I would share my experience with Russian or in this case Ukrainian ladies. I have now been to Odessa ten or more times. I really like it there; it is a wonderful place. My friend is now married to a lady from Odessa and has a son on the way. I have now found myself in the situation that I feel comfortable in Ukraine. I like the people, men and women, young and old."

10 reasons why Russian women are NOT desperate to leave their country - an unbiased opinion of the American man who has spent in Russia 6 months, traveled to 9 cities and talked to hundreds of Russian people.

The Universal Crib On Finding A Russian Wife - the most compressed, step-by-step guidance on finding, courting and marrying a Russian woman.

"Are you the American male looking for the Russian wife?"
Article of Richard A. Blackwood about do's and don'ts in the search for a Russian wife - must read for any man considering the idea of finding a Russian bride. In less than 20 minutes you will know more than some men know after a few years of their search!
ElenasModels.com releases research on demographics of Russian women seeking men for marriage - According to the research, 90% of Russian ladies seeking foreign men are college graduates.
My Trip to St. Petersburg to a Girl I Met Online - By Matt (USA): "I agree wholeheartedly with people who have written here about Russia and how safe it is, the friendliness of the people, the warmth, etc. The time we spent together was magical... Russian women are SMART, WARM, CARING, and most of all, desirous of being wanted, loved by, and cared for by a man who isn't playing games with them."
---
JUST RELEASED! New E-book by Elena Petrova:
"How To Find And Marry A Girl Like Me"
Comment from the reader:
"This may well turn out to be the best purchase I have made... I hope not too many of my competitors find this book!"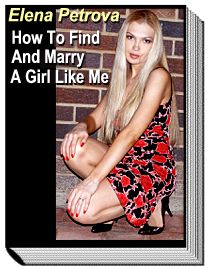 Discover how to find, court and finally marry a beautiful Russian woman... from a beautiful Russian woman!
Find out once and forever what Russian women are really looking for, why they are looking for it and how you can give them exactly what they want!
With "How To Find And Marry A Girl Like Me" you'll learn knock-out techniques that will instantly boost your success rate in dating Russian women - online and in real life. You will have more beautiful girls that want to be with you than you can handle!
And not just ordinary girls! They will be beautiful, intelligent, but most of all - honest and sincere! You will be the one to take your pick!
STOP wasting your time and money in search for a Russian wife... Get it done - painlessly, easily, and certainly! Moreover, have lots of fun along the way!
Yes, you too can marry a girl like the one on the picture... Click here!
---
MUST READ!
12 Simple Rules

This book will light a few light bulbs in your head.

If you wonder what is the cause of your problems with women/men, this book will open your eyes and give you precise instructions on how you can get the love life you always wanted.
If you were out of the game for a while and struggle to get back, this book will help you re-gain your lost confidence and learn a few new tricks along the road.
If you consider yourself an expert on dating, you will find several tips that will make you pinch yourself and say, "I can't believe I didn't think about it before!"

The secrets in this book will give you an unfair advantage in the battle of sexes, so much that you may even feel guilty of using them... because you know EXACTLY what results you are going to get when the other party doesn't have a clue! It's like taking a candy from a baby.

So, if you want to keep your life the way it is...
DON'T read this book.
Because you'll NEVER be the same person again.
I promise.

DON'T CLICK HERE unless you are ready to get MORE love, MORE money and MORE success in your life!
---