Daily life for the majority of Russian women is very much the same. One gets up at 7-8 a.m. depending on working hours of her company. Factories and plants usually work from 6-8 a.m., and offices and shops from 9-10 p.m. After a simple breakfast (normally just a sandwich with tea or coffee), she goes to catch a bus/tram/trolleybus/underground train. Most Russians live in flats in outskirts ("sleeping zones"), work in the center of the city, and have to spend from 30 to 90 minutes to reach their working place. Public transport is always overcrowded during the "peak" time, and she does not have any chance to have a seat. People in the transport are like fishes in a can, some of them are touching her, but it's quite normal - there is nothing one can do. People in transport are always unfriendly and irritated, though if you are pregnant, with a small baby in hands or very old, they will offer you a seat.
Normally the working day is 8 hours with one 30-60 minutes lunch break. If one works for a state enterprise, she may have a few tea pauses - there is a poor discipline on those plants, one can easily leave her job to settle some personal problems. Working for a private company means a better salary than working for the state, but also staying after hours often or from time to time.
Leaving her work at 5-7 p.m., she has to make her way all the way back home using the same overcrowded public transport. Having a car is still considered to be a kind of luxury, and even if the family has a car, it's always the husband who drives it. The price of the cheapest new brand car is about USD 5,100, with the average women's monthly salary 3000 rubles (about USD 100). One can afford to buy a second hand car but it's very expensive to keep it on the road. You will also have to use a paid secure night parking or have a garage, both options will make an average woman run out of money.
Using public transport makes one twice as tired. During the cold season (November-March) it will also make you cold because you can't move there, and it's the same temperature inside as outside. So if it's -20°C outside, it's probably -18 in the bus. I used to have my own car, and used to go to work by bus, and I can say for sure - public transport exhausts you.
After arriving at her stop on her way back home, the woman usually goes to the nearest shop to buy some food - bread, milk and meat. Russians don't go shopping once a week, they buy products when they are finished. One must buy or provide his own plastic bags in a shop, they seldom give the bags away for free. Carrying bags home also doesn't make the woman relaxed - even if it's only a few kilos and few hundreds meters (usually homes are within 0-2 miles from shopping areas), you still feel it.
The woman arrives home completely exhausted. If she has a child, she must fetch him from the kindergarten on her way back. If she has a family, she must make food for it. Cooking in Russia is more complicated and takes much longer, not only because of different recipes, but also because of the lack of half-ready products. There are half-ready products on the market but they are mostly imported and therefore expensive.
After the supper, the family can watch TV for a couple of hours, then they go to bed.
Some people regularly visit gyms, probably about the same proportion of population as in the west (which means most people don't). Weekly movies or dining out are rare, discos or night clubs are more popular but still unaffordable for many people. Entertainment is expensive, and usually they it is limited by visiting friends or relatives on the weekends.
Generally, the daily life of a Russian woman can be described as *home - work - home* or *home - work - shops - home*. You can say that it's normal for the life in any western country as well, but there is one big difference: even small things in Russia require much more efforts. Small things that will take you a couple of minutes, in Russia can take you half an hour or even the whole day.
For example, I know about a case where a foreign company refused to pay 1-day salary to a Russian employee that she spent in some government committee in order to obtain the necessary information requested by the foreign boss. "You could just make a phone call; there was no need to go there in person to get the information", said the foreign boss. For a Russian, it is crystal clear that a phone call will not get you the complete information on the government procedure, nor the government officials would supply such information via fax or mail it to you for free. Such practice is normal for western world but is a complete alien for Russian officials.
A stop on you way home to buy milk would take you two minutes; in Russia it can take a woman 10 times longer, since she has to specially walk to the shop and there stand in a queue (most shops in Russia, especially in regional cities, still sell over the counter and bill items manually).
This *time rule* is applicable to everything: getting things done in Russia takes longer and requires more effort. The word "convenience" was not in favor when the current system of Russian life was designed. The problem is not the availability of goods (food and goods are in abundance) but poor logistics.
Another thing about Russian daily life - they do not really enjoy it. They get awakened not to enjoy a new day but to cope with today's problems. There is little comfort and contentment. Russians are used to minor everyday difficulties, and they don't even bother them anymore. Russian daily life is tough, and it's probably the reason why they smile so seldom. Rarely you will see a smiling face in a bus or on the streets - the fact that usually makes foreigners wonder.
A Russian, living in Russia, might argue some of the points I discussed here, but a Russian, living abroad, will agree with me. There are differences that a person living in Russia cannot realize, and they involve not only better cars and homes ("New Russians" have it all!) but the very basic values of existence.
I believe the main difference in Russian and western way of life comes from those base beliefs: western life is built on the cult of "enjoy", Russian life is built on the base of "God endured, so we have to endure too".
Westerners live to enjoy; Russians live to endure.
Russians are survivors.
This cultural paradigm can be demonstrated by the difference in religious rituals in western and Russian Christian churches: there are no benches and amphitheatres in Russian Orthodox churches. The whole 1-2 hour service people are supposed to spend standing shoulder-to-shoulder in a badly lit, stuffy, one-level room, where one struggles to see the priest. Many people stand on their knees during the service. Russian Christian church service promotes humility through enduring; while a western Christian church service promotes integrity and enhancement.
The very word "enjoy" has some indecent flavor in Russian: it is something that is not very appropriate, but done nevertheless. A Russian would usually say "I love/like [doing something]" rather than "I enjoy" [doing something]. Therefore they love (like) some things but doing them does not result in the feeling of contentment - this is actually what I mean by saying "They don't enjoy it".
Which of course doesn't mean Russians don't know how to have fun! They do know how to have fun, and many Russians abroad miss exactly Russian limitless fun (as comparing to reasonable, appropriate western fun). Also, the English phrase "to have fun" is hardly translatable to Russian, since Russians do not make their purpose "to have fun" or "enjoy". Fun is just something that happens without plans, when people are happy and cheerful. In general, Russian people are much more spontaneous and playful that westerners.
The keyword to Russian family life is dependence. The family life is built on dependence, and Russians are attached to their family members.
The roots of this situation are in the way of being. Russians live in small apartments in large blocks, with 2-3 generations living together. It's normal when grown single children live with parents, and even when married children with spouses stay with one of the parents.
During the Soviet time one couldn't buy an apartment (Russians call them "flats"), he could only "receive" it from the state. The apartments were given to people for free, according to the time they worked on the enterprise. One should only pay a small fee for communal services. The state norms for giving the apartments were rather tough, with 5-8 square meters for a person. A family with 2 children of the same gender would get only two-room apartment of about 30 square meters (kitchens, bathrooms and passages were not taking into account). A divorced woman with a daughter would get only one-room apartment.
Nowadays one can buy an apartment, and the state does not give apartments to people for free anymore. Buying an apartment is unachievable for the majority of people because of small salaries. One of my friends, 38-year old single woman, still lives with her mom in one-room apartment, and they have zero chances to get a better one unless she gets married and leaves. (Which is also doubtful as there are 10 million (!) more women of marriageable age in Russia than men and all men who wanted to get married are normally married by the time.)
Living in small apartments together with parents and/or children makes Russians take care of each other. They have to be considerate and ready to compromise. One has to adapt to the family lifestyle and rules.
Any person has his own limit of patience and acceptance of the things but Russians have much higher potential limits. If compare those limits with thermometer, Americans have 20-degrees "thermometer", and when they reach this point, their emotional "thermometer" just fails to work further. For them it's a critical situation. Russians have 100-degrees thermometer, and in the same situation, which is unacceptable for an American, they will act as if nothing happens.
That's why I think that Russian women have the proper skills to make good wives. They usually do not let situation to come to the point of no return. It does not mean that they give up their goals easily, but they try to reach them in a different, less complicated or roundabout way. They do not intend to prove their point, and the result is of more importance than the rightness. You won't even notice how it happened that you eventually did what she wanted! And it does not mean that the woman is devious or the like; for her it's just natural.
Well, coming back to Russian family life.
Russians get married early, at the age 18-22. Because they don't really care much about making a career (see Myth 2 for details), they don't wait until they are independent. Young couples usually stay with wife's or husband's parents during the first years of marriage.
Being single in Russia puts a label on a woman. If she is over 25 and still single, it means that something's wrong with her. Not any amount of money she earns or her career successes can give her high social status, if she is not married. From the other hand, it's not such a fortune for a woman - to be married in Russia. A decent woman is supposed to stay at home, while her husband is allowed to spend time with friends in cafes, restaurants and discos. All housework is also women's responsibility, and it's quite a lot if taking in consideration the lack of home electronic utilities. About 80% of Russian families do not have even an automatic washing machine and microwave. Russian society is pretty male dominating.
Infidelity is common in Russia. Women outnumber men, and a guy can easily find somebody for affairs. Sleeping around is a kind of honor for a man. Women are not supposed to do it to be respectable, but still, guys find partners, so I believe that the girls just keep quiet. One of my male friends of 38 years, who has probably about 30 new partners every year, aged from 18 to 40 (he is not married, at least!), well-traveled and well-educated guy, a former national level sportsman, told me once in a frank impulse: "The only good thing about Russia is girls. Beautiful, gentle and accessible".
For the women agreeing on casual sex is the way of attracting a partner that she hopes may later offer her commitment. Single girls all desperately want to find a "worthy" man and get married. Marriage for Russian women is the same type of thing as career for western women - it gives them a respectable social status.

One of the most prominent Russian traditions is hard drinking. It does not mean they all are alcoholics; Russians are just drinking more alcohol when they are drinking.
It's applicable more in particular to men though women also drink much more than it's accepted on the West. Drinking a bottle of vodka for three, or a bottle of vine for each is normal and is not considered as excessive. Refusing to drink as much as the rest of the company is considered as disrespect. The favorite men's drink is Russian vodka, the favorite women's drink is Soviet Champagne - a decent Russian sparkling vine. Russians have poor taste in vines and prefer sweet vines.
Drinking until one falls is all right. The parties usually take place in private apartments, and majority of the guests stay to sleep overnight occupying all free space on coaches and the floor. The next morning the party may continue. Hangover, named in Russian "pokhmel'ie", is supposed to be cured by drinking a small amount of alcohol ("opokhmelitsya"). It does provide some relief but thereafter people usually can't stop. Small shops on the streets (kiosks) selling mostly alcohol and chocolate, work 24 hours 7 days a week, and the party can get extra drinks any time if they think they did not have enough.
A Russian joke:
(The diary of a foreigner working in Russia)
Friday.
Was drinking with Russians. I think I'd better die.
Saturday.
In the morning came Russians, and said we should "opokhmelitsya". I'd better die yesterday...
Russian drinking traditions are very much a cultural thing, and the person who drinks and does not become drunk is always respected. It's called "he can drink". The more you drink and don't fall down drunk, the more your friends will respect you. Many business deals are solved while drinking together, it's probably one more reason why women don't succeed in making careers.
Drinking alone is considered as being an alcoholic, drinking in company is encouraged.
Russians do not drink without a reason. It does not mean that they do not drink just when they want, it means that every time they want to drink they bring up a reason. It can be anything - from buying a new thing (in this case they call it "obmyt" - in literal translation "to wash" the new thing) to celebrating the weekend.
The process of drinking is specific. The glasses of all company members must be full, then somebody should propose a "toast" - what for the company is going to drink this drink. "Toasts" can vary from trivial "Na zdorovie" or "Budem zdorovy" ("For our health") to any other wish or somebody's desire: "Za udachu" ("For good luck"), "Na dorozhku" (before leaving - "For the way"), "Daj Bog ne v poslednij raz" ("Hopefully it's not the last time when we drink, with God's help") etc. After the toast people clink their glasses with each other and drink their drinks. Everybody must finish his drink, otherwise it means that he does not support the toast. The next toast follows in 5-10 minutes.
READ ALSO: Russian wedding customs
The biggest Russian holiday is New Year (1 January). During the Soviet time people were not allowed to celebrate Christmas (Russian Christmas is 7 January), and New Year was the most cheerful holiday.
The next holiday is the Old New Year (13 January). Russians had a different calendar before February 1918. The difference between Julian (the old Russian) and Gregorian (European) calendars was 13 days, and after the Soviet government adopted Gregorian calendar Russians started to celebrate many holidays twice: according to the new style and the old one.
Non-official "Men's Day" is 23 February, it is a public holiday called "The Homeland Defender's Day". All men in Russia are liable for call-up (including reservists), so they all are celebrities. On this day women usually give men small gifts.
Official "Women's Day" is 8 March. On this day men give women gifts, usually flowers. Men also are supposed to do all the housework, this is pretty nice - at least once a year women can take a break and forget about all those dishes, cooking, kids, take a magazine and relax on the coach...
1 April is non-official "the Day of Laugh". People tell jokes to each other, newspapers and TV publish funny stories and jokes. The motto of this day: Do not trust anybody on 1 April ("Pervoye aprelya - nikomu ne veryu").
1 May is the Day of Labor. During Soviet time there were huge demonstrations on this day, as everybody was obliged to show his loyalty to the state; now only communists organize meetings on this date.
9 May - Victory Day. 2-day public holiday (8-9 May), the day when Nazi Germany capitulated in 1945 after 4-year war with Soviet Union and other countries. Soviet Union lost 20 million people in the war. The minute of silence announced on the Central TV in the memory of deceased at 9:00 P.M., and fireworks thereafter.
12 June - the Independence Day. It's an official holiday but Russians are not used to it yet. They spend this day on their "dachas" - small plots in countryside where they plant some vegetables.
1 September is the Day of Knowledge - it's the beginning of a school year. Children go to schools with flowers for teachers, there are meetings before the classes start - nice and exciting.
7 November - the Day of October revolution (25 October according to the old calendar). It's still an official holiday in Russia though there is not such a huge celebration as it used to be during the Soviet era.
12 December - The Constitution Day. This day the first Constitution of the Russian Federation was adopted in 1993 (previous Constitutions were all Soviet Union's). It is a recent public holiday, and there are no special customs connected with this day.
Russians LOVE to celebrate. They adopted the Western holidays such as St. Valentine, Catholic Christmas (they celebrate Christmas twice - Catholic and Orthodox) and Halloween. They also appreciate Chinese New Year, Muslim and Jewish holidays, as Russians are very tolerant to other religions.
When there is a public holiday, the weekend is shifted towards the holiday: if the holiday is on Thursday, Sunday will be the working day and Friday the day off. The same when the public holiday is on Tuesday: Saturday becomes the working day and Monday the day off. If the holiday is on Wednesday, there will be no long weekend.
There are quite a few long weekends every year, which many Russians use to travel, locally and abroad, the others spend holidays on their "dachas" (country-side houses).
---
Comments, suggestions?
We are interested to hear from you! Click here to contact us
---
READ ALSO:
Russia - geography, population, economy, the state, statistics, Russian revolution, and Russian history.
Country Profile: Russia - From BBC News
Ukraine - statistics and world rankings: geography, population, health and education, economy, and society.
Myths and Reality - There is too much prejudice towards "Russian brides" - Russian women seeking men for marriage, both positive and negative. I call this prejudice "myths", and consider them one by one.
The Universal Crib On Finding A Russian Wife - the most compressed, step-by-step guidance on finding, courting and marrying a Russian woman.
Why Russian Women? - If you decided to find yourself a Russian wife, you would be inundated with questions of the type "Why Russian Women?" from everybody you cared to share your idea with. Surprisingly, every Russian woman you are writing to will ask the same question: "Why do you want to find a wife in Russia?" After a while, you might start questioning your own sanity in doing the thing which everybody, including your dates in this Internet rendezvous, consider strange enough to request explanations. Here you will find some ready-to-use answers for your family, friends and Russian women you are writing to.
Immigration scams: ARE YOU AT RISK? - Any man who even remotely considers the idea of marrying a Russian woman will face the question of immigration scams: that a woman will marry him with the only purpose of gaining residence to his country, and will divorce him soon after the marriage. Is it true that there are many Russian women that will marry a man only for the purpose of immigration? How common are immigration scams in marriages with Russian women?
Russia | Visiting Russia | English-Russian phrase-book | Russian visas
---

The latest E-book of Elena Petrova:
"Stop Wasting Money on Dating Russian, Ukrainian Women"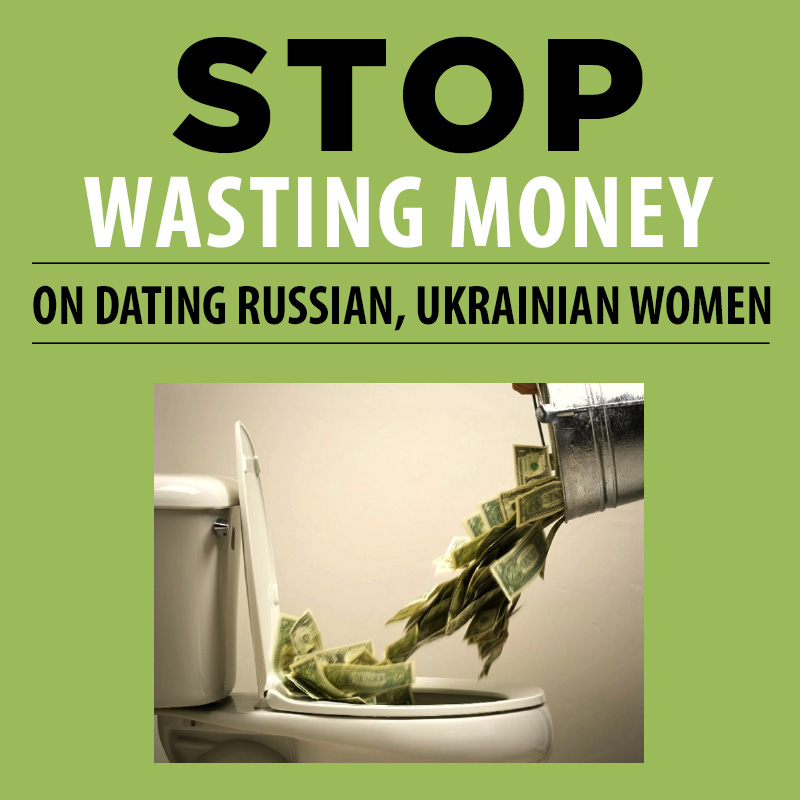 Are you dating Russian, Ukrainian women from the countries of the former USSR? Then you can't afford to miss this. This information can save you thousands of dollars and months of wasted time and effort. Elena Petrova, the former "mail order bride" from Russia, uncovers dirty tricks and traps of online relationships with Russian, Ukrainian girls, and how you can easily be scammed by unscrupulous players. Learn simple and quick ways how to shield yourself from scams and fraud in dating Eastern European women.
Want to learn more? Click here
---

---