Russian wedding traditions and customs:
Engagement and preparations for the wedding
Russian wedding protocol is quite different from what you are used to. For example, there are no bridesmaids, a best man and flower girls.
I will describe here an average wedding, the type all my friends and family had. Nowadays the new rich probably have something more Western-like, but the ordinary people's weddings still fit into this description.
First of all, let's start with engagement. Frankly speaking, there is no such a thing. A man asks a woman if she marry him, that's it. No rings are given; no one is informed about the event excepting closest friends and family. If the man is gallant, he will give his lady flowers, but this is not mandatory.
The wedding is usually planned soon, within 1-3 months. The time depends on the department of registrations (ZAGS - department of registration of civil statuses, that is also responsible for registrations of births and deaths, divorces etc). The couple is supposed to apply in writing to the department of registrations asking to register their marriage. The department will give them available dates (when the registrar is available), but according to the law there must be at least 1 month of "waiting period". During Soviet time this period was 3 months, so the two had time to cool down. People in Russia marry early, mostly at the age of 18-22, and often one of the partners collects the application form from ZAGS after an argument or something like this, to just hurt the other - reapplication is possible, but they have to pay a fee again, and would be given another waiting term. Still quite a few couples do not appear in ZAGS on the day of registration without a prior notice.
After the couple has applied to the department of registration, they are considered as being a bride and a groom; but Russians do not talk about being engaged, they say "They handed in the application". The planning of the wedding is very simple (I was amazed how much more complicated it is here!), and includes rings, brides' dress, cars, and reception. Such things as stationery, flowers, music, brides maids' dresses, and many others do not feature.
Russians call "engagement rings" the rings that the couple exchanges during the wedding ceremony. The two buy them together; the groom pays; this is the necessary part of the wedding tradition. Russian engagement rings are in reality just plain wedding bands of gold, without diamonds or stones, and they wear them on the RIGHT hand on the finger next to the "pinky". (An "engagement ring" on the LEFT hand on the same finger will mean for Russians that the person is divorced or widowed, i.e. is not currently married but was married before.)
I am often asked about how Russian sizes of rings correspond to western ones. It's easy. Russian sizes of rings are given in MILLIMETERS OF DIAMETER. So if woman's size is 17, it means the ring should be 17 millimeters in diameter. (1 millimeter = 0,1 centimeter)
The bride's dress is usually made specially for the occasion because it's cheaper than buying it. All Russian women can sew (sewing is compulsory in the course of 'domestic labor' subject for girls in Russian schools - boys learn to make furniture and fix taps etc). Many girls sew beautifully; so brides often opt for making their wedding dresses themselves. The others buy dresses, and sell them afterwards. There is no custom of giving a wedding dress to a daughter, and if somebody marries in her mother's dress Russians will think it's weird or that you don't have money to buy a new one. Hiring a dress is not typical. Most still opt for the traditional white dress, while a few others go for a white or pale colored suit. Price for making the dress may be anything from $50 (including fabric) but rarely is more than $200, and if the woman makes the dress herself it may cost her less than $10 (depending on the fabric). Accessories may be hired.
The necessary part of the wedding ceremony is a wedding train of several cars. Big black cars are considered as luxury in Russia (they used to be available for Soviet government elite only), and usually if the couple has money, they will hire at least one for the bride. The more cars participating in the wedding train, the more proud the couple will be. Usually they ask all their friends and relatives who have cars to join the ceremony. The cars are used to collect the bride, and go to ZAGS for registration ceremony.
In the old days (before Perestroyka) the bride's family was supposed to pay for the reception, nowadays brides' and groom's families usually share expenses. The reception takes place at a restaurant/cafe or at groom/bride's home, the last option is more popular as it's more affordable.
The biggest concern at the wedding is to have enough liquor. A Russian Wedding is an event where everybody must be drunk. No one will be surprised if people drink themselves to unconscious on the wedding - and many do. Having plenty of food is typical for any Russian function, and a wedding is not an exception. If you have enough liquor and food, the wedding is basically ready.
This is all about preparations for the wedding - it's not very complicated, is it? Next chapters will be about the wedding itself - and this is very interesting and special!

Next page: The Wedding; Day 1
---
Comments, suggestions? A story to share? We want to hear from you!
Click here to Contact us
---
JUST RELEASED! New E-book by Elena Petrova:
"How To Find And Marry A Girl Like Me"
Comment from the reader:
"This may well turn out to be the best purchase I have made... I hope not too many of my competitors find this book!"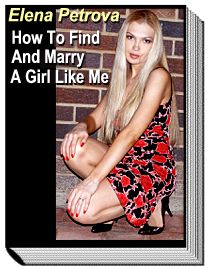 Discover how to find, court and finally marry a beautiful Russian woman!
This is the only book written by a beautiful Russian woman married to a western man - for more than 5 years! - and who is also the owner of a highly successful Internet dating agency.
Find out once and forever what Russian women are really looking for, why they are looking for it and how you can give them exactly what they want!
Get responses on your letters to beautiful Russian women - 9 out of 10, GUARANTEED!
With "How To Find And Marry A Girl Like Me" you'll learn knock-out techniques that will instantly boost your success rate in dating Russian women - online and in real life. You will have more beautiful girls that want to be with you than you can handle!
And not just ordinary girls! They will be beautiful, intelligent, but most of all - honest and sincere! You will be the one to take your pick!
STOP wasting your time and money in search for a Russian wife... Get it done - painlessly, easily, and certainly! Moreover, have lots of fun along the way!
Yes, you too can marry a girl like the one on the picture... Click here!
---
RECOMMENDED:
New Ebook You Cannot Afford To Miss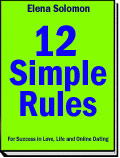 Dating can be complicated... it doesn't have to be! You can jump start your love life - or you can keep wandering in the dark; the choice is yours!
When it comes to dating, most men make the same silly mistakes with women - over and over, with disastrous results.
Do you want to do BETTER than 99% of other guys? Click here
---