The Wedding; Day 2
The second day the party is held at the place where the newlyweds are going to live (usually at one of the parents' place - most young families live with wife's or husband's parents first). It starts in the morning or early afternoon. Guests arrive with a terrible hangover from yesterday, and the most popular drink on the second day is beer (switching to stronger liquor later).
Guests are not given knives, spoons or forks (sometimes no glasses are given either) - they must "buy" things if they want to eat and drink (actually, they borrow them because they don't take knives or forks home). Of course one can bring a knife and fork with him but it's in bad taste - though if you do, it will only add joy to the event (if you don't mind making a fool of yourself). The money goes to the newlyweds.
On the second day the couple wears different clothes but it must be something new bought specially for the occasion - a nice dress for the bride and shirt and pants for the groom (but not jeans and a T-shirt!).
The number of guests on the second day is smaller; actually anyone from day one can attend the party but it's usually only the closest friends and family that do.
On the second day they cook a bit less food (still much more than they do for any occasion on the west), the preferred choice is national cuisine - "borsch" (beetroot soup with vegetables, potatoes and meat) or "ukha" (soup of fresh water fish with potatoes and onions) - soups are very popular among Russians and the best remedy from a hangover. The main course is often "pelmeni" (similar to ravioli) that can be also eaten with a broth.
There is no strict structure for the second day reception but it also includes lots of toasts and "Gor'ko!"
After the meal the bride must "clean" the floor in the room. The fun part is that guests are allowed to mess as much as they want while she is cleaning - this is what they are actively doing, but they only can mess with money - coins or banknotes. Usually people make a special effort to get lots of change, so the bride has to work hard. The collected money belongs to the couple, and some generous guests can significantly contribute to the new family's budget.
There are may be some other competitions arranged by witnesses that are aimed to help the new couple financially - like a lottery with a live chicken as the first prize (of course guests don't know what it is!); the revenue from sold tickets goes to the newlyweds. As Russians marry early money from the wedding (gifts and other ventures) is often the only cash they can start their married life with.
The atmosphere on the second day of the wedding is more quiet and relaxed though still cheerful and fun. I believe guests on a Russian wedding enjoy it much more than the newlywed couple who are all the time made fools of. The worst fate is the work of the witnesses who must be there to not let the guests get bored - there is nothing worse than a boring wedding. It is a great honor to be a witness but a hard job too! (I've done it once in my life - so I know!)
As a wedding is supposed to be two days, usually the first day is Friday with the celebrations continuing on Saturday, and time for rising from the dead on Sunday. Wedding is an event where everybody must be drunk, and being sober is simply impolite; there is also so much excellent food that there is a saying "If you are going to a wedding, you don't need to eat 3 days before and 3 days after".
I know many couples decide to have two weddings: one on the west and another one in Russia; think about it - probably you should also try this way, it's a lot of FUN!
---
READ ALSO:
Russian female names - most popular female names, Russian and English spellings, affectionate and short forms.
Russian women glossary - find out about unexpected meanings of words and phrases in women's profiles.
Russian women FAQ - the most frequently asked questions about all aspects of relationship with ladies from Russia and other countries of the former Soviet Union.
Why Russian Women? - If you decided to find yourself a Russian wife, you would be inundated with questions of the type "Why Russian Women?" from everybody you cared to share your idea with. Surprisingly, every Russian woman you are writing to will ask the same question: "Why do you want to find a wife in Russia?" After a while, you might start questioning your own sanity in doing the thing which everybody, including your dates in this Internet rendezvous, consider strange enough to request explanations. Here you will find some ready-to-use answers for your family, friends and Russian women you are writing to.
---
Comments, suggestions? A story to share? We want to hear from you!
Click here to Contact us
---
JUST RELEASED! New E-book by Elena Petrova:
"How To Find And Marry A Girl Like Me"
Comment from the reader:
"This may well turn out to be the best purchase I have made... I hope not too many of my competitors find this book!"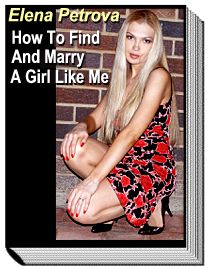 Discover how to find, court and finally marry a beautiful Russian woman!
This is the only book written by a beautiful Russian woman married to a western man - for more than 5 years! - and who is also the owner of a highly successful Internet dating agency.
Find out once and forever what Russian women are really looking for, why they are looking for it and how you can give them exactly what they want!
Get responses on your letters to beautiful Russian women - 9 out of 10, GUARANTEED!
With "How To Find And Marry A Girl Like Me" you'll learn knock-out techniques that will instantly boost your success rate in dating Russian women - online and in real life. You will have more beautiful girls that want to be with you than you can handle!
And not just ordinary girls! They will be beautiful, intelligent, but most of all - honest and sincere! You will be the one to take your pick!
STOP wasting your time and money in search for a Russian wife... Get it done - painlessly, easily, and certainly! Moreover, have lots of fun along the way!
Yes, you too can marry a girl like the one on the picture... Click here!
---
RECOMMENDED:
New Ebook You Cannot Afford To Miss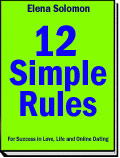 Dating can be complicated... it doesn't have to be! You can jump start your love life - or you can keep wandering in the dark; the choice is yours!
When it comes to dating, most men make the same silly mistakes with women - over and over, with disastrous results.
Do you want to do BETTER than 99% of other guys? Click here
---