By Elena Petrova
When more than 2 years ago I organized a web page called Russian women Black List, my aim was to list disreputable and fraudulent services from international introduction industry. Placing there only comments of my visitors should ensure that it would give a real picture.
But now it became a long list of names of individual scammers! After reading the horror stories of this page many men say they feel frustrated with the whole thing. They think it's too many bad girls out there.
As a volunteer editor of this little forum, I can say that nothing can be further from the truth. According to my estimations, it's less than 5% of women featured by dating agencies that MAY have double-faced intentions. Many men who were looking for a Russian wife, and met a wonderful girl without problems, are very surprised to find information about scams - they did not know that such a thing exists!
So the picture is not that bad as it might seem to be.
(If you think the figure of 95% for the good girls from the Internet is too low, than probably you should rather consider the girl next door?)
Frankly, looking for a partner abroad is not any different than any other search - search for a house, a second-hand car, or whatsoever, in one simple yet important detail: there are always will be people who will try to make you in.
The history of marriage scams started ages ago, and it's not Russians who invented them. I remember a story of American author O'Henry about the legendary scammer Jeff Peters who practiced his skills in matrimonial industry long before the Internet (I read it in grade 6 - of course, in translation to Russian). To refresh your memory, him and his loyal friend Andy Takers decided to organize a low risk venture by placing an ad at a newspaper for singles: "Wealthy nice widow is looking for an honest kind man who will take a good care of her and her capitals. Age and looks are not important but he must have a heart of gold". (I am quoting by memory trying to translate back from Russian - so please be forgiving.) To ensure that police wouldn't have problems with their little enterprise, they found a real widow, and put some meaningful amount on her name at the bank. The trick was that everybody who wanted to write to the lady had to pay 50 bucks to have his letter handled to Mrs. X. Money was pouring in, expenses had been covered, and the venture started to make profits - when police did arrive. Results? Very happy with the presence of the real person and nice figure on the bank's balance, police officer was offered to have his letter handled to Mrs. Nice Widow free of charge (honestly, I don't remember if he used this generous offer).
Another story that comes to my mind belongs to Czech writer Carel Chapek. It was a novel about a police detective who unexpectedly met two of his former clients at a posh restaurant, a respectably looking man in his 50th and a middle aged glossy woman - the joke was that both of them were famous marital scammers, and were extracting money from the opposite sex promising to marry their victims. Both were very angry and frustrated when found out the truth about their partner for the dinner!
Well, leaving along the classic literature, what I was trying to say is that marriage frauds are not new to this world. They are in use for at least few hundreds years. You can encounter a similar problem using local personals.
What Internet has brought new is the possibility of using typing to express feelings that requires much less actor skills than face-to-face communication. Paper can bear anything, you know that. Even phone conversation can give you more clues of what's really going on (though men usually tend to misinterpret subtle signs excusing them by the language barrier).
So of course you must be aware of the fact that there are some individuals out there who may try to extract from you some amount in cash playing on your feelings. But you must not become paranoid about it. Do you give up looking for a car only because your neighbor's car engine collapsed the next day after he brought it home?
From my experience, there are several scam patterns that are used over and over, and I believe it's the same individuals or groups hiding under a few names behind the each pattern (by the way, many are ... men!). Look at the Black List - the same letters are used again and again, it's just pictures and names that change from time to time. And you still think they are different girls???
It is very easy to set up such a scam. Anyone can do it, even yourself. All you need is several pictures of a cute girl (I am surprised to see what kind of pictures some men fall for! Those girls are below average according to Russian standards - they would not be even considered as beautiful there; I have dozens applications from much nicer and REAL girls every week!), a computer with Internet access and a couple of female acquaintances that are (for a modest fee) willing to pick up Western Union transfers for you. That's all!
All scam patterns have similarities that are very easy to spot if you know what to watch out for:
1. Usually the contact originates from a personals site where anyone can place his/her ad for free. Most often it was not you who initiated the acquaintance; you received a letter from a lovely Russian female who was interested in you. *Her* description of the partner is always very broad that will fit anybody - "kind intelligent man, age and race don't matter". (Doesn't it look similar to Jeff Peters' ad for you?)
2. It is always email correspondence; and letters are sent regularly, often every day; a new picture is sent with almost every letter (the pictures often are numbered in sequence - 1, 2, 3 etc).
3. *She* never asks about your job, possessions or the state of your finances - neither uses the word "financially secure" in her description of the prospective partner.
4. Things move very fast, and *she* falls in love with you within 1-5 letters.
5. In her letters *she* talks a lot about trust, honesty and sincerity.
6. *She* does not answer your particular questions though she eagerly states she welcomes your curiosity.
7. Her financial situation is very bad - and she lets you know from the very beginning how little she earns, including the size of her salary even though you never asked about it (variant: she is a student).
There are many other "red flags" but those above appear in almost every scam. The most prominent is the fact that scammers don't really read your letters. They are too busy corresponding with dozens potential victims, so they simply don't have time for that. They don't answer your questions. They don't remember what you have written - actually, they don't relate to the content of your letters at all. Those letters could be sent to anybody: "her" letters are pure monologue that becomes more and more obsessed with "her love" to you and her desire to be together with you despite of everything that separates you. There are usually sequences of letters, and they send the same messages to all their correspondents, one by one, making the only change - the man's name (usually it appears only once, or does not appear at all - *she* uses "sweetheart", "my love" etc instead). And of course earlier or later it will end in money request.
In opposite, an honest woman will usually have distinctive requirements to her prospective partner, with the words "educated" and "financially secure" to be seen most often. She has reasonable limits for the age range. Her letters are seldom regular like sunrise - she has some other responsibilities, and this is not her way of making a living! Almost impossible that she says: "I love you", in anything earlier than 2-3 months (if ever!), even then, she does not spend her whole letter discussing "her love" - most likely you will get a brief report on the weather and some casuals of her everyday life. Her letters are much more reserved comparing to yours. She answers your questions - well, probably misses some of them, but she does answer when you ask. She remembers what you have written previously. You will never know how much money does she make per month if don't ask.
With all the clear differences, you are likely to misjudge your correspondents. Scammers (with their "romantic" letters) always stand out. If you have the only correspondent, this is an easy way to the trap.
During the last years the trend when scammers initiate the contact with unsuspecting men using popular Internet personals became very prominent.
When a woman from CIS sends you a respond to your recent ad (that you placed for free), the first question you should ask yourself is "How did she pay the membership fee in US dollars that must paid by credit card?" A woman can place a free ad but cannot send emails to members without payment. To respond the ads, "she" must be a paid subscriber of the service. And only top income people in the countries of the former Soviet Union have credit cards - but then they don't need your money for visa and ticket. It's that simple.
All those stories about $350 ($240, $340) visas to USA are for people who know nothing about the process. Call USCIS (former INS), and they will tell you that only 1 of 100 women from CIS can hope to get a tourist visa (with the necessary requirement that her monthly income is not less than $500).
Most organized scams that have several listings on the Black List catch men who were not looking for a partner in Russia, and did not make any research on the subject. Agencies that specialize in foreign brides supply their clients with do's and don'ts, and do their best to keep their databases clean.
So it looks like your chances of falling a victim of a dating scam are much higher when you DON'T LOOK FOR A FOREIGN WIFE!
What can I advise to men who want to separate honest women from gold diggers?
First, rather buy addresses from agencies than use free personals sites. Scammers are not eager to give away their contact details. Having a postal address and phone number in addition to the email address is VERY IMPORTANT - and it's very easy to check if they are correct.
Second, never correspond with only one woman. Write to a few women, and let yourself feel the difference.
Third, don't fall in love too fast. 2-3 weeks is definitely NOT enough time to realize if you have met the right person.
Better still, buy the Complete No-Nonsense Anti-Scam Guide, and read all its 30+ pages. Most its readers say it saved them hundreds, or even thousands dollars they otherwise would spend on scammers (plus of course all the time and effort!)

The latest E-book of Elena Petrova:
"Stop Wasting Money on Dating Russian, Ukrainian Women"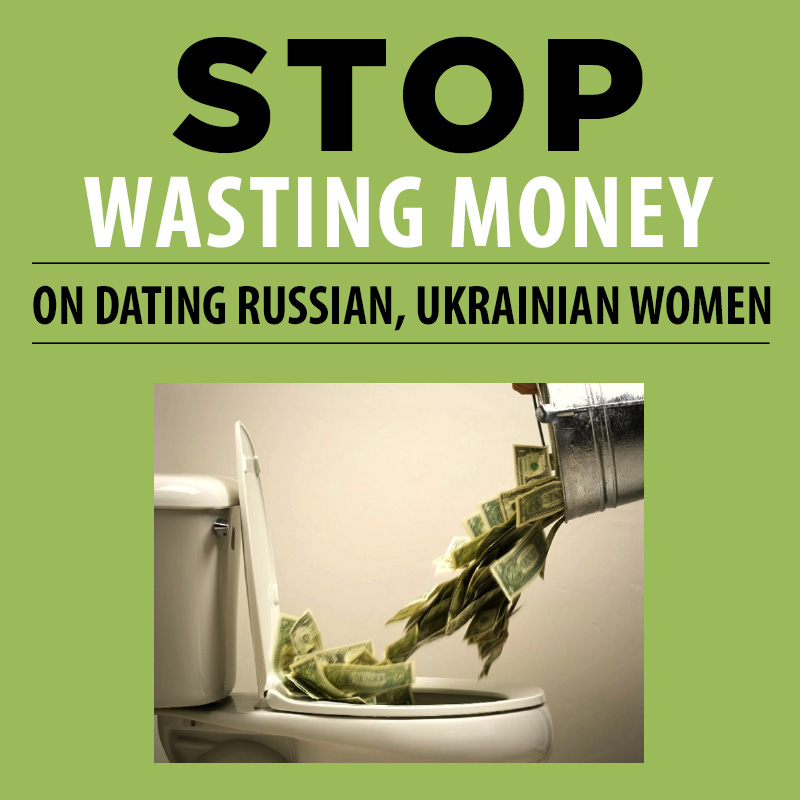 Are you dating Russian, Ukrainian women from the countries of the former USSR? Then you can't afford to miss this. This information can save you thousands of dollars and months of wasted time and effort. Elena Petrova, the former "mail order bride" from Russia, uncovers dirty tricks and traps of online relationships with Russian, Ukrainian girls, and how you can easily be scammed by unscrupulous players. Learn simple and quick ways how to shield yourself from scams and fraud in dating Eastern European women.
Want to learn more? Click here
READ ALSO:

Scam-free search - GUARANTEED!

10 simple anti-scam tips from a Russian woman

Men, stop breeding Russian scammers!
Russian dating agencies - how do they make their money?
Black List - list of individual scammers and disreputable agencies introducing Russian women for marriage; real life fraud stories.
Reliable Dating Services - where to look for a Russian wife
Why Russian Women? - If you decided to find yourself a Russian wife, you would be inundated with questions of the type "Why Russian Women?" from everybody you cared to share your idea with. Surprisingly, every Russian woman you are writing to will ask the same question: "Why do you want to find a wife in Russia?" After a while, you might start questioning your own sanity in doing the thing which everybody, including your dates in this Internet rendezvous, consider strange enough to request explanations. Here you will find some ready-to-use answers for your family, friends and Russian women you are writing to.