By
Maria Koshkarova
Dear guys!
A short while ago I found the black list, shown here. No need saying that scammers can reach pretty much anybody, who is looking for a life partner online. However I noticed (after reading the letters shown in the list) that there are certain things, you can notice before the scammer reaches your bank account.
Why do I write this?
Because I am also one of you (more or less), somebody who is looking for a life partner and decided to give it a try online.
I am a Russian woman of 23 y.o. and I think, I know what a woman is looking for online if she is not a scammer.
So, here are my tips, I hope, they can help somebody to avoid a problem:
1. Do you need to be careful? Yes, you do, however you should not go too far with that. If you have a profile without a pic on some site and hardly ever get any replies from ladies and then have bunches of love letters from some kind of a Russian beauty, ask yourself: what is there that could make her fall in love that quickly? Would you be able to fall in love with the profile you made that quick?
2. Pics. Russian girls have less technical possibilities than those, who live next door to you. Bunches of professional pics is a reason to think twice before getting close to that person. If she is a simple teacher with a minimal income and meanwhile she sends you something, that looks good enough to be published on the cover of the magazine, ask yourself where these pics come from. A lot of the pics that I have seen here were "too good to be true" Style, light, make up, quality- those things can mean that the pics were taken from a model agency and have nothing to do with the person, who writes to you.
3. What kind of pics should they be? usual. maybe made by a professional photographer, but not top-model like. To be sure you can ask her to send you later on a specific pic (not in your first letter of course). She says, she lives in Moscow? Ask her for a pic, made next to the Kremlin/ with her kid/in her garden/next to her office (according to the info that you have). If you are polite and ask nicely, showing interest to her and her life, "normal" woman will make it and send it to you.
4. You can ask later on for the pics she sent you before. You can say, you lost them and would like to have them again. If she uses pics of other people and sends bunches of letters to different guys, she may get confused and send you pics of a different person.
5. Letters. This is the first thing that can make you recognize a scammer. First letters can be neutral, but the further it goes the more specific the letters become. If your name is still mentioned only in the headline and never shows in the letter after that, it is a reason to think that the letters are made for mass use and are sent to a lot of people.
6. To move to a different country is a big step, if she never asks you about your life, work, family (not in general words (how are you today?), but specifically (how was your weekend in New Jersey?) it is strange that she wants to come to visit you next Thursday. If she is interested in you, she will ask you questions about your life, ideas, news, lifestyle BEFORE she decides to visit you.
7. You write to each other, so her letters cannot be a separate thing from what you write to her. If you say that your aunt died/ your son went to school/you got a promotion and she says, that the weather is still fine, it is a reason to have doubts about the letters.
8. If you keep in touch for a while (a few months), she shows deep interest and she is ready to share her life with you, her profile will probably get removed from the dating site, where you found her. If you are both ready to get married, why is she still looking for guys online?
9. If everything seems to be ok, but you still have doubts, you can send a reply to her profile as a different user from a different email address and see what you get as a reply. Once again, the first letter you get then may be the same as the one she sent to you first (a lot of people have a pre-made letter for getting in touch with other people), but the other letters have to be different.
10. if she is planning to come to you and loves you like crazy ask her as a different user if she already found anybody online. If she is a scammer, the reply will always be no.
There are other things that can make you doubt. However these tips may help somebody :) If Elena publishes this letter I will also try to write "how not to take a normal woman for a scammer", I suppose, that also can be useful.
Good luck and remember, we are all different.
Maria
TOP STORY:
New Dating Book Becomes #1 "Love and Romance" Bestseller in Just ONE WEEK!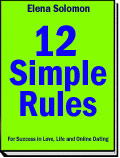 It took only one week for the new dating ebook 12 Simple Rules to become #1 'Love and Romance' bestseller in ClickBank, the word-wide leader in distribution of digital products.
12 Simple Rules is a dating makeover manual for men and women, with practical tips and advice on improving not only your love life but also your life situation in general, including money and career.
Simon Heong, the publisher of the first compilation ebook of 'dating gurus' 28 Surefire Ways For Instant Dating Success, evaluates 12 Simple Rules as "hands down, one of the best resources out there".
ANTI-SCAM GUIDE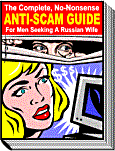 Met a Russian woman over the Internet?
Thinking about finding a Russian wife?
Russian woman wrote to you?
Don't move any further until you read The Complete, No-Nonsense ANTI-SCAM GUIDE For Men Seeking A Russian Wife. Too many men were caught up in a scam and lost great deal of money - want to be one of them? Ensure your safety and peace of mind - read the ANTI-SCAM GUIDE.
NEW!
Angels in Russia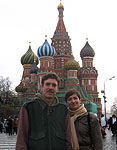 There are probably a few hundreds of Russian dating scammers on today's Internet - but there are also thousands of real Russian women with usual women's dreams of love, marriage and family: A true-life Story of Dan and Val, who met each other over the Internet and fell in love: "I subscribed to an internet dating service a couple years ago, expecting to only communicate with American women. I did that, met a few, had a girlfriend from Germany for about a year, but I also received a couple interests from Russian women (which turned out to be scams). They intrigued me enough to make me wonder if I should look outside our country, Russia in particular..."
READ ALSO:

Men, stop breeding Russian scammers!
Reliable Dating Services - where to look for a Russian wife
Why Russian Women? - If you decided to find yourself a Russian wife, you would be inundated with questions of the type "Why Russian Women?" from everybody you cared to share your idea with. Surprisingly, every Russian woman you are writing to will ask the same question: "Why do you want to find a wife in Russia?" After a while, you might start questioning your own sanity in doing the thing which everybody, including your dates in this Internet rendezvous, consider strange enough to request explanations. Here you will find some ready-to-use answers for your family, friends and Russian women you are writing to.
---
Comments, suggestions? We want to hear from you!
Click here to Contact us
Seek a reliable Russian Dating Agency? Why not check www.elenasmodels.com - RECOMMENDED
---