K1 FIANCEE VISA
To the U.S.
By Larry Holmes & Allan S. Lolly
(Holmes & Lolly, Immigration Attorneys http://www.fianceevisas.com/)

Overview of marriage visas
Looking for a foreign bride, earlier or later you will face the question of bringing her into your country. This article will tell you about visa regulations of United States of America. Most other countries have similar regulations; we would suggest consulting an immigration attorney in your country.
To bring your fiancee to your country you will need some type of visa for her. In the United States, the only entry visa available for the purpose of marriage is a fiancee visa (K1 visa). There is NO OTHER AMERICAN VISA available for marrying in the U.S.
Other types of visas for a Russian fiancee such as tourist, student or business visas are not suitable if your intention is marriage. If you marry your girlfriend visiting you on one of those visas, her legal status in the USA will be questionable, and she may be refused permanent resident status on the basis of visa fraud if the USCIS (former INS) believes her aim of visiting United States was simply for marrying a US Citizen. Having worked in immigration for more than decade we know such cases, as well as cases when women have arrived on student and tourist visas and were turned back by USCIS (former INS) representatives right at the airport. Once a violation of visa regulation is recorded, it will be difficult if not impossible for the person to ever receive a K-1 visa or any other type of visa to the USA.

What are the requirements for a fiancee visa?
1. You must be a U.S. citizen.
2. You have met your fiancee in person within the previous two years.*
3. Both you and your fiancee are legally free to marry.
4. You meet certain minimum income requirements.*
5. Your fiancee does not have a criminal record.
6. Your fiancee has not violated certain U.S. immigration laws.
* There are exceptions available to these requirements.

Can my fiancee or potential fiancee enter the U.S. on a B-1/2 visitor visa to satisfy the personal meeting requirement described above?
If she is from a "third world" country or a country of the former Soviet Union, she will not be able to legally obtain a visitors visa to the U.S. If she is from a country such as England, Canada, Australia, etc., she will be able to enter the U.S. on either a visitor's visa or on visa waiver. However, she must still return to her country to obtain a fiancee visa if your intention is to marry her.

How long does it take to obtain a fiancee visa?
The times vary and are constantly changing depending on the area of the U.S. in which you reside and the country in which your fiancee resides, but generally it should not exceed 3-4 months if the application is handled correctly. The "secrets" to the timing are to ensure that the fiancee visa petition is perfect when it is submitted to the USCIS (former INS) and that you or your attorney monitor the case as it processes through the bureaucratic system. If you have an attorney, he or she must have the knowledge and experience necessary to solve any problems that may pop up with either the USCIS (former INS) or the Embassy. Unfortunately, problems do occur even when the petition is perfect. Keep in mind that the officers at both the USCIS (former INS) and the Embassies are tremendously overworked and sometimes under trained. Like any job, some officers enjoy their work more than do others. If you are able to get through on the general public phone lines, the USCIS (former INS) or US Consulate staff you talk to has only a computer screen in front of them to look at - not your case file - and can only make educated guesses as to what the status is. However, many staff members are unfamiliar with the fiancee visa or spousal visa processes because the K visa represents only a small fraction of immigration filings. A problem at the USCIS (former INS) can delay your petition 3 months or longer and a problem at the Embassy can delay the application 6-12 months. If such a delay occurs you want to have someone representing you who knows what to do and how to do it in order to keep the delay to a minimum.

Can a fiancee visa be refused?
Yes, though if you and your fiancee are genuine and meet the requirements (see above), this should not happen. Of the thousands of fiancee visa petitions filed with the USCIS (former INS) every year, only approximately 60% result in a fiancee visa ever being issued by the Embassies. Why the figure is so low? Of the 40% that do not make it, most are not denied but are terminated, by either the fiancee or U.S. fiance, because there were problems with either the USCIS (former INS) or the Embassy that created long delays in the processing. So the timing is very essential in the fiancee visa process.

What is the best way to approach the fiancee visa process?
There are several ways you can approach the fiancee visa process:
1. You can attempt to handle the paperwork yourself.
You and your fiancee fill out all documents yourselves, send them to USCIS (former INS), and wait for the results. If you take this approach you may find our Fiancee Visa Kit to be very useful.
2. You can use a so called "fiancee visa service" to assist you.
In this way you hire somebody to fill out the documents for you and your fiancee, send them to USCIS (former INS), and wait for the results. This is probably the least desirable method as the "services", although they may lead you to believe they are attorneys, are in fact not US Immigration attorneys. When a problem or delay occurs in the normal course of processing, they cannot represent you or your fiancee before the Immigration and Naturalization Service or with the appropriate U.S. Embassy. When they cannot provide immigration help, or are unwilling to do so, you have no one to complain to because they are unlicensed and unregulated. Especially, do not hire an agency overseas. Fiancee visas are processed according to U.S. law, not the laws of the country where your fiancee resides. "Foreign agents" outside the U.S. are nearly always a scam. Always require a license when hiring an immigration service.
3. You can hire a U.S. immigration law firm that specializes in fiancee visas.
Although this is the more expensive of the three approaches, if you want your fiancee with you in the U.S. with speed and certainty and with the least amount of hassles, delays, investigations or denials, this is certainly the way to go. In your search for a U.S. immigration law firm to handle your matter, it is important to find someone who has the knowledge and skill to work your case through the system in a timely manner to the successful issuance of the visa, and has the necessary experience and established connections.
---
ABOUT THE AUTHORS: Larry Holmes and Allan Lolly are professional immigration attorneys. Their law firm, Holmes & Lolly, Immigration Attorneys (http://www.fianceevisas.com/), was established in 1991 and until 2001 it handled only the K1 fiancee visa. In 2001 Congress created the spousal visa ( K3 visa ) for overseas marriages, and since then Holmes & Lolly handle a sizeable caseload of K3 visas as well. With over 3500 successful applications for K visas to date, currently the firm handles more fiancee visa and spousal visa petitions than any other law firm. Their success rate is 100% (since 1991). They service clients in all 50 states and fiancees and spouses from all countries of the world. If you call them, they will give you an honest assessment of your case based on experience and are quick and efficient about their work.
If you have any additional questions regarding the K1 fiancee visa or the spousal K-3 visa you can contact Larry Holmes or Allan Lolly at attorneys@fianceevisas.com or by phone at 858-483-0300.
Mention RUSSIAN DATING AGENCIES and Holmes & Lolly will spend as much time as you need for you to get a better understanding of the process of immigrating your fiancee on a fiancee K1 visa. If you are married, or intend to marry overseas, they will be glad to discuss with you the spousal K3 visa for a foreign wife. They do NOT charge for phone consultations.
If your successful romance leads you to decide to hire a US immigration lawyer, we highly recommend Holmes & Lolly. They know the foreign marriage process from A to Z, and will provide you not only with quick and efficient service but also with invaluable advice and support. Please visit http://www.fianceevisas.com/ and do not forget to bookmark their site. These guys really know what they are doing!
---
Do you have an experience in fiancee visa process you would like to share? Tips and advice? We want to hear from you!
Click here to Contact us
---
READ ALSO:
Cheap Ticket to Russia - Discover embarrassingly simple ways of how to travel to Russia, as often as you want and to make money instead of spending it, every time! Learn why so many successful Russian businesses are eager to find a western partner.
Why Russian Women? - If you decided to find yourself a Russian wife, you would be inundated with questions of the type "Why Russian Women?" from everybody you cared to share your idea with. Surprisingly, every Russian woman you are writing to will ask the same question: "Why do you want to find a wife in Russia?" After a while, you might start questioning your own sanity in doing the thing which everybody, including your dates in this Internet rendezvous, consider strange enough to request explanations. Here you will find some ready-to-use answers for your family, friends and Russian women you are writing to.
Immigration scams: ARE YOU AT RISK? - Any man who even remotely considers the idea of marrying a Russian woman will face the question of immigration scams: that a woman will marry him with the only purpose of gaining residence to his country, and will divorce him soon after the marriage. Is it true that there are many Russian women that will marry a man only for the purpose of immigration? How common are immigration scams in marriages with Russian women?
---

The latest E-book of Elena Petrova:
"Stop Wasting Money on Dating Russian, Ukrainian Women"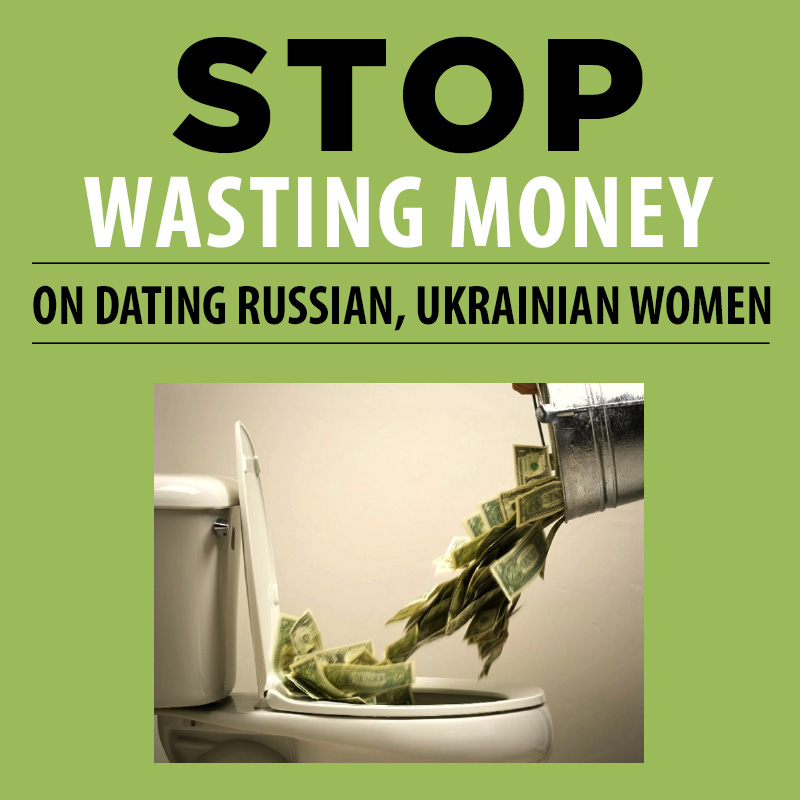 Are you dating Russian, Ukrainian women from the countries of the former USSR? Then you can't afford to miss this. This information can save you thousands of dollars and months of wasted time and effort. Elena Petrova, the former "mail order bride" from Russia, uncovers dirty tricks and traps of online relationships with Russian, Ukrainian girls, and how you can easily be scammed by unscrupulous players. Learn simple and quick ways how to shield yourself from scams and fraud in dating Eastern European women.
Want to learn more? Click here
---