By Russian Brides Cyber Guide's user
Thank you Elena, not just for making a site like this.
In truth, yes, you can fall in love online and yes, it can work, but saying this if not done right, it will fail.
What I mean by saying this is before you even consider doing this get the facts like Elena gives.

The lady may love you as much as you love her but… (like in my case, which was not with a Russian but Chinese).

Well, believe me, you may think that communication can be overcome and it can (language dictionaries and electronic translators can really do wonders, as well as having a translator there) but try convincing the gov of the country you want to bring your bride to.

All I can say to anyone wanting to do this: take tons of pictures, every email and real letter, and even messenger conversations must!!!!! be documented right from go.

Make sure you have had her health checked as in some countries that could mean a fail like in my case.

If her language is not your home country's, enroll her in school right away - shows she wants to come and you care. Keep every receipt if you enroll her in school, having receipts is important.

Spousal visa in Canada is fast but don't always work. They look for scams (believe me) and if she can't pass the health requirements, well, sorry - you lose.

If they see you really can't communicate - again a fail. Plus go to her first, then bring her to your country on tourist visa, then decide each time it had better be weeks spent with each other.

Just a few of my thoughts on this and hope you all really research this and Elena is right - women from other countries are everything you can dream of but don't for one minute think they are like the girls you know back home. A man gets respect from women abroad -something our home grown ladies have forgotten. Also saying this, don't think you are smarter then them, as you will get a surprise and respect them as they deserve.

One more thing, tell her upfront as any good immigration lawyers will says she will have to sign a prenup - this is not just to protect you but her and to cover yourselves from government laws. Just reading immigration laws will scare some of you right away from this but it can all be over come if done right so get help.

---
READ ALSO:

"Are you the American male looking for the Russian wife?"
Article of Richard A. Blackwood about do's and don'ts in the search for a Russian wife - must read for any man considering the idea of finding a Russian bride. In less than 20 minutes you will know more than some men know after a few years of their search!

Why Look for a Wife in Russia?
By Clinton Carey: "One day, over a beer with my brother, he suggested to me that I place an ad on the Internet with a matchmaking agency. I laughed, and dismissed the idea. As the weeks went on, I thought to myself, "Why not? I travel a lot. I don't have time to meet women normally, and I definitely don't like the bar scene with its' head games and lack of quality in both men and women. So, I placed an ad..."

Myths and Reality
There is too much prejudice towards "Russian brides" - Russian women seeking men for marriage, both positive and negative. I call this prejudice "myths", and consider them one by one.
Why Russian Women? - If you decided to find a Russian wife, you would be inundated with questions of the type "Why Russian Women?" from everybody you cared to share your idea with. Surprisingly, every Russian woman you are writing to will ask the same question: "Why do you want to find a wife in Russia?" After a while, you might start questioning your own sanity in doing the thing which everybody, including your dates in this Internet rendezvous, consider strange enough to request explanations. Here you will find some ready-to-use answers for your family, friends and Russian women you are writing to.
Russian women secrets - Do's and don'ts in your relationship with a Russian lady.
The Universal Crib On Finding A Russian Wife - 101 tips for men seeking a young, beautiful Russian bride: the most compressed, step-by-step guidance on finding, courting and marrying a Russian woman.
MUST READ!
New e-book by Marina Smiley (the author of famous "The shocking truth about Russian brides").

Discover why so many guys continue to go to Russia, again and again they spend their money and time and are still unable to find their woman.
Learn how you can dramatically improve your success with Russian women and win when other fail.
Most intimate questions answered by a Russian woman - Medical Doctor.
---
The latest E-book of Elena Petrova:
"Stop Wasting Money on Dating Russian, Ukrainian Women"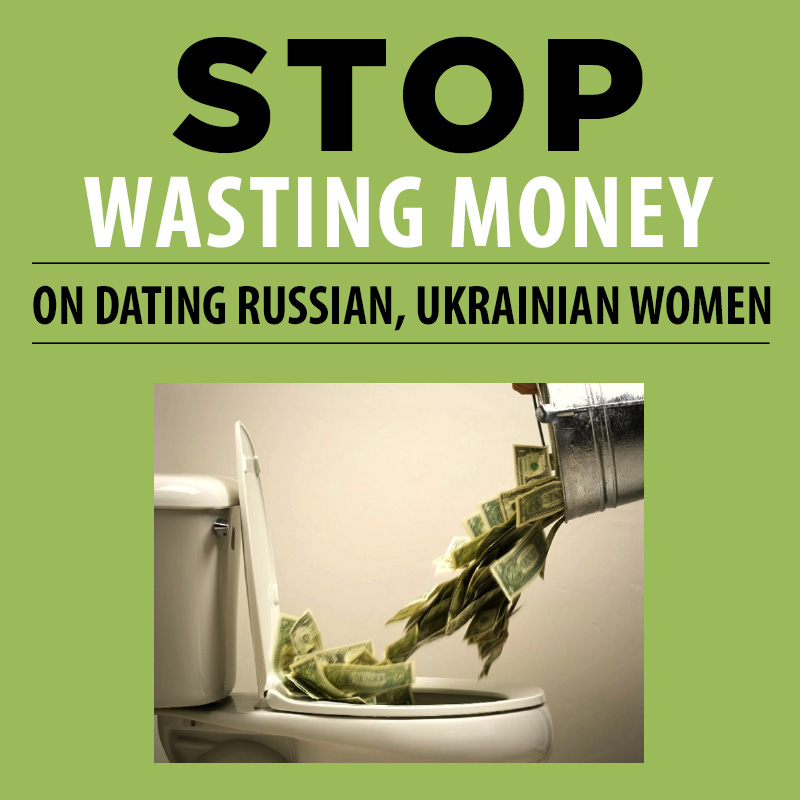 Are you dating Russian, Ukrainian women from the countries of the former USSR? Then you can't afford to miss this. This information can save you thousands of dollars and months of wasted time and effort. Elena Petrova, the former "mail order bride" from Russia, uncovers dirty tricks and traps of online relationships with Russian, Ukrainian girls, and how you can easily be scammed by unscrupulous players. Learn simple and quick ways how to shield yourself from scams and fraud in dating Eastern European women.
Want to learn more? Click here
The secrets in this book will give you an unfair advantage in the battle of sexes, so much that you may even feel guilty of using them... because you know EXACTLY what results you are going to get when the other party doesn't have a clue! It's like taking a candy from a baby.

So, if you want to keep your life the way it is...
DON'T read this book.
Because you'll NEVER be the same person again.
I promise.

DON'T CLICK HERE unless you are ready to get MORE love, MORE money and MORE success in your life!
---
---