Qualities of Russian Women
A true-life story of Ron and Tanya
My name is Ron, and my lady is Tanya. I am 50,she is 43 and I have never found a relationship like this with a western woman.
I first contacted Tanya through an internet site. Her photos were professionally posed, but I was drawn to her eyes, the fact that her smile seemed forced, and that she looked sad. I wrote to her, she wrote back, we e-mailed and 'phoned for seven months, I found out she had a 12 year old daughter, was divorced from an abusive husband and was 43 (her photos made her look 30).
Then I went to see her. A warmer, more lovely girl I have never met. She looked nothing like the studio 'photos, in fact she looked her age. But I was impressed by her warmth, the way she put her daughter first, and her inner calm.
Yes. I fell in love, fortunately it was reciprocated.
I've been with girls from my own world, but anyone who finds a Russian wife will be rewarded with loyalty, honesty and someone who will be with you through bad as well as good times.
When we first got in touch she spoke no English, now, less than a year later she is self taught, through effort and the desire to make this relationship work.
Her qualities are her beauty (but try telling her and she gets angry!), her intelligence, but for me the way she has dealt with her life, which hasn't been easy, her love for her daughter, and her tears when I leave her. I'm sure she thinks I'm not coming back, but I always do.
If any man finds the right Russian woman and is ready to work at a relationship, he will be rewarded with every quality he has ever looked for, but it does take commitment and work.
Ron Howard (USA)
---
READ ALSO:
I came to realize that wishes indeed come true
A story of Tom and Taya
At first it seemed completely unreal, and now we are trying to sort out her visa! - Read a story of Paul and Galina
Real life fairy-tale - One day a guy wrote to me asking if I think it's possible for him to find a partner through Internet. I said "Yes, why not?" and he started his search. Read a true-life fairy tale from Bart and Irina.
I'm an American woman married to a Russian MAN!
A true-life story from C. Rychkova: "I'm an American woman married to a Russian MAN and wouldn't have it any other way. ...Once you go Russian, there's no going back. Who would want to?"
---
Comments, suggestions? A story to share? We want to hear from you!
Click here to Contact us
---
JUST RELEASED! New E-book by Elena Petrova:
"How To Find And Marry A Girl Like Me"
Comment from the reader:
"This may well turn out to be the best purchase I have made... I hope not too many of my competitors find this book!"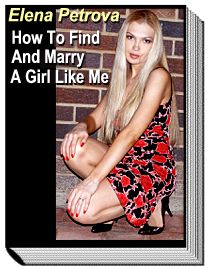 Discover how to find, court and finally marry a beautiful Russian woman!
This is the only book written by a beautiful Russian woman married to a western man - for more than 5 years! - and who is also the owner of a highly successful Internet dating agency.
Find out once and forever what Russian women are really looking for, why they are looking for it and how you can give them exactly what they want!
Get responses on your letters to beautiful Russian women - 9 out of 10, GUARANTEED!
With "How To Find And Marry A Girl Like Me" you'll learn knock-out techniques that will instantly boost your success rate in dating Russian women - online and in real life. You will have more beautiful girls that want to be with you than you can handle!
And not just ordinary girls! They will be beautiful, intelligent, but most of all - honest and sincere! You will be the one to take your pick!
STOP wasting your time and money in search for a Russian wife... Get it done - painlessly, easily, and certainly! Moreover, have lots of fun along the way!
Yes, you too can marry a girl like the one on the picture... Click here!
---
RECOMMENDED:
New Ebook You Cannot Afford To Miss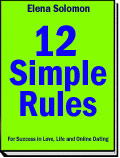 Dating can be complicated... it doesn't have to be! You can jump start your love life - or you can keep wandering in the dark; the choice is yours!
When it comes to dating, most men make the same silly mistakes with women - over and over, with disastrous results.
Do you want to do BETTER than 99% of other guys? Click here
---
---