I'm an American woman married to a Russian MAN!
A true-life story
Hey, news flash American men!
American women aren't particularly impressed with *you,* either!
I'm an American woman married to a Russian MAN and wouldn't have it any other way.
My Russian husband respects my independence (encourages it, actually), is a fantastic cook, devoted, romantic, wonderful father, courtly, NOT an alcoholic (there are more alcoholics in America, I'd venture to say, they just don't talk about it!), and he possesses the strongest work ethic I have ever seen.
To top it all off, he is totally fit and looks like a combo of Baryshnikov and Mel Gibson.
I have NEVER found all the above in ANY American male, although there are many, many wonderful American men.
But hey man, once you go Russian, there's no going back. Who would want to?
So, I understand your enthusiasm, but can't you lay off the continual trashing of American women? You are SO off base, and act like it's some great loss to us American women who are losing out on American men's charms.
Well, maybe some of us aren't interested in your kind... so don't praise yourself so highly.
I know I'm not crying for losing out on American men. You Russian birds can HAVE them! Please!
Regards,
C. Rychkova (USA)
---
READ ALSO:
I came to realize that wishes indeed come true
A story of Tom and Taya
At first it seemed completely unreal, and now we are trying to sort out her visa! - Read a story of Paul and Galina
Real life fairy-tale - One day a guy wrote to me asking if I think it's possible for him to find a partner through Internet. I said "Yes, why not?" and he started his search. Read a true-life fairy tale from Bart and Irina.
---
Comments, suggestions? A story to share? We want to hear from you!
Click here to Contact us
---
JUST RELEASED! New E-book by Elena Petrova:
"How To Find And Marry A Girl Like Me"
Comment from the reader:
"This may well turn out to be the best purchase I have made... I hope not too many of my competitors find this book!"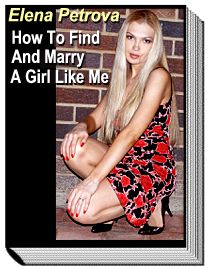 Discover how to find, court and finally marry a beautiful Russian woman!
This is the only book written by a beautiful Russian woman married to a western man - for more than 5 years! - and who is also the owner of a highly successful Internet dating agency.
Find out once and forever what Russian women are really looking for, why they are looking for it and how you can give them exactly what they want!
Get responses on your letters to beautiful Russian women - 9 out of 10, GUARANTEED!
With "How To Find And Marry A Girl Like Me" you'll learn knock-out techniques that will instantly boost your success rate in dating Russian women - online and in real life. You will have more beautiful girls that want to be with you than you can handle!
And not just ordinary girls! They will be beautiful, intelligent, but most of all - honest and sincere! You will be the one to take your pick!
STOP wasting your time and money in search for a Russian wife... Get it done - painlessly, easily, and certainly! Moreover, have lots of fun along the way!
Yes, you too can marry a girl like the one on the picture... Click here!
---
RECOMMENDED:
New Ebook You Cannot Afford To Miss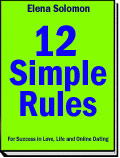 Dating can be complicated... it doesn't have to be! You can jump start your love life - or you can keep wandering in the dark; the choice is yours!
When it comes to dating, most men make the same silly mistakes with women - over and over, with disastrous results.
Do you want to do BETTER than 99% of other guys? Click here
---
---