By Elena Petrova

There is one moment in dating Russian women that the majority of western men overlook - with grave consequences.

For many men it resulted in their letters being rejected or never answered, for others - low response to their ads, and for the third - their trip to the other side of the globe ending in vain.

When these men try to understand why it happened, they never get to the real reason. Why? It is something a man can hardly comprehend, a "girl thing". But for women, this is one of the most significant errors a man can make.

Puzzled? OK, I won't keep you in the dark for long...

The answer is trivial: clothes!

Yep, this superficial feature is so important for us women that we can reject a perfectly suitable mate basing on it.

We want you guys to dress neat and tidy and somewhat elegant. All women in the world want it from their men, but Russia is one of the most fashion conscious countries. Both men and women position themselves through their clothes. They all are fashion maniacs! If your clothes look sloppy, they will decide you are low class. (I must notice here that the way most Americans and westerners in general dress would appear as sloppy to Russian women.)

For the formal introductions (such as cases of the photo included with your introduction letter or your personal ad) suit and tie will work the best. Yes, such clothes may look ridiculous in western personals but for dating Russian women, that's exactly THE THING.

No open legs (shorts etc) or naked torsos! In western personals, ads of guys with 6-packs may produce great results but Russian women will feel insulted. That's a cultural thing. You can include a photo in a tight T-shirt and jeans, for example, but not without a top (or bottom).

Tattoos and earrings: absolute NO-NO. In Russia, only ex-prisoners and ex-marines have tattoos. Earrings would mean you are a gay. Cover up your body art and remove piercing. If you go to Russia one day (and I hope you will), be prepared to explain in length that in the west it is normal for people to have tattoos and body piercing and many celebrities have them. Still, try to postpone this discussion for later - don't shock her on the first day of your arrival.

When you go to Russia, dress smart casual or formal. You virtually cannot be overdressed there (unless you go to the beach in your tuxedo :-)). I certainly recommend taking a suit and tie for "meeting the parents" and formal occasions such as going to a smart restaurant. For daily wear, a dress shirt with formal pants (may be also designer jeans or slacks) and fashionable shoes/boots. Take a formal jacket that will go with anything from jeans to formal pants and you can leave your suit at home.

The clothes should be new or nearly new. Fortunately, men's fashion does not change as often as women's: a quality dress shirt and formal dark pants will serve you for many years. The leader in style, according to the Russian sites, is "Hugo Boss" - this is what a man should look like, to impress a Russian woman. Find out what shops stock these overpriced designer items at your area or have a look on the Internet (www.hugoboss.com), then go to a place with normal prices and high quality and buy something similar. You don't need to drain your entire bank account - just buy a pair of formal pants, a pair of designer jeans, 3-4 dress shirts, a couple of polo shirts, and one pair of shoes, this will suffice. You probably have a double-sided jacket from the times of cold war; they are in fashion again. For the cold time of the year, rather take a long coat made of wool than sporty jacket.

Don't forget to wear an expensive toilet water and a deodorant with the same smell. Go for classics such as Aramis or Drakkar. No body odor should be noticeable; that's a huge turn-off for the girls. It can mean showering a few times a day, if it's hot. Women are extremely sensitive to good personal hygiene.

Women want to be with men who take care of themselves; just as you want to be with a woman who looks after herself. Your dressing style shows women if you are taking them [women] seriously and want them to like you, or you take them for granted. Your clothes make the woman trust you or reject you. If you cannot take care of yourself, how would you be able to take care of her?

A simple change to your wardrobe can attract to you women of better quality and ensure your relationship with the woman of your dreams will have a better start.

The Russian saying goes, "People meet you [judging] by your dress and see you off [judging] by your intelligence."

Be prepared!
---
Comments, suggestions? We want to hear from you!
Click here to Contact us
---
READ ALSO:

JUST RELEASED! New E-book by Elena Petrova:
"How To Find And Marry A Girl Like Me"
Comment from the reader:
"This may well turn out to be the best purchase I have made... I hope not too many of my competitors find this book!"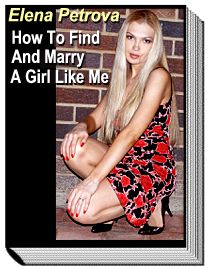 Discover how to find, court and finally marry a beautiful Russian woman!
This is the only book written by a beautiful Russian woman married to a western man - for more than 5 years! - and who is also the owner of a highly successful Internet dating agency.
Find out once and forever what Russian women are really looking for, why they are looking for it and how you can give them exactly what they want!
Get responses on your letters to beautiful Russian women - 9 out of 10, GUARANTEED!
With "How To Find And Marry A Girl Like Me" you'll learn knock-out techniques that will instantly boost your success rate in dating Russian women - online and in real life. You will have more beautiful girls that want to be with you than you can handle!
And not just ordinary girls! They will be beautiful, intelligent, but most of all - honest and sincere! You will be the one to take your pick!
STOP wasting your time and money in search for a Russian wife... Get it done - painlessly, easily, and certainly! Moreover, have lots of fun along the way!
Yes, you too can marry a girl like the one on the picture... Click here!
---
12 reasons why Russian women are NOT desperate to leave their country - an opinion of an American man who has spent in Russia 6 months, traveled to 9 cities and talked to hundreds of Russian people.
The Universal Crib On Finding A Russian Wife - the most compressed, step-by-step guidance on finding, courting and marrying a Russian woman.
"Are you the American male looking for the Russian wife?"
Article of Richard A. Blackwood about do's and don'ts in the search for a Russian wife - must read for any man considering the idea of finding a Russian bride. In less than 20 minutes you will know more than some men know after a few years of their search!