By Cynthia Perkins

1. Communicate
Communication with your lover is "the" most important factor for not only a satisfying sexual relationship but for a relationship in general. If you do not communicate with your partner you can't be satisfied. Many people falsely believe that their lover can read their mind or that they should instinctively know how to please them. This is a very destructive belief for not only the sex, but also the relationship as a whole. Speak openly, directly and honestly. Be specific. Tell your partner where, when and how to touch you. Describe how much pressure, how much speed and the timing you need. Tell them what, when and how to say what you need to hear etc. Let them know when it feels good and when it doesn't. Good communication involves the expression of feelings. Discuss your feelings, needs, desires, fears, embarrassments, expectations in and out of the bedroom in regard to all aspects of the relationship. Good communication will increase intimacy and greater intimacy will lead to greater sex.

2. Be an Unselfish Lover
Be a selfless lover (meaning your goal is your pure desire to give your partner the pleasure they desire.) Don't take each other for granted, which is easy to do if you have been together for a while and will kill your passion. Don't pleasure your lover according to what feels good for you, give them what you know they enjoy. Always tend to your partners needs as well as your own and you will be considered a good lover. Spend one lovemaking session devoted entirely to your lover. Make them feel special and cherished. Express your love and appreciation freely and frequently outside of the bedroom as well as inside the bedroom. Don't assume your lover knows how you feel. It needs to be verbalized. Say I love you or you are so beautiful, or you feel so good. Everyone wants to feel loved, valued and appreciated. Remember that what occurs outside the bedroom greatly impacts what will occur in the bed.

3. Seek Variety
As the saying goes "Variety is the spice of Life", and boredom is one of the main causes of unfaithfulness. If you keep a lot of variety in your positions and activities, you will never be bored. There are numerous books and videos that can give you new suggestions or be creative and use your imagination. Try having sex in different places of the house or in a bathroom at the gas station, restaurant or some other place that is very exciting for you where you won't get caught. Take a shower with your lover and use your hands as the washrag. Soap them up and explore every inch, nook and cranny of their body. Savor them as if they were a fine a wine. This will elicit erotic, sensual, spiritual and physical energy in both of you and will also serve as a tool to help you learn invaluable information about one another's bodies. Get naked outside and make wild passionate love. I don't believe there is anything more freeing, arousing and spiritual than being naked outside and to make love with the feel of the elements upon your body. It gets you in touch with the primal basics and elicits uninhibited passions. Do things that are unique for you as a couple and you can keep the variety and spice while remaining a monogamous couple. Change your routine.

4. Be Spontaneous and Adventurous
Surprise your lover with something unusual and kinky. Yes Kinky! Be outrageous and adventurous. Show up at their work for lunch naked under your coat and flash them. Send them an invitation to a hotel for a hot night of sex. Role play one of your fantasies. Tell them you must have them at some unusual spot and take them passionately. Women, try not wearing your panties and bra and go through your daily activities. Not having a bra and panties on is very stimulating and will make you feel very sexy and erotic. Tell your partner that you aren't wearing any and you will drive them absolutely wild with the thought of it.

5. Be Present in the Here and Now
Fully experience each touch, sensation, smell, movement, sound and taste while you are making love. Don't allow your mind to slip into thoughts about work, children or fixing dinner etc. Stay completely focused on your partner and your experience. Allow yourself to become totally immersed in the pleasurable sensations you are giving and receiving.

6. Know Your Own Body and Desires
If you don't know what excites you and pleases you, then your lover can't either. Explore your own body and discover what you like and don't like. Find out what arouses you and makes you roar. Make love with yourself. You can really drive your lover wild by allowing them to watch you pleasure yourself.

7. Make Sex a Priority
Relationships are the most important aspect of our lives and sex is a crucial component of your intimate relationship. Make time for lovemaking. Don't push it off. It should be one of the biggest priorities in your life. When sex is pushed aside desire and passion will dwindle. The more you engage in sex the more your desire will grow.

8. Pursue Your Lover with Unbridled Passion
It is a great aphrodisiac for both female and male to see and feel desire and passion in their lover's eyes and actions. Let your lover know how deeply you want them. Tear their clothes off and take them passionately. Let them hear you delight in them. When making love, tell them how much you enjoy their body or how good they feel to you. Let loose with total abandon.

9. Know Your Partner's Hot Zones
Taking the time to learn what makes your lovers motor run is one of the most important ingredients for great sex. You can never know your lover too much. Pay attention to when and what your lover responds to and learn what they need. Store it in your mind and be sure to use it frequently. When your lover is pleasured and satisfied then they want to reciprocate and please you even more, and thus sexual satisfaction is heightened for both partners. When you know how to please your lover, their desire for you increases and they will want sex more often. Knowing your partner and making a point to please them is an act of love; it shows them they are important to you and that you care about their needs. You should know your lovers love buttons like the back of your hand.

10. Be an Oral Connoisseur
Being a skilled oral lover is a very important component of a couple's sexual relationship for both the male and the female. There are few things more pleasurable for either man or woman than to be savored, devoured and satisfied orally by their lover. It is one of the most intimate gifts we can give one another. Pleasuring your lover orally has become an integral part of lovemaking. One of the great aspects of oral sex is that it can be a part of foreplay or the main course and there are so many ways to explore it. Giving oral pleasure to your lover is an ultimate act of unselfishness, giving, caring and loving.


---
ABOUT THE AUTHOR: Cynthia Perkins, M.Ed., is a sex advisor/educator and writer specializing in sexual intimacy and keeping the fire alive. She is also author of the hot new sex guide for couples titled, "Smoldering Embers-Hot Erotic Stories and Sex Tips to Light a Couple's Fire. Services, Books and a FREE Monthly EZine can be found at her website. http://www.smolderingembers.com/ or send any email to this address to subscribe to the FREE Newsletter smolderingembers-subscribe@topica.com
---
Do you have an article we could publish? We want to hear from you!
Click here to Submit your article
---
READ ALSO:

Russian women online: Meet Real-Life Russian Brides!! - You certainly have heard about mail order brides and Russian women seeking foreign men for marriage, but most likely you have not met any real-life Russian brides. Let me introduce you to a few of them - a tiny fraction of many thousands Russian women that found their love and marriage abroad...
Dating Russian Women: The Crazy Thing OR A Wonderful Opportunity?
I receive lots of requests for interviews from journalists all over the world, and the question they invariably ask is: "Why western men look for Russian women?" So let me once and forever explain you the reason why thousands western men flock to Russia in search for their love partner...
Surefire Conversation Starters
Can you confidently walk up to someone and start a conversation? Do you know how to evaporate a silent pause? Using a conversation starter with your co-worker or classmate can lead to several minutes of enjoyable conversation. Here are a few conversation starters which are proven to work for starting conversations.

Wedding Favor Creator
Unique Wedding Favor Ideas. Wedding favors have always been a nice, personal gesture to include in your wedding preparations. All the ideas for the Wedding favor are described and it includes small containers to use for candies, chocolates, small floating candles etc, sample sayings and poems to write or print onto a small note card along with your names and wedding date, and other unique ideas.

The Basics of Planning A Beach Themed Wedding - Part II
- By Rose Smith. Have your consider the theme of your wedding? If it is a beach theme, it is not as easy as it looks but it will surely be very romantic and memorable for both the wedding couple and the guests. Just make sure you can answer all the question listed in the article.
---
JUST RELEASED! New E-book by Elena Petrova:
"How To Find And Marry A Girl Like Me"
Comment from the reader:
"This may well turn out to be the best purchase I have made... I hope not too many of my competitors find this book!"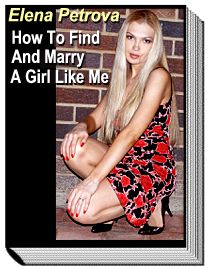 Discover how to find, court and finally marry a beautiful Russian woman... from a beautiful Russian woman!
Find out once and forever what Russian women are really looking for, why they are looking for it and how you can give them exactly what they want!
With "How To Find And Marry A Girl Like Me" you'll learn knock-out techniques that will instantly boost your success rate in dating Russian women - online and in real life. You will have more beautiful girls that want to be with you than you can handle!
And not just ordinary girls! They will be beautiful, intelligent, but most of all - honest and sincere! You will be the one to take your pick!
STOP wasting your time and money in search for a Russian wife... Get it done - painlessly, easily, and certainly! Moreover, have lots of fun along the way!
Yes, you too can marry a girl like the one on the picture... Click here!
---
RECOMMENDED:
New Ebook You Cannot Afford To Miss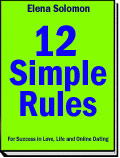 Dating can be complicated... it doesn't have to be! You can jump start your love life - or you can keep wandering in the dark; the choice is yours!
When it comes to dating, most men make the same silly mistakes with women - over and over, with disastrous results.
Do you want to do BETTER than 99% of other guys? Click here
---