By Rose Smith,

The rules regarding the use of beaches, you will find there are many other considerations you will need to take into account when planning this type of wedding. Here are some additional questions you should answer when planning out your beach wedding theme:

* What time of day do you wish to have your wedding - sunrise, sunset, or early morning?
I would suggest you do not have a beach wedding during the heat of the afternoon. Not only would it be uncomfortably hot for many people, beaches tend to be crowded during this period of the day. Remember, it also cools down a lot in the evenings when on a beach. Remind your guests to bring sweaters, jackets and some blankets just in case they are needed.

* What is the tide schedule? How high does the tide get at that particular beach?
You will need to plan your wedding time around the tides. The last thing you need is having to suddenly pack up and leave because the tide is coming in and you didn't foresee this.

* As you'll probably be planning your wedding several months in advance, you'll need to determine the type of weather that normally occurs around your wedding date. What will you do if it rains or if the day is unusually cold or extremely hot?
You will need to prepare a back up plan for these situations. Be sure to supply this information on your wedding invitations so guests will know where to go if there is a sudden change in plans.

* On the same note, the day may be beautiful for the most part, and then a sudden storm may crop up. Where will you and your guests go? Are there any facilities nearby that you can use to continue with your wedding festivities?

* Make sure you take a trip to the beach at the time of day you wish to have your wedding. Check on the noise at the ceremony location. How loud is the traffic from the road? Are there a lot of seagulls around? What about the sound from the crashing waves? All of these can drown out the ceremony and speeches said at your wedding.

* Are there mosquitoes at that time of year and how bad are they on the beach area? How can you control them and other bugs?

* Some beaches smell bad during certain periods of the day or certain times of the year. Check to be sure that this is not the case during the time period that you've chosen.

* How windy is it on that particular beach? Does it get a gentle breeze or fairly heavy winds?
A breeze is nice to keep the bugs away and cool guests off a steady wind can cause many problems though.

* Are you thinking of setting up tables or just use picnic blankets on the sand? How will you keep sand and other debris out of your food? Will there be chairs set up at the ceremony for the guests? Who will you hire to do this? Who will you get to take everything down and clean up the beach after the wedding?

* How will you supply music for the wedding ceremony and/or reception? If there is no electricity available for use with microphones or musical instruments, what are your alternatives?

By answering the above questions and having a good plan of action, you will avoid many nasty surprises at your beach wedding. Many couples don't realize all the work involved in planning this type of wedding. You may want to consider having just the ceremony on the beach with a few close friends and family, and then moving to an indoor location for the wedding reception.
There are many decorations and ideas that you can incorporate to give the reception area a nice beach theme flavor, without having to be outside on an actual beach. Either way, beach theme weddings can be very romantic and memorable for both the wedding couple and the guests. Just be sure to plan well for all possibilities and you should have a wonderfully romantic wedding day.
In Part I of this article, I discussed rules and regulations that you will need to have answered by local officials in regards using a particular beach for your beach wedding. If you missed the first article, you can read it at the following web page: http://www.wedthemes.com/beach-wedding-partI.htm.
---
ABOUT THE AUTHOR: Rose Smith is the owner of Wedding Themes and More, a website designed to help you discover your perfect wedding theme. You can find more information, resources and articles about beach weddings at: http://www.wedthemes.com/beach-weddings.htm.
---
Do you have an article we could publish? We want to hear from you!
Click here to Submit your article
---
READ ALSO:

Ten Hot Tips to Light Your Woman's Fire
Tips to drive your woman crazy and she will never forget it. Satisfy your woman with our ten hot tips which include how to kiss, touch, connect emotionally, foreplay, after play, etc.
Be Prepared With A Bride's Emergency Kit
Are you ready for the wedding? Remember: things get wrong when they are least expected! Get ready with the bride's emergency kit - make sure your most important event will not be ruined!
Happiness - the Ultimate Egoism?
Is happiness made by romance, egoism, success, wealth or flexibility? Happiness is a moving target: as things and circumstances change in our lives, happiness becomes defined differently. If one goal turns out to be unachievable, most of us have the suppleness to redefine our desire and go for the newly formulated goal.
Family Matters!
Having relationships is all about making emotional commitments to people we care about. One of the ways to find your happiness involves having a healthy family, friends, partners, etc. Appreciate the people who have touched our lives in positive ways. Studies have shown that those who are truly happiest are those with strong connections to the people they love.
Wedding Planning I (Scheduling)
"A-wedding Day" had many requests for information about the chronology of steps for both the wedding ceremony and reception. The steps will help you schedule the details involved with your wedding ceremony and reception. It is important that you note that these are general and the actual procedure for your personal wedding may vary according to your preference and these of your officiant as you incorporate your religion, heritage and customs. Steps for incorporating kids in re-marriages and blending families are included. Your Russian girlfriend will be most curious to learn about this!
5 Sexual Myths Destructive to Your Relationship
Following those myths can destroy your relationship in no time! Stop making mistakes that other people are doing in their sex lives. In this era where sex seems to be on the mind of everyone and talked about more openly than ever before, it is surprising that there continues to be a lot of misinformation and misconceptions. These myths perpetuate unhealthy patterns of relating, expectations and satisfaction and have the potential to destroy a relationship.
---
JUST RELEASED! New E-book by Elena Petrova:
"How To Find And Marry A Girl Like Me"
Comment from the reader:
"This may well turn out to be the best purchase I have made... I hope not too many of my competitors find this book!"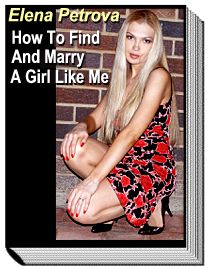 Discover how to find, court and finally marry a beautiful Russian woman... from a beautiful Russian woman!
Find out once and forever what Russian women are really looking for, why they are looking for it and how you can give them exactly what they want!
With "How To Find And Marry A Girl Like Me" you'll learn knock-out techniques that will instantly boost your success rate in dating Russian women - online and in real life. You will have more beautiful girls that want to be with you than you can handle!
And not just ordinary girls! They will be beautiful, intelligent, but most of all - honest and sincere! You will be the one to take your pick!
STOP wasting your time and money in search for a Russian wife... Get it done - painlessly, easily, and certainly! Moreover, have lots of fun along the way!
Yes, you too can marry a girl like the one on the picture... Click here!
---
RECOMMENDED:
New Ebook You Cannot Afford To Miss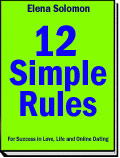 Dating can be complicated... it doesn't have to be! You can jump start your love life - or you can keep wandering in the dark; the choice is yours!
When it comes to dating, most men make the same silly mistakes with women - over and over, with disastrous results.
Do you want to do BETTER than 99% of other guys? Click here
---