Contest: "Personal Experiences"
---
I've just begun
By Jared S.

I wanted to share with you my story of initiating a search for my true love in the CIS. About a year ago, my wife left and divorced me - not over any unfaithfulness, but from irreconcilable differences. I loved her very much and was devastated. Everything I did to heal the relationship was criticized. She is a good person with high Christian values like me but would not accept my efforts.

I remembered from my days in the university that I considered living for 2 months in Denmark to find a lovely, trustworthy wife. I figured that many Europeans do not have the heavily materialist expectations that Americans bring into a marriage. Now, as I rethought the idea, I concluded that the farther east I search into Europe, the Ukraine, and Russia, the greater the likelihood that I would find a women who would appreciate my role as a breadwinner in the family. Also, I discovered that their attitudes of the role of the mother in the family are more traditional. Since I have known some struggle in my life as a child, I can appreciate the great struggle and sacrifice that many of these women have persevered through the troubled history of Communism. Lenin's principles were certainly much more noble than our Darwin-like Capitalism; they simply do not work in practice in a world of self-concerned people. We all apparently need quite a bit of motivation to keep up with the challenges of life. One of these ladies may greatly appreciate the far-reaching efforts I make to bring her around the world to a more hopeful environment (not necessarily that much more secure in our modern world). Sure I can find a wife here in America, but will the dynamics necessarily work out? My past relationship proved that identical backgrounds, both religious and cultural, can create unspoken expectations that can frustrate even the best relationship. Perhaps a quest to understand and embrace a wife from a different culture can bind a marriage from a different approach.

Anyway, as I browsed the Internet, I quickly found tens if not a hundred sites selling addresses to help me start the process. Avoiding the scams, I assume many of them are honest businesses that collect money for their earned efforts. As expected from the competition, some of them are better deals than others. Worse than the cost management problem is this. I found quite a few websites that really do want to maintain a stranglehold over my correspondences - dipping their hand into my pocket for money for every word out of my mouth - justified cost or not. Granted, I owe them a fee for their role in marketing the profiles of interested parties, but they do not own my relationships.

On a more encouraging note, I found a website which is willing to offer free addresses and free email-forwarding with the faith that you will honestly contribute a donation of $600 to their cause when your marriage is complete, if they have proved faithful in assisting the process. Imagine that - a back-end-paid donation. $600 does seem a little high, but I appreciate the nobility of their attitude - pay if you think they have served you well.

One thing was missing from all of these websites - DIRECTIONS. Everyone has a conceived notion of how the process should work, but everyone discovers procedural question in their mind over which they hope not to stumble. I somehow discovered

www.womenrussia.com <http://www.womenrussia.com>. Like anyone knows who has found a golden nugget of an informative site on a topic, I found the one I needed. Detailed explanations, extensive Question and Answers section, historical and cultural background tips were freely offered to me for the learning. I wanted Elena's site to receive credit (and compensation) to launch an advertisement in the CIS for me. Who knows where I will necessarily find the right one. It is very encouraging to respond to a woman who you know has already felt an attraction to your profile - baldhead or funny nose.

I received around 30 responses in the first week (15 on the first day). I have a catalog of possibilities to begin a few emailed correspondences. My plan is to develop a few possible courtships before I plan on flying over to Asia in a few months.

At first, I worried about heavy email forwarding expenses; I do not want to hassle with slow postal mail. Many women already have the email process figured out. You can assist a couple of cases if you need to, but I prefer to stay away from that because of the possibility of a scam if the cost is not reasonable. Almost all of Elena's "Russian Brides Cyber guide" definitely have email addresses. I found 2 that did not.

Next, I worried about the fluency in English of the candidates. As I understand my role and duty as the man, I have to figure out this trans-ocean relationship building process, fly myself around the world, and propose and arrange an eventual marriage. I expect that the woman has a responsibility to begin her education of English before she comes to the USA. For you Frenchmen, I did notice a few profiles of fluent French. A few knew some German. Sure, her education in fluency will not be complete until she has lived in your country for some time, but she should make some initial progress. This said; you would be shocked at the fluency of some of the women. Obviously, when looking through profiles, I appreciate finding fluency self-ratings. My experience has been that some women under-rate their abilities in English. Because of the differences in sentence structure, some women's writings sound choppy, but their message comes out quite clearly. As long as they do not need to look up every single translation for words they are writing, many communicate quite effectively. I am patient enough to work with them to ensure comprehension beyond that. And I suspect that many read much better than they write. I know some Spanish words to guide my comprehension, but I can hardly read, write or speak any complete sentences. Quite a bit of credit must be given to the linguistic abilities mostly foreign to mainstream USA.

That is my story; I've just begun, but I must credit a thank you to Elena's website for giving me much direction, knowledge, and finally the confidence to embark upon my quest.
---
Do you have a story to tell? We want to hear from you!
Click here to Send your story
---
READ ALSO:
In Search of my Soulmate
By Charles Smith: "Since the break-up with my last American girl friend, I have been lonely and willing to try about anything. I contacted a Russian romantic tour company in the States and started to use their email service to correspond with various women..."
So many sites out there, so many women and so few men
By Randy Gates: "Many companies make promises, say things that aren't true or never live up to what they promise..."
---
JUST RELEASED! New E-book by Elena Petrova:
"How To Find And Marry A Girl Like Me"
Comment from the reader:
"This may well turn out to be the best purchase I have made... I hope not too many of my competitors find this book!"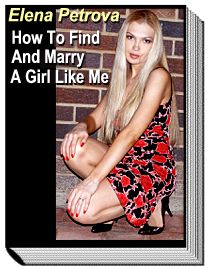 Discover how to find, court and finally marry a beautiful Russian woman!
This is the only book written by a beautiful Russian woman married to a western man - for more than 5 years! - and who is also the owner of a highly successful Internet dating agency.
Find out once and forever what Russian women are really looking for, why they are looking for it and how you can give them exactly what they want!
Get responses on your letters to beautiful Russian women - 9 out of 10, GUARANTEED!
With "How To Find And Marry A Girl Like Me" you'll learn knock-out techniques that will instantly boost your success rate in dating Russian women - online and in real life. You will have more beautiful girls that want to be with you than you can handle!
And not just ordinary girls! They will be beautiful, intelligent, but most of all - honest and sincere! You will be the one to take your pick!
STOP wasting your time and money in search for a Russian wife... Get it done - painlessly, easily, and certainly! Moreover, have lots of fun along the way!
Yes, you too can marry a girl like the one on the picture... Click here!
---