Contest: "Personal Experiences"
---
So many sites out there, so many women and so few men
By Randy Gates
I was browsing through some of the web sites and came across your site and read what you had to say about your contest and I am not surprised in a way. With so many sites out there, so many women and so few men it is hard to choose which site to take a chance on. Some sites say never to contact Ukrainian women because they are cut throat and gold diggers just trying to get out. Other sites say not to choose women from Moscow, or St. Petersburg because of the corruption and turmoil in those cities. There are sites which proclaim that for $1500.00 US they will give you unlimited women and find the right one for you, no matter how long it takes. Others offer travel packages and say they will present you to the women and display you like cattle at an auction. Some sites offer monthly packages, or 3 months or even a one time life time deal and provide many stories from those who have found their soulmate. Beware the rip offs and sending money to foreign agencies, or to women themselves. When reading material on the web they say that women who are from small towns, or from Siberia are the best because they have the typical Russian country girl background. There are some sites which say they have met the women personally and get to know them before putting up the profiles on their sites and they do background checks as well. There are many sites that do not give much information on the women and this becomes a problem as well because only a few lines and high prices who knows what you are getting into.
Well, what is the truth????????????????? I know from my experience, that I have only really had one lady that I truly was very interested in and she had gone to Israel to teach and I lost contact with her which was really too bad. There were other ladies, however, after a bad marriage I am not willing to rush into things to quickly and these ladies were not interested in a long correspondence, but what is long, after a couple of months they quit writing and I never heard from them again. Then, the rip offs, I myself have had it happen to me twice, the first time I did not know any better and sent some money to a young lady to pay for her internet access and that was the last I heard from her. The second time I paid the company for the internet access directly and the young lady used it to correspond with someone else. Then, there is the children thing, which some of the ladies mention that it does not matter, however, I have a child with Down Syndrome and when I mention this, Magic, they are gone or worse, they start with the sympathy and feeling sorry for you and my child. So, as you can see, this is not the situation I want either and I usually gracefully inform the lady that I am not interested anymore. The biggest problem is the culture and what not to say to the ladies, I have found that being honest and sincere, asking questions and responding to some of their questions they are insulted and just stop writing to you without a reason why, or trying to explain what it was that you have said to make them upset. The funny thing is that this type of behavior also changes the men's minds about writing to anymore ladies from the East, if this is how we are treated then why bother, there are ladies from other countries to choose from.
So, I have been ripped off twice, had a couple of ladies see my photo and just stop, one moved away and four or five stop when they find out one of my children is handicapped. However, I am not discouraged, just very cautious, very selective and patient. Many companies make promises, say things that aren't true or never live up to what they promise.
Anyway, this is what I have found from my past experiences about Russian ladies, yet, I still keep looking and I know that I will find someone eventually.
Sincerely,
Randy Gates
---
Do you have a story to tell? We want to hear from you!
Click here to Send your story
---
READ ALSO:
TONGUE IN CHEEK: The Dirty Lowdown on International Dating
by Dawk Ziti: "One day, Lisa and I were driving around, and she said, "I would very much like to get married." I did not stop to ask her whom she had in mind; instead, I zoomed into a church, perhaps a little too fast, as I barreled past the purvis, plowed through the ceiling-to-floor stained-glass window, and crashed into the first few rows of pews. No harm was done-to my car-as the savior was watching over me; I had chosen a good co-pilot..."
There's No Shipping Cost for True Love
By Jim Collins: "You should see Don's wife," said Vern, "I'm tellin' ya, she could be a model. He got her from Russia -- one of those mail order brides. He says she keeps the house spotless and hardly ever complains."
---
JUST RELEASED! New E-book by Elena Petrova:
"How To Find And Marry A Girl Like Me"
Comment from the reader:
"This may well turn out to be the best purchase I have made... I hope not too many of my competitors find this book!"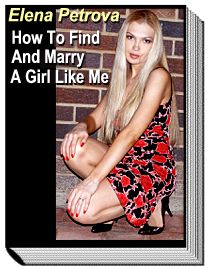 Discover how to find, court and finally marry a beautiful Russian woman!
This is the only book written by a beautiful Russian woman married to a western man - for more than 5 years! - and who is also the owner of a highly successful Internet dating agency.
Find out once and forever what Russian women are really looking for, why they are looking for it and how you can give them exactly what they want!
Get responses on your letters to beautiful Russian women - 9 out of 10, GUARANTEED!
With "How To Find And Marry A Girl Like Me" you'll learn knock-out techniques that will instantly boost your success rate in dating Russian women - online and in real life. You will have more beautiful girls that want to be with you than you can handle!
And not just ordinary girls! They will be beautiful, intelligent, but most of all - honest and sincere! You will be the one to take your pick!
STOP wasting your time and money in search for a Russian wife... Get it done - painlessly, easily, and certainly! Moreover, have lots of fun along the way!
Yes, you too can marry a girl like the one on the picture... Click here!
---