Reduce Stress: Honor Your Commitments

By Stephanie Marston, MFT
Copyright 2005
Keeping your word is critical to reducing your stress and creating a life you love. When I say keeping your word what I'm referring to is honoring what you commit to. It's keeping your promises, especially with yourself.

Unfortunately, we usually betray ourselves more than we do anyone else. We say one thing and do another. For any of you who have children or for that matter, who once were children, you know how it feels to have a promise made and then not kept. You lose faith and trust in the other person. Well, the same thing occurs with you. When we don't keep our word we lose credibility and it undermines our self-esteem. Every broken commitment is a crack in the foundation for creating a high quality life.

How many times have you said you're going to exercise or eat better and not followed through? We've all fallen into the trap of saying we're going to do something and then finding every possible excuse not to do it. Have you noticed that the next time you make a similar promise to yourself it's tainted with doubt? You don't completely trust that you're going to do what you say.

Whatever you neglect to respect-the commitment to spend more time with your kids, to live by a financial budget, to be more understanding of your parents-these betrayals poison the well of your credibility. They undermine your integrity and trustworthiness. It's not that the fickle finger of fate is going to come down and punish you. It's about your not having the internal support to accomplish the changes you want to make.

The key to being successful is to start small. Don't make any grand proclamations that will set you up for failure. Keep it simple. Only commit to what you honestly know you can and will do. Otherwise don't say it. For example: rather than proclaiming, "I'm going to leave the office everyday at 5." A more reasonable and achievable approach would be "I'm going to leave work at 5 today." It's the old AA concept of one day at a time. Instead of saying, "I'll never yell at my kids again." (Which is next to impossible to do.) Why not be more sensible and say "Today I'll speak to my children in a calm manner." Or "From now on I'm going to spend at least a half an hour a day doing something that nurtures me." Wouldn't it be more realistic to say, "Today I'm going to set aside a half an hour for myself." The secret is to make promises that you know you can keep. Manageable commitments allow you to be successful and to become a person who keeps her word and is trustworthy.
---
Stephanie is an acclaimed speaker and author. She speaks from experience. Stephanie is the "go to" expert for those who seek to create quality driven lives. She is the author of Chicken Soup for the Soul's Life Lessons for Women: 7 Essential Ingredients for a Balanced Life, If Not Now, When? Reclaiming Ourselves at Midlife and Life Coaching for Parents: Six Weeks to Sanity. For more information please visit her website: http://www.stephaniemarston.com
---
Do you have an article we could publish? We want to hear from you!
Click here to Submit your article
---
READ ALSO:

Some DOs and DON'Ts for Travel in Russia - By Susan Dunn, MA, Clinical Psychology, The EQ Coach – When travelling, avoid feeling like a lost puppy in Chinatown…or in Russia. Read on these reminders for your travel to Russia.

Learning from the Russians How to Make Your House Cozy and Warm for the Winter - By Susan Dunn, The EQ Coach – "Keep the home fires burning". Read these tips to prepare your house for the winter - rearrange furniture, replace accessories, throw down some rugs…a touch or two can make a difference.

Wedding Photography - By Roy Barker - Checklist for wedding photos: Pre-, during, and post-ceremony, and reception photos you cannot forget to take!

Jewish Dating: It Pays to Date Like-Minded People - By Drew Harris - ..."find a source of like-minded people to start to get to know." "Wouldn't it be easier to know their respect for God and other people, values and beliefs, mirrors your own?"

Marriage Proposals - Why Doing It Right Will Make All the Difference - by Susan Daniel and Debbie Overstreet - Limos and fancy dinners are not what makes a proposal romantic and memorable. POP the question in a way that will blow him/her mind away.

International Dating - When Love Really Means Going The Distance! - by Angela S Davis - Unsure if international dating can lead to anything permanent? Anything might happen..."there are never any guarantees in the love and romance game. Even if you shared a sandbox with the partner you marry, there's no guarantee that the flame wont go out and one day you'll wake up and find you have nothing in common with the person who shares your life, your home, your bed."

Learning from the Russias How to Make Your House Cozy and Warm for the Winter - by Susan Dunn, The EQ Coach

Inspiration… The fuel of life! - by Momentum Performance Development

What You Should Know About Buying Engagement Rings Online - by Paul Kozar

The Top 10 Reasons to Postpone Sex - by Susan Dunn, MA, EQ and Dating Coach

SHOOTING THE BULL: Slaying Dragons and Finding Love - by Dawk Ziti, PhD.The candid and perplexed experience of Dawk Ziti in his search for a Russian bride: "I was pleased with my ditty and immediately sent a mass mailing to 10 women who were on my list. I got no reply, but instead of panicking, I decided to give them a few minutes to read the letter. With the time differential between the US and Eastern Europe, they were probably asleep right then anyway." If you aren't sure that search for a Russian bride is for you, you MUST read this to remove any doubts about dropping this idea once and forever!

Why Look for a Wife in Russia?
By Clinton Carey: "One day, over a beer with my brother, he suggested to me that I place an ad on the Internet with a matchmaking agency. I laughed, and dismissed the idea. As the weeks went on, I thought to myself, "Why not? I travel a lot. I don't have time to meet women normally, and I definitely don't like the bar scene with its' head games and lack of quality in both men and women. So, I placed an ad..."

Myths and Reality
There is too much prejudice towards "Russian brides" - Russian women seeking men for marriage, both positive and negative. I call this prejudice "myths", and consider them one by one.
Why Russian Women? - If you decided to find yourself a Russian wife, you would be inundated with questions of the type "Why Russian Women?" from everybody you cared to share your idea with. Surprisingly, every Russian woman you are writing to will ask the same question: "Why do you want to find a wife in Russia?" After a while, you might start questioning your own sanity in doing the thing which everybody, including your dates in this Internet rendezvous, consider strange enough to request explanations. Here you will find some ready-to-use answers for your family, friends and Russian women you are writing to.
Russian women secrets - Do's and don'ts in your relationship with a Russian lady.

The Universal Crib On Finding A Russian Wife - 101 tips for men seeking a young, beautiful Russian bride: the most compressed, step-by-step guidance on finding, courting and marrying a Russian woman.
---
JUST RELEASED! New E-book by Elena Petrova:
"How To Find And Marry A Girl Like Me"
Comment from the reader:
"This may well turn out to be the best purchase I have made... I hope not too many of my competitors find this book!"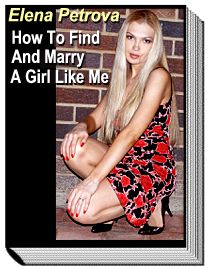 Discover how to find, court and finally marry a beautiful Russian woman!
This is the only book written by a beautiful Russian woman married to a western man - for more than 5 years! - and who is also the owner of a highly successful Internet dating agency.
Find out once and forever what Russian women are really looking for, why they are looking for it and how you can give them exactly what they want!
Get responses on your letters to beautiful Russian women - 9 out of 10, GUARANTEED!
With "How To Find And Marry A Girl Like Me" you'll learn knock-out techniques that will instantly boost your success rate in dating Russian women - online and in real life. You will have more beautiful girls that want to be with you than you can handle!
And not just ordinary girls! They will be beautiful, intelligent, but most of all - honest and sincere! You will be the one to take your pick!
STOP wasting your time and money in search for a Russian wife... Get it done - painlessly, easily, and certainly! Moreover, have lots of fun along the way!
Yes, you too can marry a girl like the one on the picture... Click here!
---
---