What You Should Know About Buying Engagement Rings Online

By Paul Kozar
Copyright 2005

Buying engagement rings online doesn't have to be confusing or intimidating. In fact, the nice thing about shopping online is you browse several online stores without the hassle of traveling from store to store listening to endless sales pitches. Shopping for an <a href=http://www.a1-engagement-rings-planet.com>engagement ring online</a> is no different really than shopping at the stores. People buy everything online these days, including expensive jewelry. It's safe, hassle-free and less expensive.

When you want to buy an engagement ring, the first thing you'll want to consider is your personal taste. Only you can decide that, so take your time and narrow down the search to rings that you love, not just like. Most styles come in either yellow gold, white gold, or platinum, whichever you prefer. Yellow gold comes in 14K or 18K. 14K has more alloys in the mixture
and is therefore harder than 18K gold. This means it wears better and doesn't scratch as easily. This is something to consider if you work with your hands a lot. 18K gold is more valuable, obviously because it has more gold in it, but is
softer and more yellow in color. The yellow could bring out more of the yellow in your diamond if the diamond has some yellow in it. This brings me to the next item to consider when purchasing engagement rings online, which is the quality of the diamonds.

Diamonds are graded according to three main factors, Cut, Clarity, and Color. Cut refers to the shape of the diamond. There are many different shapes, but the most brilliant diamonds are round cuts. That's because if the round shape is cut to the proper proportions (i.e. ideal cut), the maximum amount of light
is reflected back to you, bringing out the maximum brilliance of the diamond. If the round diamond is not cut properly, some of the light leaks out of the bottom of the diamond causing a loss of brilliance.

The next grade is clarity. Clarity refers to how many inclusions, or flaws are in the diamond. Diamonds are rated Flawless (no imperfections) to VVS 1 & 2 (very, very slight), to VS 1 & 2 (very slight), to SI 1 & 2 (slight), to I diamonds
(imperfect). I would stay away from I diamonds, because they tend to be cloudy, ugly looking diamonds that have the potential to crack in some instances. They may be cheap, but not worth the money you do pay. If you're on a budget, stay in the SI 1 to VS 2 range, since the inclusions are generally not noticeable to the naked eye. You're definitely going to pay less than you
would pay for a flawless or VVS 1, 2 diamond and the differences aren't all that noticeable.

Color is the third grading criteria. Although there are many different colors of diamonds around the world, most diamonds are yellow in color if they are not colorless. The grading starts with D (or colorless) diamonds and works through the alphabet; E, F, G, H, I all the way down to Z, which is a yellow colored "canary" diamond. Of course, you'll pay more for the D, E, and F colors. When you get past a J color, the yellow starts to become noticeable. Stick above J in color and you should be fine.

The final consideration is the design of the ring. If the ring has a lot of accent diamonds that are set in prongs, it will tend to snag on things, potentially losing one of your diamonds. The safest diamond rings settings have channel, or pave set accent diamonds, which have no prongs. The center diamond will
generally be set in prongs and this is to bring out the maximum beauty, because it allows the most light in. A cathedral setting helps to protect the center diamond somewhat by partially covering the sides of the diamond against sudden impacts. Above all, pick a design you love while keeping in mind the practicality of wearing your ring forever.


MEN'S WEDDING RINGS

When shopping for <a href=http://www.a1-engagement-rings-
planet.com/Men's%20Wedding%20Rings.html>men's wedding rings</a> and
women's engagement rings, you want to find quality, a beautiful design you both will love, and something affordable. Usually one of the first things couples will look at is the price, which is an important factor in the decision-making process. After all, you want great rings to last a lifetime but you certainly do not want to go into debt buying them.

Therefore, the only guideline regarding price is that you should not pay more than your income for two months. Obviously, this means saving for months but planning is all a part of the process. If you want to purchase something more, then you will probably need to save for much longer. Just remember, while you might want the perfect man wedding and engagement ring from the
start, if buying your future bride a diamond, you can always upgrade years down the road.

Some couples will buy a nice men's ring, as well as an engagement ring but not necessarily the largest diamond they can afford. Then for the first or second anniversary, keep the original diamond and add a new one so she now has two diamonds. This way, she keeps the diamond with the emotional attachment but can also enjoy a larger diamond or even a colored diamond
as well.


DESIGN YOUR OWN ENGAGEMENT RING

For many women, becoming engaged to the love of their life has been something they have dreamed of since being a little girl. If this sounds like you, one thing is for sure, you are not alone. Making the decision to marry your boyfriend is a big step in life but one filled with excitement and promise.

To take this adventure one-step further, you might consider doing something unusual for the engagement ring. Perhaps you could design your own engagement ring, one specific to your taste and that showed off your personality. You could use your own creativity and ideas or spend time creating a design together. Either way, the results could be amazing.

This is the perfect time to bring all those childhood dreams to life. The key if you decide to create your own wedding ring is to be logical. Start by choosing the <a href=http://www.a1-engagement-
rings-planet.com/Diamond%20Ring%20Settings.html>diamond ring setting</a>. If you want to stick with tradition and keep the cost affordable,
then white or yellow gold would be a great choice. However, if you want only the very best, then a platinum engagement ring would be gorgeous.

After choosing the metal, you can then choose the cut of diamond or other precious stones you like. After you have an idea of these things, sit down with a pad and paper and start drawing. If you like, you can pull pictures off the internet or from bridal magazines and incorporate some of the features in your
own design. The bottom line is that by being original, you will cherish your ring even more, knowing that every part of the ring was carefully chosen for your special day.

---
Paul Kozar is an ex-jeweler, with a national organization, and now owner of Engagement Rings Online, where we give advice on purchasing wedding rings online.
---
Do you have an article we could publish? We want to hear from you!
Click here to Submit your article
---
READ ALSO:

Wedding Photography - by Roy Barker

The Best Way to Pick Up a Girl - by Paul Kyriazi. Take a chance and make polite conversation. What's the worst that can happen?

SHOOTING THE BULL: Slaying Dragons and Finding Love - by Dawk Ziti, PhD. The candid and perplexed experience of Dawk Ziti in his search for a Russian bride: "I was pleased with my ditty and immediately sent a mass mailing to 10 women who were on my list. I got no reply, but instead of panicking, I decided to give them a few minutes to read the letter. With the time differential between the US and Eastern Europe, they were probably asleep right then anyway." If you aren't sure that search for a Russian bride is for you, you MUST read this to remove any doubts about dropping this idea once and forever!

Why Look for a Wife in Russia?
By Clinton Carey: "One day, over a beer with my brother, he suggested to me that I place an ad on the Internet with a matchmaking agency. I laughed, and dismissed the idea. As the weeks went on, I thought to myself, "Why not? I travel a lot. I don't have time to meet women normally, and I definitely don't like the bar scene with its' head games and lack of quality in both men and women. So, I placed an ad..."

Myths and Reality
There is too much prejudice towards "Russian brides" - Russian women seeking men for marriage, both positive and negative. I call this prejudice "myths", and consider them one by one.
Why Russian Women? - If you decided to find yourself a Russian wife, you would be inundated with questions of the type "Why Russian Women?" from everybody you cared to share your idea with. Surprisingly, every Russian woman you are writing to will ask the same question: "Why do you want to find a wife in Russia?" After a while, you might start questioning your own sanity in doing the thing which everybody, including your dates in this Internet rendezvous, consider strange enough to request explanations. Here you will find some ready-to-use answers for your family, friends and Russian women you are writing to.
Russian women secrets - Do's and don'ts in your relationship with a Russian lady.

The Universal Crib On Finding A Russian Wife - 101 tips for men seeking a young, beautiful Russian bride: the most compressed, step-by-step guidance on finding, courting and marrying a Russian woman.
---
JUST RELEASED! New E-book by Elena Petrova:
"How To Find And Marry A Girl Like Me"
Comment from the reader:
"This may well turn out to be the best purchase I have made... I hope not too many of my competitors find this book!"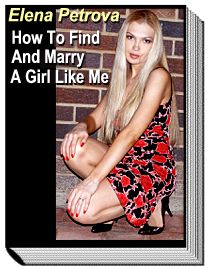 Discover how to find, court and finally marry a beautiful Russian woman!
This is the only book written by a beautiful Russian woman married to a western man - for more than 5 years! - and who is also the owner of a highly successful Internet dating agency.
Find out once and forever what Russian women are really looking for, why they are looking for it and how you can give them exactly what they want!
Get responses on your letters to beautiful Russian women - 9 out of 10, GUARANTEED!
With "How To Find And Marry A Girl Like Me" you'll learn knock-out techniques that will instantly boost your success rate in dating Russian women - online and in real life. You will have more beautiful girls that want to be with you than you can handle!
And not just ordinary girls! They will be beautiful, intelligent, but most of all - honest and sincere! You will be the one to take your pick!
STOP wasting your time and money in search for a Russian wife... Get it done - painlessly, easily, and certainly! Moreover, have lots of fun along the way!
Yes, you too can marry a girl like the one on the picture... Click here!
---
---