The Best Way to Pick Up a Girl

By Paul Kyriazi
Copyright 2005
You see her across the room. Ah, so attractive. But nobody to introduce her to you. "Ah, I'll do a James Bond on her," you think. Now what was Bond's first words to Pussy Galore? "I must be dreaming." No, that won't work. How about singing "Underneath the Mango Tree" to her as Bond did to Honey Rider in "Dr. No". Ah? No!

Well, what's left? You'll just have to go up and talk to her, if it's a situation where you won't see her again. But it's always safe to assume that she has a boyfriend that can squeeze the stuffings out of a gold ball. That aside, take a chance and make polite conversation. What's the worst that can happen. She says, "I'm sorry, I'm not available." and you save the time and money of a date with her. Like George Burns says, "When a beautiful woman says "no" to me, it's a relief.

If you know that you will see her again, like at your university, your job, or working at a restaurant, you can have another shot at her and use the shy man's approach to getting a date.

"You farm boys don't make a pitch, you just shy your way into position," Ann Margaret says to Pat Boone in "State Fair".

Okay, here it is. Instead of asking her to dinner or out on a date which has romance intended, get some tickets to a concert or event first, and then with tickets in hand say, "I just happened to have tickets to this event. If you'd like to go with me, I'd be happy to take you." This way the subject is the event. Talk about the person singing at the concert, instead of if the two of you could hit it off or not. She can easily say yes or no, or ask more questions about you or the time and place of the event. She doesn't have the pressure of turning you down, so she can just turn the event down and that will be that. And if by chance she can't make that date, but is interested in you, she can start talking about going out another time.

I've strongly suggested this "ticket" technique to both men and women who are infatuated with someone at work, or at shop, or restaurant, and have no idea how to make an approach. If the person is available, they usually say yes to an invitation. After all, it's just going to an event. It's not really a date.

I used this "ticket" technique in college to ask out a beautiful stranger. I was very shy, but was "in love" from a distance so I had to take some kind of scary attraction. Her name was Cindy and I often saw her in the student lounge surrounded by guys. It took weeks of watching her before I could catch her walking alone, and ask her if she'd like to go see the reserved seat Cinerama showing of "Grand Prix". She said, "Well, I don't know you, but if you come and talk to me sometimes and I get to know you, then maybe."

So in the next days I made an attempts at getting in a few words with her as she talked with her friends. Then I found out she was taking the film appreciation class that I had taken a semester earlier. So I pushed the teacher to show my new 16mm action film in the class that she was in. He fiqured I had a secret motive because he said he'd show it in the morning class, but I said it had to be shown in the afternoon class (the one Cindy was in). Finally, he agreed.

I not only directed the film, but had a part in it where I used my newly learned karate and hoped she would be impressed. The film went over great with the class cheering and applauding. As she was leaving the class I said to her, "Well, do you know me well enough now?" She said, "To go out with you? I replied, "Yes." She smiled and nodded her head yes.

So don't "ask her out". Don't "take her to dinner". Get some tickets, and maybe she'll answer you like Cameron Diaz does in "Charlie's Angels". "Tickets? I love tickets!"
---
Paul Kyriazi - "How to Live the James Bond Lifestyle"
http://www.BondLife.com
---
Do you have an article we could publish? We want to hear from you!
Click here to Submit your article
---
READ ALSO:

Rejection - Is It Real? - By Carol Chanel - One thing I know about rejection is that it feels real. And even though it rarely is real, it sure feels that way. Why is it rarely real?

This eBook May Bring You the Man of Your Dreams - "Reading this ebook MAY bring you the man of your dreams, but so MAY dying your hair blond, getting a better education, or dumb luck". Read Susan Dunn's tips to learn how to manage your emotional intelligence - "understanding emotions in yourself and others and managing them to make good decisions".

THE FOUR STAGES OF FINDING A MATE - by Melvin Durai - A very amusing analogy of the hideous yet wonderful process of finding a partner. Searching for a mate is just the first stage, according to Durai. ' Playing "hard to get" seems like a good strategy, even if no one is trying to get you. Everyone seems available, and if they're not, just wait a minute or two'.

SHOOTING THE BULL: Slaying Dragons and Finding Love - by Dawk Ziti, PhD. Ziti tells his adventures on Elena's Models; how he became a member, reached his "foxes" and fell head over heels in love with Maria. "Do you yearn to learn how I found the love of my life, lost her, located another, got dumped, and then did it again?" Follow his advice to assist you in your endeavours.

Why Look for a Wife in Russia?
By Clinton Carey: "One day, over a beer with my brother, he suggested to me that I place an ad on the Internet with a matchmaking agency. I laughed, and dismissed the idea. As the weeks went on, I thought to myself, "Why not? I travel a lot. I don't have time to meet women normally, and I definitely don't like the bar scene with its' head games and lack of quality in both men and women. So, I placed an ad..."

Myths and Reality
There is too much prejudice towards "Russian brides" - Russian women seeking men for marriage, both positive and negative. I call this prejudice "myths", and consider them one by one.
Why Russian Women? - If you decided to find yourself a Russian wife, you would be inundated with questions of the type "Why Russian Women?" from everybody you cared to share your idea with. Surprisingly, every Russian woman you are writing to will ask the same question: "Why do you want to find a wife in Russia?" After a while, you might start questioning your own sanity in doing the thing which everybody, including your dates in this Internet rendezvous, consider strange enough to request explanations. Here you will find some ready-to-use answers for your family, friends and Russian women you are writing to.
Russian women secrets - Do's and don'ts in your relationship with a Russian lady.

The Universal Crib On Finding A Russian Wife - 101 tips for men seeking a young, beautiful Russian bride: the most compressed, step-by-step guidance on finding, courting and marrying a Russian woman.
---
JUST RELEASED! New E-book by Elena Petrova:
"How To Find And Marry A Girl Like Me"
Comment from the reader:
"This may well turn out to be the best purchase I have made... I hope not too many of my competitors find this book!"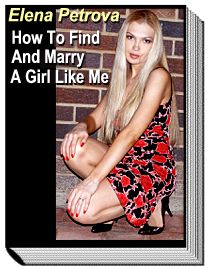 Discover how to find, court and finally marry a beautiful Russian woman!
This is the only book written by a beautiful Russian woman married to a western man - for more than 5 years! - and who is also the owner of a highly successful Internet dating agency.
Find out once and forever what Russian women are really looking for, why they are looking for it and how you can give them exactly what they want!
Get responses on your letters to beautiful Russian women - 9 out of 10, GUARANTEED!
With "How To Find And Marry A Girl Like Me" you'll learn knock-out techniques that will instantly boost your success rate in dating Russian women - online and in real life. You will have more beautiful girls that want to be with you than you can handle!
And not just ordinary girls! They will be beautiful, intelligent, but most of all - honest and sincere! You will be the one to take your pick!
STOP wasting your time and money in search for a Russian wife... Get it done - painlessly, easily, and certainly! Moreover, have lots of fun along the way!
Yes, you too can marry a girl like the one on the picture... Click here!
---
---