By Colin (USA)
Comment to the article: My Trip to St. Petersburg to a Girl I Met Online (by Matt, USA)
Thank you for the link to the article about the American man who met a woman in St. Petersburg and who is now considering moving to Russia to live. Wonderful.

How can any person who calls themselves an artist and especially one who sees Russia, especially S.P. ever not go there, even for a visit? As for other men, they too can see many obvious benefits to choosing to immigrate there.

I will live near to Ekaterinburg for at least 2 years. And depending on how I feel after that I may even decide to change citizenship. I will see. The list of why is quite long. I am not na´ve about the corruption and crime or the dark side of Russia, in general. But if anyone thinks that the West is a place given birth by Shirley Temple -- they are surely completely na´ve.

Russia has more millionaires and billionaires per capita than any other country in the world. Their education system is perhaps the best in the world. I have spent more than five years researching health and suppressed information in the West. Corruption with a capital "C". The Russian health system is superior in almost all categories. The combination of Holistic and allopathic is one of the primary reasons for this. There are some areas of surgical expertise in almost all Western countries. However, you may as well be a Prince to pay for it if the health system does not cover it. Russia is a net exporter of energy. This is a most significant factor in the long-term forecasts for the Russian economy. The emerging middle class in Russia is making those changes noticeably now month by month -- especially in the larger centres.

I am seeking to do something culturally which has never been done. And because Russians are some of the most culturally appreciative people in the world, I would have to be a fool not to do this in Russian. The people, especially the women, astound me, generally speaking.
I am an extremely happy man. My woman is incredible. My God, the women that Russia hatches. They are so much more fine than Western women; you would need a book to describe that fineness. Astounding. Beyond all belief -- exceptionally wonderful. I have yet to meet a Western woman who could hold a candle to my woman. I think I have died and gone to heaven. Amazing. How in the world a beautiful woman such as mine could ever, in her wildest dreams, think that I can ever want another is beyond my ability to understand. In the West one tenth the woman is telling me how lucky I am to have a woman nearly devoid of a sense of femininity and womanhood in general. My woman in Russia, could teach them so much, they would become entirely transformed.

Is she typical? In my opinion she is exceptional, even by Russian standards. However, my opinion is that even the women who could be described as ordinary Russian women, are far superior to ordinary Western women -- when they are sincere. We Western men are free to choose our women from anywhere in the world. Why do so many of us now choose Russians?

In closing, I would like to make a brief comment about the quality of the Western men who are able to make such fine women happy. It is a gross error to think that these women can accept and be happy with what my woman often describes as "horrible" men. I am aware of some of the horror stories from both sides of the issue.

It is further my opinion that Russian women seek men who are devoted, loyal husbands and fathers. The men must be entirely responsible and sober in their approach to their filial responsibilities. They should definitely not be alcoholics or womanizers. They should be at the least good lovers. No man should think these women are fools who accept abuse from foreigners. There is enough of that already near them. They do not need to move to another country just to have what can be "same old, same old". They seek better as we men do. And so if men think that these women will accept any type of man simply because he is a Western man, then he will soon enough find his bride on a plane back to Russia.

Russian women who seek foreign men seek men who are of a better character and overall better quality than some local men--according to my experience and perceptions. This is precisely the same personal dynamics which is true for us, the men. We each do not cross oceans for less fine a personal life. And when the choice is well made, then the rewards can be well more than worth the complications.

Sincerely;
Colin
Sculptor / concept consultant (USA)
---
Do you have an article we could publish? We want to hear from you!
Click here to Submit your article
---
READ ALSO:

Why Russian Women? - If you decided to find yourself a Russian wife, you would be inundated with questions of the type "Why Russian Women?" from everybody you cared to share your idea with. Surprisingly, every Russian woman you are writing to will ask the same question: "Why do you want to find a wife in Russia?" After a while, you might start questioning your own sanity in doing the thing which everybody, including your dates in this Internet rendezvous, consider strange enough to request explanations. Here you will find some ready-to-use answers for your family, friends and Russian women you are writing to.

10 reasons why Russian women are NOT desperate to leave their country - an unbiased opinion of the American man who has spent in Russia 6 months, traveled to 9 cities and talked to hundreds of Russian people.

Immigration scams: ARE YOU AT RISK?
Any man who even remotely considers the idea of marrying a Russian woman will face the question of immigration scams: that a woman will marry him with the only purpose of gaining residence to his country, and will divorce him soon after the marriage. Is it true that there are many Russian women that will marry a man only for the purpose of immigration? How common are immigration scams in marriages with Russian women?

Myths and Reality - There is too much prejudice towards Russian women seeking men, both positive and negative. I call this prejudice "myths", and consider them one by one.

Russian women secrets - Do's and don'ts in your relationship with a Russian lady.

The Universal Crib On Finding A Russian Wife - 101 tips for men seeking a young, beautiful Russian bride: the most compressed, step-by-step guidance on finding, courting and marrying a Russian woman.
---
RECOMMENDED: New E-book by Elena Petrova:
"How To Find And Marry A Girl Like Me"
Comment from the reader:
"This may well turn out to be the best purchase I have made... I hope not too many of my competitors find this book!"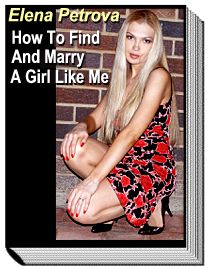 Discover how to find, court and finally marry a beautiful Russian woman... from a beautiful Russian woman!
Find out once and forever what Russian women are really looking for, why they are looking for it and how you can give them exactly what they want!
With "How To Find And Marry A Girl Like Me" you'll learn knock-out techniques that will instantly boost your success rate in dating Russian women - online and in real life. You will have more beautiful girls that want to be with you than you can handle!
And not just ordinary girls! They will be beautiful, intelligent, but most of all - honest and sincere! You will be the one to take your pick!
STOP wasting your time and money in search for a Russian wife... Get it done - painlessly, easily, and certainly! Moreover, have lots of fun along the way!
Yes, you too can marry a girl like the one on the picture... Click here!
---
---