It was mind-blowing to realize how many women are out there who just wanted what I was looking for, a stable, happy, loving family!
A true-life story of Stephen and Sophia
Hi Elena
Well where do I begin! I don't know what made me do it but I am glad I did. I subscribed to your service in September 2001 and it was mind-blowing to realize how many women are out there who just wanted what I was looking for, a stable, happy, loving family. Well I chose six ladies and received three positive replies. After a few letters I decided on Sophia. She was divorced with a baby daughter. I think from the start we got on well and we always sent each other photos and stories about our lives at home. Our birthdays are just nine days apart! Well, I sent her roses on her birthday and she was so delighted. She had never received anything like it in her life. I also started communicating with her by telephone, as you suggested in your website. It was probably the best thing that I did as it made the relationship more real.
Well I could not wait and I planned my own trip to Russia and we met in January. We spent everyday together visiting different places in her town. I have never met a more loving, responsible, caring, family-orientated woman. We fell in love with each other and although it is still early days we truly believe that this is the start of a lifelong relationship. We still have much to learn about each other but each day gets better and better. I've even started taking lessons in Russian.
I have never been happier in my life and we plan to see each other again in Russia around July and then she will come to Cape Town in Summer for a holiday. What I discovered was that she did not need some rich guy to come and rescue her from hardship. She was well-educated, from a loving family, self-sufficient, had her own car, computer. She did not need financial help and loves her home town. She just wanted a loving, caring, stable man. She is a beautiful women and it beats me that any man would not want her. Well, I am over the moon that I was able to attract such a fantastic woman and I want to say thank you for providing such an excellent service. I received answers from every woman I wrote to and did not experience any scams or gold-diggers.
What was also interesting is that a lot of her friends became interested in finding someone when they saw how happy she had become. I will recommend you site to anyone I know who is looking for a partner as I know the information you supply is honest and truthful and the websites are very informative and helpful.
Regards
Stephen Russo
Cape Town, South Africa
---
READ ALSO:
Russian women are real treasures, and I found mine
"After visiting with her, I realized that she was not in any need of any material items. Her family has own business, and live very good. She just had this desire that we as all humans have inside of us, to love and to be loved in return. In fact, if she had her way, we would probably be living in Russia right now..."
Read a story of Nick and Julia
I came to realize that wishes indeed come true - a story of Tom and Taya
---
Do you have a story to share? We want to hear from you!
Click here to Contact us
---
JUST RELEASED! New E-book by Elena Petrova:
"How To Find And Marry A Girl Like Me"
Comment from the reader:
"This may well turn out to be the best purchase I have made... I hope not too many of my competitors find this book!"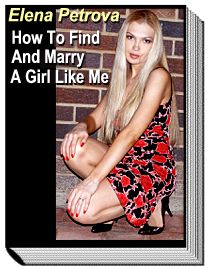 Discover how to find, court and finally marry a beautiful Russian woman!
This is the only book written by a beautiful Russian woman married to a western man - for more than 5 years! - and who is also the owner of a highly successful Internet dating agency.
Find out once and forever what Russian women are really looking for, why they are looking for it and how you can give them exactly what they want!
Get responses on your letters to beautiful Russian women - 9 out of 10, GUARANTEED!
With "How To Find And Marry A Girl Like Me" you'll learn knock-out techniques that will instantly boost your success rate in dating Russian women - online and in real life. You will have more beautiful girls that want to be with you than you can handle!
And not just ordinary girls! They will be beautiful, intelligent, but most of all - honest and sincere! You will be the one to take your pick!
STOP wasting your time and money in search for a Russian wife... Get it done - painlessly, easily, and certainly! Moreover, have lots of fun along the way!
Yes, you too can marry a girl like the one on the picture... Click here!
---
RECOMMENDED:
New Ebook You Cannot Afford To Miss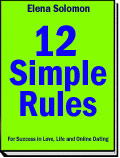 Dating can be complicated... it doesn't have to be! You can jump start your love life - or you can keep wandering in the dark; the choice is yours!
When it comes to dating, most men make the same silly mistakes with women - over and over, with disastrous results.
Do you want to do BETTER than 99% of other guys? Click here
---
---