If Kharkiv was not so cold and boring, I would not be married today!
A true-life story of Dave and Evgenia
Elena,
I enjoyed visiting your site, and found that your comments correspond very well with my experience. I met and married a terrific Ukrainian woman from Kharkiv via the services of an internet marriage agency called "All Beautiful".
I received an E-mail from a Kharkiv woman who was obviously trying to con me out of money, but this piqued my curiosity enough to perform a browser search on "Kharkiv", which led me to investigate the "All Beautiful" site I happened across. I wrote 4 women, 1 replied, and this began an interesting correspondence which continued for almost a year, at which time I visited her in Kharkiv. She was every bit as beautiful, intelligent and interesting as she had seemed--but apparently I wasn't. After spending a couple of evenings together she let me know that, though she found me to be "an interesting and nice man" (not exactly what you want to hear from a woman with whom you're hoping to have a romantic relationship with), she wasn't interested in continuing to see me. [By the way, I'm not bad looking, but I'm hardly a candidate to appear on cover of GQ any time soon, either] This left me at loose ends in Kharkiv in late November (Boy, was it cold!).
Kharkiv is not exactly a top tourist destination, so there wasn't much for me to do. Helen, the owner of the marriage agency, suggested that I meet some of the other women and I agreed -- frankly, out of sheer boredom more than expectation of fostering a romantic relationship. I spent the next 2 evenings enjoyably with a couple of nice, attractive women; but, again, no romantic fireworks. Then I spent the day with Evgenia, and it was as if we'd known each other all our lives. I had to leave the next day, but we continued the relationship via E-mail, phone calls, and 2 more visits to Ukraine before we started processing the paperwork for a Fiance visa.
We are now married and living in California. Evgenia is a little homesick for her family and friends, but loves California. We have both struggled at times with the huge adjustment our marriage has made in our lives, but love, patience and a sense of humor have made for a very happy 3 months since she arrived here in America. We both consider ourselves lucky to have found the other.
I've read that there is an ancient Chinese curse that translates as: "May you lead an interesting life!" Though I can now fully appreciate the double-edged sword that an interesting life represents, my wife and I contend that it is in fact a blessing.
Good luck in your business, Elena, and also to anyone willing to embark on an adventure similar to ours.
Dave
---
READ ALSO:
Qualities of Russian women
A true-life story of Ron and Tanya
Married Ten Years
A true-life story of USA male married to a Russian woman 19 years younger than himself. Click here
---
Comments, suggestions? A story to share? We want to hear from you!
Click here to Contact us
---
JUST RELEASED! New E-book by Elena Petrova:
"How To Find And Marry A Girl Like Me"
Comment from the reader:
"This may well turn out to be the best purchase I have made... I hope not too many of my competitors find this book!"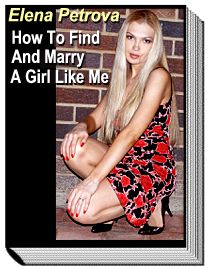 Discover how to find, court and finally marry a beautiful Russian woman!
This is the only book written by a beautiful Russian woman married to a western man - for more than 5 years! - and who is also the owner of a highly successful Internet dating agency.
Find out once and forever what Russian women are really looking for, why they are looking for it and how you can give them exactly what they want!
Get responses on your letters to beautiful Russian women - 9 out of 10, GUARANTEED!
With "How To Find And Marry A Girl Like Me" you'll learn knock-out techniques that will instantly boost your success rate in dating Russian women - online and in real life. You will have more beautiful girls that want to be with you than you can handle!
And not just ordinary girls! They will be beautiful, intelligent, but most of all - honest and sincere! You will be the one to take your pick!
STOP wasting your time and money in search for a Russian wife... Get it done - painlessly, easily, and certainly! Moreover, have lots of fun along the way!
Yes, you too can marry a girl like the one on the picture... Click here!
---
RECOMMENDED:
New Ebook You Cannot Afford To Miss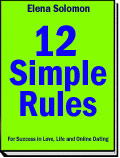 Dating can be complicated... it doesn't have to be! You can jump start your love life - or you can keep wandering in the dark; the choice is yours!
When it comes to dating, most men make the same silly mistakes with women - over and over, with disastrous results.
Do you want to do BETTER than 99% of other guys? Click here
---
---