By Marina Smiley
The reality is that sexual desire does not stop once a man reaches the age of fifty. Most of these men are very happy to have a sex partner their own age or close to it. But, there is a percentage of these men, who are looking for sex and possibly a life partner who is much younger than them. This is especially true when men are trying to meet, then date, through the Internet.

In the every day world it is very difficult to start a relationship between older men and much younger women but for some reason that barrier appears greatly diminished if the relationship starts through the Internet. People seem less likely to be concerned about the age difference and love begins to flourish, which often times leads to marriage. Only after they physically get together or are married, that problems begin to crop up.

There is no doubt that the younger woman always makes her partner feel younger. During the first months of the relationship or marriage, it seems as though the man can beat all sexual records. The question is, how long will he stay in the same sexual peak once the honeymoon is over and life returns to a normal routine?

With age a variety of physical and emotional changes happen to the human body. A fact of nature that has nothing to do with our wishes. Unfortunately we cannot cheat mother nature but that does not mean the sex drive disappears. What it does suggest is the approach to sex will often change.

The successful sex life of these couples is enhanced by the manner of approach. Successful couples have taken the time to learn the secrets and tricks that allows them to survive the difficult moments. If both partners really love each other they will develop their own form of Karma Sutra. But in doing so, they have to trust each other and share their problems and sexual desires, openly.

Older men need to understand that although they probably cannot maintain the same fast and furious pace as they did in their twenties, their life experiences should more than make up for the physical aspect of love making. Older men usually have more control over the physical and mental state of their being and a much greater knowledge of what elicits pleasure for a woman. This "experience factor" grants them the ability of understanding the female body to stimulate and satisfy a woman which in turn should culminate in prolonged sexual stimulation prior to orgasm.

It can be a very exciting surprise for a young woman, whose only sexual experience may have been young men her own age. Women often complain that they need more foreplay in their love making and not all of them get it from young men.

Most men after 50 also need some kind of foreplay to achieve an erection. So, they turn this kind of situation into win-win arena for both! For older men, this foreplay can be very exiting as well and helps him to prepare his body for sex. Surprisingly, he can do it much quicker then he can expect, because playing and touching a young woman's body will arouse his ability to perform sex, dramatically!
About the Author:
Marina Smiley is the author of some of the most popular eBooks about Russian-Western marriages. Check her latest eBooks: The Shocking Truth About Russian Brides and Sex And Love With Russian Women.
Get Your Free Newsletter The Naked Truth About Russian Women
mailto: russianbrides@getresponse.com
---
Do you have an article we could publish? We want to hear from you!
Click here to Submit your article
---
READ ALSO:

Am I Weird If I Date Online?
Article by Devlyn Steele: The simple fact is that you are NOT weird if you use an online dating service. We only feel weird when we think we are doing something outside the norm.

"Are you the American male looking for the Russian wife?"
Article of Richard A. Blackwood about do's and don'ts in the search for a Russian wife - must read for any man considering the idea of finding a Russian bride. In less than 20 minutes you will know more than some men know after a few years of their search!

Why Look for a Wife in Russia?
By Clinton Carey: "One day, over a beer with my brother, he suggested to me that I place an ad on the Internet with a matchmaking agency. I laughed, and dismissed the idea. As the weeks went on, I thought to myself, "Why not? I travel a lot. I don't have time to meet women normally, and I definitely don't like the bar scene with its' head games and lack of quality in both men and women. So, I placed an ad..."

Myths and Reality
There is too much prejudice towards "Russian brides" - Russian women seeking men for marriage, both positive and negative. I call this prejudice "myths", and consider them one by one.
The Big Lies and Misconceptions About "Mail-Order Brides" - What is true and what is not, in regard to so called "mail order brides"? Who are the real "losers" - the men who seek mail order brides or the ones who do NOT seek them?
Why Russian Women? - If you decided to find yourself a Russian wife, you would be inundated with questions of the type "Why Russian Women?" from everybody you cared to share your idea with. Surprisingly, every Russian woman you are writing to will ask the same question: "Why do you want to find a wife in Russia?" After a while, you might start questioning your own sanity in doing the thing which everybody, including your dates in this Internet rendezvous, consider strange enough to request explanations. Here you will find some ready-to-use answers for your family, friends and Russian women you are writing to.
---

The latest E-book of Elena Petrova:
"How To Find And Marry A Girl Like Me"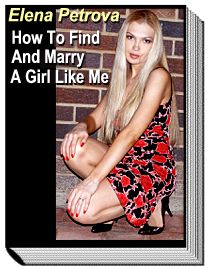 This is not just another book about dating Russian women!
This is the book that will change the way you look at Internet dating. It will boost your success rate with Russian women in an instant. You will have more girls that want to be with you than you can handle!
And not just ordinary girls! They will be beautiful, intelligent, but most of all - HONEST AND SINCERE! You will be the one to take your pick!
Want to marry a girl like the one on the picture? Click here
---
RECOMMENDED:
New Ebook You Cannot Afford To Miss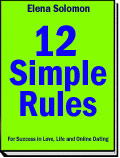 Dating can be complicated... it doesn't have to be! You can jump start your love life - or you can keep wandering in the dark; the choice is yours!
When it comes to dating, most men make the same silly mistakes with women - over and over, with disastrous results.
Do you want to do BETTER than 99% of other guys? Click here
---
---