By S. Denise Hoyle

Although games aren't played at every bridal shower, they are great ice breakers and can be lots of fun! Shower games are always a terrific idea if the guests don't know each other that well since they get the guests talking with each other. Generally, you will play 3-6 games at a bridal shower, depending on the length of time needed for each game.
If you are hosting a bridal shower, you should determine ahead of time approximately how many games you'd like to play, and which ones. You'll also need to decide what you'd like to use for prizes - they don't need to be anything elaborate. You can find a ton of great prizes at your local dollar or discount store, without having to pay a fortune. Following are some inexpensive ideas for terrific prizes:
Picture Frames

Coffee Mugs

Candy or Food Goodies

Bath Beads or Soaps

Candles

Potpourri

Stationary

Shower Decorations
The winner of each game should receive a prize. In the case of a tie the prize should go to the guest that hasn't yet won a prize, or if neither guest has won a game yet ask the bride-to-be to select a number between one and fifty, whoever is closest wins the prize.
Be sure to have enough pens and paper handy for all the invited guests. You should also think about what the guests will use as a writing surface - clipboards or books will work just fine.
---
About the Author: S. Denise Hoyle serves as the webmaster of http://weddingroomprojects.com Check out the over one hundred FREE bridal shower games available and select your favorites at http://www.weddingprojects.com/showergames2.htm - they're sure to be a hit and will help make your planning easier! (c) Copyright 2004, S. Denise Hoyle. All Rights Reserved.
---
READ ALSO:
I came to realize that wishes indeed come true
A story of Tom and Taya
At first it seemed completely unreal, and now we are trying to sort out her visa! - Read a story of Paul and Galina
Real life fairy-tale - One day a guy wrote to me asking if I think it's possible for him to find a partner through Internet. I said "Yes, why not?" and he started his search. Read a true-life fairy tale from Bart and Irina.
---
Comments, suggestions? A story to share? We want to hear from you!
Click here to Contact us
---
JUST RELEASED! New E-book by Elena Petrova:
"How To Find And Marry A Girl Like Me"
Comment from the reader:
"This may well turn out to be the best purchase I have made... I hope not too many of my competitors find this book!"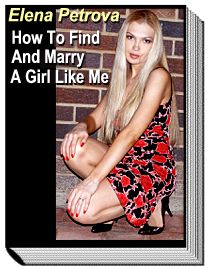 Discover how to find, court and finally marry a beautiful Russian woman!
This is the only book written by a beautiful Russian woman married to a western man - for more than 5 years! - and who is also the owner of a highly successful Internet dating agency.
Find out once and forever what Russian women are really looking for, why they are looking for it and how you can give them exactly what they want!
Get responses on your letters to beautiful Russian women - 9 out of 10, GUARANTEED!
With "How To Find And Marry A Girl Like Me" you'll learn knock-out techniques that will instantly boost your success rate in dating Russian women - online and in real life. You will have more beautiful girls that want to be with you than you can handle!
And not just ordinary girls! They will be beautiful, intelligent, but most of all - honest and sincere! You will be the one to take your pick!
STOP wasting your time and money in search for a Russian wife... Get it done - painlessly, easily, and certainly! Moreover, have lots of fun along the way!
Yes, you too can marry a girl like the one on the picture... Click here!
---
RECOMMENDED:
New Ebook You Cannot Afford To Miss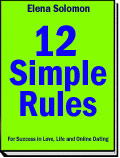 Dating can be complicated... it doesn't have to be! You can jump start your love life - or you can keep wandering in the dark; the choice is yours!
When it comes to dating, most men make the same silly mistakes with women - over and over, with disastrous results.
Do you want to do BETTER than 99% of other guys? Click here
---