By Paul Kyriazi
You see her across the room. Ah, so attractive. But nobody to introduce her to you. *Ah, I*ll do a James Bond on her,* you think. Now what was Bond*s first words to Pussy Galore? *I must be dreaming.* No, that won*t work. How about singing *Underneath the Mango Tree* to her as Bond did to Honey Rider in *Dr. No*. Ah? No!
Well, what*s left? You*ll just have to go up and talk to her, if it*s a situation where you won*t see her again. But it*s always safe to assume that she has a boyfriend that can squeeze the stuffings out of a gold ball. That aside, take a chance and make polite conversation. What*s the worst that can happen. She says, *I*m sorry, I*m not available.* and you save the time and money of a date with her. Like George Burns says, *When a beautiful woman says *no* to me, it*s a relief.*
If you know that you will see her again, like at your university, your job, or working at a restaurant, you can have another shot at her and use the shy man*s approach to getting a date.
*You farm boys don*t make a pitch, you just shy your way into position,* Ann Margaret says to Pat Boone in *State Fair*.
Okay, here it is. Instead of asking her to dinner or out on a date which has romance intended, get some tickets to a concert or event first, and then with tickets in hand say, *I just happened to have tickets to this event. If you*d like to go with me, I*d be happy to take you.* This way the subject is the event. Talk about the person singing at the concert, instead of if the two of you could hit it off or not. She can easily say yes or no, or ask more questions about you or the time and place of the event. She doesn*t have the pressure of turning you down, so she can just turn the event down and that will be that. And if by chance she can*t make that date, but is interested in you, she can start talking about going out another time.
I*ve strongly suggested this *ticket* technique to both men and women who are infatuated with someone at work, or at shop, or restaurant, and have no idea how to make an approach. If the person is available, they usually say yes to an invitation. After all, it*s just going to an event. It*s not really a date.
I used this *ticket* technique in college to ask out a beautiful stranger. I was very shy, but was *in love* from a distance so I had to take some kind of scary attraction. Her name was Cindy and I often saw her in the student lounge surrounded by guys. It took weeks of watching her before I could catch her walking alone, and ask her if she*d like to go see the reserved seat Cinerama showing of *Grand Prix*. She said, *Well, I don*t know you, but if you come and talk to me sometimes and I get to know you, then maybe.*
So in the next days I made an attempts at getting in a few words with her as she talked with her friends. Then I found out she was taking the film appreciation class that I had taken a semester earlier. So I pushed the teacher to show my new 16mm action film in the class that she was in. He fiqured I had a secret motive because he said he*d show it in the morning class, but I said it had to be shown in the afternoon class (the one Cindy was in). Finally, he agreed.
I not only directed the film, but had a part in it where I used my newly learned karate and hoped she would be impressed. The film went over great with the class cheering and applauding. As she was leaving the class I said to her, *Well, do you know me well enough now?* She said, *To go out with you? I replied, *Yes.* She smiled and nodded her head yes.
So don*t *ask her out*. Don*t *take her to dinner*. Get some tickets, and maybe she*ll answer you like Cameron Diaz does in *Charlie*s Angels*. *Tickets? I love tickets!*
---
ABOUT THE AUTHOR
Paul Kyriazi - Live the James Bond Lifestyle http://www.BondLife.com
---
Do you have an article we could publish? We want to hear from you!
Click here to Submit your article
---
READ ALSO:

Why Now Is The Perfect Moment For You To Succeed - Peter Murphy explains when is the best time to start this venture you were thinking about for ages.
The Biggest Problem Of Russian Brides - So what's wrong with Russian brides? Elena Petrova reveals what their biggest problem is...
How To Check a USA Visa - USA Visa identification: how to examine American visas if they are legitimate.
You can't buy Love! - " Those who get scammed deserve to be scammed. These brain dead idiots go through life thinking that they can buy everything including love and affection. They fail to realize that love is something that evolves over time and it takes patience, honesty, dedication, sincerity and some hard work to build a worthwhile and meaningful relationship..."
Worth knowing about ladies from restricted towns... - Experiences and advice of Asgaut Bakke, a man who shares insight about Russian Women from restricted areas. "A gentleman corresponding with a lady from a "forbidden town" can expect the correspondence to run more fluid than with other ladies not with the same privilege - if only he can accept that their confidential correspondence is probably not 100% confidential."
---
JUST RELEASED! New E-book by Elena Petrova:
"How To Find And Marry A Girl Like Me"
Comment from the reader:
"This may well turn out to be the best purchase I have made... I hope not too many of my competitors find this book!"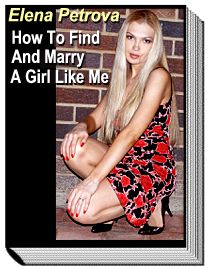 Discover how to find, court and finally marry a beautiful Russian woman... from a beautiful Russian woman!
Find out once and forever what Russian women are really looking for, why they are looking for it and how you can give them exactly what they want!
With "How To Find And Marry A Girl Like Me" you'll learn knock-out techniques that will instantly boost your success rate in dating Russian women - online and in real life. You will have more beautiful girls that want to be with you than you can handle!
And not just ordinary girls! They will be beautiful, intelligent, but most of all - honest and sincere! You will be the one to take your pick!
STOP wasting your time and money in search for a Russian wife... Get it done - painlessly, easily, and certainly! Moreover, have lots of fun along the way!
Yes, you too can marry a girl like the one on the picture... Click here!
---
RECOMMENDED:
New Ebook You Cannot Afford To Miss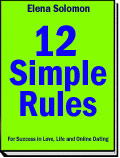 Dating can be complicated... it doesn't have to be! You can jump start your love life - or you can keep wandering in the dark; the choice is yours!
When it comes to dating, most men make the same silly mistakes with women - over and over, with disastrous results.
Do you want to do BETTER than 99% of other guys? Click here
---