The U.S. Embassy in Moscow states clearly that all new Visas issued have a copy of the Lincoln Memorial in the background, not the EAGLE as shown on most scammers Visas.
But, in all cases, men should check with the U.S. Embassy in Moscow to
verify that a Visa is legitimate, even if they have the Lincoln Memorial in
the background.
Check with the U.S. Embassy in Moscow's website at:
http://moscow.usembassy.gov/
REMEMBER:
ALWAYS Email to the Embassy to confirm that the visa is legitimate!
MUST READ!
Angels in Russia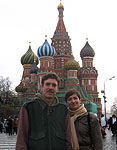 There are probably a few hundreds of Russian dating scammers on today's Internet - but there are also thousands of real Russian women with usual women's dreams of love, marriage and family: A true-life Story of Dan and Val, who met each other over the Internet and fell in love: "I subscribed to an internet dating service a couple years ago, expecting to only communicate with American women. I did that, met a few, had a girlfriend from Germany for about a year, but I also received a couple interests from Russian women (which turned out to be scams). They intrigued me enough to make me wonder if I should look outside our country, Russia in particular..."
TOP STORY:
New Dating Book Becomes #1 "Love and Romance" Bestseller in Just ONE WEEK!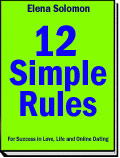 It took only one week for the new dating ebook 12 Simple Rules to become #1 'Love and Romance' bestseller in ClickBank, the word-wide leader in distribution of digital products.
12 Simple Rules is a dating makeover manual for men and women, with practical tips and advice on improving not only your love life but also your life situation in general, including money and career.
Simon Heong, the publisher of the first compilation ebook of 'dating gurus' 28 Surefire Ways For Instant Dating Success, evaluates 12 Simple Rules as "hands down, one of the best resources out there".
ANTI-SCAM GUIDE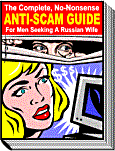 Met a Russian woman over the Internet?
Thinking about finding a Russian wife?
Russian woman wrote to you?
Don't move any further until you read The Complete, No-Nonsense ANTI-SCAM GUIDE For Men Seeking A Russian Wife. Too many men were caught up in a scam and lost great deal of money - want to be one of them? Ensure your safety and peace of mind - read the ANTI-SCAM GUIDE.
READ ALSO:
---
Comments, suggestions? We want to hear from you!
Click here to Contact us
Seek a reliable Russian Dating Agency? Why not check www.elenasmodels.com - RECOMMENDED
---