I often received requests for counseling services which I normally do not provide, nor I am qualified to do that.
I am happy to announce that we now have a Qualified Psychologist who specializes in premarital and marriage counseling, and she is Russian!
Which means, of course, that she will be of immense help for any consultation regarding your search for a Russian wife, the cultural differences you must be aware of, how you should act to win the heart of this Very Special Lady and many other things. What's more, she is married to an American, so knows what she is talking about from her own experience.
The consultations are provided by email as well as by phone.
Visit Elena's website at http://russianwomencounselor.com
---
Introduction from Elena Woodhouse:
My name is Elena Woodhouse. I am Psychologist with a M.S degree in Developmental Psychology from the University of St.Petersburg (Russia), PhD. candidate for the Fielding Institute (USA). I have established and provide a psychological counseling service for Russian-American couples. This service is conducted over the phone and via Internet in a professional and confidential manner. Based on my own experience and from what I have seen from other cross-cultural couples it is very obvious that there are many common psychological problems of adaptation, existential frustrations, and cross-cultural issues. I can identify these problems for what they are.
During my extensive private practice where I specialized in cross-cultural counseling and marriage therapy I had developed intercultural competence theory and practical skills. The knowledge of psychological assessment and interventions are combined with a broad social and cross-cultural experience.
On the basis of my training I am able to conduct the session in two languages simultaneously.
I place emphasis on a team work approach.
As a part of my focus as a cultural Psychologist is developing supporting programs for cross-cultural marriages. To serve Russian women from the former Soviet Union in a crisis time and post traumatic situations.
Attention:"Crises intervention" - counseling is free of charge for Russian women in difficult life situations. Please contact Elena through her website
THIS SERVICE PROVIDES:
1. Counseling for American men with their concerns about developing relationships with women from the former Soviet Republics.
Searching for a proper mate can be a challenge in any society. When you combine two different cultures this task can be even more challenging. For this reason it is important to build a strong foundation, and understanding in the early stages of the relationship. You may have experienced misunderstandings due to differences in language and culture. I can help both of you communicate more effectively!
It is not necessary that you live in Florida to benefit from my services. In fact, it is not even necessary that you both need to be in the USA. I provide telephone based counseling, translation/Russian-English/, and conferencing services for clients in the USA and overseas. Besides that I can provide an answer to your questions via E-mail as well. Translating and interpreting letters or any other written documentation. I can give you an accurate translation from the perspective of the Russian women. From her letters I would be able to get a better understanding about her personality and expectations. I would also be able to reply to both of you with some conclusions and suggestions.
If you are going to visit your Lady I can assist you with a trip abroad to accomplish all of your goals on the personal level. I would be able to provide you with practical solutions, place more emphasis on your cross-cultural awareness, and communication skills.
2. Premarital/Marriage counseling and therapy for Russian-American couples with adaptation problems, existential frustrations, and cross-cultural issues.
It is no surprise to anyone that a new marriage contains stress. The added pressure of different, often misunderstood cultures can occasionally be very difficult to endure. But, even before the marriage vows are spoken, there are unique circumstances that could occur in Russian-American relationships.
Not the least of which is the 90-day K1 Fiancee Visa period. This is when the engaged couple is intensely involved in the making decision process, while she is visiting America.
I have observed that there is another equally stressful period experienced during the six months, sometimes a year following the marriage date. This a time when the couple has to adapt to a new life together. It might be filled with situations that neither partner would have anticipated.
Psychological support is very important in coping with stress issues during the adaptation period of your new cross-cultural family. These problems could affect you emotionally, physically, and may lead to marital problems. I can provide symptom relief to help you and your family members find a way of coping with the changes that you are facing. When you address all of these factors you will have the best chance of adjusting to your new life situation, feeling more satisfied and happy. I would like to encourage you and your family members to have a good long-term relationship with your psychologist.
3. Psychological help and counseling for Russian women and their children to feel free to communicate with a psychologist in their native language.
Russian Ladies, no matter how fluent in English or familiar with a new culture, are generally reluctant to the premise of outside counseling. In their minds, this idea of seeing a counselor is often viewed as a sign of a weakness or "Showing dirty laundry." Russian women have a strong desire to retain family business within the boundaries of marriage. While this is a respectful trait, sometimes it is not a helpful one. Nevertheless, those Ladies who worked with me have told me that they started to understand their husbands much better. It was easier for them to express their feelings in their native language to someone familiar with their culture. Likewise, their husbands were able to approach the relationship and attendant issues with a new clarity and understanding.

PAYMENT POLICY:
Individual Consultation: $40.00/Hr.

Three-way Consultation (with translation work for couple included): $60.00/Hr. *Long distance charges will be added to the consultation charge and are responsibility of the client.

Consultations Via E-mail: $30.00/Hr.

Translation work per page: $30.00

Payments are accepted by credit card via Internet, personal check, or through Western Union.
I may be reached at (850) 439-33-10 on Monday-Thursday 9 A. M until 9 P. M. Central time.
Via Internet: http://russianwomencounselor.com

Sincerely,
Elena Woodhouse
---
READ ALSO:

The latest E-book of Elena Petrova:
"How To Find And Marry A Girl Like Me"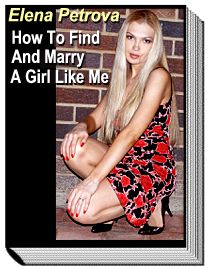 This is not just another book about dating Russian women!
This is the book that will change the way you look at Internet dating. It will boost your success rate with Russian women in an instant. You will have more girls that want to be with you than you can handle!
And not just ordinary girls! They will be beautiful, intelligent, but most of all - HONEST AND SINCERE! You will be the one to take your pick!
Want to marry a girl like the one on the picture? Click here
---

The Universal Crib On Finding A Russian Wife - the most compressed, step-by-step guidance on finding, courting and marrying a Russian woman.
Russian Women FAQ - find answers to the most frequently asked questions about Russian women.
More Russian women Q&A - Answers to less typical questions and evaluations of personal situations.