---
What is Russian women view on pre-nuptial agreements?
I am very interested in getting your opinion on an area I don't think you have discussed. That area is pre-nuptial agreements & Russian ladies. Please don't get me wrong, I am not looking for something for nothing. I was reluctant to ask for a pre-nuptial in my first marriage because we loved each other and I thought the marriage would last a lifetime... also did not think she would ever want what I had before marriage. As it turned out after 12.5 years she no longer wanted to work and had become a gold digger despite the fact I was working 90 hrs a week to launch our new business. She financially hurt me during the divorce despite the fact that she had become wealthy. How well would Russian women accept a pre-nuptial agreement? I don't mean an agreement where they get nothing but one where what they get is specified if the marriage ends. I am not referring to child support as not wishing to have kids. Please understand, I am looking for marriage to last a lifetime. I am not abusive & have never run around with other women. I just can't afford to marry someone who dumps me & tries to take 1/2 of my assets and go on to another man. Thank-you for responding. Lin
Dear Lin,
No matter what, a prenuptial agreement will be taken as a distrust. It can affect your relationship in a negative way. I believe there is a better way of dealing with it: organizing a cover plan for all your assets. Then you do not need any prenuptials. Use a corporation or a trust to protect your assets from an unscrupulous partner. In case your new wife decides "to take you to the cleaners", she will get nothing since all your assets belong to a trust or a corporation. You must seek legal and tax advice before deciding on any cover plan to protect your assets. Prenuptial agreement does not work in all countries in the same way, and in some countries such as USA or Australia the criminal law (for example, domestic violence cases) and other areas of law can make many areas of a pre-nuptial null and void. It is absolutely a must to seek legal advice on protecting your financial well being for all people entering marriage, does not matter if you marry a Russian or an American.
If you really want a prenuptial, find an article on the Internet discussing those issues, especially how a prenuptial can protect a woman, and ask your fiancee what she thinks about the article. When you know her opinion about prenuptials in general, ask if she would like to have one. Do not tell her you will only marry her if she signs a contract; this will ruin the very foundation of your marriage.
---
Can I just go to Russia and meet women there?
I'm a male, 35 living in Australia, Melbourne. I'm single and have 2 daughters whom I'm devoted to. I have a stable job but no-where near rich. I can't afford too much. Could I just travel to Russia for a month and meet women there without going through an agency?
Elena Petrova:
Dear Stephen, Yes, you can just go to Russia and meet women there. But it is still easier to go through an agency because they feature women who are ready to relocate. Not all Russian women will be ready to relocate to another country. Most Russian women will never leave Russia, no matter what. Even though agencies have thousands profiles in their databases, it is not more than 0.1% of the number of single women in Russia that chose this way of meeting a partner. All others don't think about meeting a partner for marriage from another country. How many women you normally can expect to meet and date in 2-4 weeks? Let's (optimistically) say, 20. Then your chance to meet a woman who is interested in marrying a foreigner is 2%, or 1/50. It means, in 49 cases out of 50 this approach will fail.
---
Do you have any statistics on success?
Dear Elena and John, My name is Richard, my wife's name is Tatiana, and we have a question about helping a dear friend in Russia (also named Lena) find a suitable man abroad. What can we do here (we're in the US) to help her get started? Also, I'm trying to keep my wife's expectations modest on behalf of Lena, simply because, from my perspective, it takes not only perseverance and a discerning eye, but also an incredible amount of good luck. I can't help think that for every woman in Russia who finds a good man, there are many women who don't. I'm also a little concerned because our Lena is a little older now (45) and not so slim anymore, despite her incredible good heart and soul. It drives Tatiana a little crazy that men, in general, are so focused on a woman's good looks when starting out in this internet process! and I can't deny that, even though I have found a kind, loving, wonderful wife with a beautiful Russian soul, I may never have written my first letter if I wasn't struck by her lovely face and slim figure. Do you have any statistics on success? or merely a rough idea about it? Elena, you helped me a couple of years ago, when I had a couple of questions while Tatiana and I were still corresponding. Our first anniversary was just last week. Thanks for your help, then and now. Warmly, Richard and Tatiana
Elena Petrova:
Dear Richard,
It is true that men are very interested in women's appearance. Your friend in Russia should take care to make good professional photos, which show her kind eyes and welcoming smile. We have stable request for good looking women 45-50 years old, some men even complain why we almost don't have women older than 50! About statistics, it is usually not the most good looking girls that marry fast, it is average women who care very much about not-so-numerous men who written to them (may be it would be only 1 man) and make the man feel special. The girls who receive dozens letters are getting confused, then their expectations might rise unrealistically, and they search sometimes years and years.
---
In tip 61 of your 101 tips, you state that you should let a woman know if you are not interested and you provided the following example: "Thank you for your nice letter but I have a clear image of my future partner and unfortunately it does not look like you; you are an interesting woman and will find your true destiny" will do just fine.
If I received that type of response I would be crushed. The way it reads to me is "Your ugly, take a hike" and everyone is beautiful in their own way. How about changing just a few words of what you already have so it reads something along these lines: "Thank you for your nice letter but I have a clear image of my future partner and unfortunately I don't feel that you and I are compatible; you are an interesting woman and will find your true destiny" I hope I didn't insult you as this is only a suggestion. Thanks, Todd, USA
Elena Petrova:

Dear Todd,

Russian people are very different from western people, they are very
straightforward and say things like they feel it, and are ready to accept
them the same way. So if a Russian girls tells you "You are a great guy but
I feel I do not deserve you" she means exactly that, and not that she thinks
you are a jerk. Most foreigners find it very refreshing.
And yes, you can of course write your own version of refusal that you find appropriate.
---
Is it uncommon for younger men to look for older Russian women?
Hi. My name is Bill McCoy. I am an American, who is 34 years of age. I am currently beginning my adventure of finding a Russian wife. I just spent ten U.S. dollar for her address. She is 43 years of age. My question is, Is it uncommon for younger men such as me to be looking for an older women? Please write back. Thank-you very much.
Elena Petrova:
Dear Bill,
Yes, it is not common for younger men to look for older women. But women over 35 don't mind younger partners.
---
Is it normal in Ukraine to use condoms during sexual intercourse?

Naive, stupid question - but who to ask? As a single parent (4 children) arranged one week with Ukraine lady in Kiev All above board, paid two bedroom apartment, her daughter visit to. Have agreed her to come to England....in the planning stages. All above board....contact everyday. Last day opportunity to be alone, alone...She asked me to use condom, etc. Though if never see each other again, good idea, protection. But if marriage ( We are planning) I can't have more children, would this still be expected "protection" in marriage. Sorry weird question - have been "married" 18 years, out of social contact... is it considered normal in Ukraine ??? Martin
Elena Petrova:

Martin, have your heard about such things as HIV or sexually transmitted diseases? You must be glad she is using a condom; it means she takes care of her health and future - serious, responsible approach, and serious, responsible woman. When you are married, and have provided each other with results of blood tests, then you can stop using condoms.
---
How do I find out if a woman is sincere and not just scamming?
Hello Elena, My name is David. I have been in touch with a woman from Ukraine and have spoken of meeting. How do I Find out if she is sincere or just scamming ? I have seen her picture on the black list. And have put this to her. She didn't deny it and she still wants us to meet. Could you please help me here as I do like this woman and want to meet her but don't want to be scammed or have my heart broken. Please help me out here I would be extremely appreciative. Thank you. David
Elena Petrova:
Dear David,
My suggestion to you is to read the Anti-scam guide at http://www.womenrussia.com/antiscam.htm Then you will know all the possible problems and fixes for them. It is 30+ pages long; so I do not think it is worth to discuss it one more time here, especially I do not have the complete information about your communication and would have to ask you many questions before I understand what is going on there. The Guide is easy to use and gives you detailed information on how to detect a scam and how to protect yourself from being burned. If after reading the Guide you still have questions, I will be happy to answer them.
---
Is there anything men can do to protect themselves against of scams?
Elena, you are very kind to have written me an explanation about how Russian Scams work. I have been on an American site called LoveAccess and they can use that for 7 days for free to solicit possible men or woman to start Emails. As a matter of fact I have another "Russian Woman" that is emailing me. Is there anything that men can do to protect themselves and is there any program the Russian Government and American Government that acts to protect against such fraudulent activity? I would appreciate any information you are willing to share and I am sure you are a very busy person, but I appreciate you taking the time to discuss these issues with you. You provide a valuable service and I believe I would like to take advantage of that service. I believe there are some wonderful Russian women that deserve a chance to come to America and I am interested in the possibility of a Russian wife. I have reviewed your guidelines so don't need information related to that, I just need to know if there is a way to track these people down so they do not ruin your business and ruin other peoples lives as they have mine. Thank you, James

Elena Petrova:

Dear James
With the possibility of 99% anyone who writes to you through general dating sites such as Loveaccess claiming to be a Russian woman is a scam artist. Just ignore such letters. Real Russian women seldom use such sites. They mostly send their data to the dating agencies that specialize in introductions between Russian women and foreign men. The problem is that people do not file official complaints with authorities, which are the only people who can prosecute the scam artists. Most people just send messages to black lists and that's all. Therefore scammers go unpunished. If all men who were scammed went to authorities (police), the scam artists would be caught quickly. But without official complaints scam artists cannot be prosecuted. If you are looking for a real Russian woman, rather use specialized dating sites that do screening of the profiles and support anti-scam initiatives.
---
Is this all she wants?

I was married to Olga on Nov 15th 2002 and last night whilst out at dinner during a conversation she came out with something which completely through me. She basically said "Of course I've never really been madly in love with you but you are a good husband". As an Englishmen I find it hard to understand how someone can marry you when they do not love you. Obviously I'm concerned of the future and hurt at those words and would ask is this a culture thing or not. I am a very young 57 years and quite a modern man. Olga is 34 years. I have a good future, job, and security for life. Is this all she wants? Graham
Elena Petrova:
Dear Graham, She loves you as a person, as a friend, as a partner and the words "I am not madly in love with you" only mean she is not completely smitten with you as a lover. It does not mean she is not sexually attracted to you, it means what it means, she is not "mad" about you. Most women do not have the same feelings at 34 as they had at 18, and they feel they "are not madly in love" as they used to be when they were in their 20th. Remember when in teens all you could think about was love and making love? This is the condition women would call "madly in love". With the age, the feelings become less intensive but more stable and deep. Most people, men and women, do not realize it, but love is different at different ages, especially for women.
---
Letters: Page 2 | Page 3 | Page 4 | Page 5
---
Comments, suggestions? We want to hear from you!
Click here to Contact us
---
READ ALSO:

The latest E-book of Elena Petrova:
"How To Find And Marry A Girl Like Me"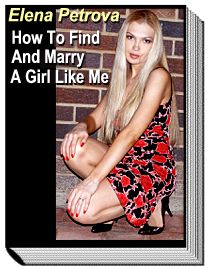 This is not just another book about dating Russian women!
This is the book that will change the way you look at Internet dating. It will boost your success rate with Russian women in an instant. You will have more girls that want to be with you than you can handle!
And not just ordinary girls! They will be beautiful, intelligent, but most of all - HONEST AND SINCERE! You will be the one to take your pick!
Want to marry a girl like the one on the picture? Click here
---
Why Russian Women? - If you decided to find yourself a Russian wife, you would be inundated with questions of the type "Why Russian Women?" from everybody you cared to share your idea with. Surprisingly, every Russian woman you are writing to will ask the same question: "Why do you want to find a wife in Russia?" After a while, you might start questioning your own sanity in doing the thing which everybody, including your dates in this Internet rendezvous, consider strange enough to request explanations. Here you will find some ready-to-use answers for your family, friends and Russian women you are writing to.

Myths and Reality - There is too much prejudice towards Russian women seeking men, both positive and negative. I call this prejudice "myths", and consider them one by one.

Russian women secrets - Do's and don'ts in your relationship with a Russian lady.

The Universal Crib On Finding A Russian Wife - The most compressed, step-by-step guidance on finding, courting and marrying a Russian woman.
MUST READ!
New e-book by Marina Smiley (the author of famous "The shocking truth about Russian brides").

Discover why so many guys continue to go to Russia, again and again they spend their money and time and are still unable to find their woman.
Learn how you can dramatically improve your success with Russian women and win when other fail.
Most intimate questions answered by a Russian woman - Medical Doctor.
---
---
MUST READ!
12 Simple Rules

This book will light a few light bulbs in your head.

If you wonder what is the cause of your problems with women/men, this book will open your eyes and give you precise instructions on how you can get the love life you always wanted.
If you were out of the game for a while and struggle to get back, this book will help you re-gain your lost confidence and learn a few new tricks along the road.
If you consider yourself an expert on dating, you will find several tips that will make you pinch yourself and say, "I can't believe I didn't think about it before!"

The secrets in this book will give you an unfair advantage in the battle of sexes, so much that you may even feel guilty of using them... because you know EXACTLY what results you are going to get when the other party doesn't have a clue! It's like taking a candy from a baby.

So, if you want to keep your life the way it is...
DON'T read this book.
Because you'll NEVER be the same person again.
I promise.

DON'T CLICK HERE unless you are ready to get MORE love, MORE money and MORE success in your life!
---