Ekaterina Romanenko (Tver, Russia)

Dear Sir:
I am sending you a report on how I was scammed by a lady on Rbrides.com. You may publish it and it is my pleasure to stop all these scammers who prey on honest citizens. Thank you

Here is my report compiled as requested to be added on Russian Women Black list.

Ekaterina Alexandrovna Romanenko ,
Her email: (kate sorokina <katerinalove77@mail.ru) Tver Russia, scammer
Her address:
Her Address:
Country: Russia
City: Tver
Last name: Romanenko
Name: Ekaterina
Middle name: Alexandrovna
Adress: st. Podolskih kursantov, 14, app. 26
Index: 424000

I am 48 yrs old, single, white Canadian, self-employed Graphic Artist who corresponded in a relationship which promised to be heaven but ended up as hell.

I contacted this girl on Rbrides.com starting July 12, 2006 up till Sept.8, 2006.. She declared her love after so many letters and she wanted to marry me and needed money to buy her insurance on the flight ticket and a sum of money required to pass customs.She needed 870.00 USD for insurance at first and I sent it to Ekaterina Alexandrovna Romanenko via Western Union..Then she needed money to show customs that she could support herself for 30 days. I sent 1500.00 USD which would show that she could support herself. Again, I sent this sum to her Ekaterina Alexandrovna Romanenko. The MTCN # was emailed to her on both occasions. She confirmed receiving the amounts. On the day of her supposed arrival Sept. 1, she said her mother got a heart attack and could not take the plane. Then, she told me her mother had died and I requested for my money and she said she would send it via Western Union. She emailed me and gave me a MTCN # which turned out non-existent. I contacted her and she told me the bank could not send the money because my address was wrong. Then she said she would sell her apartment and come to my country . We were suppose to get married but never did. We do not need an address to send money because I have sent it to her just with the name and mtcn # and the country. She never wrote back and I realized then that I have been had.

I contacted the website Rbrides.com site on 2 occasions and they never responded to this nor offer any help. I will pursue this matter up to the embassy so these scams can be stopped and prosecuted accordingly.


July 12, 2006
1rst letter:

Hello, dear friend!!!
It was so nice to open my mail box and to see a message from you, from the
ther
corner of the world! I am not very good at computer, and I am surprised to
understand that now I have an opportunity to communicate with a person who
lives
so far from me. The distanse becomes less great, when people know each other
better. And I am sure that very soon we will know each other very well!
Because
as for me I am a kind and open-minded girl with a good sense of humor. And
what
about you? How can you describe your character?
Well, now it is high time to tell you about me. My name is Ekaterina, but my
friends call me Katia. As we are friends already you can callme just Katia,
I
like it more. I am 28. I live in the most beautiful city in the world. My
native city is very dear to my heart, I was born here. is situated not far
from
the capital of Russia. It is not as big as Moscou of course but Tver with
its
beautiful lakes and rivers, green gardens even in the centre of the city
ismuch
more beautiful. friend, and what can you tell me about your city? Were you
born
there or you moved? Is it big or not and where it is situated?
And now look at the photo and say how do you find me? Frankly speaking, I
tried
to send you my best photoes to make impression on you...Did I manage to do
it?
So, look and tell me. But on the photo you cant see my growth and weight. I
am
170 cm tall, and my weight is 54 kg.
When I look at the map of the world it seems to me so big!!! I find your
country
and understand that thousands and thousands kilometers separate us. But it
doesnt frighten me! On the contrary, it is very exiting to communicate with
somebody with whom you have never even talked! In the process of
communication
we will understand our characters, the differences between us. But I am sure
we
will have many common things. The first one - we are active people, which
dont
stay at one place! We try to change our lifes, I like this position. Every
person must be a master of his life. Our world is so big, there are more
than 6
mlrd of people in it and we are so different!!!
I would like to tell you that I have no computer at home, and I write to you
from the Internet club. So, you understand that I dont have opportunity to
write
to very often, but if I am interested in a person, I will do all my best to
communicate with him... I know English rather well, I write letters myself
and
speak fluent English. I graduated the Pedagogical University. But anyway it
is
a foreign language for me, may be sometimes I have mistakes. So, ask me if
you
dont understand something. And very soon I will be sure to improve my
English
with you!
Well, it is all for this time. Please try to answer all my questions and of
course tell more about you.
Your new friend Katia.



July 26th, 2006
6th letter: money asked the first time

Hello, my prince Johnny!!!
My darling, again I can say to you that you lit in my heart fire of love
having
written me a letter. I hope you feel the same when you read my letters. I
try to
express all my great love to you in them!!! And I am sure that you answer me
with reciprocity!!! Do you feel the same, my unique Johnny?
I know that you the person I need and I really want to be next to you every
second of my life, to feel your presence, to hear your sweet voice... My
darling, fortunately nowadays everything is possible. We can be together
it's
necessary just to buy a ticket!!!
My darling, I never traveled so I went to the travel agency as I promised
you,
my prince. I really managed to know all the information about my trip to
you. In
fact it appears not very difficult. So, I was told that if I want to go to
your
country and want to do it fast, I must have a passport (170 $), there is no
problem to do it, it's very quickly, then tourist visa (it is available for
three months, 215 $), then two-way air-tickets (980 $), insurance (870 $,
every
person who goes abroad must have it obligatory because some troubles may
take
place during the voyage). If I have my tourist visa I'll be able to stay at
your
place for three months but if we want to continue my staying with you I
think it
will not be a problem. I think it's possible to prolong theˇ visa. I was
told in
the agency that they had such cases and everything was OK!!!
Well, about my trip to you. Naturally I had to tell my mother everything
about
my decision to go to you. She said that she understood everything. She knows
me
as nobody in the world. I said to her about my plans and she supported me.
She
told me she had some savings as she wanted to buy furniture. But she is
ready to
help us because she is very happy for me and for you. She told me that I
never
was so happy and beautiful. So I can pay my passport, my tourist visa and my
two
way tickets. Unfortunately, my sweet, I cannot afford to pay the insurance.
I
counted everything very neatly but I have no money left. I asked my friend
Marina to help me, but she refused. She has left her work and she is out of
money now. In fact, my darling, I do not have anybody to ask to, so I do not
know what to do. For our country it's really a great sum of money and
everybody
does not possess this money. Among my acquaintances there are not such
people.
My unforgettable, I can hope only at you. I know that you really want me to
be
next to you, so I want to ask for your help.
My daring Johnny, I really dream of you all the time and I need you
immensely.
Tonight I have already seen you in my dream. You were next to me and you
hold my
hand. When I woke up I burst into tears because you were not next to me.
I LOVE YOU!!!! I CAN'T DO WITHOUT YOU!!!
My dear after I shall stay with you, I believe in one year we could invite
my
mum to live with us. I think she .s was very happy, but while she will not
be
with us I shall contact it each days off.
My love you are not a lunatic you are simply in love as well as I. We test
identical feelings, I do not seem to you mad? You ask when my birthday. My
birthday on August, 1. I hope we shall meet this day and it will be
unforgettable for both of us.
Thanks you big for such fine poems, they so like me.
My fantastic Johnny, we really have all the chances to be together!!! I was
told
in the agency that it's possible to make all the documents very quickly. So
I
wait for your answer with impatience and I want to know your opinion.
I hope that everything will be very good. I kiss you tenderly, yours Dove
Katia!!!

August 3rd, 2006
10th letter:

Johnny,
My Dear! I want to tell you that I love you very much. I miss you
greatly.
I hope that you are well. I wish that your heart is happy. Thanks for your
fine
˛˝Ŕ§Ŕ they to me so Ý­ÓÔ ˛Ř˝ , I like them to read.
More and more I love you every day. I wonder how how can such good, kind,
fair
man be left alone? How can any woman resist you? I would enjoy holding my
arms
around you and softly kissing you. Just to feel your body and smell your
sweet
perfume would be like heaven to me. Your smile melts my heart and my soul.
How
can this be? I think of the pleasure of holding your hand in the park. I
enjoy
being in love with you and making absolute love to you. Imagine waking up in
the
morning next to each other. I could lie in bed with you I in your arms all
day.
I want to give you all love that you will want. I want to love you and make
you
feel sensations and emotions like no woman has ever made you feel before. I
want
you to let go of your emotions and give me your passion. I want to give you
the
love that you have never felt before. I want my touch to electrify your body
as
I massage you all over. I close my eyes and hear you whisper my name in my
ear.
Can you imagine how it would feel with our souls linked closely together?
There
would never be any use for words. I want you my prince. I want to be with
you
right now! You would make me the happiest woman.
My love as to me informed in bank where I went to learn(find out) concerning
the
western union to you it is necessary to specify the following information:
Name:
Ekaterina
Last name:
Romanenko
Country:
Russia
City:
Tver
I know that after you will send money Western Union should give you MTCN, it
is
ten
numbers without which I cant take money in my country. So I need to know
then in
any case.
After you will send money to me, please, honey, write me the letter and
those 10
numbers.
I need to know it and that you have already sent me. I will need a full
information about
you (country, state, name, last name, address) .I hope that everything will
be
fine. I really dream about our meeting. I love you so much. I love you,
never forget it!!!!

I hope to hear from you soon.


August 14th, 2006
12th letter - asked money the second time

My Precious Angel, Johnny!
I look forward to the day, I can hug you. I can not wait to know the sweet
taste
of your soft lips. I hunger for the chance, to hold you tight, so that I can
feel your heart and mine beat together.
My love I did not know that to arrive to you it is necessary to take with
itself
of money. Nobody informed me on it. Well concerning your idea that it will
marry
in my country too for a long time so have told to me in the visa agency. It
will
be necessary to wait for 3 months after submission of the application, I
cannot
live so for a long time without you. I believe to us it is necessary to
marry to
your country. I shall tell that I go to you for a month. But I have no such
money, my dear I have the decision of this problem if you send me still
money
which to me it are necessary to confirm solvency for a month these are 1500
dollars as you informed me, I shall not spend them and I shall give you them
after arrival to you. It is very a shame to me to ask you also this money
but I
have no opportunity to get them. I can rely only on you. What do you think
concerning it? You agree with me? My sweet I it is really very much upset
with
that that you informed, I think that you are
not going to change your plans and we shall be together on Saturday or
Sunday.
There are times, I see couples together here and there, I see them laugh and
have a good time together, and I am thankful that I have you, and that we
will
be a couple, who laughs and enjoys the company of each other. I recall each
and
every word you have ever written to me, and I see your love and every night
in
my dreams. I can not go a single second of the day without my thoughts
turning
to you, and the Love you have expressed to me countless times. You are MY
ANGEL,
you have my heart, mind, body, and soul and you will have it forever and I
shall
see to it, that you shall never have need of anything, other than that which
you
desire. I will be yours forever, and proudly so. From the day you first
responded to my very first letter, up till this very moment, I had never
known
the joy and happiness, and contentment in my life, that I know now, and
shall
forever know. It is because of your love, that I live, and because of it, I
will
love no other, and I will not rest until we
are together forever. I will do whatever it takes to be together with you
very
soon. I LOVE YOU!! I shall now go to sleep, with your lovely imagine
ingrained
in my mind, and shall sleep with a smile on my face because of it and you.
My
Precious Angel Johnny, I LOVE YOU! thank you for loving me.
Please my love, write me soon,
Your love Katia.
P.S. I called to you yesterday and put the message.
MONEY WAS SENT VIA WESTERN UNION 1500$ USD

August 19th
14th letter:

Johnny you the most wonderful man in the world to me, I want no other man in
my
life only you my dear sweet Johnny. My love I wait when we will be together
soon, I love you so very very much, You are my life, You are my boy, Your my
man, And I want you to be my forever, I love your letters and hearing how
much
you love me and how much you are devoted to me, I am so very thankful and
happy
you love only me and want no other woman. You know how much that means to me
my
love. Johnny you are my one and only truest love of my life, and I am
totally
devoted to you and your happiness, I will not rest till I am there safe in
your
arms forever more. We are surrendering our hearts to one another always and
forever, I truly love you, And will love for the rest of our lifes as my
man,
Johnny Johnny I love you with all my heart and soul Johnny, And nothing will
keep us apart, You are the most wonderful man in the world, and your my true
love, I will make you so very happy. And I am so happy that you always stand
beside me, I never want to lose you ever, your my smile. Sweetheart I cannot
wait till I can taste your sweet lips, feel your skin, and make love to you
every day. And I cannot wait to be with you soon my love!
It is the address of the branch of western union POST RUSSIA FRUNZE nearest
to
me 20 TVER, 170039555649
My dear I have the Canadian visa, but I have document with which I can to
visit
America. My dear I shall wait your money on Tuesday on August, 22. I am
hurried
by agency to pay insurance, differently I am threatened with the penalty. My
sweet do not overlook to send me MTCN, without him I cannot receive money.
YOU MY LOVE, I LOVE YOU AND I SEND YOU SWEET SOFT KISSES AND WARM LOVING
HUGS
I am your loving the future wife, Katia.

August 22nd, 2006
15th letter:

My Dearest Johnny,
I have received your money many thanks. I today shall go to pay insurance
and to
buy tickets. I shall wait the stayed sum that I could arrive to you. My dear
I
so it is glad that we soon shall together. I so am happy my love. I love
you. I
cannot find a place where I could make a copy of the certificate on a birth.
My
dear I need to hurry up to pay insurance. I shall wait for your letter.
Your wife Katya.


August 28th, 2006
17th letter - Airline ticket

Greetings my dear Johnny!!
I still so am sad, yesterday I all the day roared, my mum of me calmed but I
saw
that she too is sad. I shall write to you every day and to call too. Well I
have
reserved the ticket for September, 1 the information on flight.

DELTA AIR LINES 31 SVO
Moscow 09/01/2006
01:15 PM JFK
New York 09/01/2006
03:45 PM 767 Economy
N/A 16 hr
11 min

AMERICAN AIRLINES OPERATED BY AMERICAN EAGLE 4763 JFK
New York 09/01/2006
07:45 PM YUL
Montreal 09/01/2006
09:26 PM ER3 Economy
View Seats 333
My dear I shall arrive in P.E.TRUDEAU AIRPORT. When I shall call you we
should
discuss where there we can find each other. My dear you should not worry
concerning that that I do not send to you the certificate on a birth at me
there
is no fax and I do not know where it to take. But my visa goes for 3 months
but
to me have told on it I there can be a month and show at customs house of
money
too only for 1 month. So my love Johnny to submit applications for the
conclusion of a marriage we shall go together. With this letter I send you a
copy of my visa. I love you. And I know we shall be together. My mum sends
the
regards to you.
I love you my husband your wife Katya.


August 30th, 2006
23rd letter

My Dearest Johnny,
My love I has received money and soon we shall together. Tomorrow I with mum
shall go to Moscow. We shall lead night in hotel and then we shall go to the
airport and I shall arrive to you. And we shall live happily. I cannot
believe
in my happiness.
My LOVE, now, more than ever I must have you for mine! I know when I arrive
to
you, I will show you my Love for you, making Love to you. I will kiss every
inch
of your body, from your head to your feet! I have dreamt many times of you,
since you and I have written this e-mails to each other. I will know the
pleasure of a kiss from those lips, I shall hear words of Love and laughter,
from them. I will know the smell of your skin, the warmth and the softness
of
it, and I will enjoy for ever the presence of it! I will see the world only
when
you open your lovely eye's each morning, and I will rest at night after your
eye's have closed, and will dream of the moment when they shall open again.
This
I will do for the rest of my life, for soon you shall be my life!
Soon I should arrive to you and I will come to the man I want most in the
World,
Johnny Johnny, who has been most loving, patient, loyal, honest and caring
and
giving. I will be the Happiest Woman on Earth, for having such a man as
Johnny
Johnny, for all my life. I LOVE YOU Johnny, forgive me if I made you endure
any
hardships, if anything I said or wrote to you questioned my Love for you. I
truly know now that you do love me, and you know now more than ever I LOVE
YOU
VERY MUCH! I must close this letter for now, but you soon will hear my
words. I
send you a thousand kisses to wear each day until, I hold you in my arms
forever. I LOVE YOU! Your Love forever Katia.


Sept. 4th, 2006
27th letter

My greetings Johnny!!!!
It is very a pity to me that I have not arrived to you, but to my mum it
became
bad at the airport. she had a heart attack!!! Her have taken away in
hospital, I
too have gone to it. She lays in without consciousness and I cannot throw
her.
she does not have anybody closer than I. How you would act in such
situation? I
tried to call to you and your friend Richard, but nobody took a tube. All
this
time I was with mum and I could not write to you. YOU UNDERSTAND me? I do
not
know that to me to make with trip to you. Tell that to me to do? I should be
near to mum. It is not very a pity to me that I could arrive to you. I hope
you
understand my situation.
Your Loving Katya.


I REQUESTED THAT SHE SEND ME MY MONEY


Sept. 6th, 2006
30th letter

Greetings my dear Johnny!!!!
I have changed the apartment and to me have given out $10000 to me there are
no
$6000, I do not know where them to take. Well I have sent you of money
through
the western union. I have sent you 1500. MTCN 5829456230. Concerning me you
know
other information. I need to find 6000 for 2 days. I went to bank, but to me
have given up in the loan because I was going to arrive to you. At them who
is
forbidden to give out to money to those gathers abroad. I all in despair, I
do
not know what to do. I do not want to lose mum and I do not want to lose
you. So
your support is necessary for me. I love you.
Yours katya.


Sept. 6th, 2006
31th letter - last letter from her

My love Johnny yesterday I has paid for mother's operation. Doctors have
understood my position and have discounted me, I have paid $10000. Today to
mum
performed operation and she has passed badly my mum has died. At me remained
nobody except for you. I shall sell the apartment and to arrive to you. I
went
to bank and they have told that money which I sent to you have not reached,
you
have specified not the correct address. After I shall sell an apartment I
shall
arrive to you. But me have told that it is impossible to cross border with
such
big sum of money. I want to send them through the western union and to
arrive to
you. Tomorrow there will be funeral of my mum. I am very restless also to a
roar
whole in the days. So your support is necessary for me. At me anybody was
not
closer than her. Well it is time to me to go.
Yours Katya.
====================================

My mail: leftiegibson @ hotmail .com
Johnny (Montreal, Canada)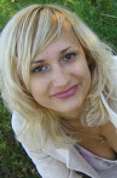 ---
Ksenia Chercazianouva (Cheremkhovo, Moscow, Russia)
I am a single guy, white american, 48, living in California. I was contacted by "Ksenia" on SinglesNet.com. She is no longer listed on the dating site.
I have dealt with many scammers in the past (none got any $$$ of course) but this one had me going. Right up to the point where she asked for money. I told here that I would never send her any money in several emails to her but her responses were like she never even read my letters (typical). I even sent an Ecard that was never opened (again typical of a scammer).
The pics are all over this web site:
http://www.womenrussia.com/blackpage322.htm
http://www.womenrussia.com/blackpage344.htm
http://www.womenrussia.com/blackpage348.htm
http://www.womenrussia.com/blackpage352.htm
http://www.womenrussia.com/blackpage376.htm
After doing some research I discovered that the pics are stolen from a real girl, her name is Valeriya and she lives in Odessa, Ukraine: http://www.liveinternet.ru/photo/_nagval_/
The real girl DOES NOT place profiles on the dating services and is not searching for anybody. If you are contacted by anyone using these photos, it's a scam! Even if "she" says her name is Valeriya and she lives in Odessa, remember: this is NOT a real Valeriya, but her evil clone.

Since this discovery, I have taken the advice of womanrussia.com and decided to start making this person work a bit and waste some of their time as they have wasted mine. I will be sending them to the western union office a few times just for fun. With no money there of course.

1st Contact was on Sept 6, 2006 thru singlesnet.com.
The letter is no longer there as the profile was deleted.

2nd contact Sept 7, 2006:

Dan! I'm so happy to receive your answer! It was good to meet you on
"singlesnet"
site! You made my day! I've never tried to find someone in Internet
but
soon I will come to your country to work there, so I will have a work
visa
and a permission to work. My friend worked in the USA somewhere near
Fort
Lauderdale two years ago. She worked in amusement park from 11 am till
6 pm
and from 7 pm till 3 am she worked in a bar. Of course she was always
tired
but she made very good money! I think I can do it too! Now she is in
Europe,
working for 3 months. She wrote me she liked to work in the USA better!
I want to find a man who can tell me about the life over there and
maybe
of course something more then just a friend!!! I don't have a
boyfriend so I'm free for new adventures!!!
I'm in Russia now, but soon I will leave Russia to make my trip so you
can
forget about our distance.
I've never been abroad, only in the South of Russia, the Black Sea,
Sochi. I like warm climate ))
According to my visa I can work in your country for 3 months, I can
prolong it to 6 months if I want. After 6 months staying over there I
can go home or try to get a green card.
I think my level of English is quite good, but although it's very
simple. I can't read philosophy books in English or business books)))
Anyway I want to improve my English while staying over there. I write
and speak English by myself. My spoken English is good too. We have
Discovery channel here in English (my friend has cable TV, so I come
to watch it!). I like this channel so much! Very interesting!
I'm sending four pics for you. One is me with my dog Lima. I like
animals!! Another one is me last winter, the next one is me on the
table at my friend Katia who had discovery channel, I wrote you! And
the next one me near the river, it's not far from my city.
I live in small town here in Russia, and I decided to find someone by
Internet not to be alone when I make my trip. The life is different in
every country and I think it's hard to live there when you don't know
anybody.
I can do some simple job as a waitress, or to work in some shop. And
later when I improve my English I want to find a better job!
I will start my trip from Moscow, I will go there to pass English
tests and have an interview. I think everything will be OK!
Working program helps me to get the visa, permission for work and
all travel documents and they will help me to get job. It's a special
program for young people who is not lazy and make some money.
Also they can settle me with another girls from Russia and Brazil who
came to work there too, it's very cheap.
Here I can earn only about 100-150$ a month to work from mornig till
evening (my city is really small).
I think I can change my life and see many wonderful things and just
different life. I am full of plans and different dreams.
I am sure you will be not disappointed to meet me in the real life!!!
I don't have a special plan or something like that for a new
relationship, I'm open to everything! I don't want to be an abuse for
you, if you will not want me as your woman, we can be just friends!
But I hope you like me and my photos!
I had a boyfriend, but it was nothing serious and we broke up one year
ago because he moved to Vladivostok.
OK, I will finish this email... I don't know what else I could write
you in my first email. Your questions are welcomed! Please answer me
even if you don't like me, because you are the only man I am
responding to. If you don't like me I will continue my search. I hope
so much to receive your answer!!!
I hope we can have a nice communication by emails so I will know
somebody is waiting for me over there and I will come there maybe in
2-3 weeks or so! Not so long time to wait for me, really?
I hope you are my soulmate and we match each other!
Now I write you from my personal address please reply here.
Next time I can answer your questions if you have some and tell you
about my family, send you many pics of my family, also more of my
photos!!!
Tell me about yourself and the place where you live!

Sincerely,
Ksenia.

9th Contact Sept 17, 2006 (the Money Request)
Dan! Hello again! You can imagine how happy I'm am that I already
started my trip and I want to continue it. I already feel that I
became closer to you )) I'm really excited about it!
Moscow still makes me both tired and excited. Anyway I'm really happy
I've started everything.
When I think about you it helps me to be more strong and tolerant, I
see everything is not that easy but I hope the moment of our meeting
is waiting for us.
I have some news about my trip to you, please be very attentive to
read my news.
The nearest possible flight is Friday, September 22.
I really hope to be on that plane.

Today I was given the flight information. Here it is:

--------------------------------------------------------------------------------

Information for Ksenia Chercazianouva.

"Travel&Businees", Stipanowa Olga. 3690768 Moscow,Pushkina street
28,office 31. (7 ) (095 ) 485-345-9 (7 ) (095 ) 485-384-2

Flights: Moscow, Russian Federation - San Francisco, California, USA
Friday, September 22, 2006
Flights All airports (MOW), Moscow, Russian Federation to San Francisco
Int'l (SFO), San
Francisco, California, USA
LEGEND: 1st=First, Biz=Business, Eco=Economy, N/A=Class does not exist,
No=All seats full,
OP=Flight operated by another carrier, R=On Request
Flight Departing Arriving Stops / Aircraft
Duration Seats available
1st Biz Eco
Lufthansa
LH 3189
Sheremetyevo (SVO), Moscow, Russian Federation
Terminal 2 07:05
Frankfurt Int'l (FRA), Frankfurt, Germany
Terminal 1 08:15
Non-stop / AB6 16h00min N/A Yes Yes
Lufthansa
LH 454
Frankfurt Int'l (FRA), Frankfurt, Germany
Terminal 1 10:00
San Francisco Int'l (SFO), San Francisco, California, USA
Terminal I 12:05

Please use our service.
Best regards. Manager|Stipanowa Olga.

Price: USD 1250.00+ Roundtrip tickets.Eco.class.
--------------------------------------------------------------------------------

It would be great if you can meet me in the Airport and wait for me
there. I will be very thankful to you if you can do it. If something
happens and we will not be able to find each other I can call your
phone number or you can make a paper with my name and hold it!
If you will be late because of your work or something else I can wait
for you at the Airport... I will be tired after such big flight (I
will be on the plane many hours! I'm not sure how much, I will find
out) and have some rest.
So I booked tickets and I can pass my interview only when I pay for my
tickets, I didn't know about it. I can receive my visa after I pay my
tickets so they want to be sure I have roundtrip tickets so I'm not
going to stay illegally over there. I think there rules are too
strict...
I have some money but my flight from Irkutsk to Moscow costed so much
(about 550$) because it's so far from Moscow. Of course it is my fault
because parents told me
that I have to travel by train but I wanted to do everything faster so
I took a plane...
Anyway now it's too late to sorry.
Another bad thing yet that prices of service of aerflot (tickets)
became more expensive because of high gasoline price.
I didn't guess that everything costs so much and they didn't say
anything. They say they arranged my trip, visa and all necessary
documents and money is only my business.
I have to buy tickets till my interview because of such rule. Maybe
you could borrow me some money?
I can't live here too long because every day I have to spend some
money for food and rent of room.
Really expensive city. The cup of the tea costs about almost two
dollars.
I think it is not too great amount I ask and I am sure I will be able
to return it
back in a few weeks after I arrive. I will earn some money and from
the first salary I return it back to you.
in Agency they have told me that you may send it by Western Union. It
is
pretty easy to use they said. I have been to the bank and they gave me
the information.
All you need is my name, my surname and address to send me the money.
Once you do
this, I'll be able to pick up the money at any local Western Union
office in
Moscow. We need to do it pretty fast, because we have no time till my
interview, if everything is all right I will be on this plane!
You will send me a transfer info and MTCN ( money transfer control
number)
I will get cash.
Kiss you many times, I am tired today,you know it is hard enough to be
in a city where you don't have any friends or relatives. So many
different emotions.
Kiss you many times! see you soon!

Ah, silly me. Almost forgot to give you my full name and my address.

My address here (where I rent a room)
Country : Russia,
City : Moscow,
Address : Chehova 82-41
post code : 117303
Full name Ksenia Chercazianouva

I have about 300 US dollars. Please try to send about 960 US dollars
so I will be sure I have enough money for all my travel needs and
flight. I know you will try to help me!
I can't wait to hug you when we meet! If you can't meet me at the
Airport we can meet somewhere in the city, but I don't know how much
the taxi cost over there. I'm glad I have a job lined up and when we
meet each other maybe you will even want to have closer relationship
with me and maybe we can even live together someday! If you want! It's
just my dreams...

see you soon!!!please don't leave me here alone,PLEASE!!!!!!
More pictures of the real girl can be found here:
http://www.liveinternet.ru/photo/_nagval_/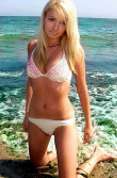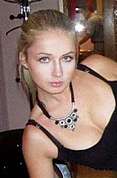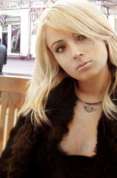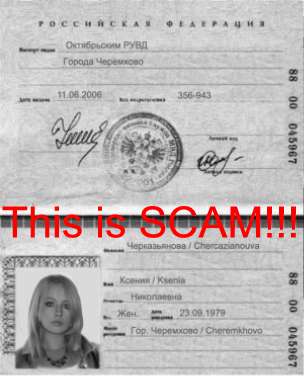 ---
To send your own story, please click here
Click here to support Black List
READ ALSO: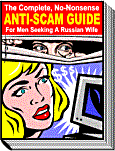 Met a Russian woman over the Internet?
Thinking about finding a Russian wife?
Russian woman wrote to you? Don't move any further until you read The Complete, No-Nonsense ANTI-SCAM GUIDE For Men Seeking A Russian Wife. Too many men were caught up in a scam and lost great deal of money - want to be one of them? Ensure your safety and peace of mind - read the ANTI-SCAM GUIDE.




Scam-free search - GUARANTEED! - Looking for somebody truly special but have had it with scammers and scam agencies? Let professionals to do the job for you.

The Universal Crib On Finding A Russian Wife - the most compressed, step-by-step guidance on finding, courting and marrying a Russian woman.
Reliable Dating Services - where to look for a Russian wife
The shocking truth about Russian Brides - E-book by Marina Smiley. Find out things about Russian brides that marriage agencies will never tell you.
Why Russian Women? - If you decided to find yourself a Russian wife, you would be inundated with questions of the type "Why Russian Women?" from everybody you cared to share your idea with. Surprisingly, every Russian woman you are writing to will ask the same question: "Why do you want to find a wife in Russia?" After a while, you might start questioning your own sanity in doing the thing which everybody, including your dates in this Internet rendezvous, consider strange enough to request explanations. Here you will find some ready-to-use answers for your family, friends and Russian women you are writing to.
Cheap Russian Translations - Russian-English/English-Russian translation: fast and comprehensive. You are not sure she understands what you mean? Translate your letter to Russian! Reasonable rates and highest quality.
---

New E-book by Elena Petrova:
"How To Find And Marry A Girl Like Me"
Comment from the reader:
"This may well turn out to be the best purchase I have made... I hope not too many of my competitors find this book!"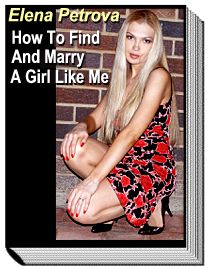 Discover how to find, court and finally marry a beautiful Russian woman!
This is the only book written by a beautiful Russian woman married to a western man - for more than 5 years! - and who is also the owner of a highly successful Internet dating agency.
Find out once and forever what Russian women are really looking for, why they are looking for it and how you can give them exactly what they want!
Get responses on your letters to beautiful Russian women - 9 out of 10, GUARANTEED!
With "How To Find And Marry A Girl Like Me" you'll learn knock-out techniques that will instantly boost your success rate in dating Russian women - online and in real life. You will have more beautiful girls that want to be with you than you can handle!
And not just ordinary girls! They will be beautiful, intelligent, but most of all - honest and sincere! You will be the one to take your pick!
STOP wasting your time and money in search for a Russian wife... Get it done - painlessly, easily, and certainly! Moreover, have lots of fun along the way!
Yes, you too can marry a girl like the one on the picture... Click here!
---
JUST RELEASED!
New Ebook You Cannot Afford To Miss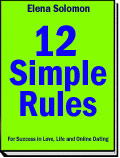 Dating can be complicated... it doesn't have to be! You can jump start your love life - or you can keep wandering in the dark; the choice is yours!
When it comes to dating, most men make the same silly mistakes with women - over and over, with disastrous results.
Do you want to do BETTER than 99% of other guys? Click here
---
New e-book by Marina Smiley (the author of famous "The shocking truth about Russian brides"):

"Sex and Love With Russian Women"

Discover where so many guys fall short when visit their girlfriends in Russia;

Learn how you can dramatically improve your success with Russian women and win when others fail.

Most intimate questions answered by a Russian woman - Medical Doctor.
---
Comments, suggestions? We want to hear from you!
Click here to Contact us
Seek a reliable Russian Dating Agency? Why not check www.elenasmodels.com - RECOMMENDED
---