---
Hi to all and thanks 1000 times to the people which are having this site ! I came to this site and saw the following page written by a person called called "TK" along with his comments :
http://www.womenrussia.com/blackpage25.htm#Dana1
There is picture of "Dana / Maria - Stella Maris Agency (Sevastopol, Ukraine)" (see page) Just noticed on Adultsingles.com that Dana Sevastopol, D238962 has posted her profile under another alias, Maria, D393403 person. Maria Sevastopol. She is one and the same, and quite good at her game. Who knows what her age and real name is, and works out of Stella Maris agency with no website. I doubt if she really exists.
Beware.
TK
So, there is my story :
This girl is called Diana, it's her real name. I'm French, loner, high income. I've had a terrible childhood, living as a slum at 16 but I succeeded, always being honest, to make my own way. I speak 11 languages (8 fluently and wrote this message myself). I do not attach importance to money. Money is only a "tool", it comes and it goes. I'm not going to be buried with it. This my oriental part.
I am the service manager in a big company manufacturing high-end movie-tv broadcast studio equipments. I really had a crazy life, I'm now 48 and I thought "why not ? Let's give it a chance !" It's being a long time without a weird adventure, so let's go to it ! I must say that when I saw all these pages on this site of guys been 'crooked", I must say that some of the guys are really "nuts" because these girls really look like top-models and they certainly have no problem to find a guy.
But "Diana" is much smarter, preferring to have a "classy" touch. . We have corresponded by e-mails and I don't think it's necessary to duplicate them here, just read the others, it will be sufficient. I went to Sevastopol, Ukraine, and I must say it worth the trip. Crazy country, crazy people. She says she has a child and this is true. Irina, a sweet little piece of cake, 6 years now. Bought her a lot of toys which I brought there. It xxxxx me off for her, to have such a mother. And I met Diana. I pretended to have quite a modest income, just to see. We went around and finally went to my place and had a really close relationship. I've never been in my life with a prostitute and I felt how it could feel like.
This is weird, I think it's instinct. I must be one of the "lucky" guys ... I must also say it worth the trip to Sevastopol, a devil in bed "scratch' in me till my bones are bare" .. (Al Jarreau). ;-) I've sent her money, paid her the trip to come to Paris for a visit, she didn't come, having different lousy reasons. I've sent her money but you know, it's only money ... People who has been caught like me must take it as a good lesson, salutary lesson. Come on guys ! Be fair-play ! These girls are just really so poor, and well, they are a bit stupid, but less than us, since they have caught us ! . If she had came, she would have had a really wonderful life over here, instead of getting xxxxx around. That's her destiny. When I was younger, I would have "fought" but now, I'm getting wise like an old cat and prefer to laugh about myself.
She pretends to be a nurse but she isn't. She pretends to be actually working in Moscow to pass her international degree in nursing but it's just nonsense. I had this picture on November 08th 2001. I know she is not a nurse. My mother is retired now but she was a nurse in emergency dept in hospital for 20 years and her guy is a retired legal surgeon. So I could figure out quite fast ...
I am not angry at all against her. I "lost" about 5000 dollars in this story but finally, I find it funny. It's a little slam on my "ugly" nose and a good lesson. This is why I have taken away the name on her passport as well as it's number and issue date. I just can't do this to her even thought she has crooked me. The worse is that I still don't know she could have been a little bit "honest", but trapped. Take care.
For the ones who want to get in touch : mailto:medvedski@noos.fr
Bye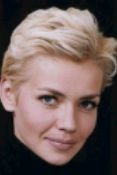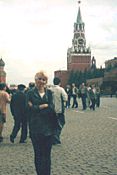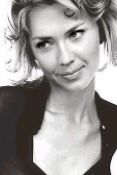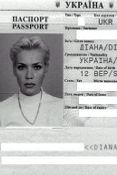 ---
Dyka Helena (Lugansk, Ukraine)
The scammers name is probably Dyka Helena helen@is.comua at least that is the name that she wanted me to have the money forwarded to in Lugansk Ukraine. This lady or person supposedly provides a cyber cafe for women to use to communicate.
My name is Stephen and I work for a business consulting firm in Tucson, Arizona. Some years ago we had an office in Helsinki, Finland so I have had some overseas experience. But I really was alerted to the possibility of a scam because of an article by Anatoly Neverov www.womenrussia.com/blacklist1.htm.
My original contact with the woman of my dreams (and she was) was through Absolute Agency. "Ella Han" was registered on 10-2-01 (A1300689) and my first contact with her was 10-9-01. For a number of weeks we corresponded and the relationship was progressing seemingly very well. But only because of Mr. Neverov's article did I begin to notice that this probably wasn't Ella Han but someone else who was using her image, i.e., someone had posed for two or three model picture and then someone else (possibly an employee of Dyka Helena's or herself) answered my letters with what they thought I wanted to hear while posing as the person in the picture. Inevitably it came to pass after three-four weeks and letters everyday that "Ella" couldn't afford to pay for the services. Although, a credit card was needed to be listed on the Absolute Agency site, only after three weeks did she not have the resources to continue. My questionson the money were answered by Dyka Helena possibly because of my not "knowing how to proceed". She requested that the money be sent to her instead of Ella because she used the services of the "bank" of Western Union. I called Western Union's international customer service number and was told that the recepient had to show a passport in order to pick up wire transferred money. Thus she gave me a name Dyka Helena, Ukraine, Luhansk. Her email is helen@is.com.ua.
It seemed funny that the prices for using the services of helen@is.com.ua included translating letters(3-5$), telephone calls (10 minutes 5$), copying of photos (1-2$), doing the international passport (70-100$). But there wqas no price for providing the internet service which was what Ella Han couldn't afford to continue doing.
Needless to say, no money was transferred to anyone. Too bad, "Ella Han" was my idea of a beautiful person inside and out. Too bad also that she was fictional. She is now being passed off as Helena Dyka and she registered this time with Absolute Agency on 11-19-01 and was given A1544658.
I have not informed Absolute Agency. My suspicions are that they are based possibly in Russia (at least seem to have an unusual number of Russian women listed) and would respond to this situation just to get it off of the internet. It seems more important that other people be able to verify this information (I also have letters, etc. to back up what I have said here) for themselves. Besides for the money they are charging, the agencies should be policing themselves if they are serious. However, there is probably so much of this type of scamming going on, they probably don't care.
Should you have need, please contact me at Stephen, wdorgan@theriver.com. P.S. We all owe a debt of gratitude to Mr. Anatoly Neverov. Quite possibly, he gave his life because of his outspoken manner against these scammers. From this reader, Thank you Mr. Neverov, whereever you are. Your work lives on.
---
Elena Koushmanova (Ekaterinburg, Russia)
I was scammed by this woman--as were at least four other men. Name-Search the web for more details. I foolishly sent this woman money to travel to the USA to visit me. She never arrived. I also paid for her to vacation with me in Europe and all she was concerned about was spending money on herself. She may have just pocketed the money. I cannot believe how many scammer women there are in Russia! I lost over $2000 but I do know of other men who lost much more to Elena Koushmanova. She is about 32 years old, blond hair, green eyes, has a son of about 11 years old, named Dmitri. Some pictures of this scam artist are attached. The picture 20000510142553.jpg appears in many Russian bride sites. Stay away from this woman!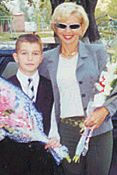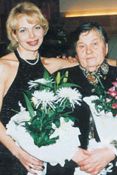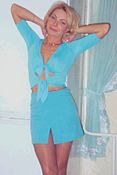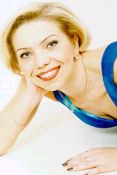 ---
Elena Yambaeva (Tyumen, Russia)
I was looking through your site and noticed that the emails I have received are virtually identical to others listed.
Elena's emails were very seductive and she had requested $315 USD for a VISA and was checking into airfare from her "mum's" sister in Moscow. Her last email indicated her grandmother just had a heart attack.
Attached are excerpts from emails and photos she sent.
1st Email - 25OCT
Hello my friend, My name is Elena. I have seen your profile and I liked it. I was born in November, 24, 1973 in Tyumen, Russia. I live in Tyumen all my life. This city near big city of Omsk. I think therefore I'm very romantic, kind, merry and tender. ... My e-mail address: elenushka@mailru.com
Your Elena
2nd Email - FRIDAY 26OCT
Hello Bill, I was very glad that you answered me. I would like to find out more about you very much. I live in Tyumen, in the north of Russia. I do not know how much is it far from Moscow, but I think, it is about 1200 km. There are approximately 400,000 inhabitants in my city. I have never been to the US but it's my dream to visit your country. I have heard a lot of good things about the US. I hope that I'll come to the US one day.
3rd email - SATURDAY 27 OCT
Hello Bill, I'm very happy to receive your letters because you show concern about me. I begin to feel that we are getting closer and that we have a lot of common in our minds.
4th email - MONDAY 29 OCT
Hello Bill, I'm so happy to receive another letter from you. Your letter is very warm. With every your letter I feel that you are more and more interesting to me. And every time I wish to learn more and more about you.
5th email - 1 Nov
Hello Bill, Today was a hard day for me. I had a tough time solving a problem for work. When I had break I looked outside the window and saw how cloudy the day was. So..as I looked out the window, my mind was filled with many thoughts, many questions. I wrote you a letter there, I had paper with me and I started to write. I just wrote the first thing on my mind.
6th Email - 4 Nov
Hello Bill, I like to read your letters very much. They give me a lot of pleasure. Every time when I receive a message from you I begin to understand that you are very nice person. Day by day I take our communication more serious. I consider that the most important thing between a man and a woman is complete trust. I hate when people deceive each other. One of the most important parts of the relationship between a man and a woman is the moment when one of them has to express his/her consent to a greater relationship
7th Email - 5 Nov
Hello Bill, I was very glad to receive your letter. When I was reading it by the end my eyes were full of tears of happiness. I start to believe that we need each other. I visit Christian Church often and dream inside about our relationships and future meeting. How are you there without me? My longing about you increased very much.
8th Email - 7 NOV
My dear Bill, I need you very much!!! I love your last letter, which touches the very intimate strings. It is still in my heart and in my soul. It has charged me with very warm feelings and reached the bottom of my heart. I'm ready to exchange my life for a possibility to be with you. I'm alone here without you!
9th Email - 9NOV
Hello Bill, I am as always very happy to read your letter. You are my beloved, my love, my dream! I extremely need you like you need me. I wish to be close to you, to feel your breath and your lips. I want to hold your hands, look into your eyes and to kiss you. You and me... I can no longer keep these feelings inside my heart. I should express them to you, share them with you. I want to feel your tongue, your breath.
10th Email - Sun 11 Nov
Hello Bill, I have just received your email. I liked it. I start to take an example from you trying to obtain your characters. I'm trying to be also open as you with everybody. It makes communication easier. Do you agree? And it makes me simpler to discover my nature to you. My Boss cannot recognize me the last days. He said that something had changed me. What I really like in you - your three sources of love: mutual confidence, sharing and pardoning. In other words - "loyalty" each time when I receive letters from you. MY address: Zarechniy Prospekt, 31-73 Tyumen, RUSSIA 625000 But please do not send anything valuable because Russian post has no good reputation.
11th Email - 13 November, 2001
Hello Bill, I'm very glad to see and to read your wonderful letter. Your letters warm me and give energy for all day. My mother noticed that I LOVE you very strongly I do not know why it is so but it's the truth, I love you so strong that I cannot live without you. Your letters warm me whenever I feel lonely or longing. It becomes very boring without you and I want to see you sooner very much as you want the same.
12th Email
Hello William, Today I had serious conversation with mum. She is better and said hi to you. She does not have any objections if I would go to USA. She wishes happiness to me. I had long conversations with her about you. She says that if you write such letters you are a good person. But she is still a bit prejudiced about the possibility of deceit. But I love you and completely believe you. There is a firm in our city, which deals with visa registration. They charge 315 USD. It is unbelievably high for me. But it is so! Visa is arranged during 1.5-2 weeks. I know also that there is ŕ governmental visa department. They charge a bit less money, however such visa is prepared from 0,5 to 1 year and it is not yet known how it will work. 315 dollars are necessary to buy visa. This visa is valid for 90 days. Money is better to send on system Western Union. There is location of Western Union here: Close Jaint Stock Company Bank "Diplomat" Uritskogo st. 36, Tyumen, 625000 RUSSIA My name is Elena Yambaeva. My mother's sister works in Moscow in an airport. I'll email her and ask her to find out all information about air ticket. She can get ticket with discount.
13th & Latest Email - 18NOV
Hello Bill, I haven't a good mood today. Unfortunately my grandmother became very sick. She had a heart attack. I have to leave you for the next week. I'm going to the village on Monday. I have to look after her for the next week. I hope she will recover soon. Please don't be angry that I'll be unable to write you for this period. But as soon as I come I'll write you. OK? Kiss you many many times Your Elena


Bill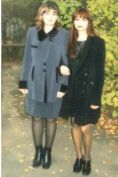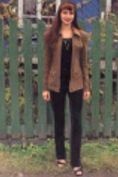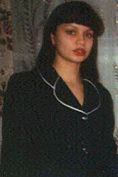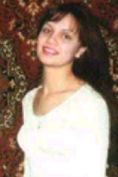 ---
I want to thank this website for preventing me from being scammed. I was contacted by Elena Volodina from dating faces.com. After reading the letters she sent to the other men I was floored. They were word for word. She told me in other letters that she was a virgin and wanted to be with me. She talked about trusting each other and how she could not stand us not being together. If it was not for this site I would have believed her. Watch out guys!!! THANKS, Would be sucker in N.Y
---
Irina Koslova (Yoshkar-Ola, Mari-El, Russia)
I think this site and the stories that go along with it would make a great story for dateline, 20/20 or 60 minutes. I wonder how many of us get taken and never come across this web site!
This couldn't have come at a worse time. I'm unemployed and divorced within the last year and was really not much into dating when this one appeared. She told me she had found me on friend finder.
This one got me for 500.00. She used the name Irina Koslova. A name I later found to belong to a Russian artist.
The story started off just like the one with Charles. It appears as though she has had some professional photos done. (Probably with the money she got from the last fella) In fact , the first letter is identical. Hmm…. Will he nibble ?
Letters
Hello Steve. To Me very much to similar, that you to understand mine not so good English language Language. I want to speak, that I has learned(found out) it in school, and behind of it in College. I have growth of 175 centimeters and weights of 54 kg, I have Formation(education) of the doctor, I'm a psychologist. I work in children's hospital And I look behind of behaviour of children. I live in city Yoshkar-Ola. It to Be approximately in 850 kilometers from cities Moscow. I want to speak you, That I very much love of children. I had experience of dialogue in me directly in Russia with the people. But they were not adjusted (are adapted), is serious also we owed Part. And they very much frequently to drink alcohol and in set, and It not so is pleasant to me. I think, that in you - not a gift (present) such habit. I want to inform, that I do not smoke, and I do not drink strong spirits drinks of spirit. But sometimes I love to drink in the good company not a lot of grape vine, Though it happens very seldom. I want to speak, which I am capable well to play On a piano, I have finished musical school, in which I studied 6 years. I Want to inform, that I live with my mum. I have the Father, grandfather Unfortunately has died, 2 years back. I want to you to speak, which I love Various music, but basically classical. I want to have serious. The attitudes(relation) with you to find with you love and to create happy family. I Will be pleased, if you it as will want as I. I want to speak, which I write You from firm of the computer. I Unfortunately have no the computer and telephone of a house. I think, with what It will not be for us by a problem? . I think, that you can to me, soon answer, I shall be Write soon Irina.
Yep, I bought it. Seemed like a sweetheart. The picture was innocent enough. She seemed sincere. I answered back and calculated the height and weight to something that I could understand.
Hi my Steve! I very much pleasure to your letter. I yesterday much to work and could not write to you! I to want to speak more about myself! My work consists in treating and to prevent diseases of children. It is the very necessary work. I to work on changes. It once in afternoon, other time in night. I very much to love my work. At home I have a dog. Its(her) name Palkan. It is the large dog, but very kind. When I to play on the piano she(it) to sing under music. I to play different music. Me to like music of the composers such as Bah, Shopen, Mocart and others. My favourite food is sea products, and, also various fruit salads, but I also can prepare and other dishes. I the very good cook. In mine free from work time I to go walk in a wood or on lake, when warm weather. In winter evenings I love laying in beds to read the romantic books, and also to do(make) of a wool of the ram of a sweater and scarfs. I also very much love sports. I to be engaged in gymnastics. Also I to look on Tv football, hockey, basketball. I am very happy, that I to find you on friend finder. I always to wait for your new photos and pictures. My city small it(he) to be near cities Moscow, and still it(he) in 150 kilometers from cities Kazan. My grandmother transfers you large hi. She(it) learned(taught) me to do(make) pies. I to think, when we shall be together, I shall do(make) to you tasty pies. I today to go on walk in park. I hope, that you not against. What you will do(make) today? I am interested by(with) each your step. Well? I shall write to you tomorrow. Very much, very to wait for your letters! It is a lot of, much, kiss also embraces much. Yours Irina.
Note: She says she is a Psychologist in the first letter and in the second letter she is a Pediatrician? The first letter say she lives about 850 KM from Moscow and the second letter says she is near the city of Moscow. It started to get suspicious to me but I thought ok it is just a difference in languages. Be careful ! This one understands better than you think !
Hi my Dear Steve. I to write to you the letters from Internet cafe. It is very speed. My weight of 51 kgs. My growth 172 sm. I to not have children! I was never married! I very much to want to marry. My age 27 years. I earlier termination (ending) musical school. I to be able to play on the piano. I to work the children's medical sister. What you to love to do(make) in free from work time? It I by the black sea. What you to love from the foodstuffs? Today at me by target (day off) and I have decided (solved) to you to write. Today we with the mum we shall go to the grandmother. She lives in 50 kilometers from our city in a village. I live in city Yoshkar-Ola. There at it (her) a perfect nature and circle of one wood. She will prepare pies which are done (made) in the furnace. They very tasty (delicious) and fragrant. You probably such did not try. Mine the feelings with each letter to you become stronger and more strongly. I talked to the mum concerning ours with you of the attitudes (relations). I spoke her some phrases from your letter and she spoke that you probably honour man and your feelings sincerely under the attitude (relation) to me, but you should not hurry up with acceptance the serious decision, you should understand the feelings. We with you as two climbers which rise in a mountain, only I on the one hand, and you with another and final point is top on which we owe will meet. We should advance to top not looking on obstacles which can will meet on our way, and then at us will be very well with impatience I live with the mum together. I shall wait for your answer. Whole also Kiss Irina.
Now wait didn't she say she was 175 Centimeters and 54 kilograms ? And oh the hook. Mum Likes you ! How could I deny Mum. Yes I am the honour man but can you say the same? Notice how intense the feelings get.
Hi my love Steve! That you to do(make) (do)((make)) last night. I to want to know everything, that you to do(make) (do)((make)). I to want to know each your step. I am very pleased, that you to write to me. I very much love it. Me very much to do(make) (do)((make)) happy your letters, when by you in them to open feelings my love. I also to want to be with you in a warm bed and to check at first Orgazm. I never to check up it, but I it very much to want. I to see Orgazm on TV. I to think, that it is very pleasant. It is very good? In you is very warm, and it is possible to have pleasure by solar beams. In you at the night it is possible to sleep absolutely naked because of high temperature. I to do(make) I ((do)(((make)) pies with meat and potatoes, pies with a strawberry fuse. You to love pies? When I to arrive in you, I to you shall be the furnace very tasty pies. I very much love, prepares the various tasty foodstuffs. When I to do(make) I ((do)(((make)) pies by me to go and to check electronic mail. I was very pleased when to see, which you have written to me! I at once began to write to you this letter! I to similar your friends. I very much to wait ours at first with you of night. We shall love each other all night. You to want it my love? I today enter shop and will buy a pie. Then I to drink tea with a pie.. I now to go home and to do(make) harvest(cleaning). When I shall be in you, I shall prepare for you supper. I hope, it will love you it. Well? I to send you this song as my recognition I love from all my heart. You concern my life I live for you As your eyes they understand I live for you Come to me Lay your body down I won't deny you anything Look at me I feel so different now You're the one I cry to You're all around me I breathe you in like air Your arms have found me Like waves that find the sand And baby I'll be there... Chorus: You touch my life I live for you Because your eyes they understand I live for you In my life You come through I live for, I live for, I live for you Walk with me The future's in the wind Though the road is winding I'll be near Talk to me Tell me all your fears I'm the one you cry to You call me lover And tell me I'm your life I won't run for cover I've shown you who I am And in the darkest night In your arms, I come alive In my live I am free No one could ever understand what you do to me You hear my soul So deep in you Nobody knows the things you know I live for you In my life You come through I live for, Ilive for, I live for you. I very to wait for your letter. It is a lot of love and respect. Yours Irina.
P.S. It is no bad that you have the child I is sure he very good as you!
Ok so now we have the reference to sex and you tell me how much you don't know about it. All American men love virgins ? Oh and now the poetry. Now you have me !
So here's the clincher -
Hi my love Steve! I to study I have found out all concerning my arrival (achievement) in you my love. I - necessary need the visa and passport, and also document of insurance and hospital. It costs (stands) 440 $ USA. I am written down on reception in the transport company on next Thursday. I shall give back back documents concerning registration. I shall require in by to next Thursday to pay my documents in the transport company. You will send to me this sum of money by next Wednesday to this week? My documents will be registration in time 10 days. It is good? I have given you the address, on which you through branch of bank Western Union should send to me money? I very much to want as soon as possible to arrive in you my love. I to give you the address of my bank where there is a system of remittances Western Union. Mine a complete name Irina Kozlova. My home address. Russia, republic Mari-el, city Yoshkar-ola, street Lebediba, house 60b, apartment 3. I give you the address of bank! Guta Bank, Street Vashskaya 8, city Yoshkar-Ola. complete home address and airport, nearest (coming) to you also is necessary for me your complete name. It is very important! I very much to wait on your fast answer! Your future wife Irina.
So silly me not knowing much about the Visa and passport process sent her the money and a little extra for travel expenses and do you think I ever heard from her again. No ! I have asked for the money back several times but have received no reply. Notice that this is the exact letter that she wrote to Charles. Keep up the good work on the web site. Wished I would have checked this site out one day earlier. I could have saved myself 500.00
Steve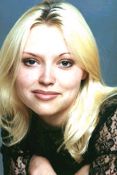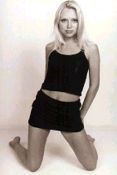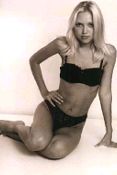 ---
Irina Kozlova (Yoshkar-Ola, Mari-el, Russia)
I am a 42 year old male who was hoping to find a nice looking woman to create a family. I was contacted by Irina through Friend Finder. After a few weeks of sending mail and agreeing on her coming to see me I sent her $440.00 through Western Union for a visa and passport. I then was attempting to set up airflights and could not get her to cooperate. I then wouldn't hear from her for days. She then wanted me to send her $300.00 so she could get to Moscow to fly out. I didn't send her anymore money. She then contacted me a week later saying she could not remember her password to enter her e-mail box. She gave me a new e-mail address of Irina0275@krovatka.net. I wish I knew about this blacklist beforehand. I'm just to trustworthy of a person.
Robert Yingst Robyingst@aol.com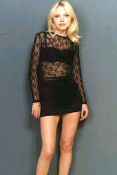 ---
Julia Alipatova and Club Alina (Novodvinsk, Russia)
I'm Kjell. You can see follwing letters. I think I have been craisi. I payd 120 USD for the adress for Julia, but afther my payment I've heard nothing. When I begin to seach in internet, I understand i have been fool. Am i correct ?
First letter from "Club Alina"
Welcome Kjell It's a message from International Introduction service - Club Alina. Today we have received letter for you from Julia Alipatova (ID: 4599). We are forwarding her photo with this message. She does not have the access to Internet and uses the services of our agency. To continue correspondence with this lady, we offer take services of our Club: to correspond with she by Email. Unfortunately in this moment ours site is in the development stage and you can not be visited. You can find out more in detail about the services of our agency and to look at all our ladies on our new site in about two weeks, we shall send you the invitation. Some words about our Club. We present marriage - minded ladies from City Novodvinsk and all North Russia. Our ladies wish to get acquainted with the men - foreigners for friendship and it is possible for marriage. Within three months we worked free of charge. The girl could freely write to men. But since 1 November we have begun to offer paid service for ours clients. Here is how this service works. Letter / Email Forwarding service. Most women cannot afford to pay the email forwarding cost but if you want to pay them for her you may do. We will deliver a letter to your girl within 24 hours. We will print your letter and photo. Girl will take away a letter herself or we will deliver it to her home. The total cost to you is $5 for one letter with or without photo. We will translate a letter if required. If you decide that you would like to use this service now here is all you have to do. Send us some money to place in a account for you, the amount can be anything that you want, but we recommend a minimum of $50. In this case you will receive postal address, phone number of the lady also and your lady will correspond with you free of charge. If at any time you wish to close the account we will return your payment. Most men find that this is well worth the cost especially when you consider the time savings and the poor mail service that most of the Russian postal services have to offer. In 20 days we shall have site in Internet. Please, report us, if you agree to use our Letter / Email Forwarding service. In case you doubt, we shall send you the second letter from lady. As soon as you inform us, that you have made a payment, we'll receive an individual Email address for Julia and inform you about this. After that you can send another letter for Julia to her individual address. It will be more convenient and confidentially. Now she hasn't email address for the present as come to us recently. We'll send Julia's letter immediately. We personally communicated with Julia to be sure of the sincerity of her intentions. Please, excuse us that message about paid services was not sent to you earlier. It was the result of changes of rules of our work. As to Julia Alipatova (ID: 4599) - she is most attractive and educated girl in our agency.
Have a nice day Club Alina
The first letter from the girl:
Dear Kjell, how do you do? Let me introduce myself. My name is Julia. Perhaps you will be surprised when you receive my letter. I've known about you from the International marriage agency in our town. I want to meet a man from other country for friendship and may be for marriage in future. I think it's time to start telling the story about myself. My birthday is on November 30. I am 24 y.o. I live in city Novodvinsk. I know English language and German a little. I'm attractive young lady with fair hair and green eyes. I'm single, without children. My height is 169 cm, weight is 50 kg. I graduated from State Medical University and now I am working as a doctor in children's hospital. I love my profession very much, and I want to continue my career abroad. I'm an intelligent Russian woman. As to my character people consider me to be kind and caring, understanding and balanced. I am a very romantic and sensual person, extremely feminine and tender, a bit of shy too. I have a great sense of humor and love to have fun. I love life and adventures, enjoy energy level in people. I like reading, step-aerobics, can do sewing and embroidering, everything that is new is the field for me to explore. I also adore nature, sun and beach lover, interested in fashion, good dressing and flowers etc. I also like music, quiet days at home, a pleasant conversation...… Most of all, I love traveling and discovering new horizons though have never been abroad yet. At this stage of life, am looking for a intelligent, generous person, full of life, for a possible future together...one who is caring, giving and affectionate, who has somehow old world values, so to say.....desires being loved and love faithfully.... I value friendship and respect for each other very much, it is the real treasure of life: something that lasts, and something in which we invest the best part of ourselves. And this is very important. It seems simple words, but it is not in real life often. And yet I think the secret of happiness is there, having interests in common, sharing joy, sadness, feelings.. If you are interested in my person. Write me back to address: office2001@bk.ru (for Julia Alipatova). I'll call there and ask whether there is a letter for me. They will give your letter to me immediately. I hope to hear answer from you soon. And please send me some your photos.
Julia
The second letter from Club Alina:
Hello Kjell
We precisely know, that Julia Alipatova is really interested in correspondence with you.Probably it will be interesting to you: Julia has written the letters only to three men. She has received the answer only from two men, but we know, that she was more is interested in your letter. You can be sure, that Julia is very beautiful and good girl. Unfortunately in this moment ours site is in the development stage and you can not be visited.You can find out more in detail about the services of our agency and to look at all our ladies on our new site in about two weeks, we shall send you the invitation. Frequently our clients make a payment one time: after some letters man and girl agree about meeting or prefer to communicate on the phone or girl finds a place in our city, where it is possible to correspond per Email free of charge. After you made payment you will receive the postal address, phone number of the girl. Unfortunately while we not accept payments Visa or any other via Internet. Can be only in month. Method 1: You can make the payment using telegraphic transfer: If you will send money in USD (in USA dollars). The bank essential elements: Bank of New York, NY, USA SWIFT: IRVT US 3N Account #890-0086-009 of Moscow Industrial Bank In favour of North-West Regional Branch, Arkhangelsk, Russia SWIFT: MINNRUMM748 For further credit of Domashneva Ludmila Account #42301840200320000811 If you will send money in GBP (in English pounds). The bank essential elements: National Westminster Bank PLC, London, UK SWIFT: NWBK GB 2L Account #440/0/04462343 of Moscow Industrial Bank In favour of North-West Regional Branch, Arkhangelsk, Russia SWIFT: MINNRUMM748 For further credit of Domashneva Ludmila Account #42301840200320000811 If you will send money in EUR. The bank essential elements: Dresdner Bank AG, Frankfurt am Main, Germany Swift : DRES DE FF Account # 499/08 127 694 11 of Moscow Industrial Bank In favour of North - West Regional Branch, Arkhangelsk, Russia SWIFT : MINNRUMM748 For further credit of Domashneva Ludmila Account # 42301840200320000811 Method 2: We offer to send the small sums of money - we prefer cash in US dollars for one reason: we can receive money by the check only through 3 months here - in envelope(by Express mail: about 3 days or by Register mail: about 7 days). It will be better and more favourable, if you will send payment in an envelope with letter for Julia to address of our agency (you will receive Julia's address and phone number also): 163061, Russia Arkhangelsk, P.O. Box 282 Ludmila Domashneva Method 3: Our agency accepts payments through the worldwide Western Union system. In order to send payment for the service, you have to go to the Western Union office nearest to your place, and send money on the name of the Chief manager of our agency. Name: Ludmila Domashneva. City of reception: Arkhangelsk.. You should fill her name in the field of recipient, and you have to point the location you send money to. Fill everything in correctly, and don't forget to get the control number of your money transfer. Then send us the message with your full name, address (country), the amount of money you've transferred and the control number(3612512920-for example). We'll inform you about Julia's individual email address and you can send another letter to Julia as soon as you inform us, that have made payment.
Best Wishes Club Alina
Second letter from the girl:
Dear Kjell Thanks for your nice letter and photos. It was very pleasantly for me to know that you have liked me. I have spent these days in thinking about you! I hope you are sincere and serious about this because I would like to pursue a relationship and see where it leads. I have never done anything like this so I have know idea what the next step is but I do know that I want to know you better and to meet you. We can meet each other this winter. I shall be very glad if you will come in my native city. Some words about my family. I live with the parents while I have not the brothers and sisters unfortunately, but our family is very friendly and intelligent. My father works on local TV, he is the professional operator. He frequently shoot me on a videofilm (there can be I can send you the video about me and my family). My mum is the doctor in children's hospital also. To my passions I can concern reading. I always loved the literature: usually I read Russian classics. Besides, I like to listen to good music, love my friends, who are dear to me, like interesting conversations with new people. I enjoy relaxing sound of vawes on the beach and long walks during the sunset, I like the bright sun and the moody moon, animals and warm spring wind, to dream and to think…so I love life and try to enjoy every minute of it, which God gives us. Kjell, before our meeting we can find out each other better in our letters. I want, that you have found out slightly more about me. There is so much to know about each other as well as the fact that we come from such different parts of the world. I like my city and my country, all my friends live here and I enjoy by dialogue with them. In my native city we have white night in the summer - it is very beautifully. At the night also lightly as well as day, only sun does not shine. However in winter we have very short day. I very much love summer, sun and easy clothes. I love to float in warm water. Except for training I give a lot of time to sports employment. I love swimming and step-aerobics and I think, that it will occupy the important place in my life always. I'm go in for scuba diving during 6 years. Now I'm swimming only for pleasure and maintenance of the form, and some years back I was swimming for achievement of sports results, that is it was the daily struggle with minutes, seconds and with itself. And this sports have learned me to discipline and persistence, but I am romantic and pensive and the strong man's shoulder beside is necessary for me. I would like to enjoy life to the fullest. Life is short and every minute of it is worth living and enjoying. Also, I like to think and I have many dreams..?. One of the dreams is to meet a wonderful man who will be my best friend and love, with whom I can share the rest of my life through good and difficult times. I hope, that you will become this man for me. I also dream to have good, worthy work always and it to benefit the people. I always dreamed to learn to speak on English, as it is good, as well as in Russian. I have fallen in love in English, when I studied at school. I think, that I can normally read and write on English, but to speak fluently and easy, the practice is necessary. I'll finish this letter. Write me soon and tell me more about Norway, your life, your family, your work. Julia
The third letter from Club Alina:
Hello Kjell We must inform you, that Julia Alipatova (ID: 4599) called today in our agency and was interested about continuation of correspondence with you and about you. We have assured her, that your correspondence will be soon continued, as soon as you will make payment.
Best Wishes Club Alina
---
To send your own story, please click here
Click here to support Black List