Anna Shanbunina (Stirlitamak, Russia)
Hi...I am a single male, age 49. I am currently getting emails from a woman who calls herself, Anna Shanbunina from Stirlitamak, Russia. She answered my profile on 'Yahoo' personals about 5 days ago. Her profile was listed under the name 'fineloney' and her email is fineloney@yandex.ru. Her profile has been deleted. To this point I have received 3 emails from her and they are exactly the same as J. Smart reported to you on your 'black list' dated January 27, 2005, page 2 so I won't attach them. However, I surfed all your pages and found none of the pics that she is sending me. I have attached these pics to hopefully stop her from scamming any other guys. I want to thank you for your 'black list' site. You may have saved me several hundred dollars if not more.
Joe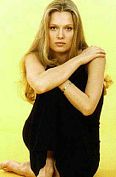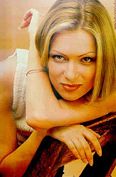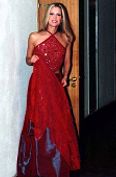 ---
Polyna Sabantseva (Zvenigovo, Russia)

polinochkagirl@rambler.ru

Here is info of a recent scam I was caught-up in.
I responded to an ad she placed on the Antopia website. She responded
quickly and we corresponded for about a month. Then she sent me an urgent
message saying she was robbed at knife point and needed $160.00 or her and
she would lose their flat. I foolishly sent the money through Western Union
and she immediately asked for more money for medicine for her mother, which
I politely declined. She continues to send e-mails requesting money.

Steve


Letters:

This was her initial letter she sent to me.

January 17, 2005

Hello my new friend!
In the first lines of my letter I would like to thank you for your letter to me. I am very glad to receive it. I have seen your profile and I think that we may be right for each other. But for it I think that it is necessary for both us to know each other closer. I heard one good words that I liked a lot. " First impressions last" . That's why I will do everything I can to tell you as more about myself as I can. So I think I will begin the story about me.

My real name is Polyna. I was born in Zvenigovo in 1976 year. My birthday is on the 7 February . So now I am 28 years old. I live in the city of my born, Zvenigovo. Zvenigovo is the most beautiful city (as I think) in Russia that is situated to the South-East from Moscow. It is near 850 km from the capital of my country. If you want I can tell you more about my city in my next letter, just ask me about it, it won't be difficult for me. So, I live in a one-rommed flat with my mother.

Our flat is veyr small but very cosy. We have a lot of flowers here, I like flowers very much, especially roses. It is very bad that I can't have roses at home, I would like to. We have a pet. It is a cat. Her name is Myrka. She is 7 years. I love her a lot. She is like my sister. You know, it can be strange, but I think that we can understand and feel each other. I work in a shop. I am a shop assistant. Our shop sell clothes for woman. I like my job very much, because I think it is very interesting. I meet a lot of people and I always speak with them. By the way 4 years ago I have finished a university with a red diploma.

Red diploma means that I have finished the university and I had only excelent marks. I was always studying very good, because I knew that the education is very important in our time. If you do not have good education then you do not have a job and then you do not have a good life. I have a lot of hobbies. Most of all I like to read books. I read them every evening before go to bad. Almost all of them are very exciting and sometimes I just can't stop reading them. My favorite janres are classic and love novels. I like theatres a lot. I go there every time I can.

Of course it is not cheap to go there, but I try to find money once a month to see a play. I like listening to the music. I like all music at all, but the most I like classic music. For example Bach, Chaykovsky, etc. I like doing sport. I like to swim a lot. I think that water relaxes my body most of all. It is very good when you are in the water. I do my morning exercises every morning. I try to keep my figure good. So, I think now you have a little thought about me, about my likes. I would like to tell you now about why I am here. I am 28 years now and I think that it is the best age for marrying. It is the best age for have children. I do not like Russian man. Of course there are a lot of good men in my country, but frankly speaking almost all of them just want to drink vodka and to have sex with woman. But it is not enough for me. I want really great relation with a man. I want him to love me. That's why almost three weeks ago I went to the internet cafey.

Before you I was writing to two other men from USA, but they didn't suit me. I really didn't like them. I always write only to one man. I think that it is not good to write to some men in one time. So you are the third man that I mat here. I hope that 3 will be a good for me. Who knows maybe you are my type of man. To understand this, I think I will need a week. And then I will tell you are you suit me or not, ok? I will tell you a few words about how do I see my future husband. I think that this man is clever, brave, romantic, and the most important for me is that he has a rich inner world and he loves me and I love him. It even doesn't metter for me his age, his apearence, and something like that. It doesn't metter for me where he live, how much money does he have, I do not need money from him, I need only him. And one more, I do not want man with whom I want to live, I want to find a man without whom I won't be able to live. Because I really need love in this life. I want it very much, because I am really tired of being alone.

Ok, I will finish my first letter to you now, I think that it is enough for now. I will be waiting for you story about you. In the end of this letter I would like to ask you some questions. I do not think it will be difficult for you to answer them. What is your real name? How old are you? Where do you live? Where were you born? Are your parents alive? Do you have any brothers or sisters? DO you have any pet? Where do you work? DO you like your work? Do you like my photo? Why are you seeking woman in the internet? Are you serios about marrying? Do you have any photo? Can you send it to me? What are your likes and dislikes? What is your hobbies? What is your favorite color? What is your favortite type of music? Do you like theatres? Do you like to swim? Do you like reading books? And one more.

Please sorry my for my english. It is not very good. But you should understand that I was learning English only in the school and in the university, that's why I forget almost everything of it. But I will try to learn it better with your help. Waiting for your answer tomorrow with a great impatience, Your new friend,
Polyna.


After several e-mails back and forth, she sent me this.


February 8, 2005

Steve, I have a big trouble. It is really bad. I do not know what to do . I will try to tell you what's happened. The fact is that today I went to the bank and I have taken my mother pension. Because we have to pay for our flat on Saturday. There was 160 dollars, because my mother didn't take it for 3 months. And when I was going from the bank two guys took my hands and put me to the car. I was shocked. I didn't know what to do. I wanted to shout but they told me that they will kill me if I will do this and they put the knife to my head. It was terrible. They took my bag with all the money and told me that if i go to police they will find me and kill me.

Steve, i do not know what to do. it happened two hours ago then i went to my friend and borrowed 3 dollars to write the letter to you. i need the advice. i need help. I do not know how i will tell my mother about it. because we have no place to find money to pay for our flat, nad if we do not pay they will take our flat and we will live on the streets. And they will not wait for any more day after the Saturday. I do not know... I understand that after this letter you may not write me more, you can think that I am a bad girl, but I have to ask you this.

Because there is no person that can help me, and I can't loose the flat. I will never be able to buy it again then. I think that I can live on the street, but my mother, I can't imagine this, because she is old and she has bad health. So, I will ask you to borrow me the money. Steve I swear that I will return you everything in 3 months. I swear you. You are the only who can help me. I will be waiting for your answer. yours Polyna.


February 11, 2005

Hello Steve,
I would like to thank you one more time, but I have one more big request for you. Sorry, but can you borrow me else 100 $? I know that it is very bad from my side, but I really need to buy the medicaments for my mother. The first half of the money I will return you on the 27th of February. Excuse me one more time please for the request. But I really do not have any more person who can help my mother. Because she is very bad, she had a really great shock, and she is really very bad. Steve, please excuse me. I will return you everything, I swear you. You know, the whole life I thought that I am a strong woman, but now I must ask you for the help, more, the second time. I feel myself very bad. I promise you that I will not ask for more help, Steve. I promise you. I just need to buy the medicaments for mother, and some food. Thank you one more time, Steve. I will be waiting for your answer.


March 4, 2005

Hello Steve,
How are you? As for me, then I am fine. But I have lost my flat and now my mother and I, we live in the house of our friends. It is small and old, but I think that it is enough for me and mother now. Anyway, we have a roof above our heads. I want to ask if you do not forget me? Because I missed you a lot. Please write me as soon as possible.
Yours Polyna.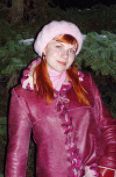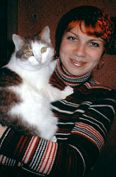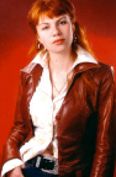 ---
Tatyana Dolganova (Voronezh, Russia)
I am a 52 year old divorced male in the USA (Utah). I was first contacted by this scammer on January 30, 2005 through the yahoo personals site. [When are they going to start posting warnings on that site?! Pressure needs to be put on them to do something about this.] The e-mail address used for this scam was tatyanochka@rbcmail.ru This scam had a twist in that it was claimed that she had the money for the passport, visa and airfare. The visa was to be a work visa, and I was given a real load of bull story as to how it was to work. It almost looked like no money was going to be asked for (Ya, Right!). On the day she gets the visa from the embassy in Moscow she informs me that she finds out that she will need 1800 dollars cash on her to enter this country and asks me to send it to her by Western Union (big surprise!). She said she would give it back to me as soon as she got off the plane (where have I heard that before?). I was also sent a copy of the visa. This one had the Lincoln Memorial background (so some scammers now have updated their forged documents)

The issue date shown on the visa was February 27, 2005. The only problem is that was a on a Sunday when the Embassy is closed. I e-mailed the visa copy I was sent to the American Embassy in Moscow asking to verify this person. The answer I got very quickly was that Ms. Dolganova had not applied for her visa there (no surprise). These scammers keep coming up with cleaver variations on the old theme. This scammer also used some sexually explicit letters and two semi nude photos. What follows are all of the letters, a few of the many pictures sent, and the fake visa.

James G. (USA)


Letters:


On 01/30/2005 02:27 am MST, "masajlka" wrote:

Hello! I put my ad to the agency cause I want to have serious relationship.
I have chosen you after searching a lot. I liked you greatly so I decided to
write you. I write through the Internet agency that is why my letter will be
a short one. I am 26. My name is Tatyana. I am young but wise already to
make a man happy and make the house cozy and comfortable. I have never
been married before and I think this is the right moment to do it. I have
chosen you cause I liked your picture and the story you told about yourself.
I think the true love comes with time and what is really important in the
relationship is the trust and understanding. I hope you will reply and i will
send you my picture at once. Please write straight to the address:
tatyanochka(at)rbcmail(dot)ru
Dolganova Tatyana


February 2, 2005 (letter No. 1)

Hello James.
I am very glad, that you have answered on my letter. In this letter I shall tell to you a little about myself and I'll apply my photo to it. I have gone to Internet - agency to get acquainted with the man for serious relations. People in agency gave to me names of a site and a login where I could look many men. After long viewing, my sight has stopped on you. I have read your profile and have understood, that I should not search any more. You have liked to me very much. My name Tatyana. I am 26 years old. I have chosen you because you are older than me. I think, that men in your age are more serious in a question of creation a family. I want have strong and reliable family. I hope very much, that you like my photo. I live in Russia, in the city under name Voronezh. I work as children's tutor in children's garden. My work very much is pleasant to me, I very much love children. Though salary in Russia very small, I earn enough money to contain myself and to live in full prosperity. Though I havenĻt my own flat, I live with my parents in three room apartment. I love my parents, but in one day daughters should leave her parents. I think, time comes to me. Tell me more about yourself, please. What do you do in a free time? How you rest? Tell about your family. You can talk about everything with me, only in this way we can learn each other. I hope that my photo to like you!?!?! I wait for your answer.
Tatyana.


February 7, 2005 (letter No. 2)

Hello, dear James.!
I was happy to hear from you again. How are you? Hope everything is Ok.
In this letter I will try to tell you more about my life style. I like music, reading, movies very much. I often meet with my friends. Sometimes we go to the cinema or to the theatre. But sometimes I prefer just to stay at home, to read an interesting book or just to watch TV. I am fond of languages, I had a course of English in the University so I speak it rather fluently. I like to visit a sports hall. I am engaged 2 times a week on aerobics. I have nick name it Tata. You too can me so to name. And do you have any hobbies, what are your likes and dislikes? And more it is a little about itself my growth of 167 centimeters(5 foots of 47 in.s), and weight 59 kilograms (130 pounds). I was born 14,09,1978?. it is year of a horse, and a sign the maiden. This year to me there will be 27 years, and I as the girl in soul want to have fun and learn all a lot of new. I very much love children and it is a pity that.I do not have brother or the sister. I very energetic person, with sense of humor. And in nutria I am very tenderness, and sometime, I shall give all tenderness to my favoriteĻs person. You know, I decided to use the service of the Internet because I have a dream to create a family. Unfortunately I was not able to find a man here in Russia. They donĻt care about their women and I dream about a loving and caring man. I would give him all my love and tenderness in return. Well, I will close here for now. ps.I apply photos, there where I have lifted hands it there was in a rest house a 1999, in a red skirt it in park of our city 2003. Waiting impatiently for your next letter. Have a good day. Tatyana.


February 9, 2005 (letter No. 3)

Hello dear James.
In this letter I'll tell you about my town and want to give you presentations
about our future relations. Our town is not very big, but very comfortable.
My city to be 890 km from Moscow these are 17 hours of driving. 2004 the urban population has made 341 400 person. In 1986 the 400 anniversary of the basis of city was solemnly marked. Per 1990 the Government of RSFSR has included Voronezh in number of historical cities. In our town there are 2 theatre, 3 movie-theatres, park, near with which I live, and like all usual towns, in our town there are bars, cafes, shops. Our town is very good, but there are not worthy men in my town. All russian men don't respect women and consider that woman doesn't have any rights, and all russian men, basically, are alcoholics. I have gone to Internet-agency to get acquainted with you, because I know that you are quite other man. American men respect women. Am I right? I'm 26 years old and I consider that it is time for me to create my own family. I have been postponing money for a long time, and now I have enough to arrive to you. I do not want to hurry events, but I consider that it is necessary to meet each other in person to know well each other. If you, as well as me, have intentions to create the family, let's get to know each other better, and if we decide, then I'll arrive to you, and if we love each other, I'll stay with you. I consider, that in relations no love is important, but trust and understanding are important. Man have to be head of family, but he has to consult with woman. I can completely take all homeworks in my hands. I like to cook very much, I'll cook for you so tasty, that you'll forget about McDonalds. My friends say, I AM THE BEST! I like to cook Russian traditional food. Also I'll work to support our budget. If you want, we'll have child, but if you don't want, I don't mind. I hope that I do not scare you, asking these questions so quickly. I am sure, that you are, James, that man, who I need, I hope to your reciprocity. In each letter I shall be to you as I live and that to me to like.



February 11, 2005 (letter No. 4)

Hello my dear James!!!
Finally I have an opportunity to come to Internet-agency to talk with you. I am very happy that I have you.I have told to my girlfriends about you, they tell you hello. My parents are glad that finally I met man and want to create family. My parents tell you hello. Today damp, slushy weather here, sleet falls, cold wind is blowing, but I am happy and nothing can spoil my mood, because I have you.I am very glad, that I very much want happy family I wrote to 2 more Americans but have now ceased to write to them and have stopped on you James. You have liked me and wish to find out about me more than others they need one that I have arrived and have made love. I love flowers of a rose yellow, I Hristyanin, am more than all from food I love a shish kebab, music I love Kantri, I love summer heat that it was possible to not leave water, I like to dance and probably each girl likes to dance, I went for a drive on skis a little I love a bicycle, I do not smoke and when there will be no, a favourite season summer, I very much dream and like to travel and spend the night in tents in a wood, that necessarily was a guitar and a fire, I love animals strongly love dolphins, go to the Internet of cafe,I strongly love children and with them be friends and I am able to play it my work and pleasure. Love this miracle of the nature also it is not necessary to hurry up it it is necessary to enjoy. I have an opportunity to communicate with you. I want to know about you as much as possible. It makes me near to you. Dear, tell me please more about yourself. What do you do in time of resting??? Where are you spend your days off??? I like to have a rest more on the nature. In the summer I and my friends go to campaigns, well you know tents, the open sky, a fireä ItĻs a great pleasure, to walk on a green wood early in the morning, to breathe fresh air, to listen to the birds singing. And if do it together with loving person, it is probably indescribable feelings. I have spoken, we have very beautiful places behind our city. There are a lot of fish in the river. It is a pity, but I cannot frequently afford it, in summer I work also, and the free days off are seldom. But if I and you, shall decide to meet to learn our approaching to each other, I am ready to give up work, for happiness I am ready on all. Certainly, it is early to speak about it, we should at first learn each other better. I love sports meets. We, in Russia, have different kinds of sports, you play football (the American football), but in Russia the English football (soccer) is more popular. I like to go to theatre; it is very interesting to look for game of actors. I have not noticed how time have gone and I need to go home, it is already late. When I go to bed, I'll think of you to see you in my sleep. Good bye, my love James!!!

PS. I wish to give you my address:
Russia, Zip Cod: 394000, City: Voronezh,
Street: Platonova,House: 71, Apartment: 11,
Surname: Dolganova, Name: Tatyana.

You can write the letter to me.
Excuse but in the Internet of cafe resolve only one photo. I took a walk around the world to ease my troubled mind, I left my body laying somewhere in the sands of time, Well I watched the world through the dark side of the moon I feel there is nothing I can do. yeah. I watched the world through the dark side of the moon after all I knew it had something to do with you. If I go crazy will you still call me Kitty? If I'm alive and well will you be there holding my hand? I'll keep you by my side with my superhuman might Kryptonite. This is how I feel sometimes when I think of you. I am looking forward to your next e-ma
Your Tatyana!


February 13, 2005 (letter No. 5)

Hi, my dear James!!!
I send 1000 kisses and I congratulate with day valentines. This day I shall think of desire and if it will come true I I shall necessarily tell to you. I got up early in the morning being in a high spirit! I was thinking about you!!! Cooking breakfast I imaged how I would do it for you! Do you like to have breakfast in bed? I saw a wonderful wedding when I went to work... Fiancee was so beautifyl in her white dress... You know I was even envy a little bit. I just imagined me on her place... And I remembered again my dream of life - to create a happy, strong family. I love children so much. But I shall not have children without the consent of my husband. Therefore if the husband will not want to have children, and will be!!! But the most important person in my life will be my husband. I will take care of him and will love him deeply. I imagine how we spend the evening together. Only you and me. We have candles in our room everywhere. I look so beautiful in my red dress with just washed hair. And you are a man of my dream, you are so gorgeous! You look at me with the tenderness and love. I took away your shirt and you my dress. You touch my skin and I feel your warm hands around my body. I will such a deep passion and love inside. And we have a night of love only for us!!! I told you my fantasies. Do you have any? Tell me, please. I send you my photo, showing beauty of my body. I hope that I do not scare away you of my frankness, but It seems to me that I begin to fall in love with you. Now I stop on this. I'll wait for your answer. I love you!!!!
Forever your Tatyana!!!!


February 15, 2005 (letter No. 6)

My dear James!!!
How are you today? Hope everything is fine with you. As for me, I feel good just a little bit sad that you are not with me. You know, I got used to your letters so much, they are a part of me. I like you very much but I don't want to be betrayed again. I was in love with one person. It was a light and clan feeling... But he cheated and went to another woman. I was hurt but I was able to overcome this and for long time I have been alone. I was just afraid to have any relations again. Men in Russia drink much, smoke and get drugs. I know you are not such a kind, I believe and trust you. You are my treasure!!! Could you trust me, as we communicate only through the Internet? You have never met me in the real life! We have been corresponding for long time already and know much about each other as far as we can get from the letters. You are a wonderful person and the best what I have in my life. I think about us all the time, about our meeting ( and I should say this excites me so much!!!) In my fantasies we are together, one whole! And I am waiting so much for the moment when these dreams come true! I would like to ask you a very serious question. Could I? What are you intentions about me? Would you like to meet with me? Would you like me to come and visit you as a guest so we could get to know each other better? WHETHER YOU SHOULD SOLVE YOU WANT our FIRST MEETING WHETHER OR NOT?!?! Perhaps, you think that is too early but life gives us such a wonderful chance to be happy and we should try not to miss it. LIFE is TOO SHORT. And consequently it is necessary to be more resolute in life... Bye for now.
Tatyana


February 17, 2005 (letter No. 7)

Hi, my dear James!!!
I have received your card and congratulations of many thanks I you strongly whole. I am happy to hear from you. With each day you became a more close and dear person for me. I hope we'll be together soon. And then the life will be complete at last. You know every day I dream about us. Sometimes I think I am getting crasy as I feel you near. I feel your strong hands on my body and imagine how it would be to make love with you. And after our passion nights, we would just relax in our bed and enjoy each other doing nothing, just kissing. I want to tell, I LOVE YOU!!! You can tell, that it is too fast and it is not possible to fall in love with the person, after several letters, and never having seen a lot him!!! You will is accomplished are right!!! You should understand, I love you such to which I now present you, such which you have described yourselves in letters!!! And consequently I want an our meeting. You should understand, that it is virtual love!!! And I want to check up feelings and it can show all our first meeting!!! I want us to be together so much, that trying to do something for us to see each other at last. I want to tell you today, that I have made all documents for getting foreign passport and to begin to make the visa. I have money for visa and for ticket, but this is because it is very difficult to receive a tourist visa to the USA, more so after the terrorist actions on 11 September. It is possible for me to get a work visa for to come to you. I have to do some paperwork and to pay some money for visa. I write you through the tourist Internet-agency, which give a such opportunity. Agency works more than 1 year and many girls went to the USA with the help of this agency. Agency will find work for me with the help of their employees who is working in the USA, and then agency will send me there as worker. After my arrival to you, we'll get acquainted and if we decide we'll make all documents to make fiance visa for me, whereupon I'll be able to stay with you forever. While visa is being making, we shall communicate through e-mail, it will allow me to learn more about your life. I love you and I hope you trust me.
Your Tatyana!


February 19, 2005 (letter No. 8)

Hello my dear James!!!!
How are you today, hope everything is well. Today I saw you in my sleep. I am very happy that I have you. And also I am happy because soon we'll meet. This so romantic, here is already about month we communicate with you via email, and quite soon we'll meet each other face to face. I have such feeling, like I know you long ago, like I come to you as to my bridegroom. I feel that I love you so much. I hope, you'll love me the same, when I arrive to you!!! My foreign passport is ready, but it will be remained in agency while visa is being made. The visa will be ready aproximately in week, but to get it, I'll need to go to embassy to Moscow. There I'll need to pass the conversations, and embassy will decide to give me visa or not to give. But don't worry, in agency I was said that I will not be refused in visa. I'll have a work visa K-2, it will give me right to remain in USA for 90 days. The Agency will find work for me in USA, but when I arrive, I'll be able to find any other work, which is close to you. I am very glad that quite little time remain before our first meeting!!! I worry, even it is little scare for me, after all I have never travelled outside of Russia, more so, so far to America, on the other end of our planet, I have tremor on skin under one even thought about this. But I immediately becalm, when think that you'll meet me, and I'll be under your protection. You will, after all, be able to meet me in the airport? Tell me, in what airport I have to fly you to be able meet me? I wait your answer. Well, it is time to go, it is already late, but else I need to come to the shop to buy the products for supper. It is a photo we with mum went to sea of Azov in 2000. Good bye, Your Tatyana!!!!


February 21, 2005 (letter No. 9)

Hello my sweetheart James!!!
I only now have an opportunity to write to you. I have been borrowed by preparations of documents. Now I have some minutes to write to you. Today it is wonderful freezing weather on the street. I am very happy, because little time remained when I'll be in your hugs. In agency I was said that probably, by the end of next week I'll go to Moscow to embassy for conversation, whereupon I'll receive a visa and will buy tickets for arrival to you. I am very happy. I didn't think, that the documents will go so quickly. This is because agency works directly with Moscow embassy. When I arrive to you, I'll be the appiest woman in the world, because I'll be near my loved man. James, I am in love with you so much. You live on other end of our Planet, but I feel that you are my soul mate, I have to be with you till the end of our lives. When I go out of the board of the plane and see you, I'll fall into your hugs immediately. Then we'll go home, I'll have a rest from the trip, then we'll have a supper, and then I'll fondle you for a long time, I'll kiss you and all of your body, I'll give you all my tenderness, which was saved in me so long time. My love, I have to go. I am fine, I have good mood everyday, because I have you. Tell me, how are you??? You miss me??? I hope everything is fine. I love you!!!!

PS. Photos, which I send you, was made by my girlfriend, I did these photos for you to be able see beauty of my body, which soon will be in your hugs. Forever your Tatyana.


February 23, 2005 (letter No. 10)

Hello my Loved James!!!
First of all I want to tell you, that I love you so much. Every day I live with thoughts about you, with dreams of our first date and our future life. My parents tell you huge hello. I much talk with them about you, my parents are very happy as me, that I'm in love with you. I talked with my friends about you, they are very happy, too, they even a little envy me. I talked with them about that, I leave them forever and we'll not see each other for a long time, I'll miss them, but, after all, we'll be able to talk via email. And someday, in many years, you and me will have a travel to Russia you to be able get acquainted with my parents, and I will introduce my friends to you. What do you think of this??? Today it is delicious weather, it is weak frost (-10 degrees Celsius), sun is shining, it is no any wind. Today I went in for aerobics and I understood, that I have to go in for aerobics more often to be graceful for you always. After aerobics I went to the agency and I was said there, that on Friday I'll have to go to Moscow to receive the visa. So, it is little time before our meeting, soon we'll be together!!! Every night I see dreams how we make love, we are on the big bed, and you kiss all of my body, the I'll begin to do the massage to you with aromatic butter. Then the massage slowly move over to to the ndearment with tongue, I begin to lick your neck, bosom, then I take a lower, I begin to kiss your belly, and then I take more lower, and I begin to fondle you with my mouth. I'll fondle you until you reach orgasm. Then you take me with your strong hands and begin to fondle me until your power is restored. Then you'll execute your the most bold erotic fantasies and do with me all what you want until you get orgasm again. I love you, with you I'll be able personify all my erotic fantasies, you will be able to do all you dreamed of. I'll stop on it. I love you, soon we'll be together.

PS. The photo is made at home in the past to year.
Your TATA!!!


February 25, 2005 (letter No. 11)

Hello my beloved James!!!!!
It's just quick note to say you hello!!! I am well, everything goes as scheduled. I have little time, I am very tired for the whole day. I have already left my work, but anyway, I don't have enough time to write you. But soon we'll have much time to talk face to face. I am very happy because of this!!! I can't fall asleep for a long time in the night because I very think of our first meeting, but when I fall asleep, I see you in my dreams. I have loved you so much. I even don't imagine my life without you. I very hope that I'll justify your waiting, when I arrive. I'll do all, you to love me as I have loved you. I have to go. I have not yet eaten anything, and else I need to go to the shop for products. I love you James!!! Today I shall go on girlfriends and to say goodbye tomorrow I shall write to you the letter. I strongly whole you mine James also want to be faster in your embraces.
Your TATA!!!!!!


February 25, 2005 (letter No. 12 sent one minute after the previous letter)

Hello my dear James!!!
I am the happiest woman in the world! Today Iíll go to Moscow, and after receiving the visa, from Moscow, not returning to home, Iíll buy tickets and arrive to you, my sweetheart. I am so happy, that Iíll not sleep tonight. I am ready for everything for the sake of you, my love. Iíll fly to you through half of globe for us to be happy for the rest of our lives. When I come to Moscow, Iíll find Internet cafe there and write you. I ask that you have sent me your phone number, I shall try to call in Moscow to you. My mom has given me gift for you. When I come to you, it will be surprise for you. I have so strange feeling inside of me, my new life will be begun tomorrow, and in this life you, my loved James, take the most main and the most important part. Now Iíll live for the sake of you. Iíll be meeting you, when you return from work, Iíll cook food for you, Iíll take care of coziness of our dwellings. Iíll love you. Iíll live for the sake of you. When I come to you, youíll know as far as strong my feeling to you. My beloved, I need to go to gather my belongings, also I need to go to say goodbye to my friends, though weíll talk via email, but, anyway, Iíll miss them. Iíll write you as soon as I receive the visa. On a photo I say goodbye to the girlfriend DINA. she is happy that I have found the love and transmits you greetings. I love you James!!! Forever your TATA!!!!!


February 27, 2005 (letter No. 13)

Greetings my dear James!
I today have arrived to Moscow I'm fine. I have removed a hotel accommodation, tomorrow I shall go to embassy to receive the visa and I shall finally make all documents. Tomorrow I am going to go in the airport and if all can will be good to take off to you. I very much wait for our meeting. Soon we shall together for ever. Excuse I can write much to me it is not time to go. I am very tired on trip.
On always yours Tatyana.


February 28, 2005 (letter No. 14)

Hello my beloved James!!!
James, now I have gone to the embassy and I have been said very "good" news, James. To put it more exactly, bad news, it is unpleasant news for us. They have told me, that when I'll go to the board of the airplane, I'll need to have no less than 1800 dollars in pocket and document, confirmatory this. Because I'll arrive to you with the work visa and I'll go to the USA as a worker. Your name and address are not pointed in documents, only it is pointed that I'll fly to USA. And this money is needed for a life in the USA for 90 days (since validity of the visa is 90 days).

You lose nothing James! Because when I arrive you, I'll give you this money. Without this money I'll not be released outside of Russia. I have money for tickets, but I do not know where to take 1800 thousand dollars. They has told me that we need to buy round-trip ticket. I was very wondered, when she has said this since I was going to buy one-way-ticket, because it is cheaper than round-trip ticket. But she has told me, that with work visa I'll not be released from Russia with one-way ticket. This is explained that now there are too many emigres, wishing to leave our country, who do not return to Russia, and live in the USA with illegal rights. With ticket round-trip there are determined warranties that person will be back into his country. Especially, this is wide-spread for young women, not having children and relatives outside of Russia.

Also she has said that I'll need to to make the insurance. I have to pay for my ticket here because if you will buy ticket in America, I shall have to buy insurance, which costs 956 dollars. But if I shall buy ticket here, then cost of insurance will be included in price of ticket. I went to the airport, 2 tickets will cost 1680 dollars. James, now I am very upset after these news. I know James, that money is much not only for me, but for you, too. I even begin to think that our meeting in person is impossible. I begin to feel myself worse James. Now James, we need to pass the last step and we'll be together. I love you James and want to be only with you! So I ask, that you have sent 1800 dollars The western Union, as it - the most safe way to send money. For this purpose You will require in exact ??????:?????? street.

Vavilov 24 RosEvroBank
Dolganova Tatyana.

PS. I send you a copy of the visa.
Your Tatyana!!!


March 1, 2005 (letter No. 15)

Hello my loved James!!!
I love you!!!! You have to help me. Without your help I'll not be able arrive to you. Today I was in the embassy again, I asked other way for me, but they have told that there are no other ways. I'll not be able to find so much money anywhere. But if you send me this money, you'll lose nothing, I'll give you money as soon as I get out of the board of the plane. My dear, you have to trust me, I love you, I'll prove you this as soon as I arrive to you. Trust me, and we'll be the happiest couple of the world. Sweetheart, just imagine, how we'll feel good together, we'll be able realize our dreams. I hope you want to be with me and love me. I am going to send parents the telegram about the help, but I know that all sum of money at them will not be, tell what sum of money you you can help. We should find what that an exit, do not sit on a place, for our happiness I have made much and from you I ask the small help. I went to embassy and for you have taken a copy of the visa. I wait for your answer. Your Tatyana!!!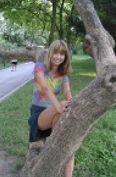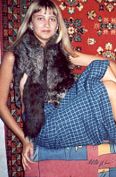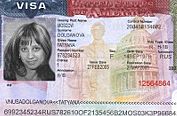 ---
To send your own story, please click here
Click here to support Black List
READ ALSO: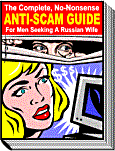 Met a Russian woman over the Internet?
Thinking about finding a Russian wife?
Russian woman wrote to you? Don't move any further until you read The Complete, No-Nonsense ANTI-SCAM GUIDE For Men Seeking A Russian Wife. Too many men were caught up in a scam and lost great deal of money - want to be one of them? Ensure your safety and peace of mind - read the ANTI-SCAM GUIDE.




Scam-free search - GUARANTEED! - Looking for somebody truly special but have had it with scammers and scam agencies? Let professionals to do the job for you.

The Universal Crib On Finding A Russian Wife - the most compressed, step-by-step guidance on finding, courting and marrying a Russian woman.
Dating Scams - The real picture of international introduction industry
Reliable Dating Services - where to look for a Russian wife
The shocking truth about Russian Brides - E-book by Marina Smiley. Find out things about Russian brides that marriage agencies will never tell you.
Why Russian Women? - If you decided to find yourself a Russian wife, you would be inundated with questions of the type "Why Russian Women?" from everybody you cared to share your idea with. Surprisingly, every Russian woman you are writing to will ask the same question: "Why do you want to find a wife in Russia?" After a while, you might start questioning your own sanity in doing the thing which everybody, including your dates in this Internet rendezvous, consider strange enough to request explanations. Here you will find some ready-to-use answers for your family, friends and Russian women you are writing to.
Cheap Russian Translations - Russian-English/English-Russian translation: fast and comprehensive. You are not sure she understands what you mean? Translate your letter to Russian! Reasonable rates and highest quality.
---

JUST RELEASED! New E-book by Elena Petrova:
"How To Find And Marry A Girl Like Me"
Comment from the reader:
"This may well turn out to be the best purchase I have made... I hope not too many of my competitors find this book!"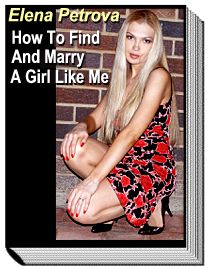 Discover how to find, court and finally marry a beautiful Russian woman!
This is the only book written by a beautiful Russian woman married to a western man - for more than 5 years! - and who is also the owner of a highly successful Internet dating agency.
Find out once and forever what Russian women are really looking for, why they are looking for it and how you can give them exactly what they want!
Get responses on your letters to beautiful Russian women - 9 out of 10, GUARANTEED!
With "How To Find And Marry A Girl Like Me" you'll learn knock-out techniques that will instantly boost your success rate in dating Russian women - online and in real life. You will have more beautiful girls that want to be with you than you can handle!
And not just ordinary girls! They will be beautiful, intelligent, but most of all - honest and sincere! You will be the one to take your pick!
STOP wasting your time and money in search for a Russian wife... Get it done - painlessly, easily, and certainly! Moreover, have lots of fun along the way!
Yes, you too can marry a girl like the one on the picture... Click here!
---
New e-book by Marina Smiley (the author of famous "The shocking truth about Russian brides"):

"Sex and Love With Russian Women"

Discover where so many guys fall short when visit their girlfriends in Russia;

Learn how you can dramatically improve your success with Russian women and win when others fail.

Most intimate questions answered by a Russian woman - Medical Doctor.
---
Comments, suggestions? We want to hear from you!
Click here to Contact us
Seek a reliable Russian Dating Agency? Why not check www.elenasmodels.com - RECOMMENDED
---