Elena (Astrakhan, Russia) el_kash@pochtamt.com
Hi - I am a 53 year-old computer programmer in DC area. I was contacted
by "Elena" through SeparatedSingles.com. After I replied to her email
address: el_kash@pochtamt.com, I got the following letters:

Letters:
Letter # 1 January 30, 2005

Hello my new friend Mike.
I can not express in word a pleasure from your letter, I waited for it very much!
I want to tell you many thanks for your letter when I have seen it in my mailbox I at once have begun to write the answer. I am very glad to have such friend, as you. I think that it is necessary for us, learn each other, you agree with me?
It necessary for serious relations. I in life very cheerful person I like all while it is an entertainment. There are some qualities of human character which like me very much it is sincerity, kindness, politeness. write to me that you like in the person and what qualities of human character are more important for you.
I have no friend at present. I want to inform you about myself some words and let's see if we are interested in each other to go on with our communication. I am from Astrakhan, it a big, nice town. I live together with my mom and daddy and I think that we very friendly family I single the child in family, also have no brothers and sisters. I think that for you interesting, know about my a figure and appearance. I have hair is blonde and brown eyes. My height is 5 ' 6 ' and my weight is 120 lbs. You can see my figure on a photo which I shall to send you with this letter, I hope that you will love it. Now my age is 27 years, soon I shall celebrate the birthday to me there will be 28 years it will be February, 21,
Write to me when there will be your birthday. I have different hobbies and interests. I like to listen to music, best of all I like melodic, romantic ballads,
about love, but I find very interesting also other kinds of music. I adore literature and especially poetry. I know a lot of poems, but only few of them by heart.
Why? Because I learn by heart only those special poems that I love. I don't smoke, not used drugs. I drink sociality I take care about my appearance and my health. I would like to meet a male, nice, attentive, caring, healthy and to fall in love if we understand each other, take care of each other and if we are ready to share all in this life, good times and happiness and bad times as well.
I'm dreaming about my own family, my beloved husband and to have children
with him in the future. I think that our purposes coincide, and you want it too. I was never married and had no children, but very to love them Children - to decorate happiness our life and to do its happy. I also want to learn about your private life and about your attitude to children I have a question for you. What do you expect from this relations? And how do you imadine your future with a girl
from another country? And what's your dream family? Please, answer my questions in details because they are importent for our relations and possible future tigether. I believe that two persons can do much for their happiness if their desires and the purpose in life coincide that they will try to make happy each other. Let's try to get to know each other better and let's try our chance.
I'm going to close my letter but I hope to get your soon reply with answers to my
queations and your story, write me more about yourself I'd be very glad to get your letter, I'm looking forward to get it soon. I hope that you understand my English Take care. Best regards.

I wrote back saying I was much older than her, old enogh to be her father, and that I have had prostate surgery, and that she should look for someone her own age. Must admit I was very intrigued with her and began falling in love with her photos. I gave her a choice of moving on or writing me: I couldn't believe it when she did! I was SO happy! But, doubts started nagging me and I wondered what could make this girl write to ME?

Letter # 2 January 31, '05

Hello my the friend Mike.
I so am glad to receive your letter! I very much want that our relations had continuation, because I like you very much. When I have received your letter today I as if a bird have flied up in the sky. I waited for your letter all day, I can write to you only in the evening because in the afternoon I am on work and I can not write to you. Now we have evening and I have arrived to the Internet of cafe to look there is your letter or no. You have written to me it wonderfully! I have overlooked to inform you that I write from the Internet of cafe, I have no computer in my house it very expensive, but probably in future I shall by to buy a computer. I have overlooked to tell to you about the work I finished medical
university, and now I work in hospital, my speciality is the dentist My work take all my free time. Some people work only for reception of money, and they do not love work, I receive not many money, but I love the work I became the dentist because I wanted to help to people to recover from a pain. Now I shall try to tell to you that I love and that like me more, I like when people after recovery speak me, thank you, It brings to me the great pleasure and is warm to my heart. My favourite foodstuffs is salads, I love the easy foodstuffs
I like to prepare also, probably ever I can, prepare for you something tasty of Russian kitchen. I like to support my figure, for this purpose I visit sport club and I am engaged there in aerobics, you love my figure? I love the sun very much when there is a decline, and it of brightly red color. When you look at it that there is a desire to think of eternal beautiful and at the same time fragile and gentle. I speak about LOVE! love-such simple word, but in it consists so much, I want to tell to you that I think about it. If all people though for one
minute will this feeling in the world will not be wars, fear, murders. I very much want to learn more concerning you: What work you do make? What causes in you a smile, or boredom? for me inside world of man is more important that how he is looks. Probably therefore I have so much questions to you, I want that you asked me questions too, and I shall answer it necessarily. Now time has come to finish this letter, I shall miss you!
I shall wait for your following letter with impatience
Your Elena

Letter # 3 February 2nd "05

Hello dear friend Mike,
With each new day of our acquaintance, I understand that you, are very interesting for me. I wait for your letter very much when I come in the Internet of cafe and I find your letter, my day is filled with life. I hope that you feel also concerning my letters. And you attachment to me? I think what yes if it so, that it is cool! Today we have good weather. Though already has come an autumn,
but the sun shines very brightly in street. I love summer, but I like all seasons
in each season there is something than is possible to admire for example the autumn, when leaves become yellow and fall from trees. I very much like to walk at this time in park or in a grove, it is very beautiful leaves on ground lay as if a carpet of yellow color and rustle under your legs it so pleasantly and beautifully. In the winter it is possible to observe snow, I like to observe when snow falls from the sky, but winter this cold time, therefore I love summer more all. Summer is a season of rest and I had holiday in middle of July I have some photos from this period and I shall send you it together with this letter. I want call you that to speak with you, you want it? Probably my English is not so good, but I think that we shall understand each other without problems, it is a pity but I have no phone in my house. In Russia many people have no phone in the house, I shall find out as I can to call to you from trunk-call station in our city if I can do it we can speak. I ask that you gave me the phone number that I could call you. If we can not speak on phone now that I offer to continue our correspondence with help e-mail at present. I want to inform you why I have decided to write to you to other country and why I do not search for the relation more close, for example in my country, I can inform you that I already tried to search for relations here, but I not could find the person with which me pleasantly will spoke, here very much many people abuse alcoholic drinks, or even drugs, I can not speak with such people, it is impossible to talk to them because they use a lot of not normative lexicon. Not so long ago I looked transfer on TV and there was spoken about a difference in cultures of the different countries, there was spoken that people from your country very cultural and decent. I can tell with pleasure that I agree with it, it is pleasant for me to speak with you and I do not want to lose touch with you. But remember, that we should learn each other more and more, you agree, it's very important for me. Because on statistics, majority of a pairs to get divorced because they knew each other not enough, and I don't want to do a mistake now I hope that you will can to understand me, Ok? As I spoke you earlier, we must to learn about each other more and more from our e-mail. I shall think of you!
Your Elena


She was really cute, but friends warned me something smelled. By this time I began asking tough questions like "Please provide me a photo of you and your parents". "Why do you not answer my questions?" At this time she has dropped off. However, I recognize a photo "she" sent me here on this board. I sent her a "what did I say" letter but, no reply. Then I researched the Internet and found many other guys who have the same story and similar letters. No money was asked for but I could see it coming later. I think my questions scared "Elena" off.

Mike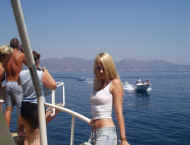 ---
Tatyana Shabrina (Cheboksary, Russia)
I am divorced 50 years old self employed subcontractor in constuction.

I was originally contacted through my listing on American singles .com. An IM came through asking for a reply to this person whose profile listed Slaughterville,Kentucky as the home. The requset for money came in the 7th message after 8 days. The last message came came on the 3rd of Febuary 2005. I replied saying there was a payment in the mail and attached a favorite photo from the past. There certainly must be a payment in the the mail to someone somewhere in the world.
Letters:
Hello Don!!!!!!!!!!!!!!!
Why you have not answered my letter or my letter from my photo has not reached you. Problems with a server? Write, I shall send again to you my photo! Or you have learned, that I from Russia and do not want to develop our friendship. Write, simply that I knew. I shall write to you each day!!!! I promise!!!
Tatyana.


Hello my dearest Don!!

I am very glad to receive your letter. I hope that you can understand my letters. How at you an affair? How mood? I think, that at you all is good. I shall ask the god that you were healthy and happy. You so frequently ask about, whether I am real. Certainly I am real. And how can be differently? And why you name yourselves silly? Unless the silly person could construct such house, how at you? You the clever, kind and fair person. I am grateful to the god that has got acquainted with you. I have seen a working table of your computer on a photo. I
am flattered, that you have placed me on him. Today at us solar weather and it is very good. I today worked and had the conflict to my boss. It has shouted at me and I was upset, I all the day long went with bad mood. But it that, I have pleasure in a life is your letters. Yesterday with me there was a unpleasant case. I have gone in the evening to take a walk, and when came back home to me teenagers have stuck, it is good that the neighbour the dust has left to bear and has interceded. I wanted to tell to you about my payment at work and it only 80-90 dollars per one month to me pay also it very little even for Russia. And I am very much interrupted and it is very difficult to save in such complex difficult conditions. I work and I learn teach children of 7-10 years and so difficultly smile to them each day and to explain when sometimes it is not necessary to eat in the morning at all. So it is difficult to work as the teacher and for it pay I very
much a little was mistaken in a choice a trade but there is only that that this work very much is pleasant it to me understand for me all I so I want the child and while at me him is not present the much is the whole 24 schoolboys with which I addresses as with the and still I very much love children. Children it is flowers our life and they simply brighten up our life. And I would like to call to you soon but I do not know when give me a payment from work so if you have a little bit superfluous dollars you might not give me I so want to hear your
voice. I simply was very unpleasant to ask about it but I nevertheless shall try. So I expect give me on a bell whether or not? Well, I wanted to tell to you, that my heart began to beat more often when I think of you, my heart is beaten so when I think of you!!! I ask you that you have sent the photos which at you are. They will help me to feel your presence near to me. I want to feel you, your gentle sight, your smile, your hands. I so need in heat and care and I think, that I ask not so much. I search for pure ove and romanticism in attitudes I love when all beautifully, perfectly, gently and romantically!!! Desire to have the family, the favourite person beside, feeling, care and constant support in a difficult minute to what to aspire each person in a life and I too. To me already it is so much years, and I and have no, about what to you I speak. I was close fortunately in the past. But my trust is broken. I should trust the person with which I all life, trust his ach word, gesture, a sight, a smile. In the world now so it is a lot of meanness sand a deceit that is necessary to concern to people which surround you very closely .I do not speak you, that is necessary to concern with mistrust to everyone, just necessary to know the person so what to be completely confident it . I know you not for a long time, but I can tell, that you very good and open. And it very much involves me and gives me to trust,
that I can love and be loved !!! My mum learns me that I should be always open. I have told to it , that our attitudes develop successfully and she is happy for us. She dreams, that I at last was not one and had family. We are far apart. But it does not prevent our dialogue. Though I already thought, that dialogue through the Internet needs to be understood each other more strongly. What do you think of it? I would like to see you not only on a photo. But I do not know as
it probably, because we very much far apart. You like me also I think that our attitudes can be deeper. I do not know as to explain it words. I simply feel it. Your letters do my mood high. To me to become joyfully on soul. I think that sometime we with you shall meet. I would like to arrive to you , to meet you to look as you live. I want it because I start to understand that between us there is something more than friendship. This feeling of trust to each other seems to me that, it seems to me that it is love. It seems to me that you too feel it. I now very much wanted to talk about you! I so want to share with you pleasure personally. When I see your eyes and a smile of that I am glad. I want to see your pleasure and to divide her with you. I want to know, what does you happy? And I shall try, what everything, that I do was the present happiness for you. Give me chance to make it!!!! And still I want to tell you my voice that you might hear my voice and I hope to hear your voice and I was very glad if I hear as you speak to me that
or I have written down this small file in the Internet of cafe and paid for this service. Let me chance know the favourite and loving woman. I wait for your
beautiful letter and I promise, that I shall think of you every minute.

With love your friend Tatyana!!!

P.S. I have have found out that money it is possible to send through firm Western Union. Just now my passport is in a passport office. We in Russia have change of old passports of the USSR on new Russian. My passport will be made out about 1,5 weeks. But you can send money to my aunt Tatyana. She at once передест to me your money. The data with which help you can carry out remittance:
Tatyana Shabdarova
(7)8352421966 - Menatep St. Petersburg
Lenina Prospekt, 6A
Cheboksary
Russia.
Tatyana Shabdarova is my aunt. I shall wait from you for messages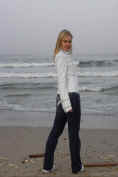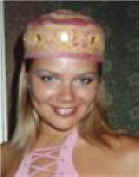 ---
Svetlana (Severka, a suburb of Ekaterinburg, Russia)
I am a single, 30 years old European American computer engineer. I live in Chicago IL. I had entered profile in Yahoo personals. There I was contacted by two Russian women in the middle of December 2004. One of them said that she was from the small city of Severka, a suburb of Eketerinburg. She said she was a chemist, only child, grew up with her mother since the father disappeared when she was very young. The usual story. She fell in love with me after 7-8 letters. She told me the story about the tourist visa and the 345 US dollars for the full package service. She has sent me so far 16 letters. She writes almost every day. She uses big love words and very poetic expressions. She never answer my questions. When I asked her for contact information, telephone, place of work,etc she said that is classified information! I checked this website and she is the same person as the following, only pictures are different (letters are identical):


- Dilyara Scedeva or Sagdeva from Kalinino, Astrakhan area, Russia
- Vera Shikoreva from Sarov, Russia
- Natalya Yelkino from Serov, Russia

In her last letter she asked me whether I would do everything for her and for the sake of our future. Thanks to this website I realized what is going on before it was too late. Her e-mail is butterfly@doubleray.com.

Letters:

First letter Dec 17 2004:

Hi, my new friend,Michael!
Thanks for your open and honest message! My friend! I want tell to you.Thousand words replace a photo! I send you the photo. I wait your photos!!I want to answer your questions.Ask me! I shall be the answer to you.I from Russia. I live in city Severka.It is small city. It Ural in Russia.It is 15 km from Ekatrimburg. Ekatrimburg afinding 2000 km from Moscow on the east.I am new to this internet and dating scene. I was very curious. I know itis somehow not so reliable. I hope that I have not discouraged you.I havefound your message and profile pleasant. Dating is not a joke for me, i dontlike games at all, and hope you are serious, I want to thank you for takingthe time to email your interest and I am very flattered about the opportunityto get to know you better.I must admit that I am attracted to your personality,as well as your perception, of what type of woman you are interested? Whatspecial things are you looking forward to concerning your "new friend" in your life?I would like to meet some one who respects themselves and others as well.I lonely woman, who would like to meet someone who will love and understand me.I am very lonely inside and outside, it does get sad at times but I don't justrush into things. But, I know I may find my man...sooner or later. I surely would love to see more than your pictures (also more your new pictures the SMILE).Although, physical appearance is just some of the most common mistakes you couldencounter. I would love to get to know you inside and outside as much as possible.Let me tell you a little bit more about myself. I believe that I am a strongwoman with goals, ideals, and aspirations. I think that having those things givesyou the incentive to not just live life but to savior it. I am 28 yearsold.I was born on March, 21, 1976. My height is 168 cm-5 feet 6 inches. My weightis 52 kg- 115 pounds. Right now i been work for acompany for about 3.5 years. I work in the field of chemist. I thechemist, but I am very young and I work as the laboratorian the assistant.It is decent job I have always wanted to have a profession helping people.Now I should finish my letter, and start to work.I send you my picture. I hope to you it is pleasant.I will waiting for your letter with impatience.
Svetlana.


Letter 8 in which she confessed her love to me:


Hi, my far, but dear friend Michael.
Many thanks for your letter. It was the long-awaited letter. I amreally madly glad to receive your letter. I am really glad that I havefound you. Please, READ ATTENTIVELY THIS LETTER, and try understand meas it is possible better.Michael you are starting to get a hold of my heart all is closer andcloser but please just dont break my heart.I should tell to you that I have ocean of emotions and sensationswhich I had no in my heart before. And on this, my reason and my heart sayme that I should answer by sincerity your constant sincerity. My heart and my reason says me that I should tell what I feel now because it is a part of our friendship and I should share it with you. I should tell that itwas required some days to think over this letter, because I wanted to say just the right things to you. I didn't want to offend orupset you in anyway, and it really bothered me that saying something wrong may do that. I normally speak directly from my heart, and I am right now,but sometimes, words must be carefully chosen. I feel somewhat lost when I have no opportunity to use a computer to read your letter. In my soul,Ifeel contentment and joy when I think of you.I have never done this in my life, (tried to initiate a relationshiphalfway across the world), and I might have much to learn about how toproceed, but I am more than willing to learn whatever it takes to succeedif that is your desire as well. I also believe that couples should be thebest friends possible, which trust and share with each other everythingthat they feel. I do not know if my word and thoughts make sense to you,and I try very hard to put them in typed words that you will feel andunderstand. I believe in God, and I believe that I have been put through trials to prepare me for meeting a man with whom I will spend the rest ofmy life loving, to better appreciate him, respect him and cherish thelove, that he would give; only asking that I return the same. I hope thatmy words and letters are not boring to you, but they are much more thanmere words, they are my thoughts and feelings, and I send them out to you.I very much desire that you find it in your heart and are comfortable withsharing your personal feelings with me, I wish to know you on a moreintimate level, I would like you to share your dreams, your hopes, yourfeelings of the heart with me, I truly wish to connect with you on a levelthat goes way beyond mere friendship......Probably it is love? All in comparison with you is insignificant, that it is practically impossible forme not to fall in love with you. Please do not think me foolish forthinking these things, I believe that in order for anything to succeed you have to be honest, and that is what I am doing with you. Could youclose your eyes for just a minute, and think and dream of what a life wcould share, what it would be like, the fun of learning each other. Ireally believe that dreams do come true for people which dare to believein dreams, because if they believe in them hard enough, dreams couldbecome in reality. I guess that you are shocked that I feel this way, buthere, where I was raised, the gift of true love from a man is somethingthat is more similar to a Mirage or self-deception, rather than mutualfeeling which two enamored people can give each other. I hope that I amnot rambling on with my words. I have so much that I wish to share with you, and each time I write to you, I feel there is never enough time tosay everything that I want to say, and I always feel that I have forgotten something important that I wanted to share with you. Michael, when I speak of you and I think of you, it does not matter for me what anyone else thinks. I want to tell that you are very beautiful for me. I mean, I find that you are not only attractive as a man, I also speak of the beauty that is within you, beauty of your internal world, and alas, thisparticular type of beauty is very special and rare. Most men have only appearances, but not have beauty inside, and this is where true beauty is.This, is that for me is the most important and significant in all limits of my character, my soul and my consciousness. Your words spoken to me with so much kindness and care, they express the beauty within you. I think that you are truly handsome, the essence of what beauty should be, and there is nothing that anyone could say to me that would compel to change my mind even a little bit. I want to reduce essence of all my letter only to one thought. I do not know if I could clearly explain allmy thoughts and feelings, which overflow me now, or not. I want to tellthat I feel, we become very good friends and I really enjoy our friendship. I aspire to learn you more and I dare to hope that you suppose a thought that our relations can develop more than it enough for simplefriendship. It is that way which I feel. As always I hope that my letterfinds you in good health and spirits, and I hope that every yours wish youhave comes true one day. I will look forward to your reply as always with anticipation and impatience.... Sometimes I not the answer to your questions.

But it to not mean if I not attentively to read it...I understand your letters.... But.... I Russian... The ideas I expression on the..Therefore you not always to understand my answer... sorry Be relative trip to you. I think my heart to prompt me.I want to you.... But I cannot completely payment the charges..I not know at all how many cost..... It is difficulty for me to go to you.But I to want to you..... I shall search for an opportunity!!!I can find out about the visa.... If you to want... I hope that your reply is not of a harsh nature, and I look forward to its arrival.
With tenderness, Svetlana.

I pleasure if to see your photos.... Thanx!


BE CAREFUL GUYS!

MICHAEL S.

---
Masha Korobova (Irkutsk, Russia)

I am a single, 30 years old European American computer engineer. I live in Chicago IL. I had entered profile in Yahoo personals. There I was contacted by two Russian women in the middle of December 2004. One of them was Masha Korobova from Irkutsk. She said she is a doctor (cardiologist). She is the same as:

- Elena Patrusheva from Novosibirsk, Russia
- Tatyana Kyzkina from Irkutsk, Russia
- Tatyana Shilova from khabarorsk, Russia

She told me the usual story about her living with her mother, she makes $120 per month, she is lonely because Russian men dont pay attention to her inner world, etc. The funny thing is that in one of her letters to me, she warned of the scammers and asked me to be careful. I sure was!

Letters:

First Letter Dec 18 2004:

Hello my friend Michael
I am very glad to see your letter.Even it is unexpected, that you have written so quickly.In general I do not know from what to begin the letter. Mgggggg..., ok. Recently to me have advised to search for the man in Internet and I decided to try. To me spoke, that in your country of the man very decent, respect women and to drink alcohol a little.

it is very good. I have gone to club of acquaintances and the beginnings to look profiles.I very much was surprised when have seen such plenty profiles men which search for the woman!!! Really in your country so many lonely men?!!! It is very sad.:(

So many men are lonely and have no happiness in private life.:-((

I have accidentally seen your modest and sincere profile. I have very much become interested in you and have decided to write to you. I did not think, that you to me write. You at all do not represent as me it was pleasant to receive your letter.Well, I to tell it is a little about itself.As you already have understood my name is Mariya.

Masha, Mariya, - it is all one and too a name.Masha - so mum names me. This diminutively caressing name of my name.:-)I am 27 years old. I was born April, 20, 1977. I live in Russia in suburb of city Irkutsk.

For the information this city was created approximately 350 years back.

I never was abroad and in your country earlier.In mine profile I have written residence USA because the base does not accept my Russian postal index. Why I do not know. I work the doctor the cardiologist 2 years. My education: I have finished 10 years of school, medical college and medicaluniversity.As you see I studied much. My work consists in revealing and treatment of diseases of heart. Also I give out the receipt on medicines. Doctors as you understand work necessary for a society.Therefore I give all myself to this work. Besides till 24 years I all studied as this speciality.Unfortunately it prevents my private life a little.I am 27 years old and now I understand, that the family children and loving husband is necessary for me. My main vital principles it is honesty, kindness, decency under the attitude to all people, Tenderness and love and respect for loved to the man. I do not love lie and to not love false people. I do not respect arrogance in people. I think that the arrogance worsens to live to these people and environmental people. In people I respect honesty, compassion to poor people, love and respect for associates. Therefore I abuse myself if when that have thought of any person poorly.ok, that it is possible to tell about myself. My growth 5,5 and weight 105 lbs.I the blonde with brown eyes. I like to look comedies. Music I listen to anyone. But most of all I to love a jazz. For fun I to like to read books, to play table tennis, to walk with girlfriends. MY FAVOURITE WRITER PUSHKIN. STILL I VERY MUCH TO LIKE MARK TVEN! I DO NOT DRINK And DO NOT SMOKE. Drugs even never saw.

I studied the English language at school, but already almost all have forgotten.Therefore I shall use the program of the translator on a computer. And frequently I am terrified to translation quality of this computer program.I think, that sometimes I shall write itself and there will be probably Russian words.It because I and the computer program of the translator does not know all words in English. ok, my main hope and dream is search a man, who will love me and creation with him family.

I want to know all about you and about your life. As we live in the different countries at me there are questions: Are you ready to have the relation with a Women from Russia? As you concern to Russian to women. What relations we expect from our meeting in internet. Whether it is valid you are serious in intentions to find to itself the wife and it is not important in what country she lives? Or the woman living abroad is not of interest for you. Whether your dreams coincide with my dreams. Please to answer sincerely all my questions.

Please if you are not serious in search of serious relations that tell me it. I shall understand and to not take offence. And if you want that I shall be only your friend. I hope, that you understand my English. That I have much written that. I hope you to not get tired to read it.:-)) I very much wait your letter. Sincerely I hope that you appear the truthful and decent person.

Yours friend Masha

p.s.I hope, that you will like my photo.


Letter 6 when she told me she is in love with me:


Hello my dear friend Michael!
I all these days thought of you and about our relations.I am sure, that I have already found the man of the dream, and this the man is you! Now I understand that my life, nothing means without you, because I like you!!!I like you my Michael!I do not know, how differently explain this feeling.In your letters so many heat and cares, that it forces my heart to beat faster, and my feelings to you grows many times over and if further so will proceed, my feelings will leave from under the control and I can not live without you.When I began to correspond with you I had hope that at us with you all will be good. With each your letter I understood that I have found male which is necessary forme. I want to tell, that my feelings and the words in relation to you always were sincerely and I always understood that we put a lot of trust.Now I am sure that I can trust you. Sometimes just to hold the hand of that person you like can make all the worldly troubles disappear. A perfect evening for me is maybe taking a long walk with that special man in my life.I like you, Michael, and I want to say to you it alwaysIt is pity that only our letters connect us, I want to see you in realityI dream, how you meet me at the airport, how we search each other by eyes, we find and we rush in embraces each other.I want to meet you very much!I know that you too want it I have found sense of my life, I like you and I miss you my like Michael.My darling, on this I will finish my letter to you, I will wait for your nextmail with great like desire. You must know how I feel myself so happy, when I read your letters. Maybe someday I will be able to find all the correct words, to be able to tell you.I want, that these feelings were mutual and we could enjoy our like But in the meantime I do hope that you know deep within your heart that having you by my side is a gift more precious than gold. I will miss you, I want to be with you!
Yours Masha Korobova

Thanks to these black pages I was not scammed.

Michael

---
To send your own story, please click here
Click here to support Black List
READ ALSO: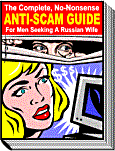 Met a Russian woman over the Internet?
Thinking about finding a Russian wife?
Russian woman wrote to you? Don't move any further until you read The Complete, No-Nonsense ANTI-SCAM GUIDE For Men Seeking A Russian Wife. Too many men were caught up in a scam and lost great deal of money - want to be one of them? Ensure your safety and peace of mind - read the ANTI-SCAM GUIDE.




Scam-free search - GUARANTEED! - Looking for somebody truly special but have had it with scammers and scam agencies? Let professionals to do the job for you.

The Universal Crib On Finding A Russian Wife - the most compressed, step-by-step guidance on finding, courting and marrying a Russian woman.
Dating Scams - The real picture of international introduction industry
Reliable Dating Services - where to look for a Russian wife
The shocking truth about Russian Brides - E-book by Marina Smiley. Find out things about Russian brides that marriage agencies will never tell you.
Why Russian Women? - If you decided to find yourself a Russian wife, you would be inundated with questions of the type "Why Russian Women?" from everybody you cared to share your idea with. Surprisingly, every Russian woman you are writing to will ask the same question: "Why do you want to find a wife in Russia?" After a while, you might start questioning your own sanity in doing the thing which everybody, including your dates in this Internet rendezvous, consider strange enough to request explanations. Here you will find some ready-to-use answers for your family, friends and Russian women you are writing to.
Cheap Russian Translations - Russian-English/English-Russian translation: fast and comprehensive. You are not sure she understands what you mean? Translate your letter to Russian! Reasonable rates and highest quality.
---

JUST RELEASED! New E-book by Elena Petrova:
"How To Find And Marry A Girl Like Me"
Comment from the reader:
"This may well turn out to be the best purchase I have made... I hope not too many of my competitors find this book!"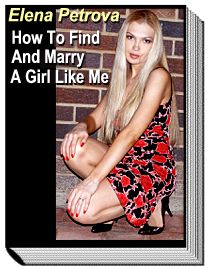 Discover how to find, court and finally marry a beautiful Russian woman!
This is the only book written by a beautiful Russian woman married to a western man - for more than 5 years! - and who is also the owner of a highly successful Internet dating agency.
Find out once and forever what Russian women are really looking for, why they are looking for it and how you can give them exactly what they want!
Get responses on your letters to beautiful Russian women - 9 out of 10, GUARANTEED!
With "How To Find And Marry A Girl Like Me" you'll learn knock-out techniques that will instantly boost your success rate in dating Russian women - online and in real life. You will have more beautiful girls that want to be with you than you can handle!
And not just ordinary girls! They will be beautiful, intelligent, but most of all - honest and sincere! You will be the one to take your pick!
STOP wasting your time and money in search for a Russian wife... Get it done - painlessly, easily, and certainly! Moreover, have lots of fun along the way!
Yes, you too can marry a girl like the one on the picture... Click here!
---
New e-book by Marina Smiley (the author of famous "The shocking truth about Russian brides"):

"Sex and Love With Russian Women"

Discover where so many guys fall short when visit their girlfriends in Russia;

Learn how you can dramatically improve your success with Russian women and win when others fail.

Most intimate questions answered by a Russian woman - Medical Doctor.
---
Comments, suggestions? We want to hear from you!
Click here to Contact us
Seek a reliable Russian Dating Agency? Why not check www.elenasmodels.com - RECOMMENDED
---