---
Ekaterina Sannikova (Yoshkar-Ola, Russia)

Well yes I have been scammed out of quite a bit of money. $2000.00 US. Is there anything we can do to stop this? I wont bore you with all the details or the emails from her but she is very clever. Goes by the name of Kate or Katia. She even covered her tracks down to the point of when her train was leaving. Be careful guys don't give up hope there has to be genuine ones there. Great site wish I found it right before I sent money instead of after. It will be the first one I join as soon as I can afford it. GREAT SITE. Anyway her details and photos are below.
Thanks
Greg

Her email: kamari1@mail.ru

Another email she is known by is rabbit21@rambler.ru; this is the one she used on the train to Moscow to catch the flight; her adress:
Sannikova Ekaterina
424028, Russia
Yoshkar-Ola,
Stroiteley 19-20
Sannikova Ekaterina
Letter 1

Hello my dear Greg !
Thank you very much for your letter in English. I like it very much. First of all, I would like to tell you that it seems to me that we start to understand each other better and better. I really like talking to you on the phone. You have a very male voice. I think, when we meet we will understand each other even more better. You have a very good sense of humor, I like to laugh with you, when you make some jokes. Thank you very much for your compliments. It is very pleasant to me to get them. But I hope, when we meet we will like each other even more, I do want to be with you. How is your flat? I wish I could be with you and help you with the repair of it. It is hard to tell you what colors I prefer, I want to let you choose them, and then when I come I will appreciate them and your perfect taste . I am sure I will like it. Recently, I have talked to my friend. She has visited Australia. She really has wonderful impressions on her tour. She told me that now she has become a professional in making the tour to different countries. She told me that she can help me with pleasure. The only thing she told me now that all the documents must be made here, in Russia. Send me your papers and I will make them ready here. I would be better if I will arrange al the papers myself, because people in our Embassy find always fault with the papers arranged abroad. The most important is that you must send me the invitation, the document about your earnings for last 5 months. As soon as I get the papers from you, I will start to make the tour and will discuss the question about the money. I think, it will be better if you chose the Speed post to send the documents to me, because it may take about three or four months to get them. I really want to go to the places you want to take me to. I think, everything that we will do together will be wonderful, everything will be special to me. I do want to be with you, to find my happiness with you. And I hope, that the arrangement won't take us too much time. I don't know if I have some photos where I am really ugly, even if I have them I don't want to send them to you, you must understand me. I want to be for you the most beautiful and best girl in the world. Looking forward to your letter
With tender
Kate
Letter 2
Hello, dear Greg!
Thank you very much for your letter and for the photos you sent to me. I was very glad to receive them. It seems to me that Australia is a big green paradise. I really want to look and explore the country myself. And I dream about the time when I come to you and we will be together. I know that it is not cheap. And I want to help you as much as I can. I want to start economizing the money. Of course, I can not get much , but at least, something is better than nothing. Do you agree? I hope, everything will be fine. As we agreed send me the documents to my post address and I will start to prepare for it. You must know, that it is a long proses and in Russia it takes really much time. So, what if we begin right now? Here is my post address:
424028, Russia
Yoshkar-Ola,
Stroiteley 19-20
Sannikova Ekaterina
I phoned some agencies and they told me that it would be better to bye the tickets here, in Yoshkar-Ola. You know, I will have to pay much for the services of the agency. By all means I will pay less if I do everything through one agency. I am really looking forward to the time i fly to you, I think we will have unforgetable vacations. I really like you and I pray God to make me happy with you. I know that we can be happy together and there are many opportunities for me to find a better life. I want to be happy with you, my dear. I hope, you are honest with me and will never give me up. I believe in you
With tender
Katia
Letter 3
Hello, my dear Greg! Thank you very much for your letter. It was in Russian. It was very pleasant for me to get it. But I couldn't open it. Maybe, you send me the same version in English? I really want to read it:). Since I did not read it I can not answer it now. But I have some news for you. I have talked to the agency , the manager of it, he told me that it is difficult to make the tour to New Zealand. It will take some time to do it. He advised me to begin it right now. So, I think he is right, otherwise it will be our head ache:). And one more thing. I can not use the ticket which you want to send to me. And you have to send the money for it. Now the situation is very difficult with the country, I hope, you know the latest news about Embassy of Russia and America. The confrontation is very hard. I was explained that I wouldn't be able to get Visa with foreign ticket. I think, we'd better obey the rules of Russian government. I dream about the time we will be together. Now everything is shining the spring will come soon. It is a very romantic time. During this time all the dreams may come true. I do want it. I wish my dream will come true soon and I will be with you and a beautiful garden of love will grow for us to be happy. Did you get the papers you wanted? I hope, yes. Waiting for your call and your letter
With warmth
Katia
P.S. I think, you need my full name.
I am Sannikova Ekaterina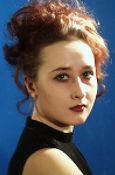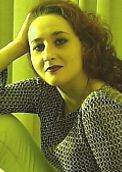 ---
Irina Chikalina aka Tamara Repina (Irkutsk, Russia)
I am 50 and wouldn't consider myself stupid or desperate. I placed an ad
at a global matchmaker site. The website, through I was contacted is: www.oneandonly.com I wasn't specifically looking for a bride or a Russian bride. The ad was only 2 days old and I got a response from this "Irina". After the 3rd or 4th letter she was obsessive about her "love" for me. She never got to the point of asking for money, but I could see it coming. I countered with simple reason that I was too old to start a family, and explained a time line to her in detail. (she was 27). This sort of sudden "love" is not normal or healthy. I started browsing for information and found this web site. I was urged to see this "blacklist" section ."Irina's" photos were there
under "Tamara Repina". The style is the same, and so are the photos. I was
lucky in that I sent her no money and blocked her address. I did get a phone call from her in the wee hours of the morning, once. Reading further down the blacklist, I found letters from others that match the ones I recieved almost word for word. The poem is the same, even the name of the Rottweiller!
Dennis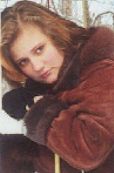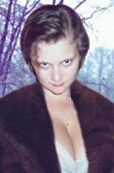 ---
Irina Kondrashova (Luhansk, Ukraine)
I'm a single male, white American 47 y/o. Building Inspector. I've been writing Irina for about 2 1/2 months now and thought she was a real sweetheart, and for real. I originally found her on Absolute Agency #A728921. I've been planning a trip to Ukraine for about 5 months now, going August 15 for 2 1/2 weeks. Irina sounded real sweet and kind, (my kind of girl) anyway she ask me to help pay for English classes, so I did. I sent her $250.00 Western Union on July 12, ( I wanted to be able to talk to her when I got there) and haven't heard from her since. I wrote the Agency and ask if Irina had been taking English classes? NO Response from the Agency. The Agency is Rondez-Vous@ukr.net. I have written the Agency about 5 times now asking about Irina and NO Response! Yesterday I was going through some of me old letters from her and found a letter that said; Fri, 1 Jun 2001

Dear Sir,
We would like to inform you that the girl,
you are corresponding with, is a user of our
translation and computer service.
Agency "Rendez-Vous"
---------------------------------------------
Hello my dearest John!
Thank you very much for your letter. Dear, I can speak English, I can communicate, but it is difficult for me to write in it. Kiss you Irina
Boy do I feel like a fool now!
This was Irina's first letter to me;
Hello dear John,
It is so nice to received your letter. I think that you are a nice person on the inside. I also would like to have your photo. Can you send me one? I am interested in finding out all about you, and I will tell you anything you would like to know about me, all you have to do is ask. I know it can be difficult learning about someone through letters, being far away, and I believe that love can conquer all, so a few thousand kilometers cannot stand in it's way. What would you like to know about me? I am 21, my birthday is April 20. I am single, My hobbies... I enjoy movies and games, I love to swim and to bicycle long distance. I also enjoy reading, I have read books by foreign authors, but they were translated into Russian ( I don't know English well and have to use a translator service now. Is it a big problem? Let me know, please. Ok?) I teach myself many things, and lately I have been trying to teach myself to speak English. It is very interesting for me, and I enjoy it although I don't think I'm very good... perhaps I need a tutor:-) I listen to all kinds of music, I like many kinds Pop, Rock, Classic and I love to dance. I don't go to many clubs , but sometimes my friends and I get together and we all go dancing. We also go to comedy clubs to watch comedians. I have a good sense of humor, after all if we can't have a little fun in our lives what good would that be? I have dreams about finding my soul mate, and sharing with him everything in my life. I would like to read of your dreams, and to know a little of what you want. Maybe, we have much in common, I think, and our dreams are the same. Well, I feel that I am going on and on, so perhaps I shall end for now. I look forward to your reply, ask anything that you would like to know, I promise I will answer. I hope this letter finds you and your family in good health, and that you stay warm and safe.
Kiss you Irina
Now my brother sent me a profile from Svetlana Tkacheva (Agency Socrat, Socrate2001@ukr.net)
From Absolute Agency # A933665. Same girl!
This is Svetlana's first letter;
Dear Sir,
We would like to inform you that Svetlana,
the girl you are corresponding with, is
a user of our translation and computer service.
Agency "Socrat"
-----------------------------------------------
Hello dear John,
How are you? I hope you are very well. I am very interested in knowing more about you. Let me tell you some things about myself: I am 24, single, I am from Ukraine, having never been married. When I marry, it will be the first and only time. My personality is very calm and easy to be with. I prefer to act with people in a peaceful and intelligent manner. I like to look at the world with an open mind. I try to imagine the world, through the eyes of others. I was brought up with Christian values and I have respect others. I have many interests that include nature, sport, reading , animals, and movies. I also enjoy music very much! I see my future husband and myself as a partnership between equals. All important decisions would be discussed and decided by both of us. And when it comes time to have children, the responsibility is also something that we will both share. I would like to have two or three children. What about you? I think children are fascinating! And though I realize children are a lot of work, I think they would bring a great sense of satisfaction. I am looking for a man who is not afraid to display an emotional personality, especially in times of joy and sorrow. (I think mostly about the times we will smile and laugh and cuddle. But I also wonder about the times I may have to wipe away your tears and hold you very tight. I also think about the times I may need you to wipe away my tears. I think about a time when we may disagree, and I wonder how we will resolve such things. I hope these times would end with both of us laughing. I dream we will both keep our minds open, and we will respect what the others thinks, and even if we did not agree, we would think of the others thought as interesting, maybe) So tell me, What do you think? I will be waiting for your letter impatiently. Hope to hear from you very soon. I send you my picture and will be happy to have yours. Ok?
Kiss you
Svetlana

I'm hope this will be made public so no one else will be taken the way I was.
I have notified Western Union about this scammer
Thank You
John Tanner
Letter asking about money for English classes; July 2, 2001
Dear Sir,

We would like to inform you that the girl,
you are corresponding with, is a user of our
translation and computer service.
Agency "Rendez-Vous"
---------------------------------------------
Hello my dearest John!
I was very happy to hear from you. Dear, I am so happy that we have found each other, and I really hope we will meet us one day. thank you very much for your care about me. I will be just happy to learn your language to be able to communicate with you directly. The intensive English classes with everyday 2 hours lessons cost 250$. On the last weekend we went with the family out of town, the weather was fine and we swam in the river, sunbathed. I wish you were with me. I am sure, we can be right for each other and can be happy together. I will be happy to live with you in your country. Bur of course we should decide it together. Dear, I want to tell you honestly, that I don't write to other men. yes, i have received letters, but i didn't find anything in them. Thanks a lot for your honesty. But I don't know what to tell you about your correspondence with other women, I think, it a little bit strange. I hope you will marry the one at least.
Hope to hear from you soon.
Kisses Irina

Rendez-Vous Translation Agency
st. Dalya 48
Luhans'k
Ukraine 91000
Homepage: www.randevu.s5.com
E-mail: office@rondez-vous.itgo.com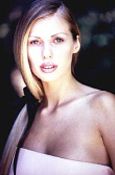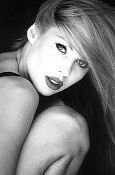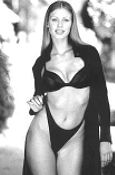 ---
Iryna Zverava (Minsk, Belarus)
I wish I'd seen this website prior to corresponding with a certain "Iryna Zverava" who claimed that she was "24 years old. I was born and have lived in Minsk, the capital of Belarus, on the 7th of November 1976". I have attached four pictures that I was sent that purported to be this Iryna. The story is the same as many on this web site. I was dumb enough to think that this person had "a girlfriend" who worked in a travel agency and another who worked in a bank! How convenient! I was even given the phone number of "Golden Travel Agency" which I called and spoke to someone who pretended to be Iryna. Next time she wrote:

"The agency book a certain amount of the tickets for every flight. And
as soon as the cost of the tour is paid the ticket will be registered on my name. It's necessary to have a ticket to start an opening a visa process. It takes about 3 weeks to receive a visa. So as soon as the tour are paid as soon I'll receive a visa. So, at first, It's necessary to pay the money for the tour. There are two ways to do it: You can send the money to the account of the travel agency or send through the Western Union on my name (My full name is Iryna Zverava). Do as It's easy and convenient for you.
The agency's account is:
BENEF.BANK CODE: ALFARUMM
BENEFICIARYS BANK: ALFABANK, MOSCOW

BENEF.BANK ACC: 890-0061-537
INTERN.BANK CODE: IRVTUS3N
INTERMEDIARY BANK: BANK OF NEW YORK, NEW YORK

BENEFICIARY ACC: 30112840600000000130
BENEFICIARY: International Media Bank, Podgorica

BENEFICIARY INFO: For further credit Account R-8990-7765-1442 "Golden Travel" agency

Try to say me quicker your opinion about it. Is that Ok for you? I hope, It's Ok and we'll meet for Christmas. I have already started to collect the necessary documents. I bring the papers about my parent's salaries. It's necessary to prove that I'm able to pay for the tour and will be able to support myself during my staying in the USA. But I think that if the tour is paid of I'll not have any problem with my visa. My friend assured me that I'll receive a visa without any problem. It's very seldom American embassy refuse the tourists in the visas before the Christmas. It's necessary to be a criminal. :0) so I think, we'll meet without any problems."
Of course, a couple of days before "Iryna" was due to travel came the bad news:
"I went to the travel agency and they said that they did all their best , but they advised me not to hurry up , because the result will be negative. Simon, I am so sorry about all this. Unfortunately there is no other solution. Today is the 23 - I am already late! I am in a shock about everything. I am sorry for this."
This was the last email I received. I tried calling the "travel agency" but every time I got a message in Russian. I assume it was saying that the number was no longer in service.
Thanks for putting this web site together. I don't feel quite so bad knowing that this is a common occurrence. Since then received other emails asking for money. One, anjelappp@gmx.net, told me she needed $900 to treat her mother who had been involved in a car accident. I wrote back pretending I didn't trust wiring money and I offered bring the money in person! Of course, I never heard back! I would be pleased to answer any questions people may have.

Sincerely,
Simon Holden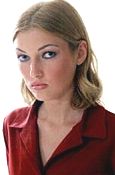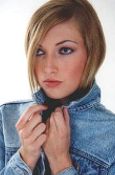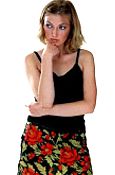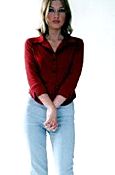 ---
Ledi aka Elena Solovyeva (Novosobirsk, Russia)
Hello, My story will be short. I only wanted to pass along the photograph and some general info about this girl. I found her at Absoluteagency.com. She goes by the name Ledi but will tell you her real name is Elena Solovyeva. I don't know if it's real or not but that's what she says. She claims to be from Novovobirsk, Russia. She claims to have a way to get fiance visa and papers quickly. First asking for $250.00 then changing to $400.00. Then when I so stupidly sent her (or whoever it is) the money guess what? She had to go out of town......then was in a car wreck-----a friend (supposedly) wrote to tell me about the "accident" and said that Ledi would write to me as soon as she was out of the hospital. Not another word from her after that. Her email address is m_ledi@mail.ru as far as I know this address will still accept letters. And money offers of course! Drop her a line just for fun. I write every once in a while just for grins. (never hear back though) It sucked at the time happened but fortunately I can laugh at myself about it now. Hopefully I'll find a "real" girl soon. Good luck to all of you!
Tim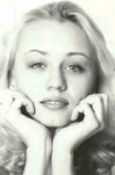 ---
Maria Rogova (Kaliningrad, Russia)
I am a divorced male age 32, no children. I was sent an email that referenced my profile on kiss.com. Here are the letters and pictures of Maria Rogova, along with her reported address but no telephone number.

Letter 1
Hi my friend !

I am very glad that you answered to me. I like your profile on kiss.com very much and I have decided to write to you. I search for the person with which I could conduct all my life. My intentions are very serious. I live in Russia in Kaliningrad. It very much far from Moscow. I already have despaired to search the person for life. I shall tell to you about myself. I am not very tall 168 centimeters (5,6"), weight is 58 kgs. I'm 27 years old. My birthday on 26 june. I was born in 1973. I was never married. I have education of the cook and higher education on a speciality economy and marketing. But in the present time I work by the seller-consultant in a tradehouse. I sell the clothes for women and children. I sell the cosmetics also. I haven't any children. I have grey eyes and brown hair. I think that you will estimate my sight on a photo. I like a sport. I often go in an exercise room and in fitness club. I like to keep myself in good form. I do not smoke and I do not drink alcohol. I consider that my body must be in good health. I hope that you agree with me. I hope that my photo will be liked by you. If you can please send me yours. I think that appearance is not most important, but it is very interesting for me to see your photo. I live with the mom and dad. I has said her, that today me has come letter from American man. She has said what is it well, but it is impossible to trust at once. We should understand each other. We should pass long way that in the end we shall understand together whether or not. But I think that we will good know each other! I shall help you to study about me. I not so well speak English. While I shall use a translation program to understand your letters better. I think that you can understand all my letters. If something will not be understandable to you, say to me about it. Your letters will help me to learn your language better. I have no the home computer, because it's too expensive for me. I shall write you from the Internet-cafe. It's called 'National'. Some words about about city I live in. I was born and has grown in it. The population of city about one million persons. A climate is damp, marine. Distance from Moscow up to Kaliningrad about 1289 kms. I don't know difference in time. Here is the Baltic sea. I love my city. I like to go for a walk alone streets, to visit museums. We,with the my girlfriends, often visit cinemas and we look various movies. I like comedies, and movies about life. My girlfriend has advised me to look for someone unique in Internet for me. I did not expect that you will answer me. I thought what is it simply joke. I hope that we Will learn one another better by the computer. I want to know more concerning you. Tell me about your habits, friends. Tell me where you live. What do you like? Tell me about your life. I shall wait for your answer.
Your friend from Russia.
Maria.

Letter 2
Email Header information:
Return-Path: <mariarus@fromru.com>
Received: from mpool.relinfo.ru (relinfo.ru [195.161.208.129])
Received: from gsef (dialup38.mari-el.ru [195.161.214.38]) (This is the
actual computer IP address, and its still live at certain times, you can do a NET SEND to it!)
Hi.This is Maria. Excuse me that did not write to you long but My server was broken. I could not receive Your last letter. But now all in norm and I wait for your letter. Write me soon. I will write you more.
Maria.

Letter 4

Hi Chris!
It's wonderful to receive the letter from you. Today, after job I hurried up in the Internet-cafe to see your new letter. I hope that I write enough clearly and it is a lot of about myself. I'll try to answer all your questions. If I not answer your question maybe I can't understand it, don't take offence at me and write it once again. I think that with each new letter we become closer the friend to the friend, I hope that you feel it. I think that you understand that main purpose in my life is to find that unique, my heart with which I can go through all of life together to meet pleasure, occurrence of children, to grow them to surround with care to present them happy childhood, so, I dream of it!!! I think that you understand me and your vital purposes are similar to mine and I in shower hope that sometimes our hearts are meet. I want to inform you a little about my life. As you know I work by the seller-consultant in a tradehouse. I wake up at 7 o' clock a.m. prepare myself breakfast. At every morning I eat a sandwich and I drink coffee. Then I meal on job. I meal by the bus. Sometimes there are very many people on a stop and I can not get in the bus and I have to go on foot. Generally I like of walk, but I like of slow walk when it is not necessary where to hurry up, to pass on familiar to streets to go to the girlfriends in the visitors to sit and drink tea to talk. I like to be in company of the good friends. With them it is possible to decide any problems, to ivide(share) pleasures. Always it's pleasant to surprise the friends, to see at their reaction. How I'll live without the friends? I work from 8 o'clock morning and till 6 evening. My job on the one hand interesting, but difficult. At us the very bad chief, he constantly swears. It is very unpleasant. But I always like to work and irrespective of my mood I should on 100 be given back to job. The job made with love brings pleasure to the people. I am always pleasant to see the smile on a persons of our visitors. In the evening I go in the Internet-cafe to look the mail, but it sometimes not works, therefore if I'll write to you in current of one - two days don't worry necessarily I'll write to you as there will be an opportunity. A day off at me Saturday and Sunday. In target I like to read the books, to go for a walk along my city, to visit a cinema. Except for that in days off a lot of time I spend on home jobs. I like to prepare houses, I like to please close preparing them any tasty things. In the afternoon in target I am cleaned at home, I like when the order of a house. I do not like when are scattered thing, lays on shelfs dust, the dirty linen in to basket,in a bowl not we utensils, you agree with me lays? We owe to trust one another, because without trust it is impossible to live. I earlier too have trusted in the person and he has deceived me. I want to tell to you about it I was madly in love with the person, and he pretended that he likes me. Actually he scoffed at my feelings. There was such, that he nominated to me meetings, promised to come to me, I waited for him, and he did not occur. Sometimes I cried, because he did not come in the evening, at us in city in the evening I am not so quiet also worried for him. And he, came in day or through two and spoke, that he has businesses and that he likes me. And then I have found out through his friends, that at this time he had a good time with what that by the maidens. He did not like to work, he often borrowed(occupied) from me money, promised to give back, but never returned the debts. And I forgave him, because liked. I even hid it from the mom. Some time has passed and I have seen him in the street with other woman. They were kissed. I did not remember as has come home. I cried all night. I had depression very much long. I began much to work and began to overlook(forget) this villain. After that case I have decided, that I'll never deceive the in love people, I shall never scoff and to play by feelings other people. Further I have decided that I shall search for the kind person to have family and children. This person should be more senior than me, that he could learn me and my future children. I'll ask to tell you about that as you spend the day, than you are engaged, what is your hobby??Tell to me about the friends, about native. I with impatience wait for yours next letter, your letters for me as a beam of the sun among day. Your letters heat to me to shower. Today since morning bad weather, blows strong cold wind, mood bad and only idea about volume that I'll see your letter warms me this day. I want to tell you about childhood. I was born on June 1, 1974. The mother and father very much liked me and brought up me rather strictly. But I am grateful to them for it. I had many friends and we with them played in a court yard ours at home. It were the carefree years, we lived and we did not have those problems which have appeared when I has grown. I studied at school on good and perfectly. I always remember my first teacher, she has opened for us a door in knowledge and due to her I can freely communicate with the people. I am indefinite Is grateful to her for that feeling of human kindness that she to all of us has imparted. As I grew at me the outlook I varied opened for itself very much. There were also tragical the moments in my childhood. Once we with the parents were on a beach and I saw as the boy has sunk. He athed at the large waves, the large wave on him and he could not come up, has choked and has gone. My father has rushed in the sea behind him, has pulled out him, but already than it was impossible to help, he was already dead. It was made on me by(with) such impression and I some days cried. It was very a pity. Even now, after there are years, he to dream a lot of me and at me from eyes flow tears. Ours boys were cheerful, they sometimes offended us, but made it nor for evil and we with girlfriends on them not hardly took offence. But in due course our boys, as well as all the man's population of Russia, have begun to drink, to smoke, many have begun to steal and then have got in prison. But I do not condemn them because the realities of our Russian life are those. And with girlfriends we up to this time we are friends and sometimes we meet we talk, we listen to music. I like various music. Sometimes, when I have a good mood I listen dancing music, and when I am sad I like to listen to slow music. I think that with each letter between us there is something greater than friendship. We begin more to trust one another, we become more frank, you agree with me? I think that our showers approach. On it all I should go home. Yours close friend....Maria.
p.s.
I know as to play a guitar.
But I play as beginning. I like serious music.
I listen Led Zeppelin sometimes.
My favorite is "Baby I'm gonna leave you".

Letter 5

Hi my liked friend!!!
I am very glad to receive your letter. I hope that you can understand my letters. Today at us solar weather and it is very wonderful.Today I worked and had The conflict to my boss. He has shouted at me and I was upset, I all day went with bad mood. But it that at me is pleasure in life it is yours letters. Yesterday with me there was a unpleasant case. I went for a walk in the evening with my dog and any unfamiliar people stuck to me. I have cried, but nobody has come to the aid. Only mine correct Poborol was threw over them. They were frightened and have escaped. I have gone home and has told to all parents, they have begun to calm me but I all night could not fall asleep, I was in a shock. Today I went in church and only there to me became quiet. I Ortodox christian and always I go in church. Our churches very beautiful, walls and ceilings are ornamented by icons, candles everywhere cost(stand). In church so quietly and there I always I find a peace of mind. To me to like to listen as sing songs, as the church employees read Prays. I like your letters, when I read them I feel as we approach. We are far apart. But it does not prevent our dialogue. Though I already thought, that it is absolutely enough of dialogue through the Internet not to understand each other more strongly. What you think of it? I would like to see you not only on a photo. But I not I know as it probably, because we very much far apart. I liked you and I think that our attitudes(relations) can be deeper. I do not know as to explain it by words. I simply feel it. Your letters do(make) my mood high. It becomes joyful on soul to me. I want to ask you to write to me your address, I am possible I shall write to you the letter. I do not remember you wrote whether or not, I can not save your letters, because them can to read somebody another. My address
Russia
Kaliningrad, 236001
Yaltinskaya steet, 34-15
But I think that it is not necessary to write to me because can steal the letter, and would not be desirable for me that someone knew about that about what we with you we think. I hope you understand me. I shall wait your letters and I hope that you will write to me soon. I think that sometime we shall meet. I would like to arrive to America, to meet with you to see as you live. I want it because I begin to understand that between us there is something greater than the friendship seems to me what is it feeling trust to each other, it seems what is it love, you seem that to me too feel it. I wait for your answer, it is very important to me to know that you think of that that I have written.
Take Care & God Bless. Maria.
p.s.
Yes I can see your foto. You are VERY athletic.
You looked as a real man. You asked who takes my foto.
This is my girlfriend.. She is a good fotographer isn't it? J
Letter 6
Hi my love!!! How your day? At me all is good! I have received from you the letter and the life for me was filled with sense. I begin to understand that my life it is not meaningful without you, because I feel as my Heart is filled with a heat when I think of you!!! I Spoke with my parents, they only Were glad for me, the mother thinks that it and there is my happiness. You mine most the remarkable man. I very much want to meet you. I think that you the man Which I searched all life for! Today all day thought only of you, about that as we with you Let's meet. I represented it to myself, as you meet me at the airport as we We search each other by eyes, we find and we rush in embraces
each ot her. I have decided(solved) to find out as probably to us to meet. My girlfriend works in a travel company. I have asked her that it is necessary to do. She has answered, that the tourist visa costs 280$ us. Today perfect summer day, But I am sad because we with you so far apart. Between us huge ocean, but in the ideas I by itself. I to love you and for ever in yours ideas. I need you! Tomorrow I find more particularly about the visa. I shall inform about results later. I have girlfriend, which has left in America, she lived one time with groom in New York, but later they have moved to other city. I for a long time did not receive news from her. I have told about us with you to the girlfriends, they are very glad that I have found happiness. Certainly they will miss for me as well as My parents. Me seems that we already on so much are close with each other, we as if The husband and wife only, unfortunately, divided(shared) in huge distance. But not looking on it we should continue to love each other and to trust each other, do you agree with me? I that can not make with self, is love, she sing in me as bird in The summer sky. I think that it is destiny it can be dangerously, but I am mad Is in love with you. Your letters are filled by such heat and care, and at me Tears of pleasure sometimes run. I think " My God, a thank that you have helped me to find My unique(sole) and I hope that we shall incorporate to it(him) and we shall be happy. I dream of our meeting and about that as we shall go for a walk with you, to keep for hands, as we shall look after one after another and as we shall make love. I LOVE YOU In MY HEART, In MY thoughts. I dream as you Will carry me on hands, to embrace me, to kiss and caress my gentle body. It is a pity that only dreams and whether it is fated by him(it) to come true the God knows only. I hope to see your letter soon. Yours
Maria.

Pictures of some pretty woman (sigh):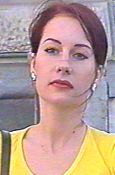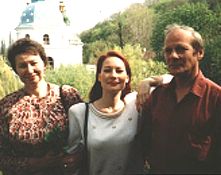 This scam rang a few bells in my mind.
#1 It progressed at a rapid pace in the letters.
#2 There are hardship spots in the letters that are begging for you to ask
the question, What can I do to help?
#3 The reply letters did not address my responses, except for a tiny bit of
p.s. at the bottom, so I was more suspicious.
#4 Finally the last letter seems very strong and the first hint of money is
mentioned $280 for tourist visa.
#5 These are the exact letters from previous scammers listed here, final
nail in the coffin.
#6 I was very paranoid from the "get go" I am glad I am not out anything
besides some "hope" and a little less "trust" for the next time. If it was
not for this site and the "Black List" I might have been taken for far
longer, or even have sent some money.
One thing is strange about the girl in the photo. In my last email, I specifically asked to see a picture of her with her parents. The last email I received before finding out it was a fraud contained her picture with two elderly people. This picture nearly convinced me she was real. I am very glad for your website, I plan on working through your website in hopes of finding a Russian woman who will like me. Thank you very much for having such a wonderful and informative website.
Chris
---
Marina Klimova (Tyumen/Russia)
I was contacted by Marina via Kiss.com. I suspected a scam right away since she requested in her message to me that I reply to her email address klimmar@rbcmail.ru instead of sending a message through Kiss.com. The other thing that made me suspicious is that she removed her profile within a couple of days of my receiving her message. She used EXACTLY the same messages as used in the listing for Tamara Repina (Yuzho-Sakhalinsk, Russia). This was especially funny since the date she gave me for her birthday in the first message was different from one listed in one of the letters. I played along with the messages until I finally received her request for money. Her first letter to me on Kiss.com and the request for money are below.
It seems that there is a definite ring working in Tyumen based on all the other listings.
Letter1
Hello!
How are you? Are you happy, is there a smile on your face? I am happy for you, but I myself feel lonely without you beside me. My name is Marina. I was born on the 10 August in 1974. I live in city of Tyumen. Nature is so amazing and beautiful in our region. By nature I am communicative, cheerful, honest loyal, sensitive and optimistic. My main life goal is to create a happy, united family with a faithful, honest, sincere and loving man. Family means a lot to me, and it is my main priority in life. For me the word "family" includes a man who can make me happy, home comfort and tranquility, quiet romantic evenings spent near the fire-place, noisy parties for friends and travelling for summer vacation. Most sincerely, Marina.
P.S. Only necessarily write to me on mine present e-mail: klimmar@rbcmail.ru
Money request letter
Hi my love Jon!
Today I have for you very joyful news, I called to American Embassy and has learned that the visa is really cost 270 US dollars. This is cost of the visa which called B-2. This is the visa of the tourists or visitors. I learned about other kinds of the visas, but me was told that the visa B-2 is the most suitable variant for us. Besides I was told that it is possible to prolong it if it will be need, therefore I agree with them completely. But unfortunately I do not have such money. As you probably know in our country a very awful condition of economy and people are not payed the money for vey long time. Certainly it is a shame, but I am compelled to ask you these money for us to meet. If you can send me this money through the system Western Union. Money must be sent for my name to the address branches:
TUMENENERGOBANK
145,RESPUBLIKI STR
TUMEN
625026
RU
MARINA KLIMOVA
When you will come to the bank, there to you will be given the Money Transfer Control Number(MTCN) which consists of 10 figures. You should send me these figures which will help me to receive this money. The system Western Union is the most reliable system money translations all over the world. It is safe and quickly. You can ask if I know so much about this system. This is explained by fact that one of my girlfriends works in this bank. I am very glad that you want to see me, unfortunately, there are necessary money for our meeting, but money is only paper, main that we shall meet with you. We should trust each other because we love each other and we soon will meet. I called to a uncle in Moscow and he has told that he can find the ticket with the discount for me, but for this purpose it is necessary to know where is the nearest international airport to you. Yesterday I saw sexual dream about us with you, it was very much excited and I want to tell it to you. I dreamed as we we meet with you, as you take me to hands, we go to you home. At your home we go at once to a bedroom and you begin to undress me, our hearts are beaten synchronously, we are passionately kissed and you begin to teach me to all pleasures of sex. I love you and I begin to understand that love this such strong feeling, I am glad that I could test it due to you.
With love forever yours Marina.
I never sent any money and hope that this will help others avoid the scam. A couple of her photos are attached.
Jon
Washington, USA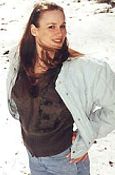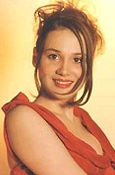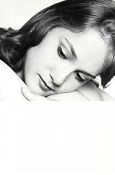 ---
A little while ago, I sent you a report from a woman called Tamara Repina (Yuzhno-Sakhalinsk, Russia). I was contacted by another women named Marina (no last name) email klimmar@rbcmail.ru. Except for the picture, the email she sent me is the exact same as one Tamara sent me. Enclosed are the 2 pictures she sent me. I have reported to the Web personal hosts.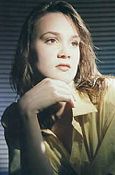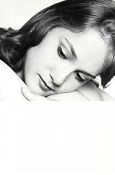 ---
Natalia Kuvshinova (Samara, Russia)
Hey, I'm a 34 y/o single male. I was contacted by her and was sent the same
letters as Michael was and in the same order. I was also sent the same
pictures plus a few extras. I never sent her money and she finally gave up I
guess because she finally stopped writing me after about 20 letters back and
forth. That little #!@&*%!!!!!!!!! I was really falling for her but I played it out as long as I could. I figured that If she really loved me she would stay in touch with me whether she got money or not.
Pyrosyrus
---
Natasha Kuvshinova aka Natalia Kuvshinova, Irkutsk, Russia
I am a single male parent in American raising a 12 year old daughter. I placed a personal on Match.com and was immediately contacted on June 18, 2001 by Natalia@talkmatch.com. I responded to her and we corresponded daily. Her last request to me for money was dated 7/20/2001. I sent her no money, however I did send her my last correspondence on 7/23/2001. Natalia/Natasha wanted money for visa. I had previously checked on INS web page. I was aware a visa was unavailable for her. I also found her picture on blacklist. I played with her scam for 3 weeks and frequently wrote that I loved her also. In her E-mail I noticed quickly she does not answer questions you ask. The woman writes a very warm letter and is most convincing. I have found she operates under numerous alias names and also has numerous addresses. In addition, as the correspondence continues she sends more pictures. The longer she has corresponded, the hotter the pictures. Some are very high quality studio quality portraits. If she wasn't a scamming tramp, she could park her shoes under my bed whenever she pleased.
Thank you for providing a valuable service not only from the American single
men, but the honest Russian ladies as well.
Richard
electritek@aol.com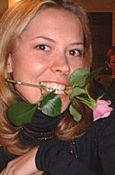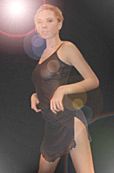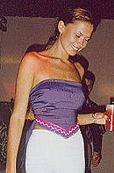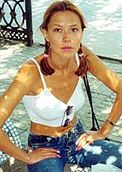 ---
To send your own story, please click here
Click here to support Black List