By Katerina Stewart
Hello, gentlemen!
I am a 27 y/o Russian woman engaged to an American. We met each other on an interest group chat, so you can see it wasn't a marriage agency. We grew as best friends, then felt that special emotion when you can't get enough talking for 10 hours a day. A year has passed, I am still waiting for my visa to be approved, my love was divorcing his former wife (that has left him with nothing, speaking of American women).
The reason I am here is that a friend of my husband (let me call him like this), has decided to marry a Russian woman, thinking they all should be as nice as me. My husband is 34 while I am 27 and somehow looking 17 (hope I don't sound like that :)), while this friend in America is 48 and also wants a young woman. He got some ads of Russian women, and I could tell pretty easy it was all scam. Can I share my opinion with you, speaking from a point of view of a Russian woman, and I hope mature enough.
Trust me, there are many hints that you can see but still can't because of difference of cultures. Although scammers know this and try to be careful.
First of all, an average girl can't speak English professionally unless she's a graduate of a Foreign Languages College or has lived abroad for years. Be VERY careful on that. If she does, then she's using a translator, and you will end up with someone unable to understand you on the phone.
Don't trust pitiful stories this easy. If she tells you she's a manager in a small bankrupting company and she speaks professional English, then she's not.
The problem with looks (and sex) can be solved pretty easy. HAVE her take a webcam and get on any program where you can see her.
I have read here that one American man said that a real Russian girl would never ask for money. He was perfectly right. She would rather starve. I and my husband have 10 hours time zone and we absolutely HAD TO talk for many hours a day. I worked as a translator, and as I was about to switch jobs, my husband asked me not to do it. I have a daughter and parents to support, so eventually with all his eloquence (and my tears) we agreed on his help of 400$ every month, because this is what I earned before. I am sure he can prove how tough it was for him to get any information if I was through with the money or not. And I can't explain how many complaints I had to hear from my mother on my "greedy nature" etc. Only now she understands how much we love each other.
And there's a special comment, gentlemen. I hope it won't offend you much. There is a very reliable way not to get scammed. If you are 50, then look for a woman not younger than 35. I understand that you don't want to lose an opportunity to be with a young pretty woman, but then you should be really sure in her nice intentions. In Russia women in their 30s are so beautiful! They belong to a conservative generation and they would love you for who you are, not for your American passport and property.
Reading these letters I had a strange feeling. If it was me corresponding with those girls, I would never have answered first time. Such empty, stupid, ridiculous letters. They were falling in love with you in a heartbeat... I hope you are looking for a life partner, not a brainless doll. What about Russian charm, faithfulness?
I could tell much more here, but I would save your time. I went through many letters written to my husband's friend saying "this girl is real", "this one is not", "ask her this question", "let her prove this". It's always nice to trust, but falling down is painful.
And my best advice - be ready for search of years, get on interest group chats where women speak English (otherwise how are you going to understand each other? Beautiful face and nice intentions can't substitute compatibility). Wish you good luck!

Katerina
ANTI-SCAM GUIDE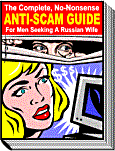 Met a Russian woman over the Internet?
Thinking about finding a Russian wife?
Russian woman wrote to you?
Don't move any further until you read The Complete, No-Nonsense ANTI-SCAM GUIDE For Men Seeking A Russian Wife. Too many men were caught up in a scam and lost great deal of money - want to be one of them? Ensure your safety and peace of mind - read the ANTI-SCAM GUIDE.
NEW!
Angels in Russia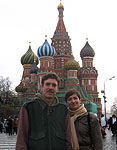 There are probably a few hundreds of Russian dating scammers on today's Internet - but there are also thousands of real Russian women with usual women's dreams of love, marriage and family: A true-life Story of Dan and Val, who met each other over the Internet and fell in love: "I subscribed to an internet dating service a couple years ago, expecting to only communicate with American women. I did that, met a few, had a girlfriend from Germany for about a year, but I also received a couple interests from Russian women (which turned out to be scams). They intrigued me enough to make me wonder if I should look outside our country, Russia in particular..."
READ ALSO:

Scam-free search - GUARANTEED!

10 simple anti-scam tips from a Russian woman

Men, stop breeding Russian scammers!
Russian dating agencies - how do they make their money?
Black List - list of individual scammers and disreputable agencies introducing Russian women for marriage; real life fraud stories.
Reliable Dating Services - where to look for a Russian wife
Why Russian Women? - If you decided to find yourself a Russian wife, you would be inundated with questions of the type "Why Russian Women?" from everybody you cared to share your idea with. Surprisingly, every Russian woman you are writing to will ask the same question: "Why do you want to find a wife in Russia?" After a while, you might start questioning your own sanity in doing the thing which everybody, including your dates in this Internet rendezvous, consider strange enough to request explanations. Here you will find some ready-to-use answers for your family, friends and Russian women you are writing to.