Your information unlocked the process for me
A true-life story from Frank and Ludmila
Elena,

I simply want to share with you my excellent success story in finding my "other half" since it was your website and information that unlocked the process for me.
After wasting 3 months and a few hundred dollars on E700.com, I found your website and knew immediately that it offered very good information. I signed up for your services and was very pleased with the ladies I saw there. I also signed up with two of the other sites that you recommended and eventually found Ludmila on
Kiss.com. She is absolutely everything that I was seeking in all of my major categories. To top it off, our personalities are very similar, and we have already grown very comfortable with and very committed to each other. In fact our relationship has grown consistently stronger after my visit to her home and family.
The key to my success was using the principles discussed in your website (especially writing to a lady who had just recently joined a service) and taking my time until I found the correct lady. Finally when I found her I knew we were a match, and since then our relationship has exploded into the most wonderful dream come true in my whole life. She and her son will be coming to join me in Texas as soon as we get INS approval, and the three of us are in the process of creating a wonderful and happy family.
If I could give advice to your male clients on how to be successful it would be three things. First, guys, if you wish for this process to change your life for the better then be the correct man who can give of yourself and don't expect your lady to be "putty" in your hands. Make an effort! She will see it and respond to it.
Second, choose carefully and think about what you are doing. Take your time in choosing because once you start the ball rolling, it's serious and feelings can be deeply bruised if you get "cold feet."
Third, believe in Elena Petrova's information and use it to form opinions about this process and a strategy for your success.
Thanks again, Elena, for unlocking the process for me. I'll write again after we're married and give you an update.
Thanks very much,
Frank Carpenter
Dallas, Texas
---
READ ALSO:
Why American women lose their eligible men to Russian women
A true-life story of Kevin and Elena
---
Comments, suggestions? A story to share? We want to hear from you!
Click here to Contact us
---
JUST RELEASED! New E-book by Elena Petrova:
"How To Find And Marry A Girl Like Me"
Comment from the reader:
"This may well turn out to be the best purchase I have made... I hope not too many of my competitors find this book!"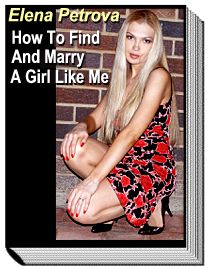 Discover how to find, court and finally marry a beautiful Russian woman!
This is the only book written by a beautiful Russian woman married to a western man - for more than 5 years! - and who is also the owner of a highly successful Internet dating agency.
Find out once and forever what Russian women are really looking for, why they are looking for it and how you can give them exactly what they want!
Get responses on your letters to beautiful Russian women - 9 out of 10, GUARANTEED!
With "How To Find And Marry A Girl Like Me" you'll learn knock-out techniques that will instantly boost your success rate in dating Russian women - online and in real life. You will have more beautiful girls that want to be with you than you can handle!
And not just ordinary girls! They will be beautiful, intelligent, but most of all - honest and sincere! You will be the one to take your pick!
STOP wasting your time and money in search for a Russian wife... Get it done - painlessly, easily, and certainly! Moreover, have lots of fun along the way!
Yes, you too can marry a girl like the one on the picture... Click here!
---
RECOMMENDED:
New Ebook You Cannot Afford To Miss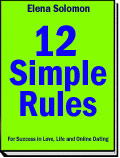 Dating can be complicated... it doesn't have to be! You can jump start your love life - or you can keep wandering in the dark; the choice is yours!
When it comes to dating, most men make the same silly mistakes with women - over and over, with disastrous results.
Do you want to do BETTER than 99% of other guys? Click here
---
---