Even a cynical guy like me can find true love on the Internet!
An amazing true-life story of Tanya and Chris
I have to make a short introduction to this story.

Somewhere in the middle of 2001 I was contacted by a criminologist from UK who was interested in Internet dating scams. His name was Chris Dee, and he found me through the Black List. They were making a documentary about western men who have been scammed while seeking a Russian bride.

We wrote to each other a few times while they were working on the program, then I did not hear from him for quite a while.

February 20, 2002, he wrote back and told me the most amazing story I ever heard - it almost made me cry...

You can judge for yourself!

Hello Elena,
I don't know if you will remember me, but I had subscribed to your starter package as a backup to a trip to Russia to meet another lady who became engaged just before I was to go to meet her.
A long story short: I replied to a few (of the more than 100 responses I had in 10 days) and made arrangements to meet 2 ladies, and a third who was not able to contact me until I arrived in Moscow. The first was a lady who agreed to meet me at the airport, and help me find my way to the hotel I was staying at. The second travelled by train 2000 kms each way to meet me. I was stunned! I also had offers from a lady in Belarus who would take the train to meet me in Moscow. In Canada, most women will not travel to the other end of the city to meet you!
I also took some copies of some profiles I liked from an agency in Moscow, with the intentions of meeting with the agency while I was there. Well, I didn't need the profiles!
The first girl had offered to meet me as a friend, and to help in meeting with the other ladies. She told me she was just ending a relationship with a man, and was not interested in "acting as your wife" or becoming involved. IF there was something between us, maybe we could look at developing a relationship at a later date, but don't come to Moscow with high expectations. She was very surprised that I wrote back expressing interest in being "just friends." She thought I would not be at all interested. But I thought it would be good to have a lady to talk to as just a friend. There would be no pressure to try to put all my effort in trying to court her in the two weeks I was planning to be there.
I had arranged for a taxi at the airport, through your partners agency in Moscow. It was the Palman agency, but unfortunately I forget the driver's name. You'll understand why in a moment.:-)
My flight was late, my luggage was lost, and I was delayed through customs. I was thinking this girl would never be there by the time I got through the line. Since I still had to search for my luggage, I asked the Lufthansa representative to escort me through the customs line so I could see if I still had people waiting for me. After pushing through the crowd, I eventually found the driver with my name on a card. Standing next to him was a devastatingly gorgeous blonde. My first thought was "Her pictures do NOT do her justice!" She looked surprised to see me, and gave a small gasp and put her hand over her heart when she realized it was really me. We talked for a little, then I asked her and my driver to watch my briefcase and toiletry bag while I went to find my luggage. It took about 15 minutes, but I finally got my bags, and off we went from the airport. (I later found out from her that this action of me leaving the briefcase was a huge surprise for her.) In one way, to her it showed I could trust her, and did not have difficulty in placing trust in other people. Of course, there was nothing in the briefcase or bag that could not easily be replaced, but that simple act gave her a great deal of reassurance. We went to the hotel, she waited for me and watched TV while I had a shower, then we went for supper in the hotel and began to get to know each other. During the meal we couldn't stop staring into each other's eyes, and I actually began to feel uncomfortable. I finally asked her if I was doing something culturally wrong, as she kept staring at me. She laughed and said: "No, it is just the restaurant, the wine, the candles....you....phew!" while she waved her hand in front of her face. Well, that broke the ice! We laughed and talked for hours. When the restaurant was about to close, she escorted me to my room, and told me she had to go to her mother's home for her birthday. Did I want to come with her to meet her mother? (It's a 2 hour train ride from Moscow) I told her I had made plans to meet another lady, and had promised to meet her at the train station from Ekaterinburg. She was disappointed, and looked it. I told her I would love to see her again later in the week, and we could see some sites in Moscow. She agreed and said she would call me when she returned home. Another interesting thing she told me later, is that because I refused to go with her to her mother, and still went to meet the other lady, she knew I was a person to keep my promises.
The next day I met the girl from Ekaterinburg. Very nice girl, cared very much about her appearance, very well educated but....nothing! There was no spark between us at all. I had arranged separate rooms at the hotel and was glad I had done so. We parted on Monday morning, as friends, but with no plans to continue correspondence. It was very strange, since she was the one I most wanted to meet. But, there is no point in continuing a relationship if it will not work.
Meanwhile, Tanya arrived home, and called me the minute she walked through the door. She asked if I could talk. I said sure. She asked where my lady friend was. I said she was in her room. She said: "She is in her room, and you are in your room? Don't you like the other lady?" I said: "Not as much as you." She said: "VOT? You like ME??" and began speaking to her sister in rapid Russian, which I understood maybe three words! After she settled down,
we made plans to meet for lunch after I took the other lady back to her train.
When she arrived at the hotel, I gave her 5 roses, and she was so surprised she almost had tears in her eyes. We spent the rest of my time in Moscow with each other, and I met her family. They were incredibly gracious and welcoming to me, and I have a new understanding of Russian hospitality!
When I finally had to return to the airport, we had a very hard time separating. In her words: we were parting as much more than friends, but not yet husband and wife. It was difficult to categorize our relationship, and I later was told that she was hoping I would tell her I wanted a more concrete relationship with her. But she understood I needed time to sort out my feelings, and decide if I really did love her, or if it was infatuation. As I went through customs, then the boarding area for the plane, I could see her standing by the customs line for half an hour after she could no longer see me. Later she told me it was because she was crying, and could not see in front of herself to walk.
So, we continued to correspond with each other by email, regular mail and ICQ for months. We began to see we had so many similarities in our lives, from having the same color of eyes, the same situations of our births (single mothers, with the difference that I was adopted to another family, she was not) we each had our appendix out at the same age, same interests in books, and movies, and so many more similarities I couldn't list them all.
During this time, her ex fiancee (an American, twice her age. She was not worried about the age difference at first, but soon discovered he was using her as a mistress, one of a few, when he travelled in Russia on business.) began having suspicions about her, and hacked into her computer. There he found all our correspondence and my email address. I had been a subscriber to the RWL List, and he also read my postings there. Well, he began writing to me, telling me he was engaged to her (true up until I met her) and was marrying her in the next month. (Totally false) He also said he was paying her rent and living expenses and she was a scammer because of it. (Not entirely true. He convinced her to quit her job because they were going to get married next month, then the month after that, then 2 months delay...eventually turning into 20 months.) His approach to me was an outright lie right from the beginning. He misrepresented himself to me from his first letter, he sent her a virus on computer, and he sent email to the RWL list and to me claiming she was a liar. Well, in fact, he was the one who lied to me from the beginning, and she had in fact told me about him and showed me his pictures.
We worked through the incident, Tanya and I, and became only closer. The first day this happened, she phoned me, crying uncontrollably, at 0400 Moscow time. She could not sleep that night, and she just wanted to know if I truly did love her, or was she going to lose me? Well,she certainly did not lose me! There was a further attempt to try to break us up, when a friend of his in Moscow (who stayed with her sister while looking for an apartment) discovered I was going to go see her again. When he left their apartment, over $1000 went missing at the same time. A letter was sent to me by her ex trying to blame me for the theft, and trying to cast suspicion on her. I never received his letter, because I had changed my email address, as I had a new Internet provider. But, she forwarded me his letter, and from it he looks like he has become even more delusional, blaming her for him quitting his job, and a myriad of other things. In an attempt to curry favor with her family, he offered to replace the money out of the "goodness of his heart" when in fact, everyone involved believes it was his friend who took the money and only gave it back in an attempt to seem generous.
This doesn't sound like much of a success story yet, does it? Well, here's where it gets good. I went to see her again at the end of 2001. We had talked of getting married, and we decided that IF it was possible, we would get married in Moscow. We spent 5 days jumping through the hoops of Russian beaureaucracy, but in the end, we were standing before the ZAGS commissioner, and making our vows! We celebrated by having a fancy dinner at a restaurant across the street from the office, and we had the waitress take pictures of us toasting our new life together, and exchanging rings. (On the RIGHT hand of course!) When I returned home, I organized our documents, waited for the official translations from Russia, and sent in our visa application. The Canadian processing center received the documents January 4, I had my sponsorship approval February 11, and sent her package for processing to Moscow last week. She received it today, and has begun the long process of Immigration. We can't make plans to travel yet, but are hoping she will be here in the summer, or at latest in the fall. Did I mention that during this whole time she has not ONCE asked for money, and is insisting on paying her own translation and documentation fees? I have offered her money for expenses, after all, we ARE married, and the only time she accepted was when I sent her money on a bank card that provided her from my bank for her to purchase a Russian Language computer course. (much less expensive in Russia, than Canada)
So, my short version of the story is not very short! But it is a success story, and I have to thank you for you starter package! Incidentally, I have a friend who I work with who purchased the package one month ago, and is also very pleased with the results.
Best wishes!
James (aka Clinton Carey in the blacklist!)
PS, I have changed her name in the story, due to obvious reasons concerning her "ex." At this point, I prefer not to have it published, but if you would like to publish excerpts, feel free, but please change names and locations. Her ex may still have hard feelings.
---
Comments, suggestions? A story to share? We want to hear from you!
Click here to Contact us
---
JUST RELEASED! New E-book by Elena Petrova:
"How To Find And Marry A Girl Like Me"
Comment from the reader:
"This may well turn out to be the best purchase I have made... I hope not too many of my competitors find this book!"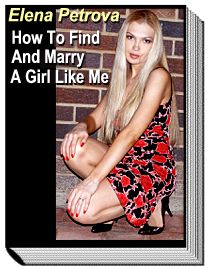 Discover how to find, court and finally marry a beautiful Russian woman!
This is the only book written by a beautiful Russian woman married to a western man - for more than 5 years! - and who is also the owner of a highly successful Internet dating agency.
Find out once and forever what Russian women are really looking for, why they are looking for it and how you can give them exactly what they want!
Get responses on your letters to beautiful Russian women - 9 out of 10, GUARANTEED!
With "How To Find And Marry A Girl Like Me" you'll learn knock-out techniques that will instantly boost your success rate in dating Russian women - online and in real life. You will have more beautiful girls that want to be with you than you can handle!
And not just ordinary girls! They will be beautiful, intelligent, but most of all - honest and sincere! You will be the one to take your pick!
STOP wasting your time and money in search for a Russian wife... Get it done - painlessly, easily, and certainly! Moreover, have lots of fun along the way!
Yes, you too can marry a girl like the one on the picture... Click here!
---
RECOMMENDED:
New Ebook You Cannot Afford To Miss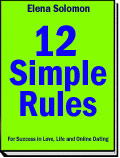 Dating can be complicated... it doesn't have to be! You can jump start your love life - or you can keep wandering in the dark; the choice is yours!
When it comes to dating, most men make the same silly mistakes with women - over and over, with disastrous results.
Do you want to do BETTER than 99% of other guys? Click here
---
---