This service gives answers to ALL the questions!!!
Moscow Transit includes:
transfer from international airport Sheremetevo 2 to a local airport,
full time escort by an English speaking guide,
excursion "The best of Moscow" to fill the gap between flights.
It will be wise to make the gap between the flights not less than 8-10 hours - and you will be able to see one of the most beautiful cities in the world. But even if you only have 5-6 hours in between, you still have enough time to see the best of this mysterious city!
(Custom excursions and translating services are also available. Send your request through Contact Us form)
---
As there are usually no direct flights from foreign countries to regional Russian cities, you will have to use transit flight via Moscow. This service is aimed to make your transit in Moscow enjoyable, fun and safe.
Throughout your time in Moscow, you will be escorted by an English speaking guide, who will meet you at the airport, take you for a tour and show you the city, and make sure you arrived at the right airport and register for the right flight when you leave to the reginal city.
And if there is a gap between the flights, the guide will show you the best of Moscow: the Red Square, Kremlin, historical center and one of the museums. It will be a shame to miss out on seeing Moscow if you are going to be there.
Why do you need this service?
All international flights arrive at the international airport Sheremetevo 2, and you will have to travel by bus or taxi to one of the 4 local airports. If you arrive to a wrong airport, you might be too late to catch your flight, as it may take 1-2 hours just to get from one airport to another. Having a guide you will ensure that you arrive at the right airport and won't face language problems on registration.

You will be able to see Moscow instead of sitting at the airport.

You don't have to worry about your safety and the safety of your luggage while on the tour.

From the moment of your stepping out the custom zone in the international airport Sheremetevo 2 to the moment you check in for your flight to the local destination, you will be escorted by an English speaking guide, a nice lady, who will assist you with anything you need.
How it works:
Your guide will meet you at the exit from the custom zone.

Transfer to the city center by car. Your luggage will stay in the car with the driver, and you and your guide go for excursion.

You see the best of Moscow: the Red Square, Kremlin and historical center.

Transfer to a local airport by car.

The guide assists you in registration to your flight, and makes sure you check in safely.
The price for the service: $270 up to 8 hours of escorting by a guide, after that $20 per hour. The price includes transfer by car and excursions (does not include entrance fees). $100 non-refundable deposit required, the rest you pay when in Moscow.

Sounds great! Book my Moscow transit NOW!
---
RECOMMENDED SERVICES IN MOSCOW:
Uncle Pasha's Consultants and Facilitators - Professional services of Olesya Pomazan and Paul Voytinsky ("Uncle Pasha") can be of great value to anyone who plans to travel to Russia, and especially to men with an interest in Russian women. They can, for example, start by checking the existence and identity of the person you are corresponding with. They can interview the woman of your choice and provide a professional opinion on her personality and intentions. They can film her so that you'd get a fuller and more realistic picture. Gift delivery, accommodation in Moscow, guide and translator support are available from this versatile team.
Sasha's Moscow Hotel Reservations - Moscow hotels at heavily discounted prices and round-the-clock local assistance. If you are going to Moscow, look no further.

READ ALSO:

The latest E-book of Elena Petrova:
"How To Find And Marry A Girl Like Me"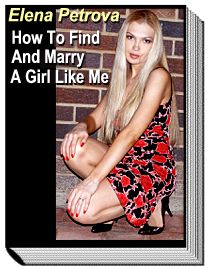 This is not just another book about dating Russian women!
This is the book that will change the way you look at Internet dating. It will boost your success rate with Russian women in an instant. You will have more girls that want to be with you than you can handle!
And not just ordinary girls! They will be beautiful, intelligent, but most of all - HONEST AND SINCERE! You will be the one to take your pick!
Want to marry a girl like the one on the picture? Click here
---
Cheap Ticket to Russia - Discover embarrassingly simple ways of how to travel to Russia, as often as you want and to make money instead of spending it, every time! Learn why so many successful Russian businesses are eager to find a western partner.
Russian visas - types of visas, requirements, terms, costs, business and tourist visas, invitations, and list of Russian embassies and consulates.