By Nily Glaser


Are you planning a winter theme wedding?
Many Couples planning winter theme weddings have requested information and A-wedding Day is up for the challenge. Most need creative ideas. So, without much ado, lets see how to plan a dream winter wedding. When you close your eyes and picture winter, you associate it with sparkling, crisp now that is so white it sometimes looks bluish. I bet that even if you live in an area that does not experience real winter this word conjures the snow scene in your mind.

WINTER WEDDING IDEAS ATTIRE for BRIDE GROOM and WEDDING PARTY
Winter is best represented by white, silver, platinum and light blue. These are the perfect color choice for a winter theme wedding. You can incorporate these colors in the bride, groom and wedding attendants attire. White for the bride and groom, light blue and / or silver for the attendants. However, you have other options too. You may have the bridesmaids dresses made of fabric with snow flakes or stars motif that may even accented with white fur like fabric. Since you are planning gifts for your bridesmaids and flower girls, present them with Swarovski crystal on silver with or without pearls, or pearl jewelry on silver such as that offered in our discount mall. Tiaras should also be studded with swarovski crystals and or pearls on silver. The Swarovski jewelry glistens like snow in the sun while earls offer the prism. What a wonderful yet inexpensive way to have your bridal arty match the winter theme of your wedding.

CHOOSE WINTER THEME INVITATIONS AND STATIONERY
Whether holiday, or season related, there are many winter scene stationeryitems and invitations motifs available to choose from, including doit yourself - print your own stationery.

WINTER WEDDING RECEPTION
Look for a reception hall that has a fireplace. If lighting a real fire is not permitted, use make-believe logs that look like real lit fireplace. Many stores carry them. You may also check with your local theater for props. Use silver serving pieces, glass or crystal drink wear and winter white Dishes. Decorate with silver, white, platinum and light blue. Use one of the colors or coordinate these colors for your table cloths and napkins, garlands, streamers, icicles, tinsel, balloons, ribbons, flowers with silver ribbons in silver vases, flickering light strings, snow flakes or stars etc... You may wish to spray your decorations with sparkle or fake snow. White and blue tulle will also help create a winter atmosphere. If you can afford it, hire an ice sculptor. If not, do it yourself. Make your own ice sculpture with kits. For information go to http://www.2.a-weddingday.com/weddingcrafts/makeyouro
wnicecarvings.html
Ice sculptures will be a magnificent addition. If your wedding reception venue permits it, be sure to use candles to depict warmth. Either or both, icesculpture and candles make very elegant centerpieces.

IDEAS FOR WINTER WEDDING CENTERPIECES
For added effect, place your centerpieces on a mirror. White or white and light blue flowers in a silver or crystal vase An ice sculpture surrounded by a wreath of white or white and light blue Flowers adorned with silver ribbon, by a chain of flickering lights or Surrounded by snow globes, A candle (in a hurricane glass) surrounded by a wreath of white or white and light blue flowers adorned with silver ribbon or by snow globes, Little standing dolls and white Styrofoam balls as children playing with snow balls, Snow men/women, Glass snow flakes, Silver foil covered Hershey kisses, Pails, crystal or glass bowl filled with clear marbles, downy feathers fiberfill or cotton ball sprayed with glitter, Winter motif confetti.

WINTER WEDDING FAVOR IDEAS
Gifts of crystal, silver, candles, soaps, silver or crystal picture frames That are also place card holders. Decorate the wedding favors with white tulle, white-light blue or silver ribbons, silver bells, snow flakes white flowers etc.

CEREMONY
Use white, silver, platinum and/or light blue, pew bows, flower arrangements where white and light blue are dominant and are tied with silver ribbon. Place your unity candles in silver candle holders which you may choose to decorate with white flowers, or leave the silver to glisten. Spray glitter on the petals in the flowergirl's basket.

WINTER THEME WEDDING CAKE
Place a layer of cotton balls or tulle over coiled flickering white bulbs all around the wedding cake so it looks as if your cake is sitting on snow. Howabout a cake decorated as a winter village or a snow scene? Today, many bakers can actually "print" a picture on the cake using edible food coloring, or you may have your cake look like a star or decorated with snow flakes.

BRIDAL ACCESSORIES
Choose a collection of matching accessories. Most collection will include most of the accessories for your ceremony and reception. (A unity candle set, guest book, pen, ring pillow, toasting flutes, cake serving set, and garter). You may choose a collection that is adorned with white flowers,
such as lilies of the valley, gerbera daisies, roses, calla lilies, carnations, gardenias, magnolias, alstromeria and snowball mums. You may choose a collection that is adorned with white ribbons, pearls, Swarowski crystal or rhinestones, Angels, holiday motifs. If you prefer non-white accessories, silver/platinum are available.

WINTER FOODS INCLUDE
Hot chocolate, hot cider, mulled wine, fondue, hot soup, warm Bread or rolls, and for desert, snowman/woman, star and/or snow flake shaped sugar cookies.

WINTER MUSIC INCLUDES
Classical collections, Seasonal songs, solo pianist, harpist or string quartet.
---
ABOUT THE AUTHOR:
Nily Glaser is the founder A-wedding Day. A very popular Wedding Resource and Information Center, and a discount shopping mall for wedding gifts, supplies and bridal accessories. She is also the publisher of the free A-wedding Day newsletter.
---
Do you have an article we could publish? We want to hear from you!
Click here to Submit your article
---
READ ALSO:

Angels in Russia - A true-life Story of Dan and Val, who met over the Internet and fell in love in Moscow, Russia: "I subscribed to an internet dating service a couple years ago, expecting to only communicate with American women. I did that, met a few, had a girlfriend from Germany for about a year, but I also received a couple interests from Russian women (which turned out to be scams). They intrigued me enough to make me wonder if I should look outside our country, Russia in particular... "
Answers for a Happy Marriage - People can discover true happiness and meaningful lives, through sharing, communicating and experiencing true intimacy with our inner selves and with the ones we love.

What Is Involved in an International Marriage, and in a Marriage to a Russian Woman - True story of a Russian woman married to an American man, personal experience in bringing this marriage about and living in it, truth about cultural differences (or lack thereof)
Can You be an Optimistic Realist? - Being optimistic doesn't mean not being realistic. Find out how to be " optimistic with life the way it is?"


How To Turn Your Break up Into A Blast Off - What do you do when a relationship ends? What do you do with the pain, the grief and the power of those emotions?
7 Simple Ways To Have An Endless Supply Of Great Conversation Topics - Do you ever get stuck for words or experience embarrassing silences when you meet people? If you do, you need to apply these 7 tips right away...


The Biggest Problem Of Russian Brides - So what's wrong with Russian brides? Elena Petrova reveals what their biggest problem is...
---
JUST RELEASED! New E-book by Elena Petrova:
"How To Find And Marry A Girl Like Me"
Comment from the reader:
"This may well turn out to be the best purchase I have made... I hope not too many of my competitors find this book!"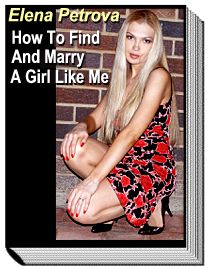 Discover how to find, court and finally marry a beautiful Russian woman... from a beautiful Russian woman!
Find out once and forever what Russian women are really looking for, why they are looking for it and how you can give them exactly what they want!
With "How To Find And Marry A Girl Like Me" you'll learn knock-out techniques that will instantly boost your success rate in dating Russian women - online and in real life. You will have more beautiful girls that want to be with you than you can handle!
And not just ordinary girls! They will be beautiful, intelligent, but most of all - honest and sincere! You will be the one to take your pick!
STOP wasting your time and money in search for a Russian wife... Get it done - painlessly, easily, and certainly! Moreover, have lots of fun along the way!
Yes, you too can marry a girl like the one on the picture... Click here!
---
RECOMMENDED:
New Ebook You Cannot Afford To Miss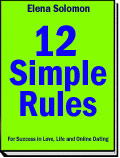 Dating can be complicated... it doesn't have to be! You can jump start your love life - or you can keep wandering in the dark; the choice is yours!
When it comes to dating, most men make the same silly mistakes with women - over and over, with disastrous results.
Do you want to do BETTER than 99% of other guys? Click here
---