By Nily Glaser
© All rights reserved, 2004

Many brides and grooms write to A-wedding Day requesting information about planning their weddings. The typical inquiry is as follows. "We just got engaged. What do we do now? Where do we begin?" We are up to the challenge and are working new series; "How to choose and work with wedding vendors, Professionals and service providers."
The series includes information and tips about how to best work with each of them, by category, as well as a comprehensive list of questions you need to ask before deciding on the wedding vendors, Professionals and service providers you feel most comfortable working with.
When you go to http://www.2.a-weddingday.com/weddings/weddingplanningorganizer.html You'll find links to the articles and questions geared for each different category.
So, you got engaged and are looking forward with anticipation, to your dream wedding but do not know where to start and what to do. You are not alone! This article is dedicated to the many engaged couples facing this dilemma and those who want to be focused. To be focused, you must be organized. That is, you must have the things you need when you need them. As you plan your wedding you will accumulate among other items, brochures, phone numbers, vendor estimates and bids, song sheets, contracts, receipts, pictures, contracts and receipts. You'll surely collect pictures of wedding gowns, bridesmaids' gowns, flower arrangements, centrepieces and bridal bouquets, jewellery, photo samples given you by photographers, wedding accessories and other pictures that will help you plan your dream wedding. You'll also need to schedule appointments with different wedding vendors, professionals and service providers. To be organized you need tools. All are easily accessible and inexpensive. You'll need:
A large wall calendar and attached pen and - or

A computer or other device that is easy for you to enter detailed information in

To do lists (add the information to your calendar).

A 3 ring binder with dividers and sheet protectors inserted in it.

THE CALENDAR
Actually your calendar and to do lists go hand in hand. Not only your appointments but your to do lists are time sensitive and should always be available to you. Whether you need to make a phone contact, set an appointment or go to interview a potential vendor, professional or service provider you need the information at your finger tips. It is better to enter too much information than not enough. If you contacted a vendor, write down your FIRST impression. This will help you later with your selection. If you received recommendations enter them too and so on. Do not forget to mark the calendar with the dates and times of special celebrations honouring you and your upcoming wedding.

THE TO DO LISTS
Planning a wedding is laden with details large and small. You will need to check out many magazines and catalogues, visit wedding related web sites, purchase items, contact a myriad of professionals, set up meetings with your wedding attendants, just to name a few. Always keep your to-do lists with you. Be ready to add your ideas for tasks you need to accomplish and to mark the ones you completed.

THE 3 RING WEDDING BINDER
Using a 3 ring binder for your wedding planning, affords you an easy way to be organized keeping all your wedding information in one place. It also saves you money, time and aggravation. 3 ring binders come with various spine widths from ½ an inch to 3 inches. Choose the one that is right for you.
Since it will eventually become a keepsake, you may wish to purchase a 3 ring binder that has a top window so you'll be able to enter a pretty cover or your wedding picture. In the folder, place top insert plastic sheet protectors to serve as pockets for all the wedding-related papers you've accumulated.
Additionally, insert dividers and a 3 hole zippered pocket for pen, pencils, paper clips, etc...
Mark the dividers tabs with the wedding related category such as: Bridal Gown, Ceremony Site, Reception Site, Catering, Photography etc. with the most active or most current in front, so that each topic will have a specific area in the binder allowing you quick referencing and retrieval.
In addition to sections dedicated to vendors, professionals and service providers, you need to allocate sections to important aspects such as:
Wedding planning time table,

Favourite wedding web sites,

Do it yourself - make your own....,

Tips and ideas,

Recipes,

Crafts and decorations,

Guest lists,

Guest replies,

Gift lists for pre wedding gifts and for wedding gifts,

E-mail address and phone numbers of all your bridal attendants,

Seating charts,

A print-out of your registry,

Lists of thank you notes you need to send - sent,

Lists if gifts you want to give family, attendants and other important people,

And even fabric swatches for wedding attire and or decorations. To benefit from your 3 ring binder be sure to:

Label each category and each section

Place new papers or new information in the correct pocket of the correct section of your binder as soon as you receive them.

Clean your binder once a month. Toss any information that is no longer relevant. Keeping it will clutter your binder and cause unnecessary confusion.
Do not take your main binder with you to interviews. Use a separate binder divided into categories, in which you place all the information, including our articles and most importantly the questions to pose to each vendor, professional and service provider. Keep all the information you collected in any category, so you can make educated decisions based on a comparison of the available packages, prices and services.

WHAT TO CARRY TO THE INTERVIEW
Always carry a note pad and pen to write down important information and questions that may arise during your interview. Have your list of questions to pose to the wedding vendor, professional or service provider with whom you meet.
In order to comparison shop and select wisely, interview at least 3 wedding vendors, professionals or service providers in each category before you choose the one you feel will accommodate you best. After each interview, insert your notes and answer sheets in your 3 ring binder so they are available to you when you need them.
---
ABOUT THE AUTHOR:
Nily Glaser is the founder of A-wedding Day. a very popular Wedding Resource and Information Center, and a discount shopping mall for gifts, wedding supplies and bridal accessories. Please Email us a courtesy copy of your publication and / or the URL and a web site link. Please snail mail a copy of any printed publication using this article to: A-wedding Day, A Gan Publishing Company. 3638 University Avenue Suite # 234. Riverside, California 92501
Copyrights © 2004 All Rights Reserved A-wedding Day
---
Do you have an article we could publish? We want to hear from you!
Click here to Submit your article
---
READ ALSO:

Are you desperate enough? - Today a reporter phoned me and among many others, asked this question: Is it true that it's mostly desperate people that are using Russian dating websites? Would you like to know what I answered? Then read on...
How to tell what they meant - By Susan Dunn. Sometimes you feel like it is so hard to understand the next person. Or you don't have a clue what they meant when they say things. Do they really mean it or Is that a sarcasm or a joke? Learn the trick then you won't miss out anymore.
Ideas For Fun: Where To Go And What To Do On A Date - By Alan Detwiler, Have you been on many dates and did the same thing every time and thought of doing something else this time? Or do you want your loved one to fall in love with you all over again? Then this is the must-read-article for you. Find out more.
Baby Expense: What To Do When Baby's On The Way And Money Is Tight - Thinking of how you are going to make it through with your Russian wife not being able to work, a new baby on the way and the pile of bills to pay? You are not alone; many families face this challenge. We've got some good new for you: you don't have to be rich to raise a healthy, happy baby!
How to choose a Wedding Florist, Floral Designer and - or Decorator - Planning a wedding? Here are some sound tips on choosing what's right for your setting - and your wallet.
---
JUST RELEASED! New E-book by Elena Petrova:
"How To Find And Marry A Girl Like Me"
Comment from the reader:
"This may well turn out to be the best purchase I have made... I hope not too many of my competitors find this book!"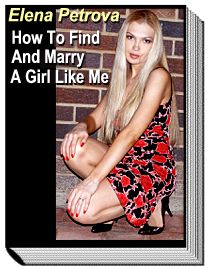 Discover how to find, court and finally marry a beautiful Russian woman... from a beautiful Russian woman!
Find out once and forever what Russian women are really looking for, why they are looking for it and how you can give them exactly what they want!
With "How To Find And Marry A Girl Like Me" you'll learn knock-out techniques that will instantly boost your success rate in dating Russian women - online and in real life. You will have more beautiful girls that want to be with you than you can handle!
And not just ordinary girls! They will be beautiful, intelligent, but most of all - honest and sincere! You will be the one to take your pick!
STOP wasting your time and money in search for a Russian wife... Get it done - painlessly, easily, and certainly! Moreover, have lots of fun along the way!
Yes, you too can marry a girl like the one on the picture... Click here!
---
MUST READ!
12 Simple Rules

This book will light a few light bulbs in your head.

If you wonder what is the cause of your problems with women/men, this book will open your eyes and give you precise instructions on how you can get the love life you always wanted.
If you were out of the game for a while and struggle to get back, this book will help you re-gain your lost confidence and learn a few new tricks along the road.
If you consider yourself an expert on dating, you will find several tips that will make you pinch yourself and say, "I can't believe I didn't think about it before!"

The secrets in this book will give you an unfair advantage in the battle of sexes, so much that you may even feel guilty of using them... because you know EXACTLY what results you are going to get when the other party doesn't have a clue! It's like taking a candy from a baby.

So, if you want to keep your life the way it is...
DON'T read this book.
Because you'll NEVER be the same person again.
I promise.

DON'T CLICK HERE unless you are ready to get MORE love, MORE money and MORE success in your life!
---
Check out this week NEW ladies!!