Contributed by Nily Glaser of A-wedding Day
Copyrights 2004 All Rights Reserved Nily Glaser

Many brides and grooms write to A-wedding Day requesting information about planning their weddings. The typical inquiry is as follows. "We just got engaged. What do we do now? Where do we begin?" Well, weddings are very personal and each has its own unique character. It is very difficult to list every possible scenario but the basics are the style of wedding, the size, the budget involved , the location and of course the bride and groom's choices and their personalities.
WEDDING STYLE can range form a classic, elegant and glitzy black tie affair to a picnic in a park.

WEDDING SIZE depends on the number of guests.

WEDDING BUDGET can range from a few hundred to thousands of dollars.

WEDDING LOCATION local or a destination wedding.

BRIDE and GROOM choose the setting, the colors, the music, the wedding theme etc... that reflect their personalities and interests.
Some couples hire a wedding planner, some rely on the experience of friends and family, but most opt to plan their wedding by themselves. The wedding day is only part of the term wedding as a whole. Wedding as it will be referred to in this article includes the preparations for, and the activities following the big day including the honeymoon.
So, you got engaged and are looking forward with anticipation, to your dream wedding but do not know where to start and what to do. You are not alone! This article is dedicated to the many engaged couples facing this dilemma and those who want to be focused. It is very important that both of you, bride and groom, start planning your wedding as soon after the engagement as possible. This allows you to:
Take your time, brain storm and leisurely discuss your needs and desires,

Prevent and correct any errors,

Deal with delays,

Handle any possible mishaps,

Have fun and enjoy planning your wedding rather than stress over it.
You need to choose your priorities first and write down everything that is very important - urgent, less important - allows for flexibility and least important - most adaptable for changes and compromises. For example: Very important - urgent
Date

Budget

Location of ceremony - location of reception

Size of guest list

Officiant - Clergy

A specific wedding vendor or service provider

Time of year time of day
Having prioritized, put together your wedding information and a list of questions and requests, to present to the vendor or service provider. Of secondary important - less urgent but needs time to organize. Can be flexible.
Attire

Menu and Beverages

Florist

Cake

Photographer - Videographer

Invitations

Musicians

Wedding day help - before, during and after the wedding. least important - Most acceptable for flexibility, changes and compromises.

Wedding day schedule

Readings at ceremony

Music selection

Final flower selection

Gifts for family and wedding attendants

A wedding gift from the bride to the groom

A wedding gift from the groom to the bride

Wedding favors

Centerpieces

Reception seating arrangements
How to find the appropriate wedding vendors professionals and service providers. Before setting any appointments it is a good idea to: ask your friend, acquaintances and family for recommendations, Attend bridal shows, Visit bridal shops and ask for referrals, Check the Internet, and Check the yellow pages.
Go over the written notes and organize them by priority and ease of use. Armed with a list of vendors and service providers, it is time for you to pick up the phone and set appointments. Schedule your appointments by PRIORITY. So, if a specific person or company's participation at the wedding is required, you should contact them FIRST to find out when they have an opening. If the date is a priority you need to focus on securing an officiant, and a location for the ceremony and the reception, and so on. Do not, however, commit until you have accumulated at least a few bids and found the person(s) you interviewed accommodating and easy to work with.
Once you made your choice, do not look for other alternatives or you'll drive yourselves crazy. Instead go on to the next detail that requires your attention. Be prepared! Go to each interview ready with your questions and information neatly written. Bring a pen and paper and take notes at meetings with the different wedding professionals, service providers and wedding vendors. These notes serve as a fun keep sake too. I'll list the wedding professionals, service providers and vendors that are part of the BASIC WEDDING. You may not need every service or you may need more than listed. Each mention will link to the information needed for a meeting with the specific vendor or service provider and the information needed from him or her. So, without further ado, Here is the list in alphabetical order.
Accommodations - Bride and Groom, Family, Wedding Guests

Addressing and calligraphy

Banquet facility - restaurant or event hall

Beauty - make-up, nails and hair

Catering- pre-wedding parties, rehearsal meal, reception, other

Do it yourself, make your own - materials and supplies outlets

Honeymoon -travel, guided tours, sports, recreation, other

Jewelry - engagement ring, wedding bands, wedding jewelry, gifts from bride and groom,

Officiant - clergy

Printers - save the day, invitations, reply cards, programs, place cards, menus, thank you notes, other

Religious site - Church, Synagogue, Temple, Mosque, other

Transportation - limo, horse and carriage, taxi, car rental for guests,

Travel agent- destination wedding, honeymoon, guest travel, other

Wedding Accessories

Wedding and guest Accommodations

Wedding Attire - Gowns, Tuxedos

Wedding Cakes

Wedding Flowers

Wedding gift for - best man, maid of honor, bridesmaids, ushers, kids, other

Wedding gifts for - family, wedding party, other

Wedding music - Disc Jockey, soloist, band or a small orchestra

Wedding Photographers - videographers

Wedding Planners

Wedding Rings

Other important considerations.
With the basic information on hand, have fun planning your dream wedding.
---
ABOUT THE AUTHOR
Copyrights 2004 All Rights Reserved Nily Glaser, Nily Glaser is the founder of A-wedding Day, A-wedding Day a very popular Wedding Resource and Information Center, offering articles, tips, ideas and a discount shopping mall for wedding gifts, supplies and bridal accessories.
---
Do you have an article we could publish? We want to hear from you!
Click here to Submit your article
---
READ ALSO:

Angels in Russia - A true-life Story of Dan and Val, who met over the Internet and fell in love in Moscow, Russia: "I subscribed to an internet dating service a couple years ago, expecting to only communicate with American women. I did that, met a few, had a girlfriend from Germany for about a year, but I also received a couple interests from Russian women (which turned out to be scams). They intrigued me enough to make me wonder if I should look outside our country, Russia in particular... "
The Five Worst Date Places - Want to ensure you'll get a second date after the first one? It's important where do you take your date: "Good places are memorable, different, unique, cost-effective, and relevant to both of you in some way. Bad date places have none of these qualities and the worst places not only lack these things, but also embarrass you and assure that you'll never get another date with the person again."
It's a Gut Feeling - Finding love - What is the biggest obstacle for single guys looking for love? How do you know if "She Is The One"? How many dates you need to find it out?
Your James Bond Fantasies Become Real - Do you have the fantasies that you thought that can never become true? Do you want to be as lucky as The "James BOND" in the movies? Well, think again after you read this article! Make your fantasies happen and find your dream Russian Woman in Special Agent 007 style.
The Biggest Problem Of Russian Brides - So what's wrong with Russian brides? Elena Petrova reveals what their biggest problem is...
---
JUST RELEASED! New E-book by Elena Petrova:
"How To Find And Marry A Girl Like Me"
Comment from the reader:
"This may well turn out to be the best purchase I have made... I hope not too many of my competitors find this book!"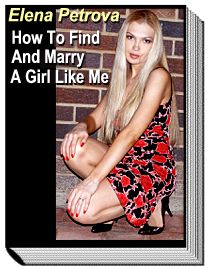 Discover how to find, court and finally marry a beautiful Russian woman... from a beautiful Russian woman!
Find out once and forever what Russian women are really looking for, why they are looking for it and how you can give them exactly what they want!
With "How To Find And Marry A Girl Like Me" you'll learn knock-out techniques that will instantly boost your success rate in dating Russian women - online and in real life. You will have more beautiful girls that want to be with you than you can handle!
And not just ordinary girls! They will be beautiful, intelligent, but most of all - honest and sincere! You will be the one to take your pick!
STOP wasting your time and money in search for a Russian wife... Get it done - painlessly, easily, and certainly! Moreover, have lots of fun along the way!
Yes, you too can marry a girl like the one on the picture... Click here!
---
MUST READ!
12 Simple Rules

This book will light a few light bulbs in your head.

If you wonder what is the cause of your problems with women/men, this book will open your eyes and give you precise instructions on how you can get the love life you always wanted.
If you were out of the game for a while and struggle to get back, this book will help you re-gain your lost confidence and learn a few new tricks along the road.
If you consider yourself an expert on dating, you will find several tips that will make you pinch yourself and say, "I can't believe I didn't think about it before!"

The secrets in this book will give you an unfair advantage in the battle of sexes, so much that you may even feel guilty of using them... because you know EXACTLY what results you are going to get when the other party doesn't have a clue! It's like taking a candy from a baby.

So, if you want to keep your life the way it is...
DON'T read this book.
Because you'll NEVER be the same person again.
I promise.

DON'T CLICK HERE unless you are ready to get MORE love, MORE money and MORE success in your life!
---