By Alan Detwiler

A romantic relationship has many benefits: companionship, being inspired by someone else's example, and stimulation by the other person's ideas. Keep in mind that those benefits are there and that they are important.
Don't use a relationship as a way to solve your problems. Dating and marriage are not ways to overcome unhappiness, escape from boredom, and improve self-image. You must do those things for yourself. Using a relationship for those reasons puts burdens on the relationship that make it less pleasant and less rewarding.
You have got to be tolerant. A relationship is a place for honesty and openness. Those principles allow a couple to share ideas and to gradually change in ways that let them more enjoy living. Your attitude should signal the other person that you will try to patiently work through each other's shortcomings. If that's too much strain, decide that separation is best and graciously part company without bitterness.
Romance and love will more likely happen if you allow them to happen instead of making them a goal. Making the relationship better should be the goal. Pay attention to treating each other fairly and helping each other. If love happens, it will be based on believing that both of you can continue to build a good relationship.
Don't expect a perfect relationship. That happens only in fairy tales. If you expect too much, it makes your relationship less valuable by comparison. Problems will occur. You will get hurt. Don't be so concerned with minor problems that you loose awareness of what is good in the relationship. When appropriate, offer advice not the threat of disapproval. You want to develop a spirit of mutual benefit.
Respect each other's attitude about physical affection. Be patient. Your partner is not a mind reader and may not be aware of the problem. If something about the physical part of the relationship is a big issue for you, let your concerns be known. Being aware of a problem is the first step in solving a problem. Anxiety about a problem can be lessened just by knowing that the other person is aware of the problem.
Take time for mutual interests. This can be in many forms including hobbies, conversation, recreation, an interest in art, and family activities. Mutual interests keep a couple from gradually becoming uninvolved in each other's lives.
Encourage your partner to act and make decisions. Both of you will be able to accomplish more with the other's support and encouragement. When there is a disagreement, don't automatically think it is necessary to correct the other person. Your encouragement will produce more good results than will your objections.

---
ABOUT THE AUTHOR:
Alan Detwiler is the author of the ebook Date Ideas: Fun Things To Do For Couples available at Amazon.com. He has a web site with a section about fun things to do for couples at Date Ideas.
---
Do you have an article we could publish? We want to hear from you!
Click here to Submit your article
---
READ ALSO:

Are you desperate enough? - Today a reporter phoned me and among many others, asked this question: Is it true that it's mostly desperate people that are using Russian dating websites? Would you like to know what I answered? Then read on...
How to tell what they meant - By Susan Dunn. Sometimes you feel like it is so hard to understand the next person. Or you don't have a clue what they meant when they say things. Do they really mean it or Is that a sarcasm or a joke? Learn the trick then you won't miss out anymore.
Ideas For Fun: Where To Go And What To Do On A Date - By Alan Detwiler, Have you been on many dates and did the same thing every time and thought of doing something else this time? Or do you want your loved one to fall in love with you all over again? Then this is the must-read-article for you. Find out more.
Baby Expense: What To Do When Baby's On The Way And Money Is Tight - Thinking of how you are going to make it through with your Russian wife not being able to work, a new baby on the way and the pile of bills to pay? You are not alone; many families face this challenge. We've got some good new for you: you don't have to be rich to raise a healthy, happy baby!
How to choose a Wedding Florist, Floral Designer and - or Decorator - Planning a wedding? Here are some sound tips on choosing what's right for your setting - and your wallet.
---
JUST RELEASED! New E-book by Elena Petrova:
"How To Find And Marry A Girl Like Me"
Comment from the reader:
"This may well turn out to be the best purchase I have made... I hope not too many of my competitors find this book!"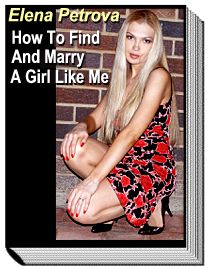 Discover how to find, court and finally marry a beautiful Russian woman... from a beautiful Russian woman!
Find out once and forever what Russian women are really looking for, why they are looking for it and how you can give them exactly what they want!
With "How To Find And Marry A Girl Like Me" you'll learn knock-out techniques that will instantly boost your success rate in dating Russian women - online and in real life. You will have more beautiful girls that want to be with you than you can handle!
And not just ordinary girls! They will be beautiful, intelligent, but most of all - honest and sincere! You will be the one to take your pick!
STOP wasting your time and money in search for a Russian wife... Get it done - painlessly, easily, and certainly! Moreover, have lots of fun along the way!
Yes, you too can marry a girl like the one on the picture... Click here!
---
MUST READ!
12 Simple Rules

This book will light a few light bulbs in your head.

If you wonder what is the cause of your problems with women/men, this book will open your eyes and give you precise instructions on how you can get the love life you always wanted.
If you were out of the game for a while and struggle to get back, this book will help you re-gain your lost confidence and learn a few new tricks along the road.
If you consider yourself an expert on dating, you will find several tips that will make you pinch yourself and say, "I can't believe I didn't think about it before!"

The secrets in this book will give you an unfair advantage in the battle of sexes, so much that you may even feel guilty of using them... because you know EXACTLY what results you are going to get when the other party doesn't have a clue! It's like taking a candy from a baby.

So, if you want to keep your life the way it is...
DON'T read this book.
Because you'll NEVER be the same person again.
I promise.

DON'T CLICK HERE unless you are ready to get MORE love, MORE money and MORE success in your life!
---