By Susie Cortright, http://www.momscape.com

Active listening makes your mate feel worthy, appreciated, interesting, and respected. Besides the physical act of sex itself, it is one of the most important things you can do to solidify your friendship and strengthen intimacy.
When active listening occurs, ordinary conversations emerge on a deeper
level, and so does the relationship.
Here are some tips for active listening:
Face your mate. Sit up straight or lean forward slightly to show your attentiveness through body language.

Maintain eye contact.

Minimize external distractions. Turn off the TV. Put down your book or magazine, and ask your mate to do the same.

Respond appropriately to show that you understand. Murmur ("uh-huh" and "um-hmm") and nod. Raise your eyebrows. Use words such as "really," and "interesting," as well as more direct prompts: "What did you do then?" and "How did that go?"

Focus solely on what your mate is saying. Try not to think about what you are going to say next.

Minimize internal distractions. If your own thoughts keep horning in, simply let them go and continuously re-focus your attention on your mate.

Keep an open mind. Wait until your mate is finished with his thought before deciding that you disagree. Try not to make assumptions about what he's thinking.

Avoid letting the speaker know how you handled a similar situation. Unless she specifically asks for advice, assume she just needs to talk it out.

Even if the speaker is launching a complaint against you, wait until he finishes to defend yourself. And avoid responding to a complaint with a complaint of your own.

Engage yourself. Ask questions for clarification, but, once again, wait until the speaker has finished. After you ask questions, paraphrase the speaker's point to make sure you didn't misunderstand. Start with: "So you're saying..."
As you work on developing your active listening skills, you may feel a bit panicky when there is a natural pause in the conversation. With practice, it will become easier for you to settle into the silence and to use those natural pauses to better understand your mate's point of view.
---
ABOUT THE AUTHOR: Susie Cortright is the author of Rekindling Your Romance After Kids http://www.momscape.com/rekindle.htm - and More Energy for Moms - http://www.momscape.com/energy - a mind-body-spirit fitness program and community. Susie is also the founder of the award-winning Momscape.com, a website designed to help busy parents find balance. Visit http://www.momscape.com today and get Susie's free course-by-email, "Six Days to Less Stress."
---
Do you have an article we could publish? We want to hear from you!
Click here to Submit your article
---
READ ALSO:

The order of Wedding Speeches at the Wedding Reception
Master of ceremony is one of the busiest person in the Wedding Planning process. It will be much easier with these tips for MC to plan the wedding speeches at the wedding reception.
Why Aren't We Happy In Our Marriage Relationships?
Find out why you are not happy with your relationship. Is it yours or her fault? Is she the one soul mate for your life or is she not? Perfect your relationship with the tips from this article. You will find your perfect soul mate.
Ten Hot Tips to Light Your Woman's Fire
Tips to drive your woman crazy and she will never forget it. Satisfy your woman with our ten hot tips which include how to kiss, touch, connect emotionally, foreplay, after play, etc.
Be Prepared With A Bride's Emergency Kit
Are you ready for the wedding? Remember: things get wrong when they are least expected! Get ready with the bride's emergency kit - make sure your most important event will not be ruined!
Happiness - the Ultimate Egoism?
Is happiness made by romance, egoism, success, wealth or flexibility? Happiness is a moving target: as things and circumstances change in our lives, happiness becomes defined differently. If one goal turns out to be unachievable, most of us have the suppleness to redefine our desire and go for the newly formulated goal.
Family Matters!
Having relationships is all about making emotional commitments to people we care about. One of the ways to find your happiness involves having a healthy family, friends, partners, etc. Appreciate the people who have touched our lives in positive ways. Studies have shown that those who are truly happiest are those with strong connections to the people they love.
---
JUST RELEASED! New E-book by Elena Petrova:
"How To Find And Marry A Girl Like Me"
Comment from the reader:
"This may well turn out to be the best purchase I have made... I hope not too many of my competitors find this book!"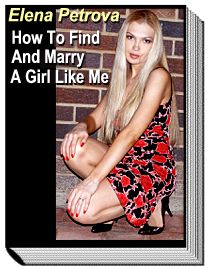 Discover how to find, court and finally marry a beautiful Russian woman... from a beautiful Russian woman!
Find out once and forever what Russian women are really looking for, why they are looking for it and how you can give them exactly what they want!
With "How To Find And Marry A Girl Like Me" you'll learn knock-out techniques that will instantly boost your success rate in dating Russian women - online and in real life. You will have more beautiful girls that want to be with you than you can handle!
And not just ordinary girls! They will be beautiful, intelligent, but most of all - honest and sincere! You will be the one to take your pick!
STOP wasting your time and money in search for a Russian wife... Get it done - painlessly, easily, and certainly! Moreover, have lots of fun along the way!
Yes, you too can marry a girl like the one on the picture... Click here!
---
RECOMMENDED:
New Ebook You Cannot Afford To Miss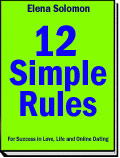 Dating can be complicated... it doesn't have to be! You can jump start your love life - or you can keep wandering in the dark; the choice is yours!
When it comes to dating, most men make the same silly mistakes with women - over and over, with disastrous results.
Do you want to do BETTER than 99% of other guys? Click here
---