Copyright 2004, Helen Marakis
The Portara Gallery
http://www.portara.com

"Marriage is a door, which looks out upon a beautiful view. As that door is opened and the horizon unfolds before you, know that nothing is sweeter than the warmth of one hand within another." -- Collin McCarty
As summer approaches, there is a murmur of romance in the warming breezes. Soon there will be the excitement of arrangements and a whirlwind of activity as couples plan to celebrate their love in a union of marriage. Friends and family will gather to witness the nuptials and celebrate the joyous occasion. But before the wedding ceremony itself, there are other social occasions, which will honor the couple. One such occasion is the bridal shower.
The bridal shower is a wonderful and joyous time and usually the last chance for the bride and her close family and friends to have a warm, intimate and relaxing time together before her marriage. Family and friends have an opportunity to honor the bride's special day with special and memorable gifts. But the idea to give gifts did not become popular until the late nineteenth century. At one fashionable bridal shower, small gifts were placed inside a parasol and friends of the bride opened it over the bride's head. The presents "showered" down over her. The idea was such a hit in the fashion world that others quickly began to do the same. A bridal Wishing Well is also a popular idea included in many bridal showers. Use a gaily decorated basket or bucket for the "wishing well" and toss in your special and precious gifts along with your special wishes for the bride. While the tradition has long been to have the maid of honor host the shower, in recent years, the maid or matron of honor, a close friend, a family member or even a co-worker can host the shower.
Unique and personalized bridal shower gifts, such as beautifully and elegantly adorned frames with a favorite photo of the bridesmaid and bride or with the date of the wedding bring special meaning to a memento of the occasion. The more personalized the keepsake, the more memorable it becomes! The gift of an inspirational Byzantine icon ornament or a unique frame with an art poem or customized with names, events and even pictures make wonderful personalized reminders of how much you care. The lyrical words and artistic poems make you think about possibilities for having, doing, and being all that you really wish. Their chosen words beautifully express your innermost thoughts, while creating an uplifting message that speaks to the bride's heart.
And what bride wouldn't cherish a photo album from the bridal shower party, filled with her favorite pictures or meant to accommodate the photographs of the upcoming wedding? You can turn the bride's favorite photograph into an elegant and memorable image personalized on canvas and adorned with the finest Swarovski AB crystals. What a unique gift to display in your bridal shower basket!
Or the bridal party might choose to give the bride a pillow or sachet filled with the scents of calm and serenity - a thoughtful gift during an exhilarating but stressful time! These special gifts are stylishly adorned with trims, beads and fine chiffon ribbons and can be personalized to offer an intimate keepsake that will be cherished forever. They have a luxurious appearance and they make sentimental gift ideas that are certain to catch the eye of the bride-to-be. Their exquisite aromatherapy scents (smells of heaven!) will be the talk of your party and they're an absolute must have!
If you will be celebrating the marriage of cherished family or friends soon, visit http://www.portara.com to find great gift ideas for the most unique and creative wedding shower! At http://www.portara.com, you will discover how to present the bride with a gift that perfectly expresses your thoughts on this joyous occasion - the sharing of love and promise from your heart to hers.
"If you invest in beauty, it will remain with you all the days of your life" -- Frank Lloyd Wright
---
ABOUT THE AUTHOR: Helen Marakis owns The Portara Gallery, which delivers the finest gifts and unique creations for all occasions: http://www.portara.com
---
Do you have an article we could publish? We want to hear from you!
Click here to Submit your article
---
READ ALSO:

Why Aren't We Happy In Our Marriage Relationships?
Find out why you are not happy with your relationship. Is it yours or her fault? Is she your soul mate or is she not?
What is Love?
We ask ourselves everyday, "what is love?" and yet difficult to find the right answer to your definition of love. It is often confuses with the definition of "need" and "love".
Ten Hot Tips to Light Your Woman's Fire
Tips to drive your woman crazy and she will never forget it.
Be Prepared With A Bride's Emergency Kit
Are you ready for the wedding? Remember: things get wrong when they are least expected! Get ready with the bride's emergency kit - make sure your most important event will not be ruined!
Happiness - the Ultimate Egoism?
Is happiness made by romance, egoism, success, wealth or flexibility?
Family Matters!
Having relationships is all about making emotional commitments to people we care about. Studies have shown that those who are truly happiest are those with strong connections to the people they love.
---
JUST RELEASED! New E-book by Elena Petrova:
"How To Find And Marry A Girl Like Me"
Comment from the reader:
"This may well turn out to be the best purchase I have made... I hope not too many of my competitors find this book!"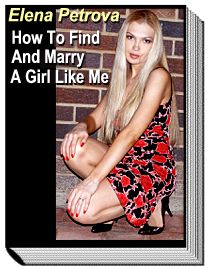 Discover how to find, court and finally marry a beautiful Russian woman... from a beautiful Russian woman!
Find out once and forever what Russian women are really looking for, why they are looking for it and how you can give them exactly what they want!
With "How To Find And Marry A Girl Like Me" you'll learn knock-out techniques that will instantly boost your success rate in dating Russian women - online and in real life. You will have more beautiful girls that want to be with you than you can handle!
And not just ordinary girls! They will be beautiful, intelligent, but most of all - honest and sincere! You will be the one to take your pick!
STOP wasting your time and money in search for a Russian wife... Get it done - painlessly, easily, and certainly! Moreover, have lots of fun along the way!
Yes, you too can marry a girl like the one on the picture... Click here!
---
RECOMMENDED:
New Ebook You Cannot Afford To Miss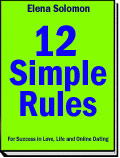 Dating can be complicated... it doesn't have to be! You can jump start your love life - or you can keep wandering in the dark; the choice is yours!
When it comes to dating, most men make the same silly mistakes with women - over and over, with disastrous results.
Do you want to do BETTER than 99% of other guys? Click here
---