Women join HERE!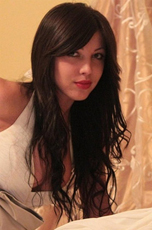 Each personal situation is unique, and one should choose the right way to ensure success in his search for a Russian wife.

What people say about Russian Brides Cyber Guide and its services
---
I know for me it's been the beginning to a new purpose in life. I never had my feelings for someone as live as with the woman I met through your site...
J.D. (USA)
---
Meet me today!


Polina, 21


Svetlana, 37


Irina, 38


Raisa , 26


Julia, 42

Polina, 25


Anna, 27

How to begin your search for a Russian Wife
The best information on the subject!
---

The latest E-book of Elena Petrova:
"How To Find And Marry A Girl Like Me"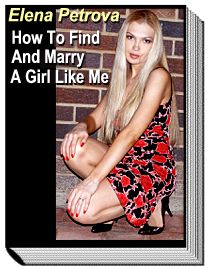 This is not just another book about dating Russian women!
This is the book that will change the way you look at Internet dating. It will boost your success rate with Russian women in an instant. You will have more girls that want to be with you than you can handle!
And not just ordinary girls! They will be beautiful, intelligent, but most of all - HONEST AND SINCERE! You will be the one to take your pick!
Want to marry a girl like the one on the picture? Click here
---

The Shocking Truth About Russian Brides - Discover the facts about Russian women that marriage agencies will never tell you. The name of the book reflects its content - it's not a "happily ever after" fairy-tale, so don't expect it! This book is highly uncomfortable; it was designed this way.

This is a wake-up call for all men contemplating marriage to a Russian woman: do you really understand what you are setting yourself up to??

Learn what you can expect from Russian women of different ages and why marriages with Russian women fail - and what you can do to become a success, not statistics. This popular e-book is written by Marina Smiley, a Russian woman married to an American man. RECOMMENDED

---

Sex And Love With Russian Women - If you hope to get a manual on how to touch, kiss, etc, this is NOT the right book for you! Get real - there are no special love-making techniques that work for Russian women only. But there are lots of important stuff that will pave your way to the bedroom... this is what this book is about.

Think you don't need it?? Neglect at your own cost - join thousands of men that go to Russia again and again and still cannot find their Soul Mate. Want to know why it happened to them and how to avoid a failure? This book has the answers.
RECOMMENDED

---

Cheap Ticket to Russia - Discover embarrassingly simple ways to travel to Russia, as often as you want and to make money instead of spending it, every time! This book is not really about "cheap tickets" but about opportunities to make big bucks while you leisurely cruise Russia and the former USSR, which are easily available to foreigners - Russian residents simply cannot use them.

Any person of any intellectual and business abilities can use this information and make money instead of spending it. This information is worth ten times more than the author is asking for it... RECOMMENDED

---

Russian Women Rollercoaster: Scams, Dating, Heartbreak, Love, Marriage and Immigration - The most incredible story of Love and Deception in dating Russian women!

Are you tired of chasing a dream and bumping into one scammer after the other?
Do you want to meet a woman who is honest and sincere and will love you for who you are?
Do you want to know what the process of marrying a Russian woman involves?
Then you must read THIS BOOK!

R

ECOMMENDED

---

Anti-Scam Guide - Met a Russian woman over the Internet? - Thinking about finding a Russian wife? - Russian woman wrote to you? - Don't move any further until you read The Complete, No-Nonsense ANTI-SCAM GUIDE For Men Seeking A Russian Wife. Too many men were caught up in a scam and lost great deal of money - want to be one of them? Ensure your safety and peace of mind - read once and forget about scammers forever.

If you have the most remote interest in dating or corresponding with a Russian woman over the Internet, this is the book you cannot afford to miss.
RECOMMENDED

---