Contest: "Personal Experiences"
---

In Search of the Russian Gem/ Russian rose
By Andrew Bishop

In the long tedious search for a Russian bride, I might just have a chance with this cyber guide. Many years, many tears, sky soaring dreams have crashed because of that scandalous gleam. For you who have experienced the crooks and crooked, you defiantly know what I am talking about. Many lost dollars earned in my dreaming youth, spent for an address that has little truth. "St. Gettysburg"? How little minded am I? To believe in such a lie?
Maybe if you were lucky the address was true, but when the second letter she is asking for marriage, "please help me pay my visa; I own a huge horse farm, yet I canna not manage." Thru the years of seeing with only my eyes, I have learned to see with the heart to cut thru any lies.
The search was not limited to only good looks, Romance of a deeper vine soon took hold in many books. I spent most of my free time reading books about Prince Vladimir, Peter, and Beautiful Olga wife of Igor prince of Kiev . With such a beautiful historical tapestry my heart was sold. Books about the wild and wonderful creative spirit found in such stories bold; Hedge hog in the fog, and such novel books as "The Gift" by Vladimir Nabokov. Russia, a nation blest with deep insight, enduring passion, birch and beautiful Art. A nation comprising over hundred nationalities, an amazing feet. Oh how I would love to meet, so many strange faces and interesting places. Siberia's beauty is harsh Seven months of the year, but for five months paradise. To some, 12 months of paradise but that is a small number. Siberia is full of human treasures yet discovered.
On with the Quest for a beautiful hand crafted Russian woman, of noble or lowly birth, in the end I know what she is worth. Our life together may have a bump on this road, but for love I will climb to the highest abode. May all of you who search, may you find that Russian Rose.
Sincerely,
Andrew Bishop
---
READ ALSO:
Why Look for a Wife in Russia?
By Clinton Carey: "One day, over a beer with my brother, he suggested to me that I place an ad on the Internet with a matchmaking agency. I laughed, and dismissed the idea. As the weeks went on, I thought to myself, "Why not? I travel a lot. I don't have time to meet women normally, and I definitely don't like the bar scene with its' head games and lack of quality in both men and women. So, I placed an ad..."
A "Fairy Tale"
By James Eisele: "Once upon a time, there was a woman named Leeah who lived in a very small town not too far from the top of the world. She was quite pretty, though she would not let anyone else know that she believed it, when they told her so..."
---
Do you have a story to tell? We want to hear from you!
Click here to Send your story
---
JUST RELEASED! New E-book by Elena Petrova:
"How To Find And Marry A Girl Like Me"
Comment from the reader:
"This may well turn out to be the best purchase I have made... I hope not too many of my competitors find this book!"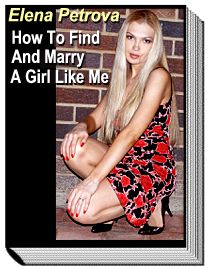 Discover how to find, court and finally marry a beautiful Russian woman!
This is the only book written by a beautiful Russian woman married to a western man - for more than 5 years! - and who is also the owner of a highly successful Internet dating agency.
Find out once and forever what Russian women are really looking for, why they are looking for it and how you can give them exactly what they want!
Get responses on your letters to beautiful Russian women - 9 out of 10, GUARANTEED!
With "How To Find And Marry A Girl Like Me" you'll learn knock-out techniques that will instantly boost your success rate in dating Russian women - online and in real life. You will have more beautiful girls that want to be with you than you can handle!
And not just ordinary girls! They will be beautiful, intelligent, but most of all - honest and sincere! You will be the one to take your pick!
STOP wasting your time and money in search for a Russian wife... Get it done - painlessly, easily, and certainly! Moreover, have lots of fun along the way!
Yes, you too can marry a girl like the one on the picture... Click here!
---