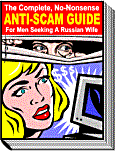 ANTI-SCAM GUIDE: Read once, and forget about scammers forever!
Seek a reliable Russian Dating Agency? Why not check elenasmodels.com -
RECOMMENDED
Be smart and safe - Background checks in Russia, Ukraine and Belarus.
Click here

Feedback about Russian Brides Cyber Guide's Black List
Thanks for your help on this site! I had decided early on that I would be happy to correspond with her so long as there were no requests for money. When the last letter finally arrived this morning, I knew something was up.
Thanks for assuring me that this was a scam after all.
Michael
---
Scamming may not be a crime, but stealing money is. I am going to nail these guys, if its the last thing I do. Thank you for fighting the good fight. We should all stand together to rid the world of this scum.

Regards
Adriaan (South Africa)
---
I would like to thank the creators of this site and especially one contributor to the site, namely Shane, who wrote a profile on a Miheeva, Marina aka Margo. You have saved me a lot of money and a lot of grief. The thing to remember about dating site scammers, and this one in particular, is that even though they may correspond with you for weeks - they are essentially lazy. They may respond to the general gist of your e-mails but generally do not respond to specific details, such as questions, comments or photos. They also have a tendency to re-use a lot of the same material that has worked for them in the past.
Terence
---
I did some more digging and found this website which made my decision a no brainer. I replied back to her with an article that I found about scammers being arrested in Russia. I haven't heard back from her since. She's good...almost got me to go "all in"... Thank you to this website and whoever started it!
Frank
---
Anjella first contacted me through Match.com. We have been emailing for about 5 weeks now. She made no mention of money until last week. Thanks to you I was wary and di not send any money. She asked for help with tickets after the visa cost her more than expected. I found her IP address and did a google search and found your site with almost identical emails. Copy and paste with some personal questions answered at the top. Thanks for saving me some grief.
Greg
---
Russian women black list - names and photos of reported scammers, scams from Russia, dating fraud

Black List - page
651

: UPDATES
March

18, 2011

DISCLAIMER: This page is compiled from visitors' comments only. All messages posted tell about personal experiences of their authors, and not necessarily reflect the position of Russian Brides Cyber Guide






Anna Iliyano (Dnepropetrovsk, Ukraine)

I was asked to send her money to studie spanish. She make a mistake when she send me information about a friend of her taht could help me send her presents and her friend was reported in several pages

But the first letter was exactly as the one you can find in the following link:

http://www.romancescam.com/forum/viewtopic.php?f=6&p=123560

kameliaan@gmail.com

Full name: Anna iliyano
address: Syvorova pereylok, 15
zip code: 49000
city: Dnepropetrovsk
country: Ukraine

Passport EH 566981


Letters:

Hi XXX ! Thank you so much for responding to my letter. I was attracted to your Profile and I knew that I is so great that we have met each other. I am very happy that I have received your reply. Maybe we can now become good friends or even more if we both so desire. So please let me try to give you more information and attach a couple of photos of me. Before I tell you anything I must write and say that I am a very optimistic person about my life and everyone and everything around me. I maybe naive but I see everything through rose colored glasses!!! I've lived around Ukraine and have seen both the good and bad sides of life. I now realize that I am a very lucky woman to be what I am today. My dear, i know that it would be really wonderful to speak by skype with you but i can't use any kinds of messengers as i don't have computer at home and also free access to the Internet. I hope that it is not a problem for you and we will continue our communication by letters.

As you could read in my Profile, I'm 27 years young, a Leo. I'm 168 sm tall, 50 in weight, blond hair. I don't smoke and drink alcohol in moderation. A glass of Merlot is wonderful! I live in Dnepropetrovsk, Ukraine. I finished medical university as pharmacist. Now I work in the chemist's shop as a pharmacist. I am not married and live alone. I enjoy traveling and love warm weather and beaches. MY dear, thank you for your invitation, it would be really wonderful to visit you in XXX. It is really amazing place , and i even didn't dream to visit it. Actually I'm waiting with impatient for the time when I will eb able to visit you there. I also like most music, my favorite are Disco of the 80th: Abba, Dschinghis Khan, Ottawan, Arabesque, Boney M, CC Catch. Music surrounds me wherever I go.

I recently was introduced to Internet Dating by a good friend of mine. I've written to a few men but relationships other than friendships have never developed. Now I am still looking for that dream Gentleman who will not only compliment me in life but become my partner, lover, confidant and best friend. Maybe that person is you? I desire a kind, mature person with whom I can share my life. I think we all want that!
I will stop now and wait for your response. If you have any questions, please feel free to ask me everything and I will answer you truthfully as best that I can. I cannot promise anything about our future, but I want to get to know you. Let's see what happens between us now and in the future. In other words, I'm excited about having the chance to get to meet you.

Have a nice day! It is really nice to meet you
Anna.


Asunto: From Tatyana Malashkova
----------------------------------------------------------------------------
Dear Sir,

Thank you for your letter. First of all, I want to clear for you that we are a translation service and our service consist of translation and printing your letters to your lady, when reply is ready, we translate and print that letter for you and send it to your e-mail address. When your account is over we send you a detailed report of your expenses and your balance.

We are a legitimate company, here is our registration information:

Name: "Profesiynuy pereklad" translation agency
address: 6/35, Ostorvskogo square,
Dnepropetrovsk city,
Dnepropetrovsk region
Ukraine
49000
phone number: +3 8095 169 14 82.
name of the principal: Miroslava Kiwalowa,
company registered: 13.05.2006
licence of ITOR: # 384130926441 from 15.05.2006

Sincerely yours,
"Profesiynuy pereklad"
(professional translations).
---


Hello my dearest Jorge! I'm so happy to hear from you today! Seems that you have splendid weekends with your friendI have missed you a lot last night and was thinking of us together - how we would spend evenings together and will be sitting close to each other holding hands and talking about the day that had passed...I am dreaming of our life together every time and hope that all of that will become true...

My dear, as for the courses, I got to know about Spanish language. I think that English and Spanish are quite similar languages so If I know Spanish I will learn English easily. So I think for the first time it would be better for me to learn Spanish, and I'm very thankful that you are going to help me with it. As i have spoken with teacher she told me that it will need not less then 6 month to learn language. My dear, to be true I think for me it would be better and much better and comfortable to take private lessons. My dear, I understand that it is a bit expensive so it is for you to decide. As i have spoken with friend you, you can make transfer by Western Union or Money gram using your credit card. Here is my information.
Full name: Anna iLiyano
address: Syvorova pereylok, 15
zip code: 49000
city: Dnepropetrovsk
country: Ukraine

My dear, thank you so much for your help , you can't even image how much it means for me. Thank you for everything that you are doing for me.I feel like I need to pinch myself, as if I'm dreaming, because sometimes it hardly seems like it can be true - yet here you are, writing to me daily, expressing your feelings of love to me, and sooner or later I am going to have to realize that it's true and not just a dream!

Honey, I need you so badly. I need to be with you, to see the beautiful smile on your face, to see the sparkle of life in your eyes, to feel the warmth of your touch, and the tenderness of your kiss, and most importantly - to feel the depth of love that's in your heart for me. I need this so that I can feel alive again.

I will always take care of you my darlong - I will massage your shoulders, or any other part of your body that needs attention! I hope you are not ashamed because it is nothing to be ashamed of when two people in love express their desires to be together and to strengthen that physical bond. I am so looking forward to building our relationship and being intimate with you. I am having a very hard time waiting to be with you, but please believe me, I am doing everything in my power to make that happen as soon as possible. It may not be as soon as we WANT it to be, but nevertheless, it will be very soon, and you can hold me to that promise, OK?
I wish you only the warmest of dreams and the fondest of memories. Do not forget that I love you. It has been hard for me to get to this point again, but I want to open up and give you all of the love I have.

Have a wonderful day, my dearest! I wish you all the best and send you my warmest hug and very very tender kiss

Love forever,
Anna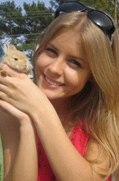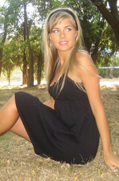 ---
Hello,
My name is Marc. I am 43 years old from the USA. I am single, and never been married, and have no children. I get many scammers emails. Almost on a weekly basis, sometimes two or three at a time! I am not sending in the others at this time because they are already shown on yours, and others "Blacklists", but the person I am reporting now is not, as far as I can tell! I never did find out where she found my email address from. We only wrote each other for about one week, yet she was " in love with me" already! From what I can tell nobody has this person on their "Blacklist", yet! I also noticed that when I added her email address to my yahoo contacts list it stated she was located in New York, New York which is not where she told me she is from as you will see in the letters. Plus you will see she states she works for "Gasprom" (should be "Gazprom" I think), and I think this can be checked out. Sorry for all the pictures, but this is what she has sent me just in six letters, and I thought they would help. This woman seems to be very smart, so please be aware of her! All letters are copied directly from originals, and pasted to this email. Feel free to contact me if you need any further infomation..

As you can see this woman is trying to tell me she needs to have money on hand to even get a visa, etc. That's a lie! If I remember right she even got the so-called interview the day after her "Travel Agent" sent in the paperwork/application! I could be wrong, but I don't think anything to do with the US Government will ever work that fast! I'm a 100% Disabled American Veteran so I know this first hand! I think that's a BIG reason I keep getting scammers emailing me almost weekly also! It's a shame that a disabled person can't even find someone to spend his life with! Also, from what I have read on the Ebassy site in Moscow you have to send in the Visa Application via "Pony Express" "ONLY"! Like I said I could be wrong about some of the details for getting a Visa, but not about this person/person's-male/female as a whole! Their a SCAMMER, and apparently very smart!


Email address she used is- eka.ekaxx@yahoo.com

Sincerely,
Marc


Letters:

First Letter 2/17/11
Hallo!
My name is Ekaterina. I am from Russia. I am 30 years old. And I want to find love. I saw your profile on a dating site and decided to write to you. I hope you're just looking for love. And I thought it would be nice if we could write to each other. And to begin our acquaintance. I'll wait for your answer. And I'll tell you more about yourself.
Ekaterina.


Second Letter 2/18/11
Hello Marc!!!
I am very glad to receive your answer. I thought that this would not work and you do not write me. But you wrote, and I'm very happy about that. I hope that we can become good friends and maybe more. You probably have a question, why have I written? I liked your profile. I decided to find love on the Internet. But I do not even know if this is possible. There are many people who found love in Internet. But if we do not find that same feeling that we are looking for. Then we could be just friends. I think it's fine to have a friend in another country. Today I want to tell you about myself. My name is Ekaterina. I am 30 years old. I was born on January, 12th, 1981. In city Moscow, in Russia. It is very good city, I live here all life. You can find my city in googlemap. Just a little about me. I do not smoke. and do not drink alcohol but good wine sometimes. I have no children. I love kids, but I do not even know if I want to have their children. I think that I can not understand it, because that is not there right man. My height 175 cm. My weight 52 kg.
As I to you have already told, I search for the love on the Internet. I have got tired to remain one. And I wish to find the person with whom I will divide all remained life. I never used the Internet for search of people earlier. But I heard much, that it works. Also that many people find the love. And I as hope, that I can find the significant other. I travel much, I was in many countries of the world. I very much like to learn other countries, other cultures. I could not find the person, here in Russia. And I have decided to find the person abroad. I met many the Russian women abroad which were married for foreign people. And I saw, that they really appreciate female qualities. Here in Russia it is very difficult to meet the person whom it will be valid to appreciate all qualities of the woman. So, I very much hope, that you search for the same. Also that our acquaintance will grow every day. As to my childhood it was enough hard time. But my parents did everything that it was easier. I have left school with distinction and have then entered the institute. When I have started to study at institute, I have gone to work, to pay any part of the study. My father has died when I was 20 years old. After his death, it was very heavy to pay institute. Also it was necessary to work much. But we with mum kept very much. And I could finish institute and receive an economic education. Now I work on the prestigious company And I receive good enough money. I work for a company "GasProm". You may have heard about this company. We supply gas to Europe, and the next country. I work for a manager and looking for new people and so I am looking for new clients. For today I can independently live and help mum. I romantic, cheerful, optimistical, but unfortunately till now the lonely. Certainly in the life I met set of men, but they sufficed only on romantic meetings. I would like to find the person with whom I could create a family. I will stop the letter to receive your answer in hope. You are very interesting to me!
I look forward to your reply!

Ekaterina.
P.s. I hope that my English is understandable for you. I taught this at school and when I was abroad I got a good practice for my English.


Third Letter 2/19/11
Hello Dear Marc!
I am so happy to receive your letter. It was very interesting to me to read your letter. I very much hope, that our friendship will lead us to more serious feelings. To me really it is very pleasant, that you continue to write to me. And I never thought, that on the Internet I can meet such good person, as you. Today I wish to tell to you a little about my interests. That it is pleasant to me in a life. I like to listen classic music, pop music, jazz. My favourite writers it Gogol, Bulgakov, Pasternak. My favourite poets Esenin, Pushkin, Blok. I very much like to read verses. Verses it is my little weakness. You likely heard much about them. From meal I love the European dishes. From wines I prefer the red. As very much I like to dance. Some years were engaged at school of ball dances. I like to look films of genres a comedy, a melodrama, a detective, a thriller, suspens, musical. I do not like to be late, long to wait, miss. I do not love lie, envy, jealousy, greed, hypocrisy, dependence. In people I appreciate honesty, decency, conscientiousness, tolerance, resoluteness, boldness, fidelity. I as very much wished to hear, what you like to do at leisure? What do you love from meal, music, films, writers? You like to travel? What do you appreciate in the person? I with impatience will wait for your answers!
I as very much like to travel, always very interestingly to meet other people, to learn other culture. I was in Croatia, on Cyprus, on Island Haiti, in Austria, in Spain, in Italy, in Turkey. Very much it was pleasant to me in Austria and Spain. As I often should go to Ukraine on work. And I always wished to visit more many countries. And I know, that I will necessarily make it. Probably then, in the future you want to travel with me. I would be very glad, if you have kept my such company. :-) I work for large organizations in Russia, which supplies gas to Europe. My hair color more brown than red. But when I'm in the sun, there's really my hair color like red color. You do not like red hair? What about Russian women. I was brought up quite well, and I do not am to the part of women about whom you told me. For me, even sex takes a back seat relationship. Sex and important role in the relationship, but not without love. I do not understand how can there be sex without love. I'm so educated and do not even know it is good or bad. But Russia is now a lot of women who only want sex, just looking for a rich guy, and it disgusting watch. I'll tell you tomorrow what I had a guy, it was most big liar. Today I do not want to talk about it. With regard to the time of year? I love the weather. But most of all I like autumn or spring, because it's not too hot nor too cold. In Russia, as you probably know a very cold winter, this winter the temperature reaches -37C. And this summer it was +36 C. In summer it is not possible in Moscow, as there is bad air, many cars, and this summer burned forests, peat, and it was not bearable. I do not have permission to drive a car, but I know how to drive a car. I taught my cousin. I'm the only one in the family. But I have a cousin and cousine. (You can see them on the photo).
On it I will finish the letter. I will wait for your answers. I hope, that you liked my letter.
Yours friend Ekaterina.
P.s. If you have photos, please send me one photo. I want to see you.


Fourth Letter 2/21/11
Hello My Dear Marc!!
I so am happy to read your letter. How your mood? At me very good mood. Every day we become closer, every day we learn each other better. And I so am happy, that I can write to you. I wish to tell to you, that to me never was so pleasantly to speak with someone. And when I write you the letter, I feel, that you so well understand me. And I can name you the friend. You really for this short time for me became the friend. And I am very glad to have such friend, as you. I wish to tell to you a little about the last love. It was for me very much a hard time. When I studied at institute, I have grown fond for the first time really. I have grown fond of the person who as has loved me. At us all was good. And our relations proceeded throughout 5 years. I loved him. And he said to me, that he as strongly loves me. But as it has appeared, it were only words. I never reflected, that lovely man is capable so to lie looking me in the face. And I was such silly woman, that I of it did not see. I was said often by the girlfriend that he changes to me, but I did not wish to hear it and convinced her, that it is all lie. But when I have seen him with any girl in our apartment, in me all has broken. I could not look in general long time at men. I strongly was afraid, that once again I will be deceived. I have left from him when I was 26 years old. And 4 years Iam in full loneliness. Certainly I tried to begin relations here in Russia. But it besides was not the true love. Then I have already simply despaired. I thought, that I and can be all life of one. While my girlfriend has not told to me about a site where she was registered. But she did not search for love on the Internet, she simply searched for friends in other countries. And I have decided to try it. I have read, that many people are valid find the love in the Internet. And at me it has turned out, we have met each other. I do not know why, but I trust you. I see in your letters, sincerity and honesty. It very much pleases me. And I very much hope, that at us to appear the big feelings to each other. I will finish well, the letter. I will look forward to your reply by all means! I hope that you will have a good day.
Yours friend Ekaterina.
P.s. Thank you for your photos. I really liked it. You look very well. You have very good features. And a very good eye. And I think you're very good and kind person, and it is most important to me. But I think with short hair you will be better, but not quite short. ) I'll always be glad to receive your photos.


Fifth Letter 2/22/11
Hello my dear Marc!
It was very pleasant to me to receive from you the letter. Each your letter for me as if a new breath of fresh pure air. How your mood? My mood simply remarkable! Today I have met the girlfriend of the childhood whom we did not see about 12 years. After leaving school she with the parents has left abroad. First time we wrote each other letters, but then communication with her has interrupted. She told much about herself. Now she lives with the husband and two children in the big beautiful house. In the evenings they all family gather behind the big table and talk about the past day. On days off leave on the nature or simply cheerfully spend time together. All happens how she and dreamt. You know, I so am glad for her! The main thing it that at she there is nearby her a favourite person and her fine children! When she told about it, she as if was shone! It so is fine! When she has asked about my private life, I to her have told about you. That you very gentle, kind, courageous and sympathetic! She as was glad for me! She to me has told, that so many Russian girls who live now abroad, and that they it is really happy. She has told to me, that here in Russia men do not see female beauty, and abroad really appreciate all qualities of the girl. I as many times met abroad many girls from Russia which were as are happy, that have left abroad. I too see, that here in Russia I will not meet the person whom I will love really. Now I understand, that I never and did not love really. Certainly at me were warm and tender feelings to people but when they deceive, it not to name love. And I so wish to learn true love. I wish to learn and feel this feeling. And I very much hope, that sometime I will fall in love really. I think, that for any person it is very difficult to live without the significant other. But who knows, is possible we after a while we will understand, that we are created for each other. I see in you, only high qualities. And I cannot understand, how such person as you remain so long one. I am very glad, that we became such good friends. And I very much hope, that soon we will more than friends. And I very much would want, that we have met as soon as possible. Because it is so interesting to me to write to you. It is so pleasant to me to be your friend. And I very much hope, that as it is pleasant to you to be my friend. Thank you for your pictures, I'm always very glad to receive your pictures. You have a very nice house, and a very interesting machine. I'd like to see all this with my own eyes. And of course I would love to see you in real. I would love to hear how you play the guitar. And I hope the fact that we will have that chance. What about the phone. I would certainly give you my number, but the problem is that my cell phone only for Russia and Ukraine, and all calls to foreign countries are locked, my bills for mobile services paid by my company where I work. But I'll buy myself another phone and of course we can exchange SMS, and call each other. Between Us 8:00 differences. That is when I have a day in your night. What I know about USA, I know a lot about this place, I studied in school, I remember by heart all 50 states. I know all the history of the Grand Canyon, I taught it at school and I had a essay on this topic, and I passed it on great. also know all Presidents USA. I know very well the geography of USA. I even know what cars releasing USA. Learned a lot from movies. ))) So I know a lot about it. But unfortunately, I've never been there. However, I think. I will have the opportunity to learn this place in person, and you help me with this if you are not against it. )) I've heard and seen many episodes of "Law & Order," just like to sometimes watch "Family Guy" and "Simpsons", but it's just sometimes when really bored. You talked about the woman you're looking for. I have the same opinion, and I totally agree with you in this. I also balance love and constancy. And recently I started to think that life goes so fast. And when I'm home alone at night, I was not even someone to talk to, and then I realize that I'm very lonely. And I understand that I lack the proper number of men. I just want to love and be loved. And in this most important honesty and integrity. And why I'm here I can not find someone, I do not even know where to look. I tried to register on the Russian site, but there are men who need sex just for one night. Go to the club, there are only some drugs and dirty sex. Be on the street, it's quite frightening to Russia, especially in the evening and if you're a girl. I hope that I understand my answer. That's what I was supposed to tell you it was originally. but the fact that we have the correspondence, we already have a good start in what we already knew each other. And at our meeting, we will know who is what he wants, I think it speaks volumes, and allows for real meeting a good start. But if the honor, I'm not very fond of internet communication, phone calls, and all of cyber communication. For me it has always been difficult, even say on the phone with customers at work, I have always given very heavy. But with you I really just say, maybe i found a "soul mate". I am glad that we'll have contact. And I think that our friendship will grow with each passing day, I even know it! tomorrow, February 23, I'm not sure whether you have a holiday on that day. But in Russia there is a holiday on this day, women congratulate men, a holiday called "Day of Defender of the Fatherland." Do you know or not, on this holiday. but I put a postcard to the letter. And I think that'll be happy. On it I finish the letter. And as always, I with the big impatience wait for your letters.
Your friend Ekaterina.


Sixth Letter 2/23/11
Hello My Dear Marc!!
I am so happy to receive your letter. How your mood? I'm fine. Today I wished to tell to you a little about my mum. For all life I did not hear from my mum of shout or even conversation on the raised tones. She solved all family questions easy though the father happened sometimes is quick-tempered. But my father as very strongly loved me. And they always wished to give me more the best life, than at them. And I think, that at them it has turned out, because now I can afford much. My mum had to work much after death of my father. She had to help to me to pay study at institute that I had a good formation. During this moment it was very difficult to me to see my mum as she tries for the sake of me. And I so am grateful to her that she has given me all it. And now I try to help her as in everything that she more never had to reflect on money. a few days later her birthday. And I wish to make to her, something very pleasant. There will be a big family supper. I long thought what to present to my mum. Mum - the loved one, the most native and favourite. The gift for mum should be thought over, here not a place to unnecessary knickknacks. After all the loving person gives only good gifts. But for many years I have presented already much everything, therefore my difficulty at a gift choice quite naturally. Mum is a person who has given me a life. Perhaps you could tell that I can give her?
Now to answer your questions:
My full name: Ekaterina Mouhatchyowa (my last name is hard to pronounce)
What about my favorite color, I do not even know what exactly my favorite color. My favorite color is usually determined by my mood. My home wallpaper pale pink in color, and which give the sun a golden color. Perhaps this is my favorite color. This is a difficult question for me. :-) My favorite flower - the rose, as surely and in most women. I live alone at home in your own apartment. My mom also has its own apartment and lives there alone, but we often visit each other. I love watching sports, I like skiing, just sometimes watch basketball. Favorite musician, I like different music, just depends on my mood. But now I have a favorite musician, although I have not heard any of his songs (you can guess who I'm talking about?). Of course you're my favorite musician. What about the children, I do not know how much I wanted to have kids. I think I can understand it only when next to me would be the right person. But I can answer that I would like a boy and a girl, why a boy or a girl? because I'm the girl to be his brother, which she will assist and advise the girl to her brother. I think so. :-) I have not read to the point where you have answered your questions, and you just answered this question. I postrayus send you a postcard or letter, I will put your pictures always there, and I will write you a letter by hand. I think it would be cool. Tomorrow, I know how to do it on their mail. And I think that the day after tomorrow I will send it to you. But how long this will go, my letter will need to cross the ocean. Today I had this dream, as we sat together in your red car and went to see various places in the USA. Maybe it realized one day. I think it would be very romantic.
I have very good news to you. Today I thought of where I can depart to the holiday. I have a holiday for 30 days. And I think, that I could visit you. I think, that you will be glad to our meeting. Tell to me, that you think of it. You would like our meeting? I think, that it would be good time for us, and for our best acquaintance. You search for the same, as I. We search for love. And I think, that when we will be a number, we can give to our feelings full freedom. If you are ready to meet me tell to me about it. And we will need to discuss some details. Inform me what you think of my travel to you? I will wait yours for the answer. It is time to me to finish my letter. I need to buy some products still. I wait for your letter. I do not know, how to you to tell, but it seems to me, that I have fallen in love with you. It is so fine!!! I did not test for a long time such feeling! I already even have forgotten, how much it is fine!

Yours Ekaterina.
P.s. I think this picture you have to put on your desktop DSC00410 Haiti


March 4, 2011
From: "eka.ekaxx@yahoo.com" <eka.ekaxx@yahoo.com>
To: "Marc
Hello My Dear Marc!
Today I was in the bank and wanted to get a loan, but I could not do it. It seems that our meeting should be postponed for some time. I do not know how. The fact that it is now re-apply for a visa I could apply only after 6 months. It's pretty long, but I do not know what I can do now. sorry, that brought so much not comfortable to you. But we have to stay in touch with you. And sooner or later we are still able to be together. Will only need to wait. I'll try to find the money, I have a little more time on it. And suddenly I will find this amount. I love you Marc! And I love you, whatever happens with us, I will always love you. I am waiting for your letters. I hope you're not mad at me now.
With Love Ekaterina.


March 3, 2011
From: "eka.ekaxx@yahoo.com" <eka.ekaxx@yahoo.com>
To: Marc
It's me again! I beg you not to worry about my last letter. I'll try, think of something. And I know that I would find a way out of this situation. We will still be able to be together. Just maybe it will take time. Tomorrow I'll try to get a bank loan, I always give the bank the money. since I took a lot of times already from them large sums of money, and has always given during and even before. I love you Marc! And I'm still very happy. I am happy that now my life is a man whom I love, and without which I feel so heavy. I am waiting for your letters. I'll tell you more tomorrow. I'll go to bed. Ekaterina.


March, 3, 2011,
From: "eka.ekaxx@yahoo.com" <eka.ekaxx@yahoo.com>
To: Marc
Hello My Dear Marc!
I do not know how to begin my letter. And to tell you when I said that I can come to you. The fact is that today I had an interview at the visa office for visa in the USA. I thought that all is well and that I will succeed. In the morning I went to see Nastya, and contributed money for tickets. I have not bought tickets, but paid, because the visa department needed a paper that I paid the ticket price. I just had to show your passport and insurance. And like all was well. until I was asked to produce money, which require customs control. At first I did not realize it, but then I remembered that I always did it. I always traveled with the money, and I have never had a problem with it. I have not designed their money, I thought that I should be sufficient. But the tickets are too expensive in the USA. Tickets cost me 1600 dollars. Because of this, and I got a problem. There are rules for entry to almost all countries of the world from Russia, that the tourist must have hands on cash. It is 50 dollars a day. These funds are designed as cost of living and this is proof that I can provide a place to live and be able to buy food. This is all done because of problems with immigration, because the state is spending big money to bring back a Russian citizen back home. Many people simply use these terms before. Previously did not have to buy a plane ticket to both parties, you could buy in one direction, but many have spent all their money and internally displaced have been asking for help from the state, and then entered all of these rules. I need 1,500 Dollars, so that I could fly to you. I am part of this money, but that's not enough. I am very sorry that all happened. But this is not the worst thing I so much scared, get a visa in USA was not very easy and very strict procedure. They gave me life so I showed them the money but otherwise my visa will be rejected and I can not get it again. But I think I can, but it will be very hard. I was given time till March 15. And my salary will be only 22 or 23 March. I spoke with them, I brought them help with the work that my income is very good and that they need only wait. what I was told that we hear every day, and we will not than can not help. I shall receive the salary and holiday money at a rate of about 4300 Dollar. It is on the money I wanted to come to you. I'm so ashamed in front of you that all happened. And what I got in a stupid situation. Today I went around all his friends and acquaintances. and only able to collect 200 Dollars. I was even funny on themselves. You probably think I'm stupid. I will try tomorrow to come up with anything regarding this. but it is possible that our meeting will have to go, until what time I do not know. But I'm trying to hold on, because I know that we will be together, and there remains only one question "when?". But I am confident that we can wait for the right moment and we can solve everything. sorry that it happened. I have another 12 days, think of something. I think I will. Maybe I can get money earlier on its work. Tomorrow I'll tell you more. I hope that you are not angry at me. Forgive me for this letter. I am a little upset right now, and maybe I could not write an explanation is correct. I love you Marc! And I think that the most important love, and the distance we shall overcome, just maybe later. I'm probably much hastened to our meeting. But I fell in love with you, and I was so scared and afraid I might lose you. From these thoughts to me so hard. I'll wait for your letters. I will reply to your letter, and give answers to your letter later. Forgive me, but so far I have not even read your last letter, because I quite ashamed of myself in front of you, and I still can not collect all of your thoughts. Yours Ekaterina.