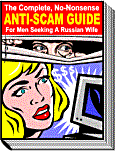 ANTI-SCAM GUIDE: Read once, and forget about scammers forever!
Seek a reliable Russian Dating Agency? Why not check elenasmodels.com -
RECOMMENDED
Be smart and safe - Background checks in Russia, Ukraine and Belarus.
Click here

Feedback about Russian Brides Cyber Guide's Black List
Thanks for your help on this site! I had decided early on that I would be happy to correspond with her so long as there were no requests for money. When the last letter finally arrived this morning, I knew something was up.
Thanks for assuring me that this was a scam after all.
Michael
---
Scamming may not be a crime, but stealing money is. I am going to nail these guys, if its the last thing I do. Thank you for fighting the good fight. We should all stand together to rid the world of this scum.

Regards
Adriaan (South Africa)
---
I would like to thank the creators of this site and especially one contributor to the site, namely Shane, who wrote a profile on a Miheeva, Marina aka Margo. You have saved me a lot of money and a lot of grief. The thing to remember about dating site scammers, and this one in particular, is that even though they may correspond with you for weeks - they are essentially lazy. They may respond to the general gist of your e-mails but generally do not respond to specific details, such as questions, comments or photos. They also have a tendency to re-use a lot of the same material that has worked for them in the past.
Terence
---
I did some more digging and found this website which made my decision a no brainer. I replied back to her with an article that I found about scammers being arrested in Russia. I haven't heard back from her since. She's good...almost got me to go "all in"... Thank you to this website and whoever started it!
Frank
---
Anjella first contacted me through Match.com. We have been emailing for about 5 weeks now. She made no mention of money until last week. Thanks to you I was wary and di not send any money. She asked for help with tickets after the visa cost her more than expected. I found her IP address and did a google search and found your site with almost identical emails. Copy and paste with some personal questions answered at the top. Thanks for saving me some grief.
Greg
---
Russian women black list - names and photos of reported scammers, scams from Russia, dating fraud

Black List - page
648

: UPDATES
January

21, 2011

DISCLAIMER: This page is compiled from visitors' comments only. All messages posted tell about personal experiences of their authors, and not necessarily reflect the position of Russian Brides Cyber Guide






Anastasya (Vyatskie Polyany, Russia)

I am a separated white American Male, 47 years old, Father of one daughter and grandson, manager of an equipment business in California.

After my separation I was lonely and clicked on an E-mail from the dating site Mate1.com and searched around for women in Northern California. I received interest from a very attractive blond woman with the user name womanmoon7 who was supposedly from Oakland California. I responded to her, but it was tough to get her E-mail address so I could contact her off of the site. I finally did E-mail her and we started writing letters nonstop. In the first letter I found out that she was from Russia which disappointed me at first, but she was beautiful and seemed to have a warm and uplifting nautre, so I continued to learn about her. It started in early December 2010 and just ended on January 14th (the date of her money request letter) She said that her name was Anastasya Shilyaeva and she was 27 years old, never married, lived in Vyatskie Polyany (althought she spelled it Ployani) and was lonely. Her E-mail address is flyinglotos@yahoo.com. Her letters were very personally written and she answered a lot of my questions initially, but there were sections of her letters that seemed to go on without stopping. Also, some of her writing was very broken English while other parts were very fluent. I assumed that she used a translation tool on some of it, so it didn't create suspicion at first. She was very warm and seemed caring. She (or he) wrote very personally, so I don't think the majority of it was from pre-written letters. Soon she had me hooked and I was falling for her. I couldn't wait to get her letters. She would write me a few times a week and always sent several pictures which were very believable. There were pictures of her with her friends, people at work, etc. there were a couple that were obviously model shots. None of them sent up red flags for me because they seemed to go along with the progression of the letters. Everything was going great until her focus shifted to wanting to come to the USA to meet me. She was adament about coming to me and in her last letter gave me the standard information from the travel agency with all of the pricing for tickets, visa, passport, medical insurance, train to Moscow and the agency fee, along with specific information about Western Union. It totaled over $3200. I wrote her back and told her that I would not pay for anything through Western Union and would pay only through Visa because there were no protections with Western Union. I haven't heard from her since. Keep in mind that we had fallen madly in love and she was "sad" without me and was crying all the time because we were so far from each other. I was very suspicious and looked up some of the dating scam websites and found that her M.O. fit the profile almost exactly. She (or he) is very good at this, but she showed herself to be a fraud when she moved in for the kill. She may be doing this on her own, I'm not sure, but there is a special place in Hell for people like this that play with honest people's love (and money). I was lucky, I didn't send money, but I was initially very upset and wanted to make sure that nobody gets stung by this woman. I haven't reported it to the Mate1 site yet, but I will soon.

Tony, Sacramento California


Letters:

First and last E-mails below

Letter 1

Hello Tony. I would really like to know you and get acquainted with you closer. I have to tell, that I bought a computer one week ago and I am not good in this and in internet. But I know, that the most interesting thing in internet Is communication with interesting people from different places of this wonderful earth.... Do you agree? I think, that people should give Nobel Prize to the person, who invent Internet. It is so amazing... The most popular in internet is international dating, Contacts with people other countries, different cultures... and I decided to try.... May be you will ask - why is international dating? I will reply you with pleasure... Because I am from Russia. I will tell you about my city in other letter, if you will tell me about yours... Because Russian man is not so interesting, so wise, gallant, not so honest, as other man... May be this is because we had communism, which broke all our culture.. I am kind and sympathy women and I am ready every time to help to the people, who need this... Certainly, I want so much to meet the person, who has also good and clean heart, Who will value love, respect and trust to women... I think, that the most important thing between man and women is trusting...it demands time and power, It is very easy to brake trusting, bit very difficult to make again...

Unfortunately, here are not men, who can love value women's love... I want to be with good-oriented man, who can care about me and protect from people as in my city.... And they can love from all heart.... I understand your language, I learnt it at the school...I had excellent.... Also I learnt college language there, I can speak, but it is very badly.. Sometimes I will use translator.... I want to ask you, should I write you letters in Russian or?? English? Please, answer me, because it is very important for me. I want, that we will understand each other very well... You should write me without mistakes to understand me you well... If you understand me not very well, please, forgive me... I also will try to write you without mistakes...ok?

I think, that I wrote already much, if you are not tired to read, I will continue... My name is Anastasya... I am 27 years old...I am 169 cm and 55 kg. I was born On July, 17... I work as seller in big supermarket. I sell toys, they can be 2-3 cm, but some of them is taller, than you. They can dance, sing, talk, move and go... Certainly, if you are not crazy, you understand, that they have mechanism and that's why they can do this....

My work is very interesting... it is so big happiness, When you see how childs love this toys and they start to be more kind... it is very important... I am lonely, I live in flat. I rent. My parents live in 30 km from me...sometimes I spend my weekends with them there... I have never been married... Every morning I make different exercises, I like to run... I think, that I have everything, but I don't have love...I really feel myself lonely... I don't have person, with whom I can be happy...and I decided to find love in internet ... I would want, that you will answer to my questions. What do you want in a women. What is your demands to the women? What do you like in a women? I will wait your letters. I hope, that you will reply soon and I will get your answers... Thank you very much for interest of my person, and I hope very much, that you like my letter.... i tried with all my might
Anastasya.


Letter 10 - Last letter with money request

Good afternoon, my sweet Tony!!!!

I have very good news for you Tony, I was at the travel agency... And I know now all information, which I need for travel to you. I need for going to you following:
1) visa
2) medicine insurance;
3) passport
4) tickets

They will prepare all my documents approximately a 2 week. But if I will not make tourist visa, I will need more time, may be some monthes...
Also travel agency guaranties full design of documents. And 100 getting visa. If I will not get visa or other document, agency will return me money..
That's why I think, that it will be better to use travel agency. They told me, that they will arrange my travel as tour,
Because it will be more easy and sooner to make documents and to get visa... In other way, it is impossibly to get visa.
That's why I will make tourist visa, it will be the best. It will be availablу 2 monthes,
but I can stay in your country continuously I can only 60 days.
All tour will have ammoun in 3259 $..
1) 347$ tourist visa
2) 205$ medicine insurance
3) 50$ passport
4) 2457 $ tickets in two back and forth. I was told in agency that they have no right to release me to America with one-way tickets. Need to have two tickets. I simply can not release at the customs at the airport. I have made a contract with the travel agency I necessarily need to buy tickets from them. Such rules. I asked from where I can fly to the city of Los - Angeles. I was told that the flight to America with only the city of Moscow.
5) 110$ services of travel agency
6) 90$ tickets to go to Moscow by train. Flight only from Moscow.

Dear Tony is certainly a major step in our approach. We should be together right now we need to meet and discuss all of our important issues. Do you understand? Our meeting will give us a lot in understanding. We can discuss our next major steps. I know one thing that I can wait that long. My first action now is to come to you. And at the same meeting, we are confident in all his endeavors. I love you and I want to meet you. even the agent at the travel agency told me that now come to you as a tourist. It is very important. We should discuss it with Tony? Yes, I agree to be your wife. I'll tell you honestly I have long thought about it. I say this with confidence because I love you very much. I talked to the expense of the fiancee visa in the agency. I was told that this can be done. The problem is that it is not as fast and will need to wait for months. I repeated in the agency that we should be together now. We now need to first meeting. We must see each other. do you know Tony? Thank your friend, Larry, for clues. He lad to help you with that. My love for you is very strong and I just will be difficult without our first meeting. You know yourself that the conversation will give us a lot. We must now decide all together. I know that the parting will not be easy, but is ready for this. When I go back to Russia, we will know that we will have to do. Needed now meeting. I really want to come to you right now. Visa Brides this will be a big step for us. We'll be together I'm sure of it. What can we now give a strong impetus to this first meeting. I am very glad that you want to help me finance. Tony you're asking me if I have a bank account? I do not when there was no bank account. he told me and not need it. Because I do not when you do not have dealings with banks. And because it opens a bank account if I have a big salary. My salary is very small and that's why I will not open a bank account. To do this you need to collect many documents and have a big salary. In Russia, bank accounts only for people who earn good salaries. I asked the agent, and as I was able to get financial help from my favorite person. The agent told me that there is a very well-known firm Western Union. Money comes within half an hour. And in order that I could receive money I need to know from you is your address, your full name, the exact amount of money transfer and the number MTCN, that you will have the western union, it consists of 10 digits. As soon as I have this information I can get your help and pay the travel agency. Dear you can even send a copy of the receipt from western union with the letter (if you have that option). To me she did not have any problems with getting the money. My love for you is very high. I see in your actions that you want to do much for our happy life. I want our first encounter took place just now. I want to tell you a lot. I can not wait so much time has been done visa fiancee. I do not deny it, I'm willing to do it. But now we must make a serious step to our meeting Tony. I'm very much set to come to you. I'll try to find the money, I do not want to blame everything on you. I want to show you his effort in this. You should feel my effort. I was so scared when I read your letter and realized that we can not meet for a long time. We must be strong in this. Do you understand? The first meeting is very important for us now? Many problems encountered on our way, but we must understand that this is life. If you help me and support me I'll be grateful to you for life. I need your support, I do not want to be afraid of and what I have. I do not want you to leave me here alone, I do not want to lose you. I like you very much. Can you hear Tony? I see no reason to live without you. You showed me what love is. My heart is very sore. I cry when you're away from me. You should feel my pain as I feel bad without you. We must meet. I feel myself now dependent on you. I'm in love with you. I like you very much needed. I just can not imagine how I'll live without you. Our emergency meeting will give us a lot and we'll decide what to do first. We will sit down and make a list on paper. When will you next to me and to understand and feel me. I'll know for sure that we'll overcome any obstacles. Only your understanding will now save me from the pain and sadness. Tony are you saying that you went to the Russian language courses? I want to tell you that I can help you with that. I will teach you the Russian language. Russian language is very beautiful language. I really want to teach you to speak in Russian. And once you tell me the words I love you in Russian. I am confident that I can give you to understand the full meaning of the Russian language. When will I understand that the well know Russian. We will sing songs in Russian about love. There are so many beautiful songs about love. Tony do you ask my parents speak English? I want to tell you what is not. I will have an incentive to help you and you will be able to tell my father a lot of good words. My father will be very happy to shake your hand and tell you in Russian his compliments to you. I very much that I did not get to write you letters every day. I have a lot of work. I know you understand me. I'm just drowning in the sea of love. I want to drown in your eyes. I want to kiss you when you're asleep. Now I sit and cry because you're not around. I'm very bad without you. What should I do? If I love you very much. I LOVE YOU. I wanted to say these words to you in the eye. I now I realize that love is not so simple and has a barrier. That we must overcome together. Only with you I'm ready to be loving you. Let me make you happy. Lend a hand to me Tony? Tony please write me as soon as possible. I want to hear your answer. Remember that I love you very much. You're my only man on this planet. I love you.
Yours forever, Anastasya.