---
Marina Mikhailova (Omsk,Russia)
Original contact came from her responding to a personal ad I posted on Datingfaces.com
No money has been requested yet. I stumbled upon your site and found the correspondence at: http://www.womenrussia.com/blackpage38.htm#gavrilova Still talking to her/him/it
Photo and letter attached. Many of her previous letters are word-for-word exactly like the ones at the link above.
Bryan
Letter
Hi my love Bryan! Today is cold day here, Today I'm going to write an email to you Bryan, I stand on bus stop and I has frozen because the cold wind blows and I stand about 15 minutes there. When I went to work I looked email from you and I was very happy when I find it in my email box, Now I'm sitting and writing to you my love Bryan. When I was on bus stop I was frozen but when I think about you it's warm me and my heart. I Love you Bryan! I work here and think about life, I work on my work place and have about 1800 roubles per month, it's about 50-60 american dollars, the money is not important to me, I want only happy life, and it's enough to me. I want to ask you about your work. My work is not very hard, I like to work in general. I like to contain my house in cleanliness and order. Every weekend I make a general cleaning, I don't like the dust and dirt. I'm a clean women. And you must know that my love for you is clean and goes from heart. I think that the important thing is frankness, I totally frankness with you because I trust you and love you Bryan!!! I want that all people were honour, I like honour! We have the chance to embody our love and connect our hearts in life. I really want to see your face and talk with you Bryan! Tomorrow, I shall learn possible ways of meeting, I'll write it to you and we must decide about our meeting, I beleive and hope that you want it too, do you want it Bryan??? I want it all my heart. I'll write you when I'll know about it. How are you dream our meeting? I dream about it every day and I think when I'm go from plane, I'll see you. You meet me in airport we make hug, kiss and we go like the happiest humans and speak... It's my dream. I love you Bryan, I'll write you more later and I'm looking forward your email today. I miss my grandmother and I know that we all sometime we shall be at the end of life. I want to live good life for love and for this reason I search the man for me, I think I have much thoughts about you and I think I love you Bryan, I want to meet you, do you want it too? Please answer my question. Maybe we''l be together, I'll ask about trip to you, I want to see you and speak with you, I hope you want it too. And I forgot to say you that I used the old lastname of my mother, it's more like me, my real lastname is Mikhailova. I think you must know all about me. I LOVE YOU, PLEASE DON'T FORGET ABOUT IT!!!!! p.s. and again my photo, I sent it to you already. I trust you Bryan. There is much snow for ski here you asked. I havn't serious man before, I don't know about our future I would like to be with you. I love you Bryan!!! With love, Marina Mikhailova.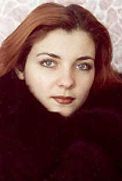 ---
Nataliya Sedulova (Saratov, Russia)
I just want to let everyone know about Nataliya Sedulova,
The first letter from her she asks for $450.00 visa so she can come see me in California. (yeah right). Her are her letters, and photos. JT
First Letter
Hello my loved Johnny
Excuse that did not write to you the whole week. I was sick. Had a heat and was all week in bed of a house. But now all is good. I represented it to myself as you meet me at the airport as we We search each other eyes, we find and we rush in embraces each other. I have learned(found out) about cost of the visa, she(it) costs(stands) 450 dollars. To me about it was told by mine The girlfriend, she(it) works in a travel company. I very much want to you. But at mine To the salary I shall save for it(her) the whole year, and I want to be near to you as it is possible Faster love mine. If you can, send them to me through Western Union, the address of branch: ALFA BANK 70 MOSKOVSKAYA STR. SARATOV, 410600 Nataliya Sedulova When you will send money you necessarily write ten numbers of a remittance. I It is very glad that you want to see me, unfortunately, to meet Money, but money it only a paper, the main thing are necessary that we shall meet with You. We should trust each other because we like each other and we is fast Let's meet. Yours Nataliya
Second letter
Hello my loved Johnny. If you will send me money on Tuesday. I them shall receive that on Wednesday. On Thursday I take off to Moscow. Also I shall present documents on the visa. The girlfriend works for me in embassy therefore the visa will make very quickly. The next week on Wednesday. And the next week on Thursday I already can take off to you. I send all photos which I have on the computer. I am very glad that our meeting soon will be carried out. And I can embrace you and kiss. About when I think of it I become without a head from these ideas. I love you. I want to you. For ever yours Nataliya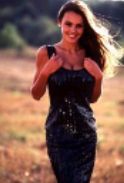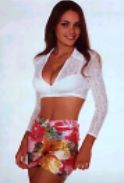 ---
Olga Fedotova (Kemerovo, Russia)
I almost got scammed until I visited this site. My heart is broken but I was having my doubts. I just remembered the phrase..."If it seems too good to be true, it probably is too good to be true." I was lucky to find out about this scam before sending any money. Thank you to all who have sent in your stories. "Olga Fedotova" contacted me first on the "Friendfinder" singles site. I was even sent a voice message. Below is the series of letters I received over the last 20 days from the Russian woman.
Letter #1
Hi. My name is Olga. I very strongly like your data. I wish to get acquainted with such person as you. Your data have simply fascinated me and if I you have interested that write to me. Mine E-mail:olga2001@fromru.com
P.S. I want to add from myself, that in turn I shall offer you mutual understanding, respect and love...
Letter #2
Hi!!! I was very much of rad to receive your letter. My heart has suggested me that I should acquaint with you. A thank that you have answered to me. I want to find the half, with whom I could section happiness and difficulty of life. My intentions are very severe. I dwell in Russia, in city Kemerovo. My city is on the river Tom. Kemerovo - large city with a population of 534 thousand the man. A history of our city very large and interesting. Our city in 1721 was derivated.In our city there are many schools, in one of which I work. I have received formation of the teacher, has finished Kemerovo pedagogical university. This university is in our city. Now I work at school -38. I teach to children from 12 till 15 years. I teach lessons of Russian and literature. My growth(increase) of 168 centimeters, my weight of 54 kgs. I was never married and I have no children. I love to be engaged in sports, specially by gymnastics. I take up with it in a school sports hall. Still I love to rest with the friends on the nature. I do not smoke and I do not drink alcohol. I have a healthy way of life. I love to listen to different music, but specially I like classics. When I listen to classic music I receive large pleasure from it. I never thought that is possible to acquaint with the man through the Internet. I am afraid that it can appear a joke. I hope that you realize my letter well, as I do not know well grammar English and I use by the program of transfer(translation). I hope that it will not influence further acquaintance. I would like to learn(find out) about you more: hobby, what music you prefer to listen, your favourite food and etc. I shall dispatch you some photos. I hope that it will be it is pleasant to you. I shall wait your answer with impatience....... Your friend from Russia, Olga.
Letter #3
Hi my friend!!! I am happy to receive from you the answer. I thought that you can not answer to me, when will read my letter. I very closely(very attentively) read your letter both has understood almost all and has learned(found out) about you more. I think that it will be interesting to you to learn(find out) about me more. I live with my aunt, as I have no the parents. My father was lost many years back in the russian-Afghani war. It was in 1985, when to me there were 12 years. It(he) was the officer of the Soviet army. It(he) has received many awards for a good and brave service. My daddy served in special group. Them have sent on the dangerous task, in which it(he) and was lost. Up to destruction of the father my mum worked the bookkeeper. She(it) was sick much ambassador of destruction of the father, left from work, its(her) heart has not sustained such loadings with experiences, it became bad to work. She(it) has died in two years after destruction of the father. I experienced about much it and now to me is very sick to recollect it. I would not know that there was with me, if not my aunt. She(it) has brought up and has brought up me. Its(her) support very much has helped me in difficult time. I am very grateful to my aunt and I try always to help it(her). The aunt has replaced to me the mum and I have no from it(her) of any secrets. We with it(her) well understand each other. I necessarily shall tell to it(her) about you. I have no the brothers and sisters. I was the unique(sole) child of my parents. I love to write to you the letters and I would like to write them as it is possible more often, but I have no an opportunity it to make, as I have no the computer of a house. I write you from a computer class at school. It is convenient for me because free-of-charge. I have many friends. When to me 27 years my friends were executed have presented me the charming cat, as they knew that I very much love animals. I have given it(him) the name Alisa. She(it) already became adult, and behaviour as at the small cat. You have animals? I have hobby to prepare various dishes. I love to find the new recipes of preparation and to surprise the friends. They always liked my dishes. My favourite dish Siberian Pelmeny. It is loved all by(with) mine native and friends. It is very a pity, that you can not it try. But I am sure that it would be pleasant to you too. You can tell to me more about your life? I would like to see more your photos. Now I shall be closed..... I hope to receive your letter soon.... Your friend Olga!!!
Letter #4
Hello my dear friend Don! I am glad to receive from you again the letter. Siberian Pelmeny are done of the test and meat and some more different spices it is very tasty I am grateful to you that you have written to me. I think that each new letter pulls together us more and more. I think that you have learned(found out) about me much. I was familiar with young people, but not one of them might not it is pleasant to me. I have found you and I think that you approach me. I hope that I have made a correct choice. I do not want to risk. I want to be happy and to love persons which am worthy it. I write you with pure(clean) intentions. I want you to make happy. It is possible for me to make it how you think? Once I had long attitudes(relations) with one guy. We met it(him) two years. I thought that we marry. But his feelings to me have grown cold, he began to concern badly to me, began to drink and carry out(and spend) a lot of time with the friends a lot of. he told him bad things about me. he became rough with me. His(its) friends consist in a mafia and he began one of them. he had a good time with other women. he liked this sweet life. I might not continue to meet him and we have left. he in any way has not reacted to it. I was strongly upset and after that I was strongly disappointed in Russian men. Has passed already two one year. I have understood that can become the happy man with one Russian. Recently I was told by my girlfriend that it is possible to get acquainted with the man under the Internet. I have not believed this but have decided to try. And I have found you. I am very happy that we write each other. For me it is very serious. I to want to be happy with the man and to lead(carry out) with him all life. I to wait from the man of understanding, I to think that this most important and certainly big love and care of me and of our future family. I shall try to make the man happy. But without his help, without his love and understanding it will make difficultly. I once again to want to test such feeling as love. I very much to hope for it. Therefore I to write to you. I to think, that you to understand my words. I to want to learn(find out) your opinion on all this? I want to learn(find out) more about you. About your soul, a private world. That it is important for you: material or spiritual values? I want to see more than your photos. Now I shall be closed.......... I shall wait for your answer with impatience..... Your friend Olga.
Letter #5
Hi the my dear friend Don!!! The Siberian pel'menis are done of the test and from meat Today I had bad day at school. I have found a new technique on grammar of Russian. I think that this technique would allow children to understand grammar better and fastly. But the chief of school has not approved it. It(he) began to shout at me and to speak that I am engaged not in the business, it(he) began to offend and humiliate me. It(he) spoke that there are experts who create the special program for studying Russian. I very much was upset after conversation with the chief of school. My mood was gone. I left in the study and cried much. I thought that I shall leave work. Mine Schoolchildren to see as I pay and have asked me why I pay. I have told them that I shall not work more with them. They very much were upset and began to ask to remain me. At one mine the schoolgirl tears on eyes have appeared. I might not give up to them and have decided to not give up work. Your letters this only thing that cheers up me. I like your letters, when I read them I feel as we approach. We are Far apart. But it does not prevent our dialogue. Though I already thought, that It is absolutely enough of dialogue through the Internet not to understand each other more strongly. What you think of it? I would like to see you not only on a photo. But I not I know as it probably, because we very much far apart. You to me like And I think that our relations can be deeper. I do not know as to explain It is by words. I simply feel it. Your letters make my mood high. I am becomes joyful on soul. I want to ask you to write to me your address, I am possible I shall write to you the letter. I do not remember you wrote whether or not, I can not save your letters, because them can read somebody another. My address Russia, 650099, city of Kemerovo, street of Lenin 44-53. But I think that it is not necessary to write to me because can steal The letter, and would not be desirable for me that someone knew about that about what we with you we think. I I hope you me understand. I shall wait your letters and I hope that you will write to me soon. I think that Sometime we shall meet you. I would like to arrive to America, to meet With you to see as you live. I want it because I begin to understand that Between us there is something greater than the friendship seems to me what is it feeling Trust to each other, it seems what is it lovefriend, I seem that you Feel it. I wait for your answer, it is very important to me to know that you think of that that I have written To you. I want to learn(find out) much about you. How at you an affair? How mood? I to think, that at you all is good. I to want it am very strong. I shall ask the god that you were healthy and happy. I the christian and frequently to go to church. It is very important for me. You to visit(attend) church? What you to ask the god? I always to ask him(it) that at all all was good also everyone were healthy. I to know, that it(he) to hear me and to be good only for people. Each person in the world should live well and happily regardless of the fact that it(he) to make bad. You agree with me? I to want to know your point of view on this question. Your friend Olga.
Letter #6
Hello loved friend Don!!! I so am happy, that you at me on mind(wit) all the day. I am happy to read your letter. I never travelled outside of Russia. I with the loved person have left on a desert island How at you an affair? How mood? I to think, that at you all is good. I to want it am very strong. Well, I to want to tell you, that my heart began to beat more often when I to think of you!!! I to ask you, that you to send me all photos which at you are. They will help me to feel your presence near to me. I want to feel you, your gentle sight, yours a smile, your hands. I so to require in heat and care and I to think, that I to ask not so much. I to search pure(clean) love and romanticism in attitudes(relations). I to like when all is beautiful, fine, gentle and romantic!!! Desire to have the family, the loved(liked) person beside, feeling care and constant support in difficult minute, to what to aspire each person in life and I too. To me 27 years, and I and to not have, about what I to speak you. I was close to happiness in the past, but my trust to breakmy heart. I should trust the person with which I all life. To trust his each word, gesture, a sight, a smile. In the world now so it is a lot of meanness(low act) and deceit, that it is necessary to concern to people which to surround you very closely(attentively). I to not speak you, that it is necessary to concern about mistrust to everyone, just necessary to know the person so that to be completely sure in him. I to know you not long, but I can tell, that you very fair and open and it very much to involve me and let's me trust, that I that I can love and be loved!!! My aunt to learn(teach) me, that I should be always open. I to tell her, that our attitudes(relations) to develop successfully and she is happy for us. I told to the aunt about you much. She to dream, that I, at last, there was not one and to have family. My aunt has told to me yesterday as has met the husband. It was the casual meeting. They have fallen in love in each other at first sight. All over again he looked after her and a bit later they married. Now they live very happily. It is a pity to me that I have no the phone of a house. I very much would like to hear your voice. My fellow worker the teacher of computer science has offered me to make a sound file. I shall try to write down to you a sound file and to send through email. I shall try to make it as soon as possible, whether but I am not sure it will turn out at me. I now very much to want to talk about you! I so to want to share with you pleasure personally when I to see your eyes and a smile of that I am glad. I to want to see your pleasure and to divide(share) her with you. I to want to know what to do(make) you happy? And I shall try, that everything, that I to make was the present happiness for you. Please give me chance to make it!!! Give me chance again to feel the loved and loving woman. I wait for your beautiful letter and I promise, that I shall think of you each minute. Your love Olga.
Letter #7
Hi my love Don!!! I am very happy to receive your letter today. Today I have good mood. To me I am very good, as to meet you in my life. I to not be yet never so is happy. I now completely to change, it to notice all mine familiar and friends. It is all due to you. I as though to fly in heavens. Nothing it is necessary except for your letter and you. I each time go with alarm in the Internet a class at school. I to think suddenly you has not written to me, suddenly you to not receive my letter. But when I to see. That all is normal to me to become well and I with pleasure and with good mood to write to you the answer. I yesterday to think of our attitudes(relations) and about our feelings. I already to become attached to you and I to not know, that to me to do(make) when I to not see your letters. I always to think of you. I begin more to distract at work. I nothing can make with myself. I to think, that all this is possible to name as one word love. Yes I to love you. I to speak about us to my aunt. She to ask me you really to love (him) and to want be with him. I to tell not thinking, that very much and I can not present myself without him. I to tell to (her) about you and she to tell. That you the very good man and are possible to trust you. But she all the same to experience for me slightly. She to me to tell, that I should be not mistaken in a choice and still early to speak about love. She speaks, that we should even closer learn(find out) each other. But I to understand her. She to love me. And she for me as native mother. I to think. That you to understand me. She to wish to us happiness and large love. I today very much to get tired at work. I had very difficult day. I shall write to you tomorrow. I shall be with impatience to wait for your following letter. Because we with each letter to each other to become all is closer. I to notice, that our letters are ever more complete by love and good mood. I to want, that it always would proceed. I to send to you the most passionate kiss. And to wish to you successful day. To protect itself my love. You always in my heart .Yours love Olga.
Letter #8
Hello my love!!!!! I have received your letter and my heart was filled with happiness. I think that my heart belongs to you now. You are in my ideas constantly. I spoke my aunt that probably I shall leave to America. She was surprised with it and very much was delighted that I have found the happiness. She has told that I shall be happier with you than with Russian the man. Today I all day thought only of you as we with you meet. I have presented as we meet with you at the airport, we search each other eyes. When we find each other, we rush in embraces each other, we enjoy these embraces very much. We exchange passionate kisses. I wish that my ideas have turned to a reality. But before our meeting it is a lot of difficulties. I have the girlfriend which work in travel agency. She has told me that the visa in USA which resolves arrival for 3 months to cost 350 dollars. It is very expensive for me. My salary makes 60 dollars per one month. Therefore I think that our meeting very much will be not fast. I need many months to save the sum of money for trip. I become very sad from it. We so far apart. Between us huge ocean, but in ideas I always with you. I love you very much. I grieve without you very much. I shall be closed now... For ever yours Olga Hello my dear"
Letter #9
Hello my love Don!!! I waited for the moment when I again shall receive from you the letter and this has come happy The moment and I can learn(find out) that you think of my previous letter. To me has very much liked your voice. I have told about us with you to the girlfriends and aunt, they are very glad that I have found Happiness, also that I shall leave to you. Certainly they will miss for me as well. Me seems that we already on so much are close with each other, we as if The husband and wife only, unfortunately, divided in huge distance. You would like to marry me? I would like it very much. But not looking On it we should keep to love each other and to trust each other, you with me Agree? I that can not make with self, is love, she(it) sing in me as bird in The spring sky. I think that it is destiny it can be dangerously, but I am mad Is in love with you. Your letters are filled by such heat and care, and at me Tears of pleasure sometimes run. I think ' My God, a thank that you have helped me to find Mine unique(sole) and I hope that we shall incorporate to him and we shall be happy. ' I dream of our meeting and about that as we shall go for a walk with you, to keep for hands, As we shall look after one after another and as we shall do(make) love. I LOVE YOU, I WANT YOU, YOU FOR EVER In MY HEART, In MY IDEAS. I dream as you Will carry me on hands, to embrace me, to kiss and to embrace my gentle body. It is a pity that only dreams and whether it is fated by him to come true the God knows only. I hope soon to see your letter. Yours Olga.
Letter #10
(I noticed this on the "blacklist" only names have been changed)
Hi my love Don!!!!! I talked to my girlfriend from travel agency. She speaks that visa B-2 is necessary for me. The visa is registered 2 weeks and operates 3 months then. It to cost 350 dollars. Tickets to cost 1200 dollars there and back. It is very many money. Unfortunately I have no such money. If you may help me with money to speed up our meeting, you may send money through Western Union. The address of bank: GUTA BANK 53, 2 October street KEMEROVO RUSSIA Olga Fedotova. When you will send money you necessarily write ten numbers of a remittance. I Is very glad that you want to see me, unfortunately, to meet Are necessary money, but money it only paper, main that we shall meet with By you. We should trust each other because we like each other and we soon Let's meet. Still I talked to my girlfriend which works in travel agency and She has told me that the visa B-2 the best variant that to us with you to meet. She speaks that when we shall meet we can discuss that as we shall live Further. Yesterday I saw sexual dream about us with you, he very much has liked me also I want To tell him to you. Me has dreamed as we with you we meet, as you take Me on hands, we go to you home. At you at home we go at once in a bedroom and you Begin to undress me, our hearts are beaten synchronously, we are passionately kissed and You begin to learn (teach) me to all pleasures of sex. I to love you and I begin to understand that love this such strong feeling, I am glad That I could test him due to you. About love forever yours Olga.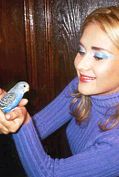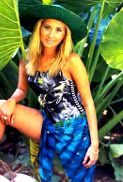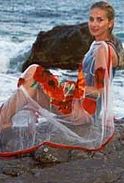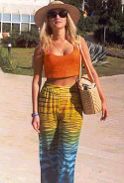 ---
Thank you for your aid to those who legitimately seek Russian women. Alena Federovskaya is using the name Olga now from Kazan, mailed from olga0402pochtamt.ru the same photos though and the same M O.
Now she has a wave file, for someone who has no knowledge of English grammar she sounds very good. Just an update
FYI.
---
Oxana Curdiucova (Kobryn, Belarus)
My name is Brian I live in the USA am 36 and work as an engineering technician in the computer industry.
I was a member of several dating sites and Oxana had contacted me on the kiss.com site in September of 2000, we had corresponded for a year and 2 months.
I think February 16th was the first time she asked for money but it may have been before I don't have any letters from before February they were lost.
She game me the e-mail address of the supposed travel agent but I told her I didn't trust them after I talked to them so I would send money to her. The money went to Oxana Curdiucova at the Brest western union branch, I sent a total of I think it was $3200 over a 6 month period ending the end of October of 2001.
She was scheduled to fly into Seattle the 25th of November 2001 at 3:45 PM but I had gotten an e-mail from her the 22th saying something about a security problem and that she would talk to the agency BelTourBrest Friday and get back to me then. I didn't get any message back so I continued on like she was flying in so I went to the airport on the 25th and was there for 3 hours waiting at the baggage pickup area had her paged, talked to customs, immigration and finally the last person to get thru immigrations to find out she wasn't there. I sent her an e-mail when I got home, thinking that the security issue was the problem… FOOL. She responded back on the 26th with that she was in a car accident and sent pictures of the car hooked up to a tow truck. Needless to say I was upset on several levels. She say's in her letter that there was another car involved in the accident and that she had to pay for damages to both cars
The three picture I sent as you can see there is one that is of who ever it is when she is younger, she said this was with her friend and cousins, other with her friend and the other is her mom, supposedly. Even with my suspicions I was convinced when I saw the pictures with her mom and the one where she is younger with the cousins and friend.
I wish that I had found this site a year ago and fortuantly I found it now before I tossed more money and spent more time with this woman.
Brian Carlsen
Letters
Hello my dear, Brian ! Unfortunately, I had the most terrible day in my life. Everything was good from beginning. My working day finished and I took a car of my working mate. We gathered together with my friends and went to the countryside. It's a Mercedes, 1995. We had wonderful time. It was getting dark. I drove at 70 km/h. I was at the crossroad when I had an accident. It happened another car was on the main road and at all speed I beat the car. And I broke that car and my car. I was shocked. I couldn't understand, what was happened with me. Nobody suffered in my car. Only I stroked my head. My dear,Brian I have concussion of the brain. I am feeling very bad. But the driver of the second car suffered. Now I have many problems; two cars are broken. I don't know what to do. All our plans destroyed at one moment. The police came at once. They took my drive license. No I have to repair the cars and pay the money for moral damage. Other wince the police will have criminal report then I have to forget about you and our future. I'll not to be able to leave my country during 5 years. I have big problems, I don't know, what to do, I don't want to leave. xml:namespace prefix = o ns = "urn:schemas-microsoft-com:office:office" />Help me my dear Brian . We can be together. But this accident's made my life hard. I want to be with you. The only way is to pay for repairing and moral damage, I'm so. Sorry to make many problems for you Brian . I hope, you'll understand me and don't leave in such a difficult moment. I'm so distressed, my love Brian . Write me soon, I need I need you now more than even. Kiss you Brian . Yours Oxana.
Dear Brian, Thank you very much for your nice letter. You make me feel so happy Brian so special. You want to meet me dear. Brian for me to travel abroad it's needed to get a Visa and passport to purchase a tour, because our "Wise' president made a law that the women who 45 and single can not leave Belarus if they have not a tour. So i went to the travel agency in Brest yesterday when i got your letter and found out some information. You may contact them directly if you wish and find out the information yourself. They have a computer and e-mail. Here it is : bel_tour_brest@hotmail.com They plan trips from Moscow I must tell you dear. Brian i love your letters they are so interesting. Each letter I get from you i feel your heart dear. You have so much love to give, it's like a fire burning in the distance for me, it warms me. I hope I'm worthy of your love. You know, I'm just a mortal woman, nothing special. But for you, I want to be the best woman to make you happy always. I know, people make mistakes, but dear, we'll forgive each other when we sometimes fail. Love is not truly strong unless it's strong enough to withstand any stress. Our love will be strong I'm sure. We've found each other in the distance, & our hearts are connected, my love. You know, in wedding vows, people say ''for better or for worse'', I'm sure if we see each other at our worst we'll still love each other, because our love is strong. My dear, you make me feel so wonderful inside, I hope I make you feel the same. I want to love you, dear & be loved by you so much!!! I'd like to explore the world with you by my side. Just imagine… the hills of Rome…the streets of London…Paris in it's charming beauty…etc…etc… I dream of your kisses, lips, heart… Yours, Oxana.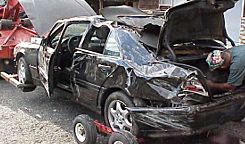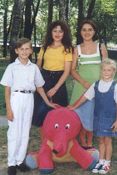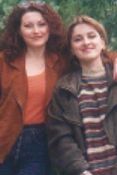 ---
Polina Logenko (Ukraine, Dneprodzerjinsk)
Hello, I wish to report the following story for your consideration..
My name is Patrick, I am 40 years old, a widower, 2 children, owner of (2) high technology companies, educated with BA, BS and MS degrees. I have been alone for nearly 5 years and with the support and motivation of my children I began my search for one special person to share my life and to start again. I know her as Polina Logenko Ukraine, Dneprodzerjinsk, Lenina av. 71-a ZIP/Postal code:51929 Her email address as of 12-02-01 was: wfodn@gmx.net
Once I found that she was also know by other names, one: Anjela Oleynik, I could not just stop writing. I needed to send one last letter of good bye which I sent today.
I hope you publish the following letter:
Hello my treasure, Polina: Thank you for your letter of December 1, 2001. In a very short time I have developed a great affection for you. I really thought that you had the qualities and characteristics which I have been in search of. This is far beyond your extraordinary beauty. I have read your letter over and over again with horror as well as tragic sadness. I wish I were closer to help in your time of need. If needed I could have been there in less than two days. But you did not ask. I personally thought we had a chance. Because of who I am and the responsibilities I have, it was necessary for me to protect my business as well as personal interest. I wanted you to be with me and for sure to share the life you promised would exist between us. Upon receipt of your tragic letter, I was prepared to forward whatever you said that you needed. 290$ USD was a minor amount to bring happiness to your face and to help your mother who dies before your eyes. My people suggested that I restrain from sending you anything. As I said, I did have very serious intentions and dreamed of the day we would be together. On a small investigation of Polina Lognenko (by my people) of Ukraine, Dneprodzerjinsk city they found nothing at the moment and as of today they will stop their investigation. However, There is a lady born July 17,1979 from Kherson, with your exact image and methods. Her name is Anjela Oleynik - it has been confirmed this is you. My heart and emotions broke. Perhaps Randy of California would be pleased to know you are fine. Also, Jason of the U.K. would be pleased to hear that your mother did not die as you described when hit by the truck. But she is now dies in your arms when being hit by the same truck but a few months later. See your letter to me of 12-01-01 O,
my lovest Patrick! I can't write much time.. I have very big grief. My mum passed a road... Behind a rudder there was a drunk driver... There was a failure. When I hear about this awful incident, immediately has gone to hospital. A condition of my mum very hard. The doctors have said, that it is necessary immediately to make operation to her . It's very expensive, and our medicine is in a very pitiable condition therefore I must pay for operation. But it costs $970, and I managed to collect only $680. I try to find the stayed money, but I can't. It is necessary to make operation immediately. If not time, I would find stayed $290 but I haven't time. I can ask of the help only you. My mother is very dear for me. When we were left by my father, she was the unique people who always cared about me and understood me. Now I am obliged to make all that in my forces to help her. I can not look as my mum dies on my eyes! Please, if you can then help me. I will pray for you. I was in bank and there is Western Union money transferr system. This is only one fast way that I know. I have found out about transferr: You need my full name Polina Lognenko and my adress Ukraine, Dneprodzerjinsk, Lenina av. 71-a ZIP/Postal code:51929 I need your full name, address and 10-digital money transferr control number (you must take it on your Western Union operator). If you can help, please, help me as soon as possible! I feels very bad now. I'm in despair! I'm waiting for your answer and pray. Love you. Please take a moment and look to the following letter sent a short time ago to Jason in the U.K.
O, my lovest I can't write much time.. I have very big grief. My mum passed a road... Behind a rudder there was a drunk driver... There was a failure. When I hear about this awful incident, immediately has gone to hospital. A condition of my mum very hard. The doctors have said, that it is necessary immediately to make operation to her . It's very expensive, and our medicine is in a very pitiable condition therefore I must pay for operation. But it costs $370, and I managed to collect only $140. I try to find the stayed money, but I can't. It is necessary to make operation immediately. If not time, I would find stayed $230, but I haven't time. I can ask of the help only you. My mother is very dear for me. When we were left by my father, she was the unique people who always cared about me and understood me. Now I am obliged to make all that in my forces to help her. I can not look as my mum dies on my eyes! Please, if you can then help me. I will pray for you. But I don't know how you can send money quickly. Once I saw on the TV advertising Western Union system. I don't know as it works. Maybe you can found out that it is necessary. Here all my data: My name is ANJELA OLEYNIK. My adress is Ukraine, Kherson, st. Lenina 47, ap.11 If you can help, please, help me as soon as possible! I feels very bad now. I'm in despair! I'm waiting for your answer and pray. Love you.
Polina or Anjela, do you see something similar.
It is now a question as to whether either woman actual exist, for near were at the address you gave in either of your letters.
No doubt the photos were extraordinary. Beyond my imagination. It is truly your loss. For your game and the attempts to take only a small mount of money from those men (like me) which you prey on are the true victims. Is nothing less than immoral and you are a thief. The list is much greater than Randy, Jason and Patrick. Remember that Karma is. Soft kisses, the one who still loves you. Patrick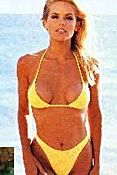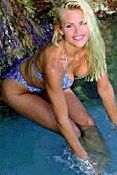 ---
Larisa Strizhakova (Lugansk,Ukraine)
I am glad that I can finally share all of experiences- as you know most agencies that offer free first e-mail never show those letters to their clients. they send you stock answers that arouse your interest, and then ask you for money to continue the correspondence. I have particularly been disappointed with many of the free agencies. many of the girls they advertise will redirect you to their agency and then request $100 to join the agency, then after a week or 2 another $100 to help pay for the translations.
There is an agency in Lugansk "queen agency" they have a girl on there Lora or Larissa. she sends all the same letters to all her people and then they start asking for money and she doesn't even exist. i flew over to meet her, and as soon as i was leaving i got an email that her father needed surgery in another town and had to leave. as soon as a left she resurfaced. here is her pix and her name and the agency.. be very careful, the letters are well read and very believable.
Lora's address. Her address is Ukraine 91005 Lugansk ul.Tsiolkovskogo, 32 Her full name is Strizhakova Larisa Vladimirovna office #38-0642-55-43-10 Marina Grebennikova Queen Marriage Agency Ukraine, Lugansk Magnitogorskaya Street, 39 www.queen.gq.nu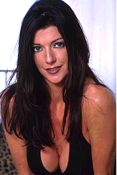 ---
To send your own story, please click here
Click here to support Black List

READ ALSO:

ANTI-SCAM GUIDE - Read how to make scammers to leave you alone themselves, and choose the right girls from the very beginning.

Dating Scams - The real picture of international introduction industry
Scam - Article by Anatoly Neverov
Reliable Dating Services - where to look for a Russian wife
Russian dating agencies - how do they make their money?