Rina (Izhevsk, Russia) aka Anna aka Ania (Glazov, Russia)
I am a 46 yr old white male from the USA. Rina contacted me from match.com, her profile indicated she was from Iowa. We wrote several letters over a 15 day period and then she wanted to meet. I agreed to go there to meet but she wanted to come here, it would be easier. I indicated I can't send money but she said she would come. In the last letter she asked for $400 to cover the visa cost. I refused. I did find in the black list letters that were exactly like the ones she had sent me so I knew already it was a scam. The name she used before is Anna aka Ania (Glazov, Russia) I haven't contacted the website yet because she had removed her photo and I am waiting to see if she posts a diferent photo. Here are some of her letters.
Letter 1
Hi! Have good day!. The computer in service of acquaintances found to me Some structures of people which coincide with my inquiry. I Preliminary studied them and has decided to send you to the first the message Because your structure seems to me more interesting. I hope, that You have time to send me some messages that we could it is better to find out each other. I shall tell a little about myself; my age of 27 years old , my name is Rina, friends name me is Rina. I was not married and I live in an apartment of my parents . Some years, after the ending of training I work as the teacher in an elementary school. To me To like productive leisure, periodically go in for sports for maintenance of a body. I like to travel and be in different places, but My work does not allow me to do it frequently. I have many friends, We sometimes together spend time, play billiards and tennis, we have Other entertainment. I send you the picture that you knew my person. Also I want to ask you to send me some pictures of you. Please Ask things interesting you about me and inform me some The information on you: what you love an entertainment? What your character? What You love qualities in women? Whether You had the wife? I shall answer on your questions and to inform you it is more about itself in following E-mail! I shall be To wait for your messages. Mine the address is rinysichka@yahoo.com Your friend Rina.

Letter 2
Hi my dear Louie! I am glad to welcome again you and I with impatience wait, when I can tell to you HI - personally. Thanks for
your message. Louie, my day was very intense and is very tired. I reached in office of agency and signed with them the contract. In conformity with the contract, the agency will prepare me for all documents for travel, to buy for me the ticket and to deliver me to the plane. From my city there are no planes to you and consequently I all over again will need to reach to Moscow, and therefrom already to you. My agent needs some information for a route of the plane, inform me dear, the address and the nearest airport to you to which I shall arrive. This information is necessary tomorrow that the agent could develop route and to establish all cost of travel. Today I paid in him the first part of money, for the visa and other documents for travel. It was in some times more, than I thought. I planned, that the visa will cost for me about 200 $, but because of difficulties for its reception is was for me 400. dear, it is possible, that to me you will be required the help for payment of other part of cost of travel. I have some money still, and also took some money at my parents, but it is possible them will not suffice for payment of the second part of cost, for insurance and tickets. It will be known after the agent will develop a route. The second part of cost I should pay under the contract, before to take away the visa. I shall inform you Louie, if to be necessary for me the help. I hope, that it will not be a problem for you and I can not worry about it. I informed you all news about promotion of our meeting and now I go to have a rest, I am very tired today. I hope, what I can soon embrace you Louie. I wait for your messages my favourite . My kisses and embraces!
Yours Rina.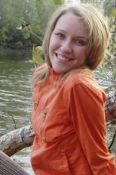 ---
Svetlana Kovaleva (Orsk, Russia)
I am a 30 y.o. single, never married male who has been in contact for a few weeks with "Svetlana." I thought I was falling in lovem, but I was cautious. She initially contacted me through www.myspace.com without me searching for anyone. I was curious and started communicating with S/he, I started to fall for S/he soon thereafter. She quickly professed her love for me and on the 10th e-mail I was asked for money for visa / consular gathering / medical insurance, via Western Union. The consular gathering made me suspicious so I looked at three scam websites and found S/he pictures. I would lke to report S/he so good and honest men do not get duped. Here are the first and last letters that I received from "Svetlana."
Thank you very much Black List!!!

Ryan the almost Duped
Letter 1
Sent: 26 Feb 2006
Me name is Svetlana.
After birthday of my girlfriend after all my girlfriends have left to meet with the husbands and guys I has decided, that the friend with whom I might connect all further life too is necessary for me, but such person with whom I would not be happy is not necessary for me. I shall tell to you slightly about myself, me 29 years, I live in city of Orsk in spite of the fact that it is very beautiful city, here very
difficultly to find the good person with which it is possible would be to connect the life, the purposes of people in our city very much low, and the girlfriend has advised me to look same people as well as I in the Internet, I and have made I have gone to the Internet of cafe and have found a site which to me the girlfriend has advised, at her mum as has got acquainted with the person from Germany. From all countries which were offered me on a choice, I have decided to choose , on films and under stories I know, that people for which his personal honour and decency is appreciated more than any petty interests live in this country. After short viewing structures I have seen yours which most approaches me, and have decided to write to you in hope that I shall receive from you the answer. Excuse I has distracted from the story about itself slightly. As I to you already spoke me 29 years I live in Russia, city of Orsk, my weight makes 64 kgs at growth of 170 centimeter. At me higher education on a speciality the ecologist, but on the trade I do not work, as on it it is very difficult to find work. I work to help the bookkeeper in the company which is engaged in sale of home appliances. I live one without parents, my parents were lost at a fire of 6 years back, my grandmothers and grandfathers communists, my relatives were noblemen when Russia king corrected earlier, but there was it for a long time. I never supported ideas communists, they have resulted the country which once was great power, in full route. But about it I shall not continue to me this subject not so it is pleasant have shot.
I live together with mine cat Murka, she my best friend! She also likes to ask to have a meal black color at me, in exchange on it she may sit next hours me and purr. Unfortunately I badly know the English language so I the first time shall be to use the translator, but I go on rates, on studying language. With impatience I wait from you for the answer. Your new friend Svetlana.
Please write me on my personal e-mail: svetlanchik@russian.ru
So it will be more convenient to me to write to you and I can send you the photos!
Letter 2
Sent: 16 Mar 2006

Good afternoon mine love Ryan
In your letter I have seen a lot of your love to me! I very much appreciate it! But you would know, how hardly to me to write this letter. I today called in the American embassy in Moscow and learned there how I can arrive to you, to me there gave such answer,that the best variant of arrival to you it will be registration of visa B-2, its validity of 90 days from the date of arrival in USA, and registration in very short term, only one or two days, but I am very strong frustration when I have learned its price, a total cost of the visa of 400 American dollars, the visa costs only 100 dollars, but plus to this it is necessary to pay 150 dollars on consular gathering and as on medical insurance and all this together makes about 400 dollars when to me have told this price, at me on cheeks flew tears...I explained them, that Ryan, he is that person without which I can not to live, and I very much would like it to see, they have answered me, that anything do they may not, all of them understand, but rules are rules, on another in any way it is impossible, but they have told me, that I might ask this money to the visa for you, they me have told, that loving person should pay for the loved, I in him has told, that it slightly is not polite, but they to me have explained, that all of you will understand, I very much hope for your understanding. In embassy to me have told, that it will be the best to send me money through system of translations Western Union, it is very reliable system of remittances and she is in each bank that I have received them, I should inform you the address of bank in which I of them to receive, and you should inform me of 10 figures of a remittance. I have learned the address of the bank nearest to me, the address: Russia, 462431, Orsk, ALFA BANK , Lenina Prospekt 62, for name Kovaleva Svetlana, please, send to me money today, I really do not present the further life without you! And I ask you, do not take offence at my request, to me so have told, that you should understand it. But as soon as I to you to arrive, I shall be arranged to work and necessarily return your money, it will be for me a point of honour, I hope, that you understand me.

Very much I wait from you the answer and as I wait for your
translation, you are necessary for me! You mine LOVE!

Your eternal love Svetlana
mailto:svetlanchik@russian.ru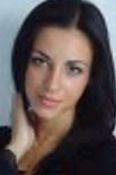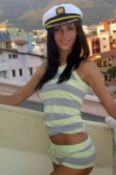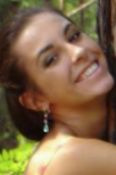 ---
Anna Savchennko (Smolensk, Russia)
This scammer contacted me, from myspace.com. She E-mailed me for about a month. Anna Savchennko, also, I have seen on myspace.com, her named spelled Anna Savvchenko. She asked for money for a visa and airplane tickets. The money, I sent from Western Union, I sent two different amounts.

One for $786.00
MTCN: 8859302590

Two for $1000.00
MTCN: 9448750895

After I told her my of my friends, thought that it might be a scam. She totally stopped E-mailing me.

Letter 1
1/14/06

Hi Danny!

Thanks you for the answer! I am very glad to receive mail from you!
I do not know It is a lot of about you, but I hope find out more about
you. To tell the truth, I I do not know much about computers.... But I
have finished computer Rates, and now I can work with e-mail. I write to you with The Internet of cafe as I have no the house the Internet and a computer.... And at you Houses are a computer and whence you write to me the letter!? I want to you To write that several days ago I has come to the Internet of cafe and has written To one man. But he why that has not answered me.. I was not upset and Has continued the search and today it has been pleasantly surprised when has seen The letter from you!!!! I very much this am glad, as first time I communicate with Foreign the man...!!! I have no a lot of time for the Internet and Therefore I can at once not up to the end to understand your letters. But I shall print And to read them it is better than the house. Therefore now I at once write to you the urgent answer , Excuse and be not surprised if I at once do not answer all yours Questions, I shall make it later. Probably it is interesting to you, why from Set of profiles I have chosen yours!? To tell fairly I do not know How to write and express it.. But when I have seen your profile to me Why that wanted to write to you the letter and will get acquainted with you more close !! That that in soul prompted me will stop on you... Therefore I wish to continue with you correspondence and find out it is better than you. I hope this letter has begun our friendly relations. Now it is a little about To me: I live in Russia in city Smolensk it Smolensk area. Mine Work (trade) the pediatrist is a children's doctor. And also I have finished Two institutes, Medical Academy and in absentia our Smolensk The state Pedagogical University. At school and institute I studied English language. I hope you you can understand, that I write to you .. I am 5,6 ' am high (or 168 sm). My weight 119 f (or 54 kg). I have Green eyes. To me of 27 years, my birthday - February, 23rd. I am at Horoscope Piscis, and who are you!? Whether you have the Russian friends!? And That do you know about Russia!? I am very interested the nobility it!!! Please, tell to me more about your city, and about a life in yours To the country!? Also I will attach which I have pictures, in this the letter. I Very cheerful and devoted person. I very much love, when people Smile. In fact in a life we are surrounded many with malicious and bad people, Which somehow want mood!! Whether write to me please is at you What or sports hobbies and what kind of sports to you most of all It is pleasant? I wish to tell to you that I do not smoke and almost I do not drink alcohol. Sometimes only on holidays I drink little bit sparkling or wine. I so I wish to ask to you a question: As you concern to smoking cigarettes and To the use spirits a drink? Probably
you heard, that in Russia Men drink vodka much!? Yes it actually so...Ours Russian men very often drink alcohol, and from for this
predilections in Our families fall family relations. At us in Russia
it is a lot of Divorces and unsuccessful families. At us men always
drank also will be To drink it national illness. And consequently our
men not Are adapted for creation of strong and safe family. To me very much not It is pleasant relation the Russian men to family and
children. They are not capable To make happiness in the family center, and also at them bad Heredity and from for this there can be not high-grade children and me It very much frightens. For these reasons I search foreign for the man For creation of family! I read much and heard from friends that Foreign men are more predisposed to family and family relations . They more responsible also can create happy and safe Family! I also think, that the woman should not drink a lot of; much Alcohol because she should give birth to children who should be Healthy. I very much hope that I have not tired you the letter and the Ideas, but I simply very much wish to tell more to you about myself and about Volume that I think..!! Ok, I also when it was not married and at me not Was children. I love honesty in everything, it was not as though bad. I want It is a little to write about the culinary abilities. I very much love To cook I food, I can prepare many tasty dishes. Most of all I I like to prepare for fish dishes, and I know many recipes. Except for that I I like to prepare which that special,affect on us to bring down us with Vital rhythm.
But it is not necessary to give in to such people, and the more so To try to resemble them. You agree with me? I almost everyone Summer I try to go on the black sea. On our work to all employees Every summer give out permits in sanatorium and rest houses..!! I very much I like to bathe on the sea. But unfortunately not always it turns out to go on Rest in the summer as at us is a lot of employees and amount permits It is limited.. And you like to bathe on the sea!? What at you hobby, And what work at you!? I wish to tell to you that I go in for sports and Sometimes I go to a swimming pool which is near to mine The house, it very much is pleasant to me! I very much like to behave in To the sports form, it gives me vital energy, betrays to me more Forces and good mutton, the goose filled Apples. I often prepare for dishes from our national cuisine, it Pel'menis with sour cream, a borshch, and pancakes with a different stuffing, a raspberry, Wild strawberry and cherry. You when or ate such dishes!? Also I want To ask you about your national cuisine, tell to me about it? From Fruit I love,oranges, apples, tangerines and a pear. I hope, that I can be the good housewife and the wife. I very much would like to find The person to whom I can give all my love and care and also me Very much it would be
desirable find such the man which can to give me in an exchange that Most. And that about you!!?? I stop to write the letter, I very much Tried to tell about itself and the life and sincerely I hope to you it It is pleasant... Your new friend from Russia Anna.

P.S. I send you in this letter the photos I hope they to you Will
like. And also I very much would like to see more than your photos ,
Send me them please!
Letter 2
1/21/06

Hello dear Danny!!!!!!

Danny thanks you big for your kind and beautiful letter.. Danny I have read through your letter and completely it have understood... Danny in a life there is everyone a deceit, a pain, separations, insults, disappointments, wars, hatred, a rage, and different troubles.... But in a life there are also their good moments more, they happy and desired it: the Love, the truth, respectableness, honesty, sincerity, fidelity, mutual understanding, family, the house, children, harmony the world, and it conducts all fortunately.... This that that wants each person on our major planet!!! I TOO very much
WANT HAPPINESS....!!!! I represent the happiness so: AMICABLE FAMILY, BEAUTIFUL CHILDREN, STRONG LOVE, MUTUAL UNDERSTANDING, TENDER RELATIONS And TRUST. I can give this all to the future husband.... Too I want in exchange. I do not know as you to express that I feel in soul, but I write all in all sincerity, sincerely. I see that we relations develop and in this letter I wish to tell to you about last relations. I think that you to me become closer also I do not wish to have secrets from you. I very much would like, that you have closely read through this letter. Danny I consider it necessary to tell to you about the last life and about last guy Vladimir. At me very bad memoirs on this person. And it is very unpleasant to me to write and recollect about this.... Vladimir was unique the man with whom I had serious relations and affinity, I think you understand about what I to you I write..... I met with him almost two years, and we were going to marry and create family. First he very well looked after me was careful and close. At that time I lived in the house and family of the aunt, naturally Vladimir was a sign with all. He liked my aunt and her family. Vladimir met me from university and saw off home. He gave me gifts and flowers. We almost each days off went with him to cinemas, on musical concerts of various Russian actors, in parks and roundabouts. Then I thought that he that person which is necessary to me in a life.... But I was mistaken... Vladimir had two bad quality in itself and they were very strongly shown in our life. These qualities big JEALOUSY and IRASCIBILITY... First it even was pleasant to me... I liked that that he is jealous me and I felt necessary and not indifferent him. But in due course it became intolerable torment, Vladimir became the awful tyrant. He was jealous me of my girlfriends, to ours general to friends and friends, and even to my cousin Dima....
Danny I at all do not know as to describe to you that that happened,
but Vladimir was jealous me, to all that goes and moves... And once there was that that has completely changed my life. All has begun from for that that Vladimir was jealous me of the friend to my cousin, a name of friend Sergey. Sergey studied with me in university on one rate. At University he tried will approach with me and to construct romantic relations. But I have given up him and have told, that I already have the young man and I meet with him. I did not give Sergey what occasion for what or relations, but Sergey all equally continued to pursue me. First I wished to tell to Vladimir about this, but well having thought and knowing his I did not begin to speak character about this case to Vladimir. I knew than their conversation can end, and has made a decision, to try to explain to Sergey that he me does not interest. But once having come for me in university Vladimir has noticed, how Sergey talks to me. Vladimir approached also has asked at Sergey that he wants from me.. And also Vladimir has told to Sergey that he is my young man. Sergey has answered him, that I am not Vladimir's property and itself I can make a choice with whom to me better to spend time... After these words, there was that I most of all was afraid.. Vladimir has not sustained such words from Sergey and has struck him some times a fist on face. Sergey has fallen. Vladimir has taken me for a hand and put to itself in car. I was in a shock condition. We went home and I did not talk. And Vladimir all road offended me and spoke bad words, I saw that Vladimir strongly malicious and is full of hatred to all. I was afraid that or to tell him and consequently was silent. To me it was terribly terrible, and it was any more for the first time. But in this day, in this car I in the first have realized all and have understood. I went in car listened to abusive words, silent and thought of ours relations with Vladimir. And during one moment I as though have begun to see clearly, I have understood all... Then I have understood the feelings and it became clear to me that Vladimir not that person what I him represented myself. He thought only of itself and concerned to me not as to the woman and as to the personal property!! I have understood that all this time I was mistaken in his sincerity and feelings, I only him interested as a beautiful toy... From all this to me it became very insulting and it is sick. My heart was simply broken off on a part and I have felt that at me to Vladimir absolutely that does not remain, at all what feelings except for terrible fear... When we have arrived to the house of the aunt, Vladimir has told, that I would go home. I have left from car and have come into the house. When I have come me my cousin Dima has seen, he very strongly was surprised when has seen me all in tears.. Dima has asked me that happened, why I cry!?? I did not become him that to answer. Dima has stopped me and has loudly told: where Vladimir!?? I have told that he in the street in the car... Dima has quickly put on a jacket and has run out on street... I have come into the room and was closed on the lock. I have been very upset and long cried. My heart prompted me, that there can be a trouble, and I was not mistaken.... With all experiences and from the poured out tears I have quickly fallen asleep. Has woken up from that that through a dream has heard knock at a door. I have jumped from a bed and have gone quickly to open a door, I thought that it Dima. But when I have opened a door, I have seen the aunt, all tears.
Her hardly stood on legs, loudly cried and abused Vladimir. I have
asked her why her cries and that happened!?? I could not understand, that happens... I have found soothing and have given my aunt. And only after that she has a little calmed down. The aunt has told, just her have informed that that Vladimir has struck a knife my cousin Dima. And that that Dima now is in hospital... I could not believe in it..!!!! Because Vladimir and Dima well knew each other... The Aunt has told to me that I quickly put on, and we have hastened in hospital to Dima. Only next day I have found out for what reason happened their quarrel. It has appeared that when my cousin Dima has run out from the house after ours with him conversation, he has found Vladimir all still sat in the car. Dima has asked Vladimir to explain that happens!? Vladimir has told him that Dima has sat down in car and they have left to talk for other place... Later from Dima I have found out, that when Dima has found out about that that Vladimir has struck his friend Sergey then the cousin has tried to find out the reason their quarrel with Sergey. But Vladimir that did not wish to explain and did
not wish to listen more
Dima. They have started to swear and at them fight has begun and Vladimir having flown into a rage has struck a knife my cousin. Then my cousin Dima have taken away in hospital. I am grateful the god, that my cousin has remained alive. I hate Vladimir for this severe act... From for Vladimir that awful day all my further life has changed.... At me have deteriorated relations with family of the aunt. But I do not condemn the Aunt for it, and I am not hold insult on her. I completely understand her parent feelings, in fact tragedy happened with her native son Dima. After all this I lived still some time in the house of the aunt but when I have finished study at university I have left to live one. Already all became on the places, as they say time treats. I have got a job and I remove I (rent) an apartment and I live itself. At us were already adjusted relations with the aunt, but that that was, those warm and friendly relations any more will not return back. In her to memory for ever there will be a memoirs on that awful day.... That day Vladimir was taken away by militia and at he there was a court. For threat of human life and drawing of heavy physical injuries, him have announced the adjudication for imprisonments for three years. Him have placed in
prison, but recently at him term of the conclusion has ended, and
Vladimir has left prison... He has found out where I work and have
arrived to me for work. I have told him, that between us all is finished, he has broken to me destiny and I do not wish with him to
communicate more.. Vladimir has told, that all three years when
he were in prison, he constantly thought of me. I have told him, that it is completely not interesting to me about what he thought, when sat in prison. I have told that I test to him hatred for that that he has
destroyed all my dreams and all my life. I have told that he now the
another's person for me and I do not wish him to see. Vladimir
has told, that has very strongly got used to me, and cannot cope with this feeling in itself. He has told: I shall not allow whom or to be on we wash a place and I shall not give you to whom - Vladimir has told to me.. Now I cannot adjust the private life because I am afraid and I experience that there can be a trouble. I know Vladimir very terrible and the cruel man who is capable to go of much what is achieved in the purpose... Dear Danny to tell under the truth it is one more of many reasons on which I wish to find to itself foreign the man. Danny after Vladimir has come to me for work and we with him had unpleasant conversation, I him any more did not see and very much I hope to not see any more.... Dear Danny I have written to you about this because I wished to tell to you that happened in my life. I would like, that you knew about me all and have tried to understand me. Dear Danny I stop to write the big letter, this letter I wrote long more than two hours... My time in the Internet of cafe has ended and now I shall go home. I shall wait very much the answer from you. Sincerely Anna.

Letter 3
2/2/06

Hello my darling Danny!! Danny as you there the darling, than are
engaged my sweet :)!! Danny I today have come to the Internet of cafe and have received the letter from you my sweet!! Danny I very much experienced and very much waited the letter for you!! Danny I write to you this letter, and my female heart is simply overflown by
feelings and emotions I is simple I can not transfer to you my pleasure from ideas, that we can be fast with each other. And from this I feel the happiest woman on the ground. I very strongly experienced and thought above that much as you will react to my words and feelings in my last letter!! I am madly glad my dear Danny, and I can not be kept to not write to you that I is enamoured in you!! And now it seems to me that I am enamoured in you even more!! :) I very strongly wish to meet you honey Danny :)!! Danny I so am happy, that your parents not against our meeting with you my love :)!!! My sweet I have for you good news. Today on a lunch break I have called a taxi and have gone to Travel agency which is engaged in departure of the Russian citizens abroad. This company has appeared the only thing in our city. I have explained
all to the manager of the company that I am going to go to you, and
asked him to tell to me that is necessary for me for a trip!!! He all
I have intelligibly and clearly explained to me also all have understood! It is necessary for me: To legalize all papers through
their company. To buy the ticket to you from them as under the
contract of this company, the ticket should be bought at them because they cooperate with Russian airline " Aeroflot ". When I conclude the contract with this travel agency, I should fill at them the
questionnaire, to make medical survey in hospital, to give them the
passport for travel abroad. When I shall make all it, and pay travel
agency of money for registration of the visa and all necessary documents, the company starts to make out the visa and documents to my trip to you. Then they sends all my documents to Moscow in embassy, there documents assure lawfully, seal and when all is ready the courier returns them back in travel agency and documents and the visa give me on hands. My sweet Danny I have asked the manager that he have looked cost of the ticket to you. The manager of the company has asked me on what number to look the ticket. I did not know and have told approximately! I have told that he the ticket for February, 22nd, because on February, 23rd at me day of my birth looked!! And for me would be the
best gift on all light if we can meet my birthday together with you my darling :)!! He has looked and has told that cost of the ticket aboard the plane to you the price of 764 dollars. These are inexpensive tickets of airline " AEROFLEET ". My love Danny it is necessary to pay for the convenient services of travel agency () for their work and a full package deal which they give 250 dollars. The package deal includes registration of the visa, registration of the insurance, purchase of the ticket and registration of all other necessary documents for a trip to you. My sweet Danny the manager to me as has told to me after I shall conclude with them the contract, the travel agency undertakes to prepare all necessary documents and
the visa in current of 3 weeks after that I can leave to you. My love,
I has asked them and if I shall get the ticket itself, without your help!? The manager of travel agency to me has told: If you buy the
ticket that I should legalize all papers itself, through Embassy in
Moscow, without their help. Because they will not make out the visa
and all necessary documents if the ticket aboard the plane will be
bought not in their campaign. They have told to me, that I can legalize papers itself. But me will have to go to Moscow in Embassy and to legalize all papers there. Mine dear Danny to me this variant is very inconvenient and demands more expenses of money and time! In Moscow I have no friends and consequently to me will have to live in hotel. I found out at friends and me have told, that the cheapest price hotel in Moscow 40 dollar day. On official registration of papers in Moscow will leave about a month. And all this time I should be in Moscow. As in Embassy very much big turns. And also I should pay money for travel to Moscow and to pay meal. I have counted all charges. Also has come to conclusion, that the first variant (to legalize papers and the visa in travel agency) will be much more conveniently and more cheaply. To legalize papers in travel agency for me is more convenient, as to me will not have to go to Moscow and to legalize all papers most, it is very heavy. I dear Danny in any case is required to me your financial help. As I have no all this money and I can pay money only for a full package deal of travel agency of 250 dollars, and it is a little for the ticket
of 50 dollars. My love 714 dollars for purchase of the ticket to you now are necessary for me. In the company to me also have told what in the best way to send money through system Western Union to you it is necessary to know my exact surname and to specify a place where I live. They have told that it is the most reliable way and is very fast. When to me spoke in travel agency about western union have told that necessarily at reception of money from for borders it is necessary to have MTCN - control number of a remittance and then I will not have problems with reception of money in bank.. At us in Russia in banks very strict and rigid rules!
The information on me:
Russia 214014
City of Smolensk
St. Mira 13. Apartment 3.
Anna Savchennko
My love Danny I finish the letter with the best regards to you and your family. With impatience I wait from you the letter! Strong I embrace you and whole it is gentle!! IA TEBIA LUBLU is I has written to you on Russian, and it on English - I love you!!!!!!!! Yours
Anna......

Letter 4

2/10/06

Hi, my love Danny!! Thanks, to you big for your warm and close
pleasant my heart of the letter!! I see honey Danny, that you accept
all possible measures that I could arrive to the USA. Mine love Danny, I very urgently love you, and I very much wish to arrive to you!! Know, my love, that you which unique person I love. My darling Danny, I very awfully feel today. I recently have come from Travel agency, I have not gone mad nearly when they to me have told..... My sweet Danny, I very very shouted there. They to me have told, that I cannot take the ticket only in one way because, it forbids according to the law and consequently it is necessary for me to take the ticket, there and back. I have asked, why they to me have has not told it when I have arrived for the first time, and they have answered me, that I him have not told that I take the tourist visa, about on it it is impossible to leave one way. One by probably to leave only under the special visa, or the visa of the groom. But it it will be made more during long time, and it will be necessary more papers and much more money. Also, what not in one travel agency, and at any airport to me will not give an one way ticket. I very urgently shouted and have decided to call from them to the airport to receive consultation there. But there to me also have told, that it is the truth, and they according to the law have no right on give an one way ticket. After a call I very strongly was upset and have started to cry, the manager of Travel agency approached to me and has told to me that I was not upset and did not cry. He has told that wants help to me, and has advised to cause director of the company and to talk with him. The manager has told that director very good person, and can be than that help to me. I have agreed and he have caused director by phone. In current of half an hour director has arrived and has caused me to itself in cabinet. I have explained all situation, spoke him about that that I am going to go to you that I love you, and that that was not attentive, and has not specified precisely when in Travel agency to me spoke that is required for a trip to you. I have told that did not know that the
second (return) ticket aboard the plane and if knew that it not happen is required. Director of the company attentively has listened to me and has confirmed, all that that the manager correctly has told to me. But I explained him, that I do not have such money now. But he to me have told, that cannot than help, because it is the law, and they have not he right of it to break. Director has told to me that in any case I need to take the ticket to you now as he found out in airline " Aeroflot " and him have told that inexpensive tickets remains a little, everyone buy up. He to me has told that the only thing than he can help to me, it to make with me the contract on registration of the visa and all necessary documents now. He has told that I can pay money for one ticket to you, and pay money for their services and then they will begin registration of the visa and all necessary documents for a trip to you. And other money, for the second ticket under the contract I shall be obliged to pay (return) in current of week! Director has told that usually their company so does not do they take only full cost of tickets and cost of their package deal, and only after that they start to make out the visa and documents. But he has told that he has entered into my situation, him me it became a pity and he is ready to go to me on concessions and help. Also Director of the company has told that already collided with similar situations and has advised me to make so!! He has told that I for the beginning can arrive to you in Chicago there will be you my love!! Then we can hand over with
together you the second ticket back in the airport and receive money paid for it back!! Then we together we can go to your Embassy you will tell that you gather marries me to issue officially all necessary for it documents and then we can with you easy marries and to create family!! Simply under the contract purchase of the second ticket is necessary for me that me could release from Russia!! I did not know my sun Danny that to me do, I very much was afraid that not expensive tickets will buy up soon all and will remain expensive (business class). I very much wish to be more quickly with you and could not refuse such offer. My love Danny I has made the contract with Travel agency. In this contract it is spoken that: the Travel agency begins from now on official registration of papers and visas to a trip to you. And also it is told that: I undertake to pay other money in current of week till February, 17th. If I shall not pay necessary money till February, 17th that the company in the right according to the contract to not return to me all sum of money which I have brought now. The travel agency will return to me only 30 percent, if I shall not pay all of money till February, 17th. When I have finished with signing the contract I have paid all necessary money for registration of the visa of documents and one ticket to you. After that the manager has contacted airline " Aeroflot " and bought to me the ticket to you!
It is the information under the ticket to you:
The price of the ticket of 764 dollars
Day of a start: Fri 31-Mar
Depart Chicago (MDW) 7:20 am
Arrive Moscow (SVO) 11:50 am

Duration: 19hr 30mn
Aeroflot-Russian Airlines 316
Northwest 1420 / 3756
Connect in Detroit (DTW), New York (JFK)
My love, I have very urgently tested, as I Can tell to you about it,
actually you and so have used the best efforts, and I cannot ask you
that - be, that but I do not know that to me do. My love Danny it is
very a shame to me to ask you about the help but I do not know where to me to take other money! My dear Danny now 764 dollars to pay in Travel agency that they purchased the second ticket (return) are necessary for me. I never brought so anybody, the justification me which I have brought to you, actually it, I should study all up to trifles, actually I not found out it am exact. The head is a little harms in me now. But, my love excuse me, I thought, that I knew everything, but I have incorrectly understood in agency. The
justification, I once again that I such am not closed, in this respect. I love you even more urgently every day but why in me all so happen in a life, actually I have made to anybody of what - be badly, and only in a life in me something has not started to be certain. But again to me as someone stops, and does not want, it in me and in all of you was good. I think this test through which it can be necessary pass. Good-bye, my finest the BELOVED!!!!!!!!!!!!!!!!! I KISS YOU STRONG!!!! I worry and I wait from you the letter. Your Anna.....
Bye...

P.S. My love please forgive me for that that I have not answered you your questions!! To me very sadly and hard on soul and at me all in a head has mixed also I now there is in full a despair!! I tomorrow to you shall necessarily answer all your questions!! My love forgive me please!!

Letter 5

2/11/06

Hi my unique love Danny!! My darling I with big work today could
fulfil my working day and now here have come to Internet of cafe to
receive the letter from you my sweet!! I today for excitements and
experiences all the day am am hurted with a head and I very badly feel myself the darling!! I very much experienced and my love waited the letter from you!! And now when I have received and have read through the letter from you to me it became much easier on my soul!! My love of thanks you big for that that have not left me during this difficult moment for me and in every possible way try support me!! I am proud of you my love and I very much love you!! You cannot imagine honey Danny as I now I feel confidently having read through your letter!! I always trusted and knew that you that person which is sent to me by the God and the destiny!! And now I am confident that to us nothing can to prevent will meet and to be happy with you together!! My love Danny I wish to answer all your questions set in your letter!! My darling I was not by the plane!! Simply I all over again have not believed travel agency and have decided to check up all and have called in the airport that will be convinced of reliability of the information and they have confirmed to me that for a start to you I really should have two tickets to you and in the return end!! Or the visa of the bride!! My love when I has explained director of travel agency that I wish to remain with you that we love each other and have decided to create with you family that I am not going to come back to Russia that he have decided to go to me on a meeting and to try help to me!! He has explained what not expensive tickets remains very little and at all them will not be fast and there will be only tickets business of a class but they much more expensive!! Also has suggested me to sign the contract on purchase of the first ticket and for the beginning preparations of respective documents for you my love!! In this contract it is written that after my signing the contract inures and preparation of respective documents for flight to you begins!! But I am obliged to pay the remained sum 764 dollars for purchase of the second ticket till February, 17th... Otherwise if I shall not pay the remained sum that the company has the right cancel the contract with me and to pay only 30 percent from the sum paid by me... Also director of travel agency has explained to me and has asked that I did not experience and have told that at us all will be good!! He has told
that him already was necessary collided with similar situations and
has advised us to make so: He has told that the second ticket is necessary for me only that me could release from Russia!! After I fly
to you we can hand over the second ticket back in the airport and
return all paid for it money!! Then we we should go to your embassy to tell him about all that we have solved will get married with you and to create family to sign officially respective documents and after that we we can easy marries and there is nothing to not experience!! My love to me very much has carried director of travel agency there was very good and kind person and has tried in all help to me!! He has told that once too was young and as loved and was favourite he has told to me that I did not experience and at us all will turn out and it will be good!! My sweet Danny those data which I have written to you they are data of the second ticket which should be in the return end from Chicago in Moscow!! But this ticket we we shall return after my arrival to you back in the airport this second ticket to me it is necessary buy that me could release from Russia!! My darling all documents should be available by March, 3rd but you asked me that I arrived to you in revival and I plan to arrive to you on March, 5th as this revival!! My love if I has not answered you some questions please forgive me!! I am am hurted very much with a head and it is very difficult to me to write this letter to you my darling!! Danny I stop to write to you the letter and I wish to tell to you that I VERY STRONGLY LOVE YOU!!!!! Honey Danny I very much wait the letter from you!!! Strong and gently a kiss you!!! Your Anna!!..... Bye my
love!!!!

P.S. My
love when I talked to director of travel agency for the contract he to me all has explained and has given me on hands the first ticket and a copy where copies of documents and tickets which to me are scanned will be necessary for flight to you and in the last letter I have written a copy of that ticket which to me still it is necessary buy that me could release from Russia!! Here I write to you copies of both tickets necessary to me for a trip to you my love!!!

The price of the ticket of 764 dollars
Day of a start: Fri 31-Mar
Depart Chicago (MDW) 7:20 am
Arrive Moscow (SVO) 11:50 am

Duration: 19hr 30mn
Aeroflot-Russian Airlines 316
Northwest 1420 / 3756
Connect in Detroit (DTW), New York (JFK)

The price of the ticket of 764 dollars
Day of a start: Sun 5-Mar
Depart Moscow (SVO) 1:30 pm
Arrive Chicago (ORD) 8:13 pm
Duration: 15hr 43mn
Aeroflot-Russian Airlines 315
Connect in New York (JFK)

Letter 6

2/22/06

Hi my love Danny!! I have arrived just from the the grandmother and
the grandfather from village!! My love Danny I so missed on you and very much worried as you there my sweet!! My love Danny helped to the grandmother to tidy up and make it is a little repair in their house!! My darling I from for weathers and because of a proside on roads have arrived very much late and have run in the Internet of cafe to inform that I have arrived and tomorrow to you I shall write the big letter and all to you I shall tell my sweet!! My love Danny you even cannot imagine as I miss on you and I wish to arrive more likely to you the darling!! My love Danny I has come to the Internet of cafe already to its to closing and consequently has not had time to read through today your letters!! My love Danny I tomorrow shall come in the Internet of cafe before and attentively to read through all your letters I shall write to you the big letter and all to you I shall write about the trip and I shall answer all your questions my sweet!! My love Danny the Internet of cafe already is closed also to me it is necessary to stop to write to you the letter!! I so do not wish to leave from the Internet of cafe I here as if I feel your heat and your presence the darling!! I do not wish from you to leave I do not want :( (((I so to miss for you to me so is insulting that I has arrived so late!! My love Danny I need to stop to write to you the letter!! Up to tomorrow my darling!! I very much love you love I love I love I love I love I love I love I love!!! Strong and gently a kiss!! With big respect and with big love!! Your Anna.... :)
---
Anna Volkova (Vinnitsa, Russia)
I would like to report to you about a scammer Anna Volkova in Vinnitsa. Anna Volkova , ul. Ph. Konna 38A-10 ,Vinnitsa 21036, Ukraine, e-mail blumchen1980@mail.ru (DOB- June 17, 1980). She had a profile listed at Adorable Ladies and has been reported to them as well.

Early on she told me how difficult things were for her and how difficult for her to write me letters so I sent her $20 to cover the costs of her internet expenses.I mailed her this money which she claims to not have received. I sent her another $20 to her home address and once again she says that she did not get. It is funny though as she received some cards that I sent to her without any money in the cards :-). She has been trying to get me to send her more and more money ever since because times are difficult for her and she claims to not live at her parent's home anymore.

I asked her many times ( 6 times ! ) for her new address where she was now living and she would not tell me this and avoided my question totally. After 6 or 7 requests( she still would not tell me her current address) she then told me that she was moving back home again with her parents to live and not to mail anything to her supposed address where she was now living. Personally I do not think that she ever moved a way from home but was using this as another reason to have to send her money. I told her that I did not have any money to send to her and you will see her last reply to me :-)! She replies very fast and often when she is looking for money and if not looking for $ then I never hear from her or her letters are with a large time delay. Funny how this happens :-)!!!!!

I will include copies of her letters where she is requesting money.

Sincerely,

Frank

Letter 1
7/4/2005

Hello Frank!
Forgive, that I do not answer you so often. I on it have reasons.
I certainly wish to see you and very much I wait for our meeting!!!
But I have to you a small request... I do not know as it to write... I Shall write how is actually. To me it is now very heavy in the financial plan. If to you not difficultly help me please. To me are necessary money what to support little bit my life now. Because to me really now it is hard! It is very difficult to me to consult now one, therefore I ask you about the help and supports for me. I hope, that you will understand me!
Your Anna

Letter 2
7/26/2005

Hello Frank!
Thanks for your letters! Forgive, but I am now very borrowed, I search I (look) new work for myself. I cannot go now to the Internet-interior and write to you letters because I do not presume to myself it, it is necessary for this purpose money, and now at me they are not present. I shall write to you when I shall find suitable work then I can answer your letters.
With good wishes
Anna

Letter 3
1/2/006

Неllo dear Frank!
Excuse, that long did not write.
I shall tell fairly, I had problems, to me it is very heavy in the financial plan. I wish to ask you, that you would help me with money. I hope, that you will understand me and will help me.
My kiss for you
Anna

Letter 4
1/16/2006

Hello dear Frankl!
I have well met New Year, together with parents. There was a celebratory table, and all had fun till the morning. It was healthy!
I wrote, that to me now very difficultly . To me are very necessary money. And I ask you, that you would help me. If you want and can help me, I shall be very happy! Also it is grateful to you!
My kiss for you!
Anna

Letter 5
1/18/2006

Hello dear Frankl!
To a huge regret I did not receive from you any cards. It is very a pity. Probably, that that has not turned out.
I very much and very much wait for our meeting!!! I necessarily shall arrive to Kiev what at last to see you!!! I so want it!!! I hope, that not so long remain up to our meeting!!!
At me a problem that I now do not live with parents. I try and try to do that that. Now I do not have work, I shall go to work only in a month. And now to me very difficultly, hard. Therefore I ask you, that you would send me of money what to support me a difficult minute. At me anybody is not present (man), except for you. I can trust in you and to ask about the help and understanding. I cannot tell, how many you will send me of money. I think, that you will solve it itself. How many you can. I to you shall be very grateful and very happy with that at me is the man which worries for me and wants, that I would be happy! And it so! I shall give you all my tenderness, warmly and caress that you such remarkable the man!!!!
My kiss for you!!!
Anna

Letter 6
1/23/2006

Hello my dear Frankl!!!
While has reached in the Internet-interior, has very much frozen. Now at us temperature-25 degrees. Very coldly! Therefore everyone go in warm jackets, fur coats and caps. Many schools and universities are closed. People sit at home, and do not leave anywhere in such cold.
Dear, my phone 0038 0679886372, I want, that you would know it.
To me very much not dexterously to speak for money, and how many you can send. But your help is really necessary to me. If you can also to you it will not be difficult, send me please on a western union 150 - 200 $. If I have asked much, tell to me about it. I learned, you only need to know my name, a surname (Volkova), and city in which I live (Vinnitsa).
I am very glad, that at last have found you! Thanks that you at me are!
I you the whole
Anna

Letter 7
1/26/2006

Hello my dear!!!
Today has come to the Internet-interior what to read through your letter, but it to a huge regret has not appeared. I hope at you all well. Because I very much!!! and very much worry for you!!!
Today is little bit warmer (-18), but in some days again transfer strong frosts. People such ridiculous go, noses red from a cold! I very much wait for our meeting!!! Very much!!!!!
I kiss you!!!
Yours Anna

Letter 8
1/27/2006

My dear Frankl!!!
I live on an apartment. I remove it, and to crying of money every month for it. Therefore I cannot use the post address. The address where there live my parents at whom I often happen: Felixа-Konna38а street, ap.10. By the way now I go to them on a visit. The daddy it is very tasty prepares. Simply super!!!
My dear I shall ask you to send for me money on a western union, it will be more quickly and much more reliably, I learned in bank about remittance. You only should me send a code (from numbers) on which I can receive from you money. Only it is necessary for you my name, a surname (Volkova) and the country where I live.
I am very grateful to you for it, and I shall not cease to thank you and destiny that has reduced us together!!!!!
I kiss you my dear men!!!
Yours Anna

Letter 9
1/30/2006

Hello my dear!

It is a pity that you you cannot undrestand my letter. I moved from my parents house to live alone. I hire an apartment and I have to pay for it every month. It is really very difficult, but I have to start. I cannot give you my postal address, because I will not stay here for long time and soon I'll move to another apartment. But I want to give you address of my parents. I visit them very often.
Volkova Anna Nikolaevna,
Feliksa-Konna, 38a-10,
Vinnitsa, Ukraine,
21036
Please, send me the money by "Western Union" - it is faster and better.
I am really sick now and hope on your kind heart:)

Kiss you tenderly!
Yours, Anna!

Letter 10
2/1/2006

Hello my dear!!!
Today on February, 1st, and I move back to parents (you know our address). I have understood, that it is very difficult, one to rent the apartment. For me it is heavy. I so am tired from loneliness. I so want caress, tenderness, heat, support and love! At last I have met you my dear!!! And I hope, that at us all to turn out and all will be good!!!
My dear, it is necessary to me, that you would understand - I can be trusted!!! And consequently I wish to give you my number of a home telephone number 0038 0432 533550.
I you gently whole also wait from you for support. I now am ill also to me this money are very necessary. Send to me them money on a western union please
Gently I embrace
Your Anna

Letter 11
2/3/2006

My dear!!!
Why you do not answer?
I now very much am ill a heat (37 ,4) but have come to read through your letter and it is not present. It is very a pity to me.
If you can call to me. I at home all the day and very much wait from you for a call!!!
I kiss you!!!
Yours Anna

Letter 12
3/7/2006

Hello Frankl!
I do not want, that you would write to me more.
I would not like to communicate with the person who has deceived me.
Anna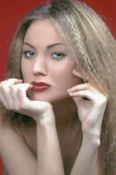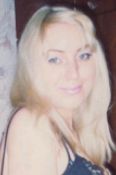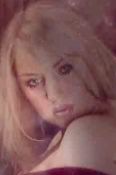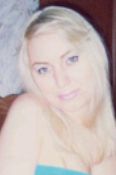 ---
To send your own story, please click here
Click here to support Black List
READ ALSO: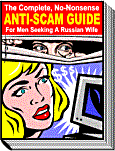 Met a Russian woman over the Internet?
Thinking about finding a Russian wife?
Russian woman wrote to you? Don't move any further until you read The Complete, No-Nonsense ANTI-SCAM GUIDE For Men Seeking A Russian Wife. Too many men were caught up in a scam and lost great deal of money - want to be one of them? Ensure your safety and peace of mind - read the ANTI-SCAM GUIDE.




Scam-free search - GUARANTEED! - Looking for somebody truly special but have had it with scammers and scam agencies? Let professionals to do the job for you.

The Universal Crib On Finding A Russian Wife - the most compressed, step-by-step guidance on finding, courting and marrying a Russian woman.
Dating Scams - The real picture of international introduction industry
Reliable Dating Services - where to look for a Russian wife
The shocking truth about Russian Brides - E-book by Marina Smiley. Find out things about Russian brides that marriage agencies will never tell you.
Why Russian Women? - If you decided to find yourself a Russian wife, you would be inundated with questions of the type "Why Russian Women?" from everybody you cared to share your idea with. Surprisingly, every Russian woman you are writing to will ask the same question: "Why do you want to find a wife in Russia?" After a while, you might start questioning your own sanity in doing the thing which everybody, including your dates in this Internet rendezvous, consider strange enough to request explanations. Here you will find some ready-to-use answers for your family, friends and Russian women you are writing to.
Cheap Russian Translations - Russian-English/English-Russian translation: fast and comprehensive. You are not sure she understands what you mean? Translate your letter to Russian! Reasonable rates and highest quality.
---

New E-book by Elena Petrova:
"How To Find And Marry A Girl Like Me"
Comment from the reader:
"This may well turn out to be the best purchase I have made... I hope not too many of my competitors find this book!"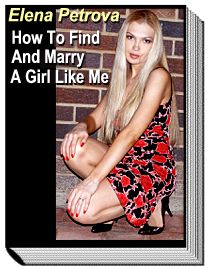 Discover how to find, court and finally marry a beautiful Russian woman!
This is the only book written by a beautiful Russian woman married to a western man - for more than 5 years! - and who is also the owner of a highly successful Internet dating agency.
Find out once and forever what Russian women are really looking for, why they are looking for it and how you can give them exactly what they want!
Get responses on your letters to beautiful Russian women - 9 out of 10, GUARANTEED!
With "How To Find And Marry A Girl Like Me" you'll learn knock-out techniques that will instantly boost your success rate in dating Russian women - online and in real life. You will have more beautiful girls that want to be with you than you can handle!
And not just ordinary girls! They will be beautiful, intelligent, but most of all - honest and sincere! You will be the one to take your pick!
STOP wasting your time and money in search for a Russian wife... Get it done - painlessly, easily, and certainly! Moreover, have lots of fun along the way!
Yes, you too can marry a girl like the one on the picture... Click here!
---
JUST RELEASED!
New Ebook You Cannot Afford To Miss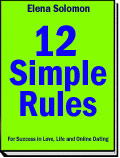 Dating can be complicated... it doesn't have to be! You can jump start your love life - or you can keep wandering in the dark; the choice is yours!
When it comes to dating, most men make the same silly mistakes with women - over and over, with disastrous results.
Do you want to do BETTER than 99% of other guys? Click here
---
New e-book by Marina Smiley (the author of famous "The shocking truth about Russian brides"):

"Sex and Love With Russian Women"

Discover where so many guys fall short when visit their girlfriends in Russia;

Learn how you can dramatically improve your success with Russian women and win when others fail.

Most intimate questions answered by a Russian woman - Medical Doctor.
---
Comments, suggestions? We want to hear from you!
Click here to Contact us
Seek a reliable Russian Dating Agency? Why not check www.elenasmodels.com - RECOMMENDED
---