Nadejda (Nadya, Nadeghda) Koshenkova (Penza, Russia)
I am a single father of one, White American, 41 years old, Work for the United States Postal Service. I was contacted from Match.com the E-mail address was tis_kos@talkmatch.com. It started on Apr 5, 2005 and ended on Apr 18, 2005. She asked for me to send her money. Which I did not, I just thought something was not right about it. Here are the letters and pictures. steve k.
Letters:
From: tis_kos (tis_kos@talkmatch.com), To: honestsdguy (honestsdguy@talkmatch.com), Date received: April 5, 2005
Good afternoon, and may be good evening. First of all I want to name to you my name. My name Nadejda. You will be probably surprised to receive this letter. The matter is that I write you this letter from Russia! I live in small city under the name Penza. It is city on the river Sura. (the History of city very interesting, but about it later) I want to tell to you about my purposes in life slightly And about me. I the educated and cheerful woman. I think, that I have Rather good external data. I might translate my sizes on your metric system. My growth makes 5 ' 8 ". Also my weight of 126 ft. Here in Russia we measure it as 172 centimeters And 54 kgs. It will be very good, if you look at my picture. It will be more the best Way to judge my appearance. I have some pictures and I shall be glad to send you my pictures, That you might see me better. All my life I lived in Russia and I have here friends and relatives. Now I work As the bookkeeper of the company Penza - Energo. We are engaged in the account of consumption and i?iaa?u the electric power in our city. I always dreamed to find my love. I search for mine soulmate! I think, that it is a lot of women Dream to live in USA and to have the good husband. You know, I heard many histories about happy marriage The Russian woman and American men. I know, that American the man may give the best life For the wife. I want to tell you, that I do not search for easy life. I search for my HAPPINESS in life. You understand? I like to work, I like to have fair life. I dream to create family and to take care of my husband. I want, that me loved and also took care. I love tenderness and kindness in the man. Also I like Decent and fair the man. Unfortunately in Russia now not so good economic situation and I do not think, that this good place to create Family at this particular time. I still young and I want to think of my family. I want to create family in more good Conditions for life. I think, that USA a good place. However I never visited USA and it will be very interesting to me To know, what you think of it? Well, I think that already has told about my purposes much. Please, if you have interest in me I shall be glad To receive your letter and probably some pictures. Also inform me about your purposes on the future. I shall wait and hope, that you will not disregard my letter. Thank you! Yours faithfully, Nadejda. 04 April, 2005!!!!
PS I have the request to you that you wrote to me on this e-Mail address: koshnad@bk.ru. It is more convenient for me that you wrote to me here because I do not want to pay my membership in match.com!!!!!!!!!!!!!!!!!!!!!!!!!!!
Hi Steve! WOW! I very much hoped to receive from you the letter back and now I have yours The letter! It really brings to me pleasure, that I have received the answer to my letter! I at once want to tell, that I sent that letter to two more other men. But I should To tell, that up to this time I have not received more any letters back. I want to be Fair with you and to have your trust from the first letters! I shall ask you that you also were always fair with me. I do not think, that there is a sense to speak a lie. You agree with me? Both of us search for love and I want, that my love was strong, pure, Present and long! I think, that you want the same things! I want to hope, that you will be good the man! The matter is that I almost nothing know about you. I wrote to you Casually. I chose absolutely casually you from the list of men. I also did not think, that so many men will search for the love on the Internet! In our city there are no many opportunities to get acquainted with men from other countries. I used the Internet at my work. I casually opened a site match.com and it spoke me, that here there are many men! It was very interesting To observe a site match.com and it many opportunities for the man and women from the various countries are valid! You agree with me? I want to speak you so many things! Please excuse me if I can not speak you much Today. We shall have still time to speak! Before us still it is a lot of time to learn Each other! About! I so to worry, that you will not love my picture and will stop to write to me! I am valid to worry as the small girl at the first appointment to the man! I would like to ask you that you sent me as much as possible your pictures. It will allow me to represent you and your life better! Well, I shall inform now to you some things me. OK? You are available to read and remember?:) First of all I want, that you named me Nadya. I like when me name Nadya. Probably you also have The second name which you love more? So, I want to start with my history. I was given birth August,11. I was given birth in 1975. To me now 29 years!I typical Leo on a mark of the zodiac. If you have the book of an astrology I think it contains a lot of similarity to my character. Sometimes the astrology is mistaken, But some things really the truth! It is a complex and ancient science of stars! You heard much about it? By the way, when your birthday? With early childhood I had good education and care of my parents. I went in good school and was enough The good pupil! At least the teacher always me to praise! Oh! These school days! These years to not return any more never! You liked to go in school? The first school love!:)..... Steve, For you these sounds are familiar? In those years when I was small It was easier to bring up children. Now the state to not care at all of young families. After school and I had good luck to enter the university. Daddy gave me to be trained in economic sciences! However ours The university was technical, but anyhow I have received good economic education. I was trained At faculty " Book keeping and audit ". I loved always the exact sciences and except for it to us taught a lot of humanist And psychologies. I bore much from walls of university and it there were fine years! Tell to me please where you were trained? It is very interesting to me to know your history also! So, years of study were finished also I met my first love. Yes, I also would like to speak with you about it. You should know, that I had unsuccessful relations. I remembered on all mine Life, that such treachery. My guy changed to me with other woman. he betraid me. I thought, that we shall marry and create family, but he seems did not want serious relations. I was young and naive. After that I more never loved anybody seriously. My last relations were enough Long, but anyhow I did not notice, that my guy may betray me. he found the woman from rich family. For him the question of money was actual. I think, that I quite beautiful woman and I can find many men here in Russia. But I slightly now to be afraid to have relations. I want to find my love, my unique love. I want to grow fond of the man up to the end of my life. You understand me Steve? I never was married also I think, that It is a serious step in life. I have no children and I think, that I would like the child from loved men. I in general very much love children and if you have already children it will not do a problem to me. Well, Steve, whether I do not know to you it will be interesting to hear about my city. Our city has a rich history. Here lives 1500 thousand people and it is rather big city. We are located not so far from Moscow. I should you tell, that I was probably 10 times in Moscow. But the Moscow city is even more! Our city is located on coast of the river Sura! I shall attach a picture of our city. Only it is not so big picture from the Internet. Probably you may find Our city on the Internet also? In our area we have a temperate climate. It is an average part of Russia with good display of seasons. We have a lot of snow in the winter and also in the summer air there is enough is hot! We visit a beach and I like to float! You have a beach close? You like to float? If there will be time please tell to me more about your city! I also want to ask you, what you understand as happiness? Right now I shall speak you that I understand as happiness. I should tell, that everyone is happy in this world in own way. For me to be happy Means that I exist in this world. I think, that I want, that me loved. I want, that me respected and estimated. In general I see happiness that my life will be It is lived with sense. I should find my love create my family. You agree with me. In t is world we should leave after ourselves good memoirs. It is very difficult for one to find happiness. When two persons like each other, It already does people happy. Love - very much good feeling and this sacred! You agree with me? Well, I probably now shall come back to my work and I shall wait your letter soon! Heave nice day! Yours faithfully, your new familiar from Russia, Nadya. I wrote to you this letter on the last week, but I think, that you did not receive it and did not read.
Greetings my dear Steven! I am very happy to receive your letter today. I waited very much today to write to you as soon as possible. Also it was very interesting to me to receive your letter. My work today passes well enough. But I much I think of you. I right now test such pleasant feelings. When I began to write to you I did not think that I shall be To test similar feelings. With each other letter which I wrote to you I all more to appreciate our friendship. I trust you. I in general think, that the present love will consist of the following components. It:
1. A physical inclination. I to you have a physical inclination. YOU have to me a physical inclination?
2. Trust. I trust you completely. I know, that you the good person. I want to hope, that you trust me also. From the first letters I wanted, that between us there was a trust.
3. Understanding. I think, that I understand yours the purposes in life. I know, that you want. Both of us want to have family and to be happy. Our purposes coincide!
4. Feeling of the responsibility. I shall never cause you a pain. I shall be always true to you. I shall never deceive you.
I would like, that you also never have offended me. I can give you a part of my heart and soul. If you might look in my heart you would understand, that my heart very pure and it is open for you. Please, do not deceive me never and do not break my heart. OK? Today I have rather good news to us. I have set of the information and it will help us in our future life! My Steven, I found time and I went in agency of travel and I spoke from ladies who very well explained all to me. Lady has told me at once, that it is complex enough process to receive the visa. There are some types of visas. She explained me, that if to take all things correctly it will be possible to have a meeting soon. I however shall not speak now about terms, When I can receive all documents ready. So, I to you now shall tell that it is necessary for us to do to be together. To my affliction, I can not receive the visa in our city. To receive the visa to me it will be necessary to go to Moscow. Lady in agency explained me, that in Russia the embassy of USA is present only in some cities. The city closest to me is Moscow. In other words I should go to Moscow to address in embassy of USA for the visa. I have already defined type of the visa which is necessary for me. As my first visiting will be short, I shall go probably in USA as the tourist and I shall receive the visa of the tourist. It for us now the best way. It will demand less time to receive the visa of the tourist and that the smaller quantity of money will be not less important to cost. This visa refers to as as B-2 and sheis valid within 6 months after I shall arrive to USA. This the visa will cost for me approximately 150 dollars. Cost of the visa will include also various taxes. Except for my visa I shall require the passport. I have no my passport and consequently I should receive the passport. Steven, you already know, that I did not travel outside of Russia and consequently I have no my passport. That I shall receive the passport to require in 100 dollars. Lady also explained me, that in USA will pass only healthy people. I think, that I quite healthy woman. I at work Passed a medical board and to me have told, that all is good. I healthy! But anyhow for embassy of USA I should pass Medical board. It will take from me additional 50 dollars. Also it will be necessary for me to fill in the questionnaire. Registration of all my data and filling of questionnaires will demand 75 dollars. As you already You see, it is necessary to take many things to go in USA. I expected it. I and thought, that it will not be simple to visit USA. But I should tell, that the meeting is more important. I am ready to take all things to arrive to USA. Obviously, all difficulties will be overcome by I in Moscow. By the way, I also thought of residing at Moscow. I should live in Moscow some time while my documents will not be ready. My loved, I should you tell, that I while precisely can not tell as will be soon ready my documents that I might arrive to USA. It will demand probably approximately 2-4 weeks before I can receive my visa and the passport. It accommodation costs will be additional. Yes, I think, that my trip will demand many money. We should take these steps anyhow. I want to tell you, that I already completely It is ready to go to Moscow and to take all things to our meeting. I promise you, that I shall be to give all my forces taking all things as it is possible soon. Loved, I do not think, that my first visiting to you will be long. I should anyhow to come back home. If things will go well between us I would like to change my visa and to remain with you for ever! What you think of it? My Steven, now allow me to sum up my expenses to our meeting. So, my documents will take approximately 375 dollars. My trip to Moscow will demand approximately 25-30 dollars if I shall go by the bus. These are 400 kilometers and I think, that It is the real price. Also I shall require money for residing. If really to estimate my opportunities, I can lift only a part of money to pay my documents and residing. My parents also know about all expenses and daddy has told, that can give me 200 dollars. Also to me should to pay100 dollars at work. It already 300 dollars to our meeting. It already the most part! Steven, I also want to tell you, that without your help I can not arrive to USA. I shall try certainly, but I am not sure. If to take into account cost of residing and also cost of all documents and expenses for movement on Moscow and to the Moscow, I think, that it will be necessary for me on the most minimal variant approximately 750 dollars. It is many money for me. I am sure, that it is a lot of Money also for you. But it is the obvious and real prices and we should pay it. I would like, that we divided this cost. I want to tell you about it because I like to speak a thing directly at once. Certainly it is not so convenient for me to speak with you about money. Especially to ask you about the help, but I am compelled it to do. I think, that it will be fair if we shall divide cost My documents and other expenses. I would like to ask you that you sent me approximately 450 dollars. I want to tell, that Probably there will be unplanned charges, but it will not be much. If you will help me of 500 dollars I think, that it will be to take all things with documents enough. I certainly promise you, that I shall take economy. Believe me, I am able to count money and to save. Life in Russia of me has learned this. 500 dollars it is many money. You will help with it, Steven? I shall try to save even some money to my residing. I shall be compelled to live in hotel in Moscow because I have no more place where I may I shall remain. I the strong woman and I shall find in myself forces to take all things to our happiness. My Steven, I shall hope very much, that you are capable to help me with money for documents and other expenses. Also other question. I also thought of the ticket aboard the plane. I shall require it also. And we should speak about it also. Unfortunately, I shall not have Money for my ticket. If you might buy the ticket for me then I would be very happy also our meeting would be held soon. I am not sure about cost of the ticket aboard the plane. It is probable 900-1000 dollars. Please, find out for me this information and inform me most The airport close to you in which we the first time shall meet! OK? I shall hope, that for you it there were good news to our meeting. I do not want, that we were prevented by money. In our life Money play the big role. But I do not want, that money put a barrier in our relations. Excuse me please, that I asked you about the help. I think, that it is fair. Other question. How I can receive your money? Also it is necessary for us to think of it. Once again, it is very a shame to me to ask you about the help. I shall probably one of the happiest women in the world if we shall unite soon our hearts. No, I to not rush very quickly!! I want to arrive to you and to live with you some time! We should have some time together to continue our relations further. I think, that you understand all urgency of our meeting. I also should tell, that I know some ways of transfer of money in other countries. When my daddy made a business trip to Bulgaria he sent us home some money and he Used the western union. Also sometimes daddy sent us money through system ANELIK. You heard about it? Daddy speaks, that if to send money to very big distance It is better to use the WESTERN UNION. Probably also use ANELIK, but It probably more expensive way of transfer of money. I shall give you the address of our bank in city of Penza. I can receive your money there. It will be necessary for you to specify the following information: Russia. Name: Nadeghda, Surname: Koshenkova, VNESHTORGBANK, MOSKOVSKAYA 9, city PENZA, 440600. I also should you speak, that daddy gave me control number of translation. It were 10 figures. I shall hope, that we shall take all things as it is possible soon. I talked to my director and I shall have a vacation, that To visit USA. I can take all things here and now only it is necessary to solve a thing with money. I very much shall hope for you. I know, that you not materialistic the man and you will not regret money for our meeting. There are things on the order more important, Than money. It is love and family for example and we should not forget about it. Well, I shall close now this letter. I shall wait from you good news soon. Take all things soon. Only yours, Nadya.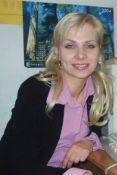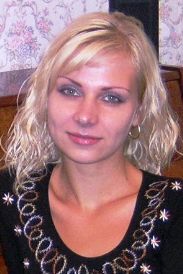 ---
Nadia, Lida, Dina from Viksa, Russia
I have a 5 year old inactive ad on Yahoo. She sent me her personal email address to that ad, and I wrote her back. At first she was Lida, then it became Dina, but her emails say Nadia. I did not send her any money. I bought the anti-scam guide because I was suspicious. I have to admit I enjoyed the fanatasy for awhile. I just got dumped and was a little bit desperate. I am 46 and "she" is 29, so I really never took it too seriously. Then finally she asked for money in her 8th email. By then I knew it was a scam. I have attached her first email plus the one asking for money, as well as the pictures she sent me. I looked through the Blacklist and did not see her pictures.
Letters:
FIRST EMAIL:
Hi, Brian! How are you? Is it smile on your face? I hope so, because I'm smiling, and I'm happy to hear from you! I have to say to you, that I am new in the Internet, and I could not imagine myself, that my message to you will give result, and I'd find your letter so fast! Ok, my name is Dina, I'm 29 years old,I've never been married and I have no children. I can do 2 things: I am the cynologist (trainer of dogs) and I am also the instructor of fitness and aerobics. I give a lot of time to work and I have no time on private life and I can't find a worthy man in Russia. But I won't begin to re-tell you all the information, which was in my profile, I just want to remind you, that I'm from Russia, I was born in Russia, and I live here now.I feel sorry for misunderstanding. This profile was made for me by Internet Cafe worker, and he had to write, that I live in USA in it, because access to Yahoo is closed for people, who live in Russia, and simply he did not find Russia in options there. If it doesn't scare you off me, I'd be happy to keep our communication. So, I have to say, that I am sorry for so short letter, but I have to go now (frankly speaking, I thought, that you won't answer, and I came to the Internet Cafe only to check my mail), and I have to say to you, that I am very glad to keep our conversation, and feel free to ask me, what you want to know about me, I'll be happy to answer to every your questions. I am sending my picture to you. So, I am waiting for your letter, and I won't let you to wait my answer! Best regards, Yours Dina.
ASKING FOR MONEY EMAIL:
My sweetheart Brain!!!!!! It is really very difficult to express those emotions, that I'm feeling now just by words. I feel, that I have wings growing because of your letters. Honey, I've printed out one of your photo and take it with me wherever I go and it have it with me whatever I do. I hope, that you understand.:) When I received your letter today, I made a call to my work and said that I feel sick, but in the fact I went to Moscow to the travel agency and I gave 350$ and all the necessary documents for making visa. I want you to know, that my aunt is working in that travel agency, she has promised me, that my visa will be ready till the 3-4 of May, also she said, that in case we want to meet each other in May it is necessary to reserve tickets beforehand. I know, that you have as strong feelings towards me as I have towards you, but there is a problem - I won't be able to come to you without your help. I've already told you, that the cheapest flight from Moscow to USA costs 1160$. As far as I'm going to get visa B2- tourist visa,I have to buy two-way tickets,that's why the price is high. When I gave my money for my visa, I have 100$ left, but I've borrowed from my mother 180$- that is all that I've managed to get. So, there is 880$ left, that I don't have, to come to you, to be with you, to love you, my sweet Brian. Honey,help me please to believe, that dreams are possible to come true, and we'll be really happy together.
P.S. I'm really very sorry for asking for your help to come to you, but the price of the tickets equals to my salary in a year. I'm a simple Russian girl, who really wants to be happy, and it seems, that she has already found her happiness.
P.P.S. I hope so much to see your quick and positive reply and in case you say "Yes", tomorrow I'll find the best and secure way for sending me money to buy tickets to come to you. Yours Forever Dina, Whatever Happens May be it is a bit strange,but I really Love You, My Prince Brian!!!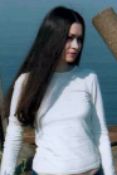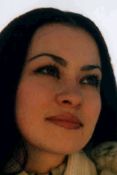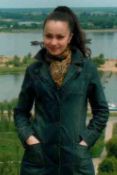 ---
Olga Mikisheva (Sayanogorsk, Russia)

I am a single father of 2 living in Australia who is self employed and just making ends meat to live and raise my children. This person contacted me through an internet dating site by the name of singleparentmeet.com giving me an outside email address to write to her. No pic at the time on the site so I sent an email and asked for a pic of who I was writing to. We have been corresponding with each other for over 4 months now and after sending her money and her not arriving here to visit me, I decided to do some checking on the net (which was to late) and came to your site along with a long list of others with alot of information on this person (yahoo search). Unfortunately with me being so busy with my business and raising my children, I got scammed by her before I did some research. (Stupid ME). So I am now joining the long list of people to say WATCH out for this person. She looks innocent but she is not. I have found out she works in a nursery for plants aswell as an oculist at a hospital that she told me. Here is some letters she sent me asking for money and how she loves me (what a crock of ....) lol. She did a brilliant job on me. And of course she wasn't writing to anyone else was she, lol. I hope you publish this to help others and from a person that did get caught out by her. Thanks. Steve P.
Letters:
Hello my love S.! Hello my Angel!!! I have received your letter and I understand that I am only begin to live. At us with you still only begins. Now I find sense in life. I not represent any more life without you, my Angel! I love you, and I am ready to repeat these words again and again! Please, to not think poorly of me, simply it overflow my feelings Today I talked to mum about us with you and about our future and that probably I soon leave in other country. You do not think that I solve it spontaneously, I very long think of it. I do not want to miss the happiness again. I talked to mum and she is very happy for me, she even bless me. It can is silly sounds, but today I represented our meeting. I think out very many interesting pictures. In the street there is a fine weather and you stand and wait for me in the airport and worry for my arrival. Then you approach to the plane, we look around And we search eyes each other in crowd, then with to become transfixed hearts we find each other and to rush into strong embraces. We stand having embraced, and all look at us. And for us as though nothing exist. Only you and I!!! It was a great day when I received the first letter from you I thank the God and I know that I found you and I love you. I am pleased with an opportunity to meet you soon, and I want it very much I think you want it too, your letters was the ray of light in my life. We have firm in our city which makes the documents for people who want to leave the country. I asked about moving to your country and I got the answer that I need the visa, foreign passport and some other documents. I have found out that necessary for arrive to you and to remain with you for ever to me it is necessary to do the visa of the bride, but I can not receive it because, for reception of it is necessary for us to give proofs of that that we are familiar for a long time and had a meeting, but we did not meet earlier!!! I have asked that I can do and to me have told that I can receive the tourist visa, I shall arrive to you, we shall spend some time together and do by photo where we together and after that, I can receive the visa of the bride and arrive to you for ever!!! You want it??? I want it very much! I want to be with you! I love you!!! I asked about prices and was very surprised, It cost three hundreds and twenty nine American dollars. It's make me little suppressed and disappointed I don't have so much money. I was make application but I must pay for it. I asked my mother about our savings she said that the money should not be a barrier between two people which love each other. I counted my sum and I found out that I have only about fifty dollars my wages will be not soon. I asked my friends about helping me and they said that have not at the present moment. I asked the advice my mother and she said that maybe you can help me. I asked her how he can help me, because he is far from me. My mother said that you can send the money through company which make this service. I asked about it, on my work and I know now, that exists reliable and fast company which makes remittances in world and it's western union. I remember that I saw advertising this company on tv. I take a directory book and found the address of it and it's not far from me. to me have told that sender must go to the western union, give them information: the name and last name of receiver, country they make transfer and bring the ten digits secret code to sender. The receiver must know ten digits for receiving money. She say that the branches of it must be everywhere worldwide. Here is the information about me:
Country: Russia
City: SAYANOGORSK
Name: Olga
Lastname: Mikisheva
Address of branch of western union:
MOSCOW BUSINESS WORLD
LENINGRADSKII MIKRORAION 22A
SAYANOGORSK , 655600
I must know your full name, full address. You must know that I decide to ask you about it because I love you and trust you very much. I decide to come to you because I feel this way and you are very necessary to me, I decided to come to the unfamiliar country and I never be outside my country. But I decided to do it because now you are part of my life and I trust you in all. I think you trust me too and love me too. My love I need 300 dollars I think you will help me because we found our love and we want to meet closer. I think about sense of money, and I'm very sad if this paper can prevent people to meet each other. In most cases the money play role in life but it's not right! I'm sure. And the quantity of money not was and will not important to me. I always not aspired to material enrichment and don't search specially for rich male. I appreciate human qualities and relations and I love you Steve!!! I love you all my heart, I want to be with you now... I want to be with you forever. If it's mutually we will be very happy in our life. I think you love me too and we will meet very soon. You are my love, my Angel. My heart is yours. I'm waiting good news from you, I hope everything will be all right and we will be together soon. Every day I think about our meeting, and I think it's real, we must use this chance of destiny. I LOVE YOU!!!!!!!! Your Olga.
Hello my love S., I very much regret that did not write earlier to you. But I was very much occupied with official registration of papers on the visa. And now my visa is ready. And I can fly to you. I very much love you and I want to be with you. I have found out on the account of tickets. There are they very expensive. And I do not know what now to make. To me it would be ecessary 1190 dollars for that what to buy the ticket. I have no so many money and I ask your help. You with can to me the help. Now as soon as I shall have money I shall buy the ticket and to fly to you. I very much love you. Whether tell me with you can to me the help with the ticket. If you will help me I would would like that you have sent them on other city. Because I before flying to you should say good bye to my grandmother and the grandfather. And when I shall be at them I shall receive money and I shall fly to you. I love you and I shall wait your letter. I LOVE YOU and I KISS YOU S.!!!!!!!!! Always your Olga.
Hello my love S., I have found out on the account of arrival to you. I can fly to you April, .... The ticket this day costs 1500 dollars. In ................. Airport I shall arrive April, ... in 00. 20 on your time. Also I can fly to you April, ..., time arrival identical. Now on write to me arranges you it. Because for me has no value when to you to fly I with can .... and April, .... But certainly it would be desirable to appear in your embraces my dear S. more quickly. I very much love you and I hope that soon we with you shall together. I so am happy to know that soon with I can see you. I hope that you will find time for our meeting, I so would like it. I constantly think of you and you do not leave my head. I LOVE YOU!!! I LOVE YOU!!! I LOVE YOU!!! I LOVE YOU!!! I LOVE YOU!!! I LOVE YOU!!! I LOVE YOU!!! I LOVE YOU!!! I LOVE YOU!!! I LOVE YOU!!! I LOVE YOU!!! I LOVE YOU!!! I LOVE YOU!!! I LOVE YOU!!! I LOVE YOU!!! I LOVE YOU!!! I LOVE YOU!!! I LOVE YOU!!! I LOVE YOU!!! I LOVE YOU!!! I LOVE YOU!!! I LOVE YOU!!! I LOVE YOU!!! I LOVE YOU!!! I LOVE YOU!!! I LOVE YOU!!! I LOVE YOU!!! I LOVE YOU S.!!!! Always your love Olga.
Hello my love S., I do not know as to write you about that with me have taken place... But I shall try. On Saturday when I have come western union and have received your money which has sent me. I was is very glad that I soon can to arrive to you my love. But when I went on street at me what that gangsters have tried to pull out a handbag but I knew that in a handbag which you have sent money to me and on this I held a handbag but me have some times struck and have pulled out a handbag. Who has seen that me plunder and the beginnings to call militia. But the militia has appeared late and could not any more to do. Together with militiamen I have gone to a police station and have written the application on these gangsters. But in militia to me have told that most likely these people saw as I received the big sum of money in the western union and that the militia can find these gangsters but in militia have told that it will not help to return your money I do not know that to me to do................ For that now to me to fly to you to me again it would be necessary to have money to entrance and now I shall be cleverer and I shall not be to put money in a bag. My love I do not know that to me to do I want to cry but I do not have tears I has sobred out all tears in a police station. I still can fly to you April, ... if I shall have money on the ticket. I am very much upset also I do not know what to write to you. I regret that all so have taken place. I will wait your letter. Your Olga.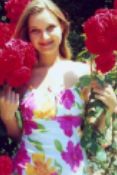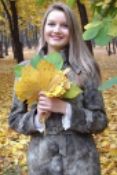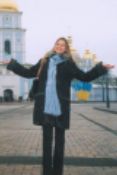 ---
Tatyana Zhdanova (Ioshkar Ola, Russia)

Tatyana Zhdanova on www.rawfood.com: (they deleted this ad alread as did iso) I am in my 50s and I started writing to this woman in late Jan 2004 and most mail ended in late March 2004. This is most of the letters that she asked for money. I asked her why she was associated with Elena Gorlanova page 324 where this fellow on that page lost thousands of dollars. She said she did not know her yet on page 324 her name is listed (Tatyana Zhdanovoj) and the first mailing address that I used to contact her was the one listed for Elena (Lapochka1979@mail.ru and sladen6@mail.ru). Another trait that she uses this as a greeting (Hi lovely!!!) and it appears with the Elena letters also. She is also listed on several other sites. tatyana2004 age 27 at www.webdate.com and tanichkanice age 23 on www.webdate.com. Tan age 27 on www.isopersonals.com. I had her taken off of one other site she was listed as tanya age 27 there. I tried to get a phone number from her. she would not give one. I offered to send a phone card called callback which lets you pick the phone to use and when and she was not enterested. She wanted money for a very expensive card. It always came down to money for something expensive. I also noted that when she was list in these different adds she was always listed in different towns in the same general area. These are cities that she operates out of.: Ioshkar Ola , city of Zvenigovo, Cheboksary, Chodrayal Russkiy. I never sent her any money. I asked her to contact a local agency but she refused to even talk to them. This agency is in this area. This is a disappointment. I hope no one else has to deal with this one. This black list is a good idea. The black list could help us if they would list agencies that we could report this to in those areas of Russia.
Letters:
LETTER 4
I have learned the price of the visa and the passport approximately 300 $, but I unfortunately do not have such money!
LETTER 7
Dear I can speak English! Yes I entered the institute also I of it have already stopped! Now I sell soft toys in shop! My full name and surname Tatyana Zhdanova is dear! Dear there would be to me photos I very much wanted to see them!
LETTER 11
As you asked lovely my address! My exact address: RUSSIA republic MarijEl city of Ioshkar Ola PO BOX Tatyana Zhdanova!! I wait for your letter!
LETTER 30
Lovely but I have already made the passport for travel abroad! And my visa will already become in 2 days! I have collected all inquiries and have already given necessary for flight to you! I shall learn the Spanish language if it is required! Yes I want that you have met in March as I already have passport for travel abroad and the visa is almost ready! I very much want to arrive to you! Yours and only your Tatyana! Write to me soon!
LETTER 40
Lovely I is glad to see your letter! I shall be very glad to arrive to you! When I can arrive to you? Dear when to one thousand ($1000) you can send money for arrival to you? I very much want to arrive to you in March! I hope you too you want that I have arrived to you in March! I very much miss on you one and to me is lonely without you! I give you a hot kiss! Yours and only your Tatyana! Answer me soon! I shall wait!
LETTER 43
Lovely we in city have telephone cards on which I can to speak! But these cards cost dearly for me! They cost $100-150 $! I was born on January, 22, 1977! Write to me soon! Your Tatyana!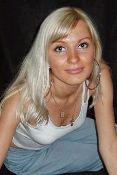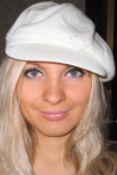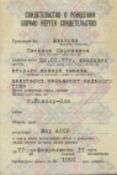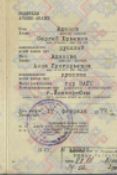 ---
My name is French; I was contacted thru yahoo personals by a yulia@medren.com. We exchanged e-mails for a while, when all of sudden she/ he/ whatever was in love. I checked your web- site and found the exact same letters, with the exception of a few changes; that were being sent to me. I never got to the part of the scammer wanting money because as soon as i discovered what was going on, i copied and pasted the rest of the corresponding letters back to whoever it was. I think these pictures are new as i could not find them when searching your site. Thanks for the informative website; French.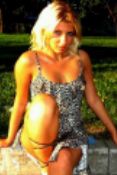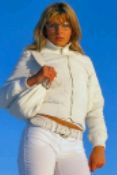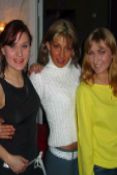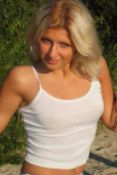 ---
To send your own story, please click here
Click here to support Black List
READ ALSO: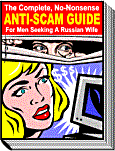 Met a Russian woman over the Internet?
Thinking about finding a Russian wife?
Russian woman wrote to you? Don't move any further until you read The Complete, No-Nonsense ANTI-SCAM GUIDE For Men Seeking A Russian Wife. Too many men were caught up in a scam and lost great deal of money - want to be one of them? Ensure your safety and peace of mind - read the ANTI-SCAM GUIDE.




Scam-free search - GUARANTEED! - Looking for somebody truly special but have had it with scammers and scam agencies? Let professionals to do the job for you.

The Universal Crib On Finding A Russian Wife - the most compressed, step-by-step guidance on finding, courting and marrying a Russian woman.
Dating Scams - The real picture of international introduction industry
Reliable Dating Services - where to look for a Russian wife
The shocking truth about Russian Brides - E-book by Marina Smiley. Find out things about Russian brides that marriage agencies will never tell you.
Why Russian Women? - If you decided to find yourself a Russian wife, you would be inundated with questions of the type "Why Russian Women?" from everybody you cared to share your idea with. Surprisingly, every Russian woman you are writing to will ask the same question: "Why do you want to find a wife in Russia?" After a while, you might start questioning your own sanity in doing the thing which everybody, including your dates in this Internet rendezvous, consider strange enough to request explanations. Here you will find some ready-to-use answers for your family, friends and Russian women you are writing to.
Cheap Russian Translations - Russian-English/English-Russian translation: fast and comprehensive. You are not sure she understands what you mean? Translate your letter to Russian! Reasonable rates and highest quality.
---

JUST RELEASED! New E-book by Elena Petrova:
"How To Find And Marry A Girl Like Me"
Comment from the reader:
"This may well turn out to be the best purchase I have made... I hope not too many of my competitors find this book!"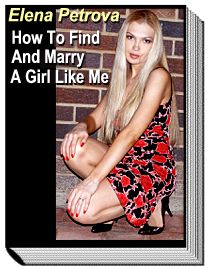 Discover how to find, court and finally marry a beautiful Russian woman!
This is the only book written by a beautiful Russian woman married to a western man - for more than 5 years! - and who is also the owner of a highly successful Internet dating agency.
Find out once and forever what Russian women are really looking for, why they are looking for it and how you can give them exactly what they want!
Get responses on your letters to beautiful Russian women - 9 out of 10, GUARANTEED!
With "How To Find And Marry A Girl Like Me" you'll learn knock-out techniques that will instantly boost your success rate in dating Russian women - online and in real life. You will have more beautiful girls that want to be with you than you can handle!
And not just ordinary girls! They will be beautiful, intelligent, but most of all - honest and sincere! You will be the one to take your pick!
STOP wasting your time and money in search for a Russian wife... Get it done - painlessly, easily, and certainly! Moreover, have lots of fun along the way!
Yes, you too can marry a girl like the one on the picture... Click here!
---
New e-book by Marina Smiley (the author of famous "The shocking truth about Russian brides"):

"Sex and Love With Russian Women"

Discover where so many guys fall short when visit their girlfriends in Russia;

Learn how you can dramatically improve your success with Russian women and win when others fail.

Most intimate questions answered by a Russian woman - Medical Doctor.
---
Comments, suggestions? We want to hear from you!
Click here to Contact us
Seek a reliable Russian Dating Agency? Why not check www.elenasmodels.com - RECOMMENDED
---